Last Updated on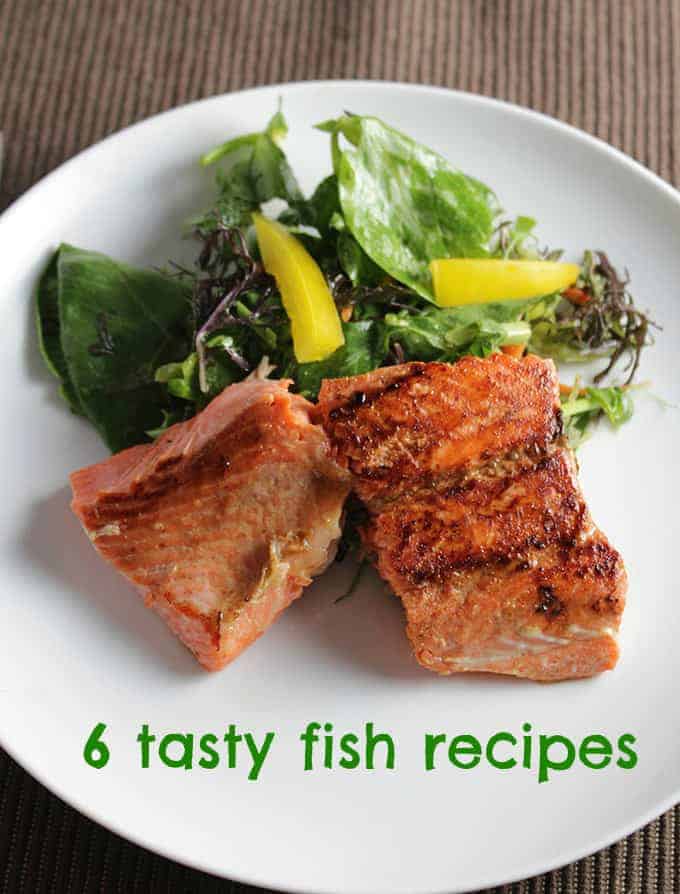 When I was growing up, my family generally observed the practice of meatless Fridays during Lent. Yet that didn't mean fish–my parents were turned off by getting the same bland fish every Friday during their own childhood. So it was usually a meatless pasta dish of some sort on Fridays. But as a grownup, I've come to enjoy healthy fish recipes as a regular part of our diet. In case you've shied away from fish, or simply want some more good recipes to try, I'm sharing 6 of my favorite tasty fish recipes so that you can enjoy a #FishFriday.
Tasty fish recipes start by cooking the fish right, which to me means avoiding overcooking the fish. Second, each of my tasty recipes has a little something along with the fish to give it a flavor boost. The added bonus is that these recipes are all pretty simple, and can get on your table in about 30 minutes or so. Perfect for a quick meal the end (or middle) of a busy week!
I do include a couple of tasty fish recipes for the grill here, despite the 5 feet of snow currently piled up on mine. I'm an optimist, and am hoping maybe we might be able to get to the grill before Easter! Grilling is a nice way to prepare fish, especially meatier ones like swordfish and tuna. OK, let's get to the tasty fish list!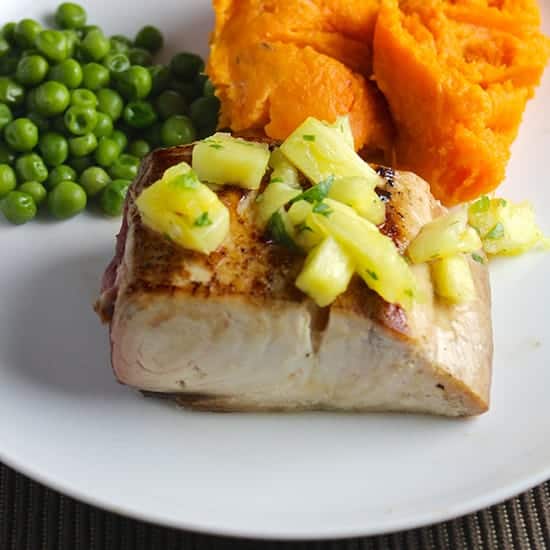 Mahi Mahi with Pineapple Salsa The pineapple salsa for mahi mahi was my way of bringing the flavors of the tropics into our wintry kitchen. I made the salsa first for some salmon, but thought it might go even better on mahi mahi. I was right!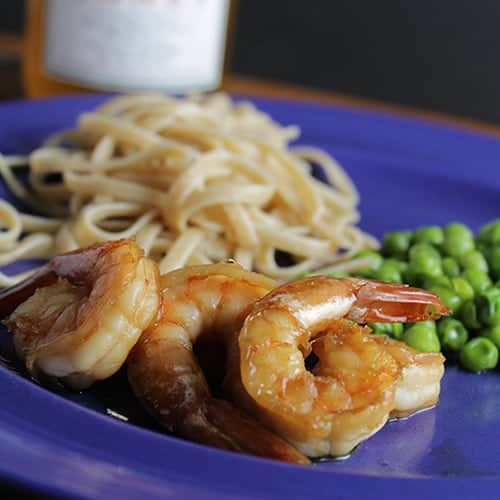 Simple Sautéed Shrimp  This one is so easy I made it many times before putting the recipe here on Cooking Chat. I realized I needed seeing how readily our 9 year old with the discerning palate gobbled it up one night!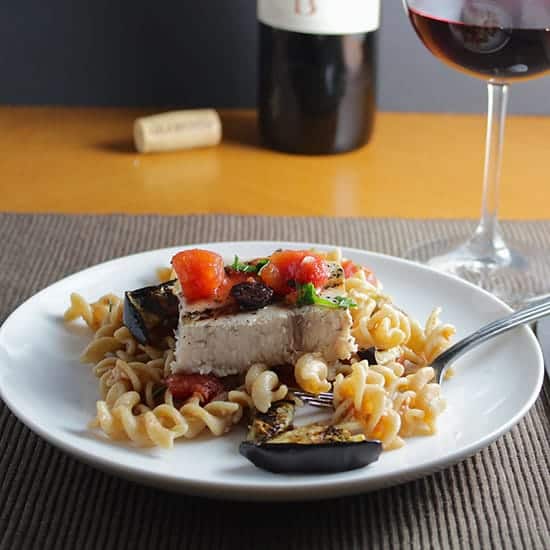 Grilled Swordfish and Eggplant Pasta I often enjoy a basic grilled swordfish with a simple marinade, but thought I'd feature this one served with pasta and grilled eggplant. It's a bit more creative, and it's a good one to point out that red wine paired with seafood definitely works nicely! In fact, I have Pinot Noir a lot with salmon and swordfish, but the Italian style of this dish had me go for a Valpolicella.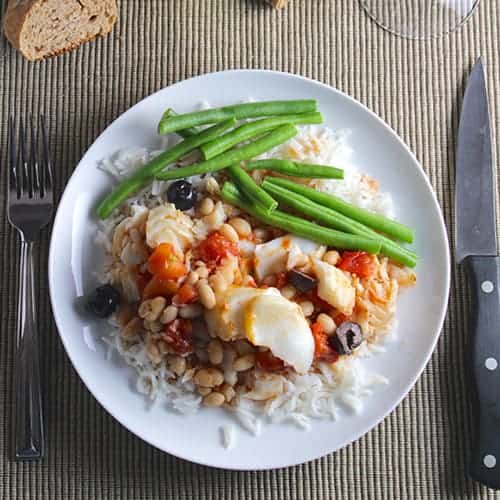 New England Beans & Cod One #SundaySupper challenge earlier this year was to create a dish that captured the elements of our hometown. Cape Cod and seafood were on my mind, and also traditional Boston baked beans. The ideas got combined in this recipe. I decided to put New England in the name as it was in the midst of the Patriots Super Bowl run!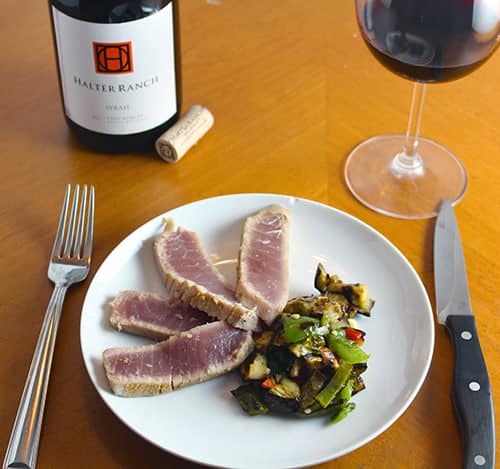 Grilled Tuna with Spicy Eggplant & Peppers A variety of peppers, including a hot one, get grilled along with eggplant for a tasty accompaniment to quickly grilled tuna. Another plug for red wine with fish–this one works very nicely with a bold Syrah!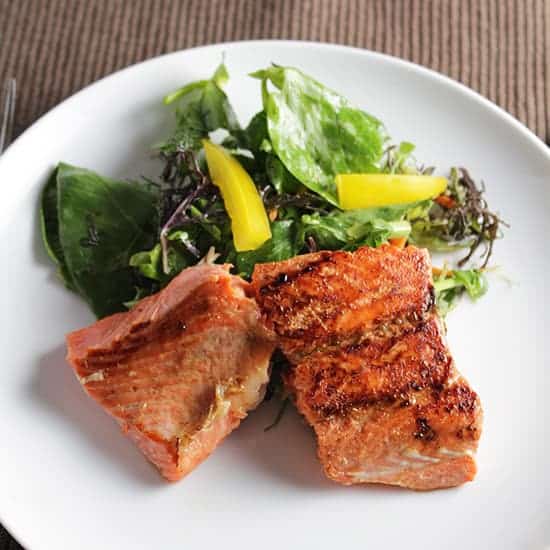 Pan Seared Salmon with Asian Greens Salmon is our go to fish here, so it was hard to pick which recipe to feature! I decided to feature this one served with a nice healthy green salad, but could have easily featured salmon with mushrooms or perhaps a mango salsa.
Ok, there you have it! Six of my tasty fish recipes, perfect for a #FishFriday or any day you want some healthy and tasty fish. Have a favorite fish recipe? Please tell us about it!