Last Updated on
This post contains affiliate links, which means I earn a commission if you choose to purchase one of the resources that I recommend. I only link to resources that I have used and found valuable.
Want people to get to your food blog? Clearly, you've got to take super tasty food photos if you to get people to come to your blog and try the recipes that you have cooked up. Last summer, when we decided we were going to try to "kick things up a notch" on our Cooking Chat food blog, we realized we needed to work on improving our food photos significantly. One of my first steps was to download the Tasty Food Photography ebook by Lindsay Ostrom from the highly successful Pinch of Yum blog, and it proved to be an indispensable resource. I also became a member of Food Blogger Pro, which I discuss more in this post, which has been another great resource for improving our food photos.
Before reading Tasty Food Photography, I tried to get a few of my food pics snapped with my phone accepted at Foodgawker. Not surprisingly, I struck out on those. As I began using our new camera and attempted to apply what I was learning from the book, I submitted a dozen more without success.
Some persistence and hard work paid off, and I soon started getting photos accepted regularly at Foodgawker and other photo sites. As I recently reached 100 photos accepted at Foodgawker and Tastespotting, I wanted to share some resources and lessons I've learned for taking tasty food photos. I suspect these tips will be most helpful to someone fairly early in the process of learning to take high quality photos for a food blog.
1) Choosing a camera: Prior to last summer, we had relied on our phone cameras in recent years for food and family photos. So it was a great help to have Lindsay's guidance as we went out to buy our first "real" camera. We wound up choosing a Canon Rebel EOS T5 Digital SLR Camera, which met our goal of being fairly simple and moderately priced (relative to other cameras in this category). We have been happy with the camera, having found it fairly easy to use while producing good results.
2) Getting some photography basics down: I was very much a photography novice before studying up to improve the Cooking Chat photos, with no experience beyond using a camera phone. Tasty Food Photography starts with basics on things like aperture, shutter speed and ISO…terms that were Greek to me before Lindsay explained them in plain English! She similarly provides a good foundation for understanding lighting, composition, props, editing and more.
3) Understanding the importance of lighting Perhaps the number 1 lesson I learned from Tasty Food Photography was the crucial importance of lighting for good food photos. I can't say I've mastered all the nuances of how to best use light to create all the effects one might desire, but feel like I've got the basics down for making sure the lighting leads to photos that do the food justice. If you feel like you are struggling to get lighting to make your food photos pop, definitely give Lindsay's book a read.
4) Taking pictures after dark Natural light is great, but outside of summer and late spring, not too many of our suppers see the light of day given our schedules. We have found the Lowell Ego Digital Imaging Fluorescent Light Unit to be an essential tool for taking good food photos without natural light. While I do like to get some photos with natural light during this season, I find I my photos taken with this lighting setup get accepted at a higher rate than the natural light ones. Probably because I get more practice with photos after dark!
5) Enhancing phone photos Though I use the Canon SLR for most of the photos of the finished dish that I use on the blog, I have been able to apply some of the Tasty Food Photography concepts I've learned to using my phone. I find it easier to use the phone for taking pictures of the prep process. For instance, I used natural light to take the photo below of my bean taco setup. In a few instances, I've found I got better pictures of the finished dish with my iphone; sometimes I have been able to catch some waning natural light better with the phone than with the Canon.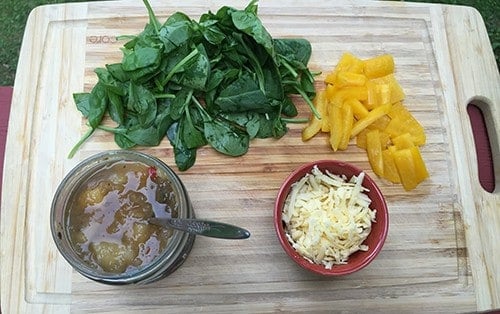 6) Editing photos Before reading Tasty Food Photography, I wasn't doing much more than cropping my photos. Lindsay has great tips on editing photos to make them really pop. I've a nice little routine now where I do the initial editing using iPhoto on my mac, first cropping the photo, then bumping up the exposure to make the photo pop, and tweaking the saturation, definition and sharpness. I use photoshop to finish things up, sizing the photos for the blog–including optimizing the photos for the web, generally keeping them under 180K to make sure the blog loads quickly. I was blogging for years without doing this, then realized reading a tip on Food Blogger Pro that I needed to resize the photos.
7) Sizing photos for food photo sites When I first started submitting photos to Foodgawker and Tastespotting, I tried to use their cropping function to get my photos to conform to their requirements. Watching a video on FBP quickly set me straight on this, and I know make sure to use Photoshop to edit my photos to size that conforms with the photo site dimensions. As of this writing, that mean 550 pixels square for Foodgawker and Healthy Aperture, 250 pixels square for Tastepotting, and 300 x 260 pixels for Finding Vegan. I've dabbled with other sites, but I focus now on the ones I just mention. Oh, yes, and for Pinterest I usually have at least one 680 x 1050 pixel photo for each blog post. I often use one of those Pinterest sized photos as the lead photo for the post.
8) Creating a colorful presentation Of course, great tasting food is priority # 1. But as food bloggers, we need to also considering how our dish can be colorful in order to really pop. So if I'm cooking something that is primarily one color, say pasta with a green pesto, I'll often add red tomatoes that make the dish more appealing visually. Or something that might look bland, such as chicken with potatoes, I might plate with some greens. Or serve some sautéed peppers over the chicken. Bottom line, if I'm planning to share a dish on Cooking Chat, I'm thinking about about what I can add to to add to improve the aesthetics of the dish. More color also means you are getting a wider array of nutrients, another good reason to focus on that presentation!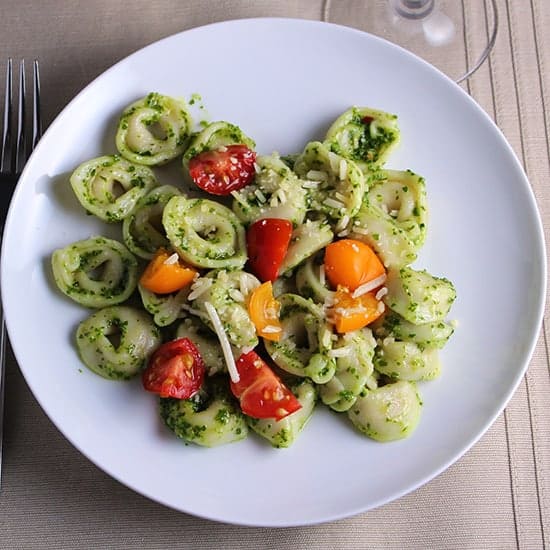 9) Setting up for a food photo shoot The first step is to think of taking photos for a food blog as a photo shoot, as opposed to merely snapping a few pics with the camera phone before digging in. Lindsay has lots of good tips for setting up for the food photo shoot in her book.
10) Taking food photos and still enjoying your food Full-time food bloggers might be able to approach it differently, but here, we need to squeeze taking the photos in as a quick step before sitting down to enjoy that good looking food. One thing I've found helpful on this front is to plan the timing of when the different elements of the meal will be ready. If I'm taking pictures of a steak, which should be enjoyed very soon after taking those photos, I'll want to be sure all the sides are ready to go before the steak is cooked. On other hand, if a soup or a stew is the subject of the photography, most of it can be kept warm after the shoot if other pieces of the meal need prepping. My wife Jodi will sometimes help setting up and or breaking down for the shoot, which helps (by the way, my switching into we mode at times in the post is because Jodi helps out with aspects of the photo process, and is generally a big supporter of this blog!). I can usually get the photography done in about 10 minutes with good planning, and sit down to enjoy the food with my family in short order. Granted, it's not always piping hot after a photo shoot, but still very good!
I'm excited about the way the food photos here on Cooking Chat have improved over the past year, with the help of resources like Tasty Food Photography and Food Blogger Pro. But I also realize I can't get complacent and be satisfied with the photos I'm sharing now. Clearly I have work to do to get the kind of eye-popping food photos that get shared virally on Pinterest and elsewhere. I look forward to a second year of focusing on continuing to improve the photos here, and will continue to rely upon the resources I've mentioned here–and any others you might suggest!