Last Updated on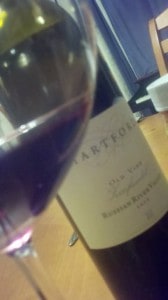 When people ask how I started getting interested in wine, I always go back to that trip to Ravenswood. Now, my interest was already swirling…a few years out of college, I'd gotten some cooking basics down and was starting to get a bit more adventurous. Sampling different wines went along with with learning to cook. But getting out to California wine country really amped up my interest. Jodi and I managed to get out to California several years in a row for vacation, enjoying nice long hikes, driving along the coast and through vineyards. Sampling wines from the area was part of the experience.
A visit to Ravenswood stands out. It was a weekday in late November, and we were the only ones in the tasting room for a stretch. The server was very passionate about wine, and enjoyed giving background on the grapes were were sampling, how where they were grown, their flavor profiles, etc. Though Ravenswood is more known for Zinfandel, I especially remember tasting and enjoying a Gewurztraminer that day, a nice bit of sweet and spice.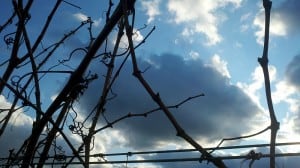 For a stretch after that visit, Ravenswood Zinfandel was my go to wine. I'd get the Vintners Blend for everyday drinking and sometimes splurge on one of their pricier zins. In my earlier days of blogging, I wrote about sampling I did of their zins at various price points. I did branch out and start enjoying other zins too; I liked its fruitiness, and it tends to go well with meats I make that often have a bit of spice in the preparation.
I've come a long way since those Ravenswood days, and have developed a pretty adventurous palate. I enjoy sampling a wide range of what the wine world has to offer; and lean toward the food friendly wines of France and Italy.
I still will grab a bottle of zin from time to time, but the "spark" theme gave me a chance to sample some zin again with a more critical perspective. At first I thought I'd re-sample Ravenswood, but they didn't have it at nearby shops. Instead, I decided to do a variation on the theme, and look for another California zin. Lori Schaefer, co-owner of Pairings Wine and Food, suggested the 2010 Hartford Russian River Valley Old Vine Zinfandel, and I was glad she did!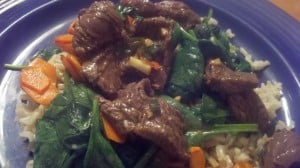 I poured a bit to be able to focus on tasting before I got into my full-fledged cooking mode. Deep, deep red color in the glass. Violet on the nose (could almost imagine hiking somewhere in Northern California). First taste I got raspberry, with a touch of chocolate and hint of pepper. Tasting a bit more: very refined, great mouthfeel. "It got juicier", I noted. Opened up nicely and was a great match for the Bee Bim Bop I'd made. The pairing was a good reminder that Zin can be a nice match for a zesty beef preparation.
Granted, there is plenty of unremarkable zin out there that prompts one to go for other varietals. But this one demonstrates that a well-done zin can be a great wine. Low yields from some of the oldest zinfandel vines in California gave the Hartford zin plenty of character. It also conjured up good memories of our travel in wine country; as we enjoyed staying by the Russian River a few times. This WBW assignment featured a combination of factors sure to spark a passion for wine–a flavorful yet nuanced wine that enhanced the enjoyment of the meal and evoked powerful memories of the place it came from.
Thanks to the Corkdork for hosting Wine Blogging Wednesday–WBW #73!