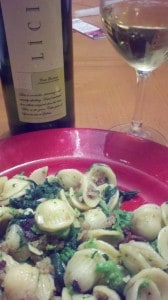 Six cloves of garlic and bacon. I correctly suspected that a recipe with these ingredients as a foundation would be pretty tasty. So the first order of business is to recommend that you try Orecchiette with Broccoli Rabe, Bacon, and Bread Crumbs for yourself some time soon. I followed the Food & Wine recipe closely, so no need to repeat that here, just click through for the recipe. My one note is that next time I'll try to do with less oil to make it a bit healthier, I think 1/4 cup would work OK.
Now, for the wine match, they suggest a "crisp" Pinot Grigio. I'm not a huge Pinot Grigio fan, and had recently sampled an Albarino that I thought might do the trick. The 2010 Licia Albarino from Rias Baixas ($13-$15) was crisp with a bit of minerality and a touch lemon on finish. The crispness and clean finish were a nice contrast to the bitter greens and strong flavors of thedish. I haven't done a comparison yet, but I suspect the Albarino might prove a better match than Pinot Grigio.
This particular bottle is quite good and a nice match for the dish. I would also suggest that you should try an Albarino if you haven't yet. I have liked most of wines I've had made from this Spanish white varietal.