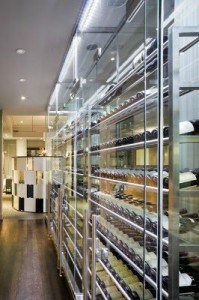 For only the second time since B arrived 4.5 years ago, Jodi & I had planned for an overnight getaway for the two of us. We initially planned to head to a a spot in Lenox, but the 2+ hour drive into the Berkshires seemed like not such a great idea in light of snow that was forecast. We started looking at options closer to home; and of course a nice dinner option figured into our decision making. So when I read about L'Espalier's Wine Monday, that pretty much sealed the deal. We'd stay very close to home, Downtown Boston, and head to L'Espalier for dinner. I'll focus here on the dinner and may take up elsewhere the benefits of staying close to home for a one-night trip.Photo courtesy of L'Espalier.
We hadn't been to L'Espalier before, daunted by their reputation for high prices. But this Wine Monday, and some of their other programs (such as a very good lunch deal), certainly represent great values. Wine Monday features a four course meal, each paired with a glass of wine around a certain theme. In a nod to President's Day, they were featuring wines from Washington state during our visit. I was enthused about this opportunity to try more Washington wines, as I've read good things about it, but haven't found too much beyond Chateau St. Michelle in local shops.
Our visit to L'Espalier started as we ascended in the elevator past glass walls displaying their impressive collection. From the outset, the restaurant sends a message they are serious about their wine! Reaching our destination, we were whisked into a small private dining area, cozily decorated as a personal library, books lining three of the walls (the ones not devoted to wine). We settled into our table and eagerly anticipated the first course. We were a bit early, so I ordered a glass of Sauvignon Blanc from Burgundy, something I hadn't come across before. It showed nice minerality that you'd expect from the more typical Chardonnay from the region, but had the lighter body of Sauv Blanc, making it a nice first glass. As we were finishing our first glass, servers began whisking in the first course and wine to match. Here's a recap of our tasting adventure:
First Pairing: The dinner started with a '07 DeLille Cellars "Doyenne" Roussanne from Columbia Valley, paired with salt cod brandade with confit salmon & arugula salad. The Roussanne grape is typically associated with white Rhones. Our host explained that unlike France, most Washington vineyards rely on irrigation, allowing this Roussanne to get riper, showing more fruit. This medium bodied wine was tasty sipping alone, and a great match for the fish–the cod was in a fish cake form; the richness balanced nicely by the zesty salad and salmon confit.
Second Pairing: A good deal of thought went into the pairing of the '07 Waterbrook "Melange"with the lemon sole with fennel and white chocolate veloute. I'm going to let our host for the night, L'Esapalier's Erich Schliebe,in his own words his strategy for this pairing, as it was quite a nice match:
"With the white chocolate, I was looking for a wine that had some sweetness and richness to it, but was also aromatically interesting. Thus the Waterbrook Melangé. Chocolate is tricky because it can be both sweet and bitter, and can make wine taste sour or dull. We used the white chocolate like butter, and had fennel and other herbal flavors play off the sweetness of the velouté, so I wanted a wine that could mimic that interplay."
Third Pairing The'05 DeLille Cellar "Doyenne" Syrah was paired with braised short ribs served with pommes puree and roasted brussel sprouts. Mmm, this dish might not have matched the previous one for creativity, but the hearty goodness was wonderful. Slow cooked ribs and pureed potatoes being good isn't too surprising I suppose, but I especially liked the way the brussel sprouts went with the other food and wine. Will have to try this. The Yakima Valley Syrah tasted of cherry fruit, nice pepperiness and showed good structure. Stood up well to the rich dish.
Fourth Pairing Cadence "Coda" Meritage from Red Mountain was the choice for the cheese course. This Bordeaux style blend had a dense muskiness to it, and paired well with the selection of Boucheron, Comte and Form d'Armbert cheeses. I'd take a savory final course like this over sweet again any day (especially with such a good wine!).
While of course each course was a bit smaller than a regular entree would be, the portions were certainly generous enough such that after the cheese course, there wasn't much room for anything sweet. Wine Monday was certainly a wonderful centerpiece for our little get-away, and we'll certainly be back for another rendition of this fun event!