It's pretty high praise from me to say I actually liked something made with eggplant–1 of 2 vegetables that I officially dislike. I shouldn't be too surprised that if I'd like anywhere it would be at
L'Espalier
, where the vegetables are exquisitely prepared and incredibly fresh from chef-owner Frank McClelland's Apple Street Farm in nearby Essex.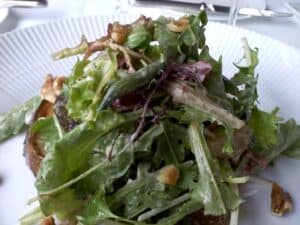 Earlier this month we had a chance to get to L'Espalier for their "express lunch", at $29 a very affordable way to get a 3 course prix fixe meal from one of Boston's top restaurants! Part of the deal is going with their set menu, so that had us starting with a salad of fresh greens served atop roasted eggplant–yes, eggplant, something I'd never order! But everything was so fresh, and the lively dressing along with a few walnuts really worked. I had a glass of Gruner Veltliner with this course and that match was spot on!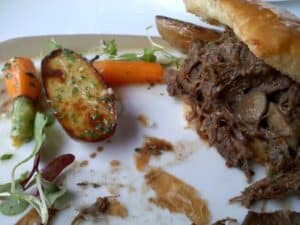 Course number two, I might have ordered anyway given choices…Beef Bourgogne in a pastry shell, very savory and pleasing. Went with a Beaujolais with this course and wasn't disappointed.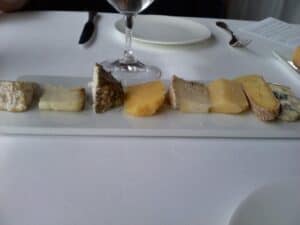 Then we were "convinced" to try a cheese sampler–what a treat, great range of flavors and textures. Washed down with a Chateauneuf du Pape.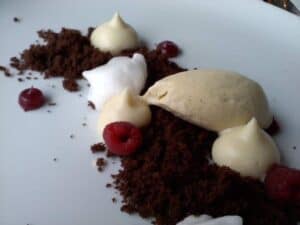 The meal was topped off by this creatively presented German chocolate cake with wonderful foams and ice cream.
A few weeks have passed since we enjoyed this tasty lunch, so I decided to let the pictures do more of the talking! This express lunch deal is a good reminder that you can have great food in Boston without breaking the bank, if you take advantage of specials like this.
Full disclosure: The food costs of this lunch were covered by L'Espalier as an unexpected for this piece I wrote (not expecting anything in return!) about a Wine Monday dinner there