Bacon and Steak Crostini with Dean's French Onion Dip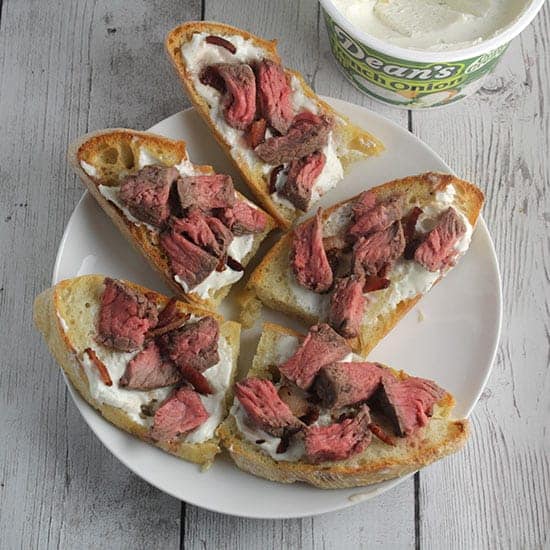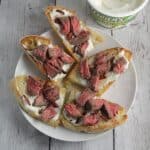 Author: Cooking Chat
Prep Time:

5 mins

Cook Time:

25 mins

Total Time:

30 mins

Yield:

12

servings

1

x
Category:

Appetizer

Cuisine:

American
Ingredients
2

slices bacon

1 tsp

garlic

1/2 tsp

salt

1/4 tsp

dried thyme

1

sirloin steak, about 1 1/2 lbs

6

slices of bread from a large loaf of ciabatta bread, about

3/4

an inch thick
canola or olive oil spray

6 tbsp

Dean's French Onion Dip
Preheat oven to 400 degrees.
Combine the garlic, salt and thyme in a small bowl. Place the steak on a work surface, and sprinkle half the rub on one side of the steak, and rub it into the meat. Turn and repeat on the other side of the steak. Let the steak sit and absorb the rub while you cook the bacon.
Coat an oven proof skillet with the cooking oil. Heat on medium high, and cook the bacon for about ten minutes until crispy, turning occasionally. Remove the bacon to a paper towel to cool. Crumble into bite sized pieces when cool and set aside.
Drain the excess bacon grease from the skillet. Wipe with a paper towel so that most of the grease is gone but a thin coating remains.
Return the skillet to medium high heat. Add the steak to the skillet, sear for 1 minute per side to brown the steak.
Move the skillet to the oven to roast the steak. Check the steak for doneness after 10 minutes; you will likely need to roast for 10 to 12 minutes to cook to medium rare. Take care not to overcook the sirloin steak. When it is done to your liking, remove the steak from the oven and let it rest on a platter for a couple of minutes.
To make the crostini, cut the slices of bread in half. Spray one side of the bread with cooking oil, and place on aluminum foil. Toast the bread in the preheated oven or a toaster oven for about 5 minutes. Keep an eye on the bread to avoid burning. Remove the bread when just beginning to get brown and a bit crunchy.
As the crostini toasts, slice the steak into bite sized pieces to be ready to finish the bacon and steak crostini.
Spread 1/2 tbsp of the Dean's French Onion Dip on each of the toasted crostini. Top with a few bits of bacon and several pieces of the steak. The bacon and steak crostini are ready to enjoy while you watch the game or just hang out with friends and family!