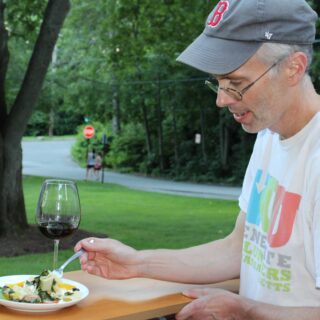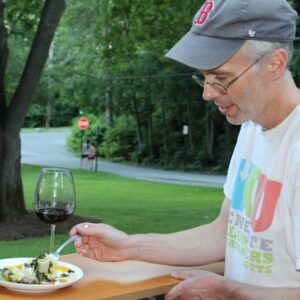 Hi, welcome to Cooking Chat! I'm David Crowley, the writer of this food and wine blog.
Here at Cooking Chat, you will find over 500 recipes, focusing on healthy eating and seasonal food. Most Cooking Chat recipes come with a wine pairing recommendation. I have been sharing about food and wine on this blog for over 10 years.
I have a passion for putting together wine pairings that enhance the enjoyment of the meal. That passion led me to found the Wine Pairing Weekend blogging group. Each month, the #winePW members blog about wine pairings based on the month's theme.
I'm also an active member of the French Winophiles group and Italian Food, Wine and Travel. Speaking of Italian travel, in 2018 I was selected to join a group of twelve international wine writers to visit wineries in Abruzzo. Lately I've been focusing more on attending wine industry events and visiting local wineries to deepen my knowledge.
I also do guest blogging about food and pairings for the local wine shop, Pairings Wine and Food.
My recipes and wine pairings have been featured in Woman's World Magazine and Gather.com, and featured on many food sharing sites including foodgawker, YumGoggle and Healthy Aperture.
Cooking Chat on Social Media
I maintain an active presence across social media sites, including Twitter (over 5,900 followers), Facebook (nearly 3,000 followers), Instagram (over 1,000 followers — I'm a bit newer there!) and Pinterest (over 5,000 followers). I have recently started a Cooking Chat YouTube channel — subscribe for regular videos about wine pairings and recipes. Before Google Plus was retired, my Cooking Chat recipe collection was a G+ featured collection with over 245,000 followers.
My food backstory
I've always loved food. As a kid I was the last one to push away from the table–because I was eat a lot but also experimenting with how things tasted when I combined different things on my plate. Shortly after Harvard (undergrad major in Government), I quick figured I was going to need to learn some cooking if I was going to keep enjoying food. Plus, it was a nice way to impress a special date who became my wife!
Managing food allergies is another theme we address in a number of the blog posts on Cooking Chat. Our son is allergic to egg, nut, sesame seed and dairy. Dairy is the only of those items that we use in our recipes these days, though you might find some older posts using nuts. In addition to sharing a number of allergy friendly recipes, we also post about restaurants that we have found to be good a managing food allergy concerns.
While the recipes and wine pairings are the central focus of Cooking Chat, I do also include some blog posts on travel, including restaurants and wineries found along the way.
Want to find a recipe here? Head over to this page where you can search by season, healthy recipes, easy recipes, etc. along with any other search term that you want.
Are you a blogger looking for resources? I'll be sharing the resources I find helpful over on this resource page.
What do I do when I'm not cooking or eating? By day, I'm president of the nonprofit I founded, Social Capital Inc. I love spending time with family, including having fun with our son on the baseball field and elsewhere. Though blog related reading has been a priority of late, I love winding up a day with a good book. (and yes, those often are food related, too!).
Disclosure statement: Linking to that resource page above is a good time to share my general disclosure statement in order to comply with Federal Trade Commission (FTC) regulations. Some of the posts and pages on this blog include affiliate links, and I receive compensation and/or free product for some of the posts on the site. I will disclose any such relationships in the posts where they exist in as transparent a fashion as possible. The opinions expressed on the site are entirely my own, and I will only recommend products that I trust based on my own experience with them. Where affiliate links do exist, they don't increase your cost for the recommended product; rather, I receive a commission should you choose to buy something using those links, helping to keep this tasty content coming to you for free!
In addition to the blogging and nonprofit work, I do some social media training and consulting project work.