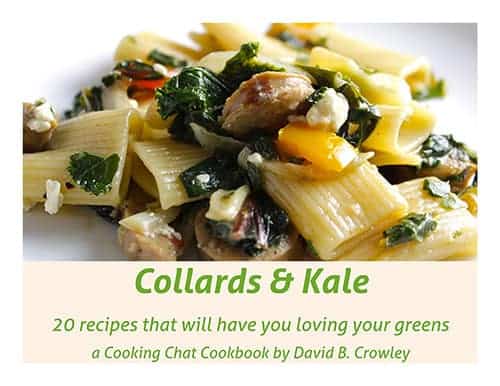 Collards & Kale Cookbook affiliate program
Would you like to earn some revenue by sharing the Collards & Kale Cookbook on your blog or website? It's easy to do! When you join our affiliate program, you earn 50% of each purchase initiated by using your affiliate link. That's right, I spent months putting together the recipes, photos and layout for this cookbook featuring healthy greens, and you can get a 50% commission by simply signing up as an affiliate and putting the link on your website. It's a win-win, because I'm sure you have readers that would enjoy the book that haven't found their way to Cooking Chat yet. Not to mention your endorsement as a trusted blogger means a lot!
Below find the details on how to sign up as an affiliate, and some tips for spreading the word about the book and earning revenue. Stay tuned as we will be adding more affiliate tools and tips.
How to sign up as a Collards & Kale affiliate
1. Register for e-junkie by clicking here. We use E-junkie to manage our affiliate program. This link takes you to a page that says login or register to join affiliate programs created by David Crowley (that's me!).
2. Enter your email and desired password in the "register" box.
3. You will be sent an email with an activation code. Open a new browser window, go to your email, and copy the code from E-junkie.
4. Go back to E-junkie to enter your activation code, and click "submit".
5. Enter your name and PayPal associated email in the "Required profile settings" box. It's important that you have a PayPal account, in order to get paid for your earnings. If you do not have a PayPal account you can set one up by clicking here. Click submit.
6. In the section "Manage Your Affiliate Account", click "Get Affiliated Code"
7. On the next screen, click the button that says "Get Affiliate Code".
8. Copy the code underneath the words that say "GET COMMON AFFILIATE HOP LINK" and paste this code into your blog or website.
9. OPTIONAL: You can change the text for the affiliate code by changing the highlighted text below.
This code takes your readers to the Collards & Kale Cookbook sales page. There they will get more information about the cookbook and instructions on how to purchase and download it. When they get to the sales page via your affiliate link and buy the book, the referral information is tracked and you get credit for the sale, and 50% of the purchase price. We pay referral commissions within four weeks of each month's end for which you have a sale.
Sharing Collards & Kale with your readers: If you have a section on your blog with links to cookbooks and other resources, you can simply add your Collards & Kale Cookbook affiliate link to that section. If you do that, be sure to change the link text as described on step #9 above, changing "Click here to view more details" to "Collards & Kale Cookbook".
Writing a blog post about the Collards & Kale Cookbook is a great way to direct attention to it. First, get your own copy of the book if you haven't already. Check out the book, try a few recipes, and talk about it in a blog post. You are welcome to include one recipe you try from the book with a link back to the Collards & Kale Cookbook page (use your affiliate link!). You can use your own photo, or contact me to use one of my images for the post. If you do post a recipe, indicate in the instructions if you have made modifications or if it is the original recipe as it appears in the book.
Be sure to let me know if you do a post about the book, and I will cross promote your blog about it via my social media channels.
If you would like to use the image below with your own unique affiliate link, I can email you with the code and instructions for that.