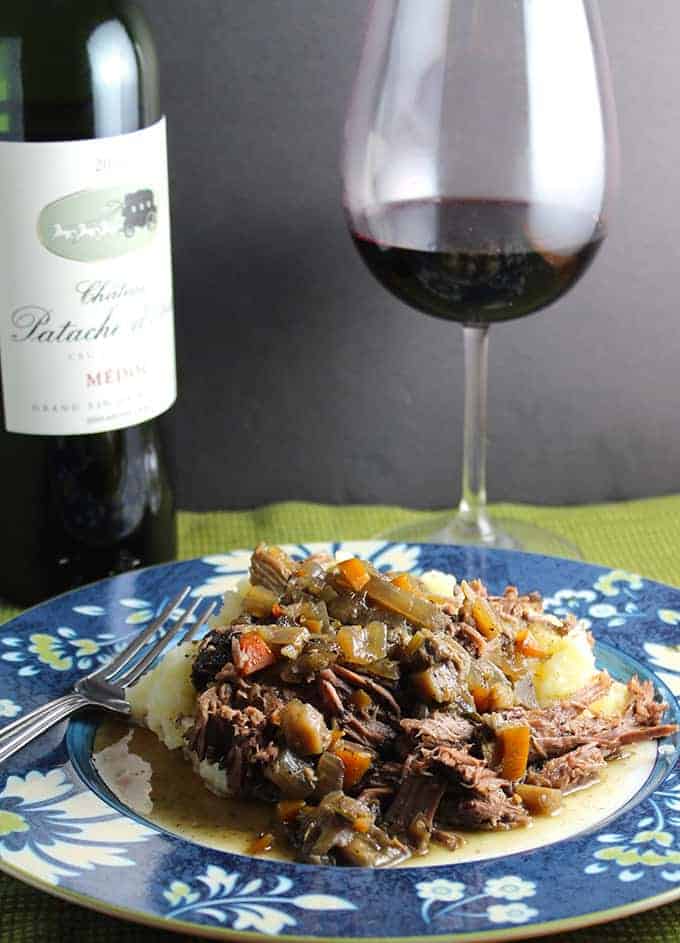 This set of links to red wine pairings is a fun work in progress! I start by listing pairings for some of the major grape varietals that are fairly commonly found in an American consumer's glass. Then I have sections for countries that have a wide array of grape varietals, which may be less familiar here in the states. Plenty of red wine pairings for you to enjoy! I have also included links to roundup articles I've done on various red wine grape pairings.
Cabernet Sauvignon Pairings
Bordeaux Braised Beef with a Left Bank Bordeaux (majority Cab blend)
Roasted Sirloin with Chanterelle Mushrooms and a Halter Ranch Cab
Grilled Porterhouse Steak with Mushroom Sauce
Grilled Ribeye Steak with Simple Spice Rub
See our Cabernet Sauvignon Wine Pairing Tips and Highlights article for more ideas!
Grenache (Garnacha) and Grenache blends (e.g. GSM)
Rustic Chicken and Sausage Stew with a Côtes du Rhône
Garrigue Roasted Turkey Breast with a Languedoc Red (Carrignan, Grenache and Syrah)
Merlot Pairings
Roasted Rosemary Pork Chops with a Merlot #MerlotMe
Merlot with Cheddar Cheese (discussed in #MerlotMe post above)
See our Merlot Food Pairing Tips article for more info and 25+ pairing ideas!
Pinot Noir Pairings
Grilled Portobello Mushroom Pasta
Muhammara Spicy Red Pepper Dip
Syrah (also known as Shiraz)
Grilled Tuna with a Halter Ranch Syrah
Spiced Ribeye Roast with Caramelized Onions and a Crozes-Hermitage (Syrah based blend)
Zinfandel Pairings
Beef Tenderloin with Caramelized Onions
Rigatoni with Chicken Sausage and Greens
Italian Red Wines
Summer Tomato Meat Sauce with a Barbera (Italian red grape)
Kale Pesto Lasagna with a Dolcetto
Mushroom Risotto with a Barolo
Ziti with Swordfish and Truffle Butter with a Nebbiolo
Rigatoni with Collard Greens and Sausage with an Umbrian Red Blend
Bolognese Sauce with Crispy Prosciutto and a Centesimino (an interesting Italian red grape)
Roasted Sirloin with Red Wine Sauce and a Barbaresco
Red Cabbage Risotto with a Lacrima Di Morro
Spanish Red Wines
Petalos Bierzo for pork tenderloin tacos (100% Mencia)
Tempranillo for Roast Turkey and Sweet Potatoes
Other Off the Beaten Path Reds
Cabernet Franc Food Pairing Tips and Favorites
Salmon with Shiitake Mushrooms and a Languedoc Red Wine (blend of Picpoul Noir and Riveirenc Noir)
Grilled Swordfish with Guacamole and a Portuguese Red Blend
Quick Chicken Tikka Masala with a Lambrusco
Avocado Chimichurri Beef Tenderloin with a Carmenere
Greek Lamb Stew with Agiorgitiko
Turmeric Spiced Steak and a Pinotage
More red wine articles
Try Some Montepulciano d'Abruzzo