Today we are sharing the results of our Gruyère cheese wine pairing experiments. This article is a part of the Wine Pairing Weekend focus on Pairing Wine and Cheese during the month of June. Thanks to Camilla from Culinary Cam for hosting!
Jump to:
Gruyere wine pairing – quick picks
Ok, let's start with a quick summary of wine pairings for Gruyère cheese for those of you looking for a quick answer to "what wine goes with Gruyère cheese?". Then we will take a deeper dive into the topic for readers wanting more information.
Our favorite pairings
The pairings we have tested that work the best with a Gruyère cheese plate:
Chardonnay
Medium bodied rosé
Fruit-forward red blend
We love testing wine pairings, so will be adding to the last as we identify more pairings to recommend to you!
Other recommended pairings
Other wines frequently mentioned as Gruyére pairings around the web include:
Riesling (such a versatile pairing wine!)
Sauvignon Blanc
Sparkling wine such as Cava or Champagne
Pinot Noir (with some caveats noted further along in this article)
OK, now let's move on to more detail about Gruyère cheese and wines to pair with it.
What is Gruyere cheese?
Gruyère cheese is a Swiss cheese with a rich history and distinct flavor profile. Named after the town of Gruyères in Switzerland, this cheese has been produced for centuries using traditional methods that have been carefully preserved.
Gruyère is made from unpasteurized cow's milk and aged for a minimum of three months, although some varieties can be aged for much longer. The cheese has a firm yet pliable texture with small, scattered holes throughout, and a pale yellow color.
The flavor of Gruyère is complex and nutty, with hints of sweetness and a slight tanginess. Its balance of savory and fruity notes, make it a versatile cheese that can be enjoyed on its own, melted in dishes like fondue or gratins, or used in sandwiches and salads. That's a good segue to some of things we've cooked up with Gruyère!
Cooking with Gruyère cheese
While my primary purpose in writing this article is to cover wine pairings that work when you are serving a plate of Gruyère as a snack or appetizer, we have cooked up some good recipes with Gruyère.
Vegetarian Baked Pasta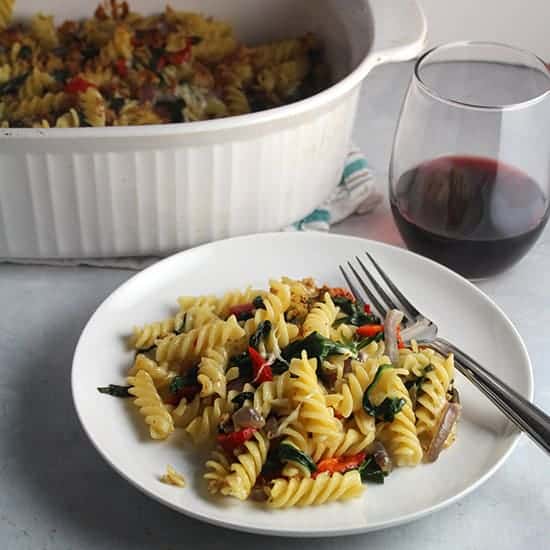 This Vegetarian Baked Pasta with Spinach and Gruyere is tasty casserole featuring the savory cheese. We tried it with a couple of different red wines, and Pinot Noir was the best pairing for the recipe.
As we'll cover more later, Pinot Noir often comes up as a suggestion for Gruyere cheese pairing.
Spinach and Pear Salad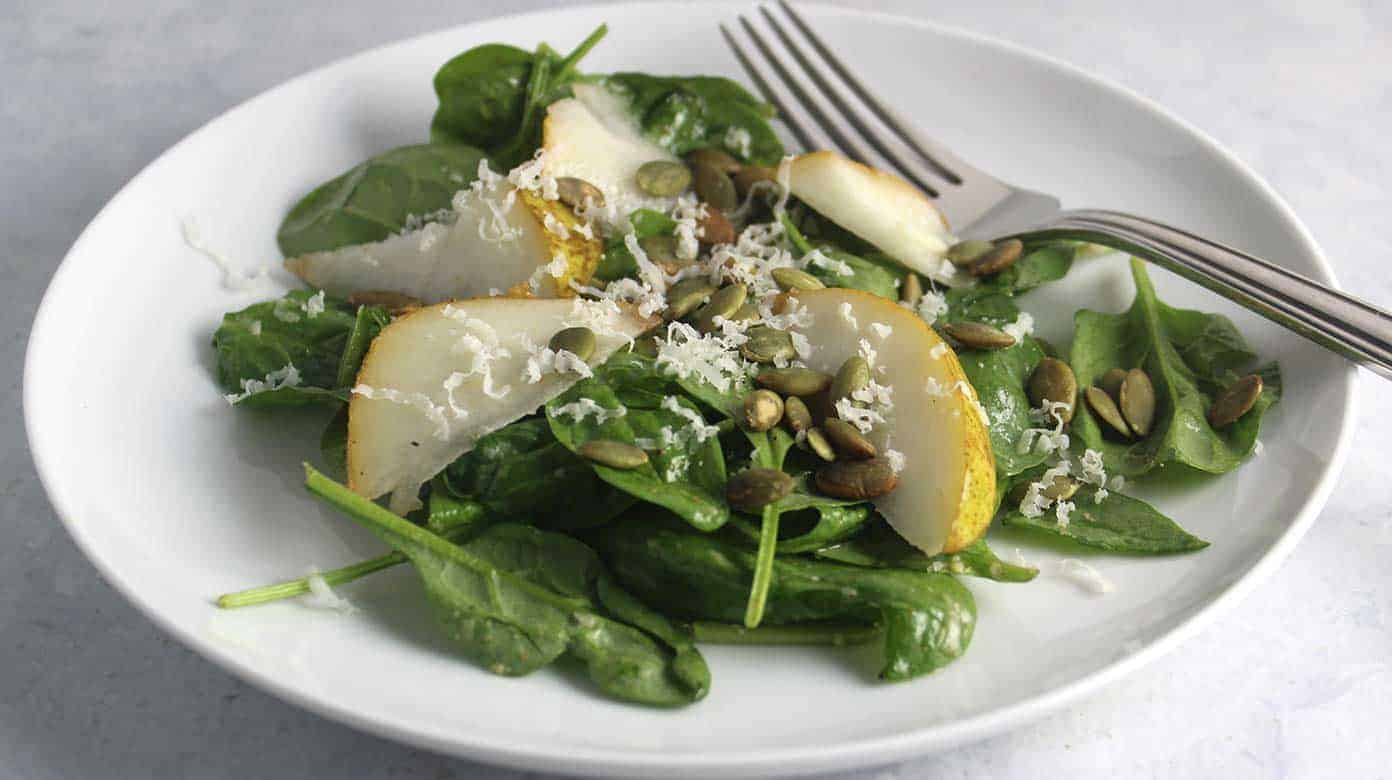 Adding shredded Gruyere cheese can bring some nice nutty flavor to a salad! We lean into that idea in our Spinach and Pear Salad recipe.
There's a bit of spice in the salad dressing, so if you were serving it on its own as a starter course I would think about a sparkling with or may a Gewurztraminer.
I have also served the spinach and pear salad with our salad with our Leftover Steak Pasta recipe. We opened a Lagrein from the Alto Adige region to go with that meal. Although I had the steak more in mind when picking the Italian red wine, it actually worked well with the Gruyere topped salad, too.
Mushroom Mac and Cheese Casserole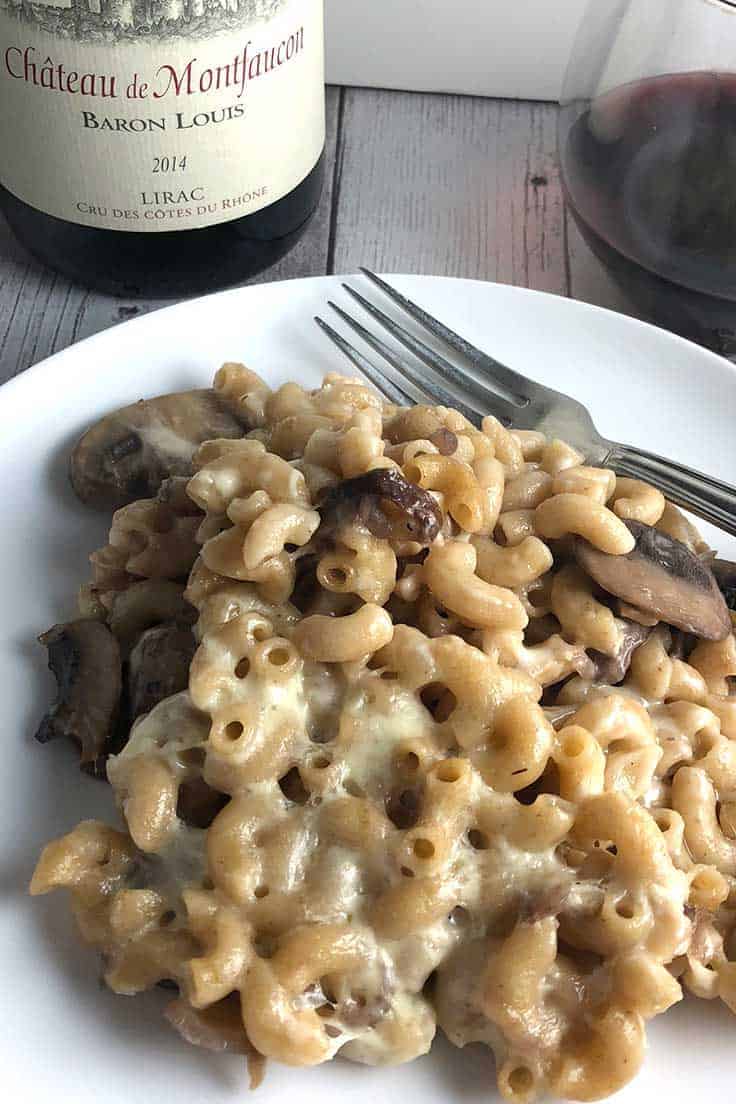 Back to melting that Gruyere cheese in a baked pasta recipe! You can use a variety of cheeses for our Mushroom Mac and Cheese Casserole, but it is especially good with Gruyere.
We paired the mushroom mac and cheese dish with the Chateau de Mountfaucon Baron Louis Lirac Rouge, a blend from the Lirac AOC in the Rhone region. It is comprised of 50% Grenache, 15% Syrah, 15% Cinsault, 10% Syrah and 10% Mourvedre. Definitely a good pairing for a hearty dish with baked Gruyere cheese!
Gruyère pairing details
OK, let's break down the details of our favorite wine pairings for Gruyère cheese. My original round of testing was all done with a medium Gruyère cheese from Wegman's. I figured that was a pretty representative example of a Gruyerè cheese you'd be likely to pick up at a store in the United States.
McGrail Family Chardonnay
The 2021 McGrail Family Chardonnay (14.2% ABV, $32) was probably my favorite pairing for Gruyere cheese during our recent round of testing. I had this bottle as part of our recent exploration of Livermore Valley wines.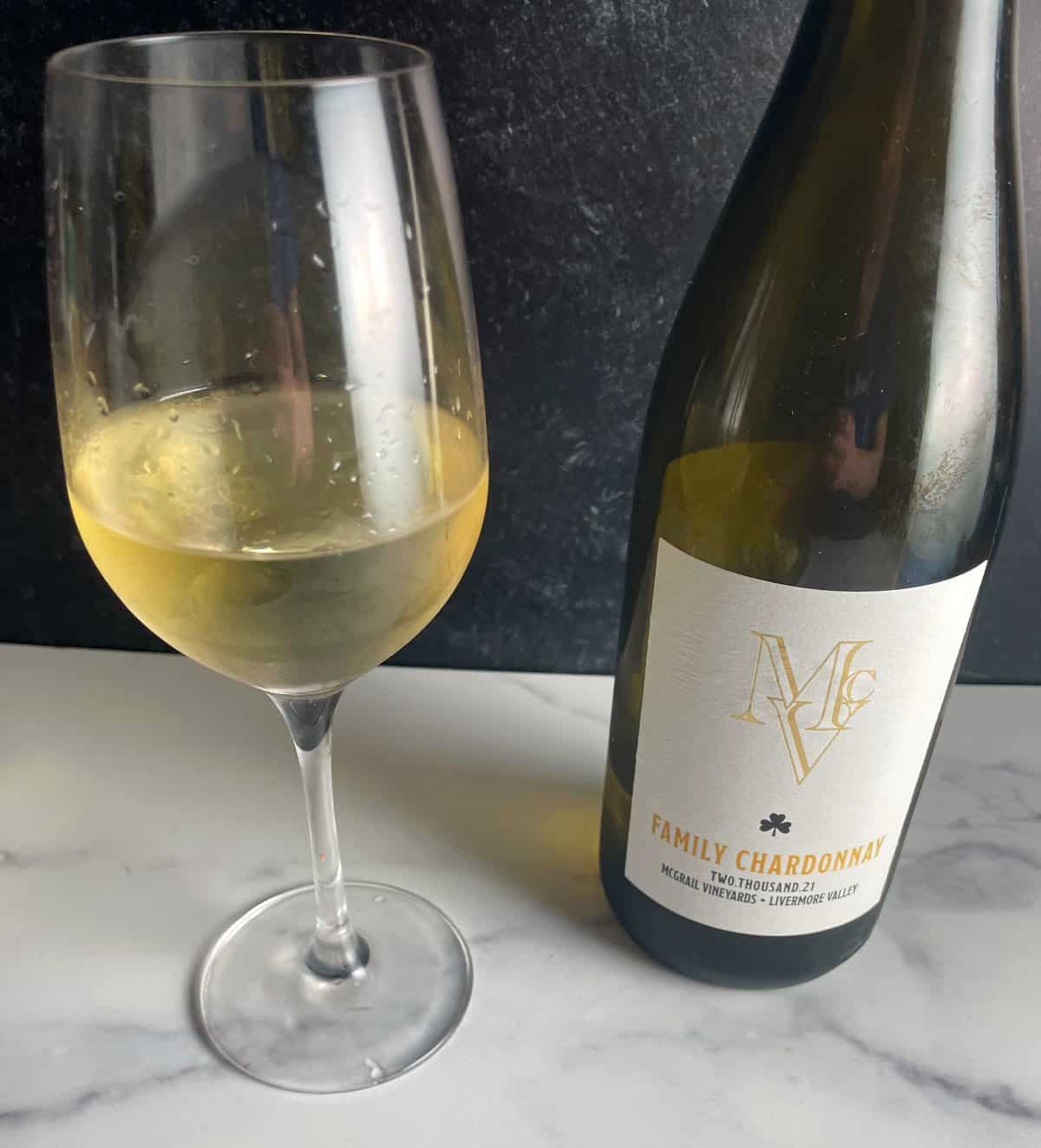 While the McGrail Chardonnay does have some of the classic California Chardonnay profile, such as butter and creaminess, I was struck by the freshness of this Chardonnay. In particular, the tropical fruit really came through in my tasting of the Chardonnay.
The creaminess of the Chard had good body to go with the Gruyere cheese, and the fresh fruit notes were a refreshing counterpoint to the dry, nutty aspects of the cheese.
While the McGrail Chardonnay worked particularly well with the cheese, I would think most good quality Chardonnays would work well with Gruyere. I'm going to have to test a White Burgundy soon — in addition to simply being a fan, Burgundy isn't too far from Gruyere, Switzerland.
For more about this wine and Livermore Valley Wines in general, check out my winemaker interview with Mark Clarin, from McGrail Vineyards. We also liked this Chardonnay with our slow cooker pulled pork recipe!
As shown in the photo at the top of the article, we tried the McGrail Merlot as well as the Chardonnay with the Gruyere cheese. It's a nice Merlot, but I definitely prefer the Chardonnay with the cheese.
Farmhouse Red Blend
The Farmhouse California Red Blend ($12) was my favorite red wine pairing for Gruyere cheese during our testing. This is a blend from Cline, comprised primarily of Zinfandel and Syrah, with a small amount of other red grapes.
The Farmhouse red is fruit froward with low acidity, qualities that I found made for a pleasing pairing with Gruyere. I found the higher acid wines, by contrast, didn't play well with the dryness of the cheese.
Dracaena Rosé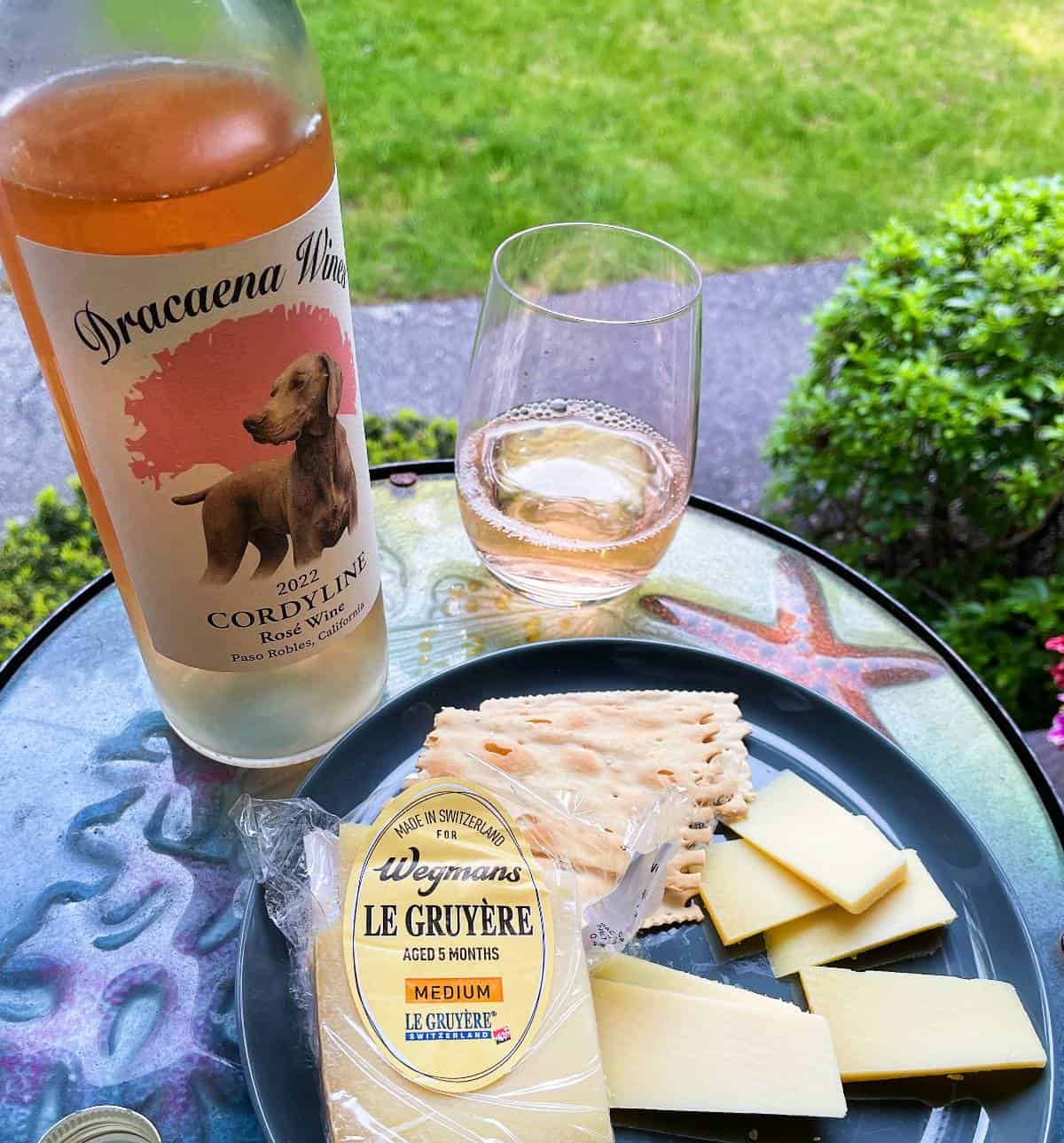 The 2022 Dracaena Cordyline Rosé (12.4% ABV, $26) from Paso Robles is a 50 / 50 blend of Tempranillo and Grenache. This is a flavorful, medium-bodied rosé with with melon fruit. We enjoyed it on one of our first porch sipping evenings of the spring!
This rosé pairing worked pretty well with the Gruyere, but next time I do the pairing, a bit of prosciutto on the cheese plate will make it even better! I would say medium to full bodied rosés can work well with a Gruyere cheese plate, but some charcuterie and /or perhaps some olives makes that rosé pairing option event better.
More pairing wine and cheese articles
Be sure to check out these other wine and cheese pairing articles from the Wine Pairing Weekend group!
And some other wine and cheese articles here on Cooking Chat: