I wanted to keep the good recipes coming while we enjoy a brief family vacation! So I asked Cynthia Rusincovitch, who blogs at My Nourished Home to share about her healthy approach to food along with a tasty recipe.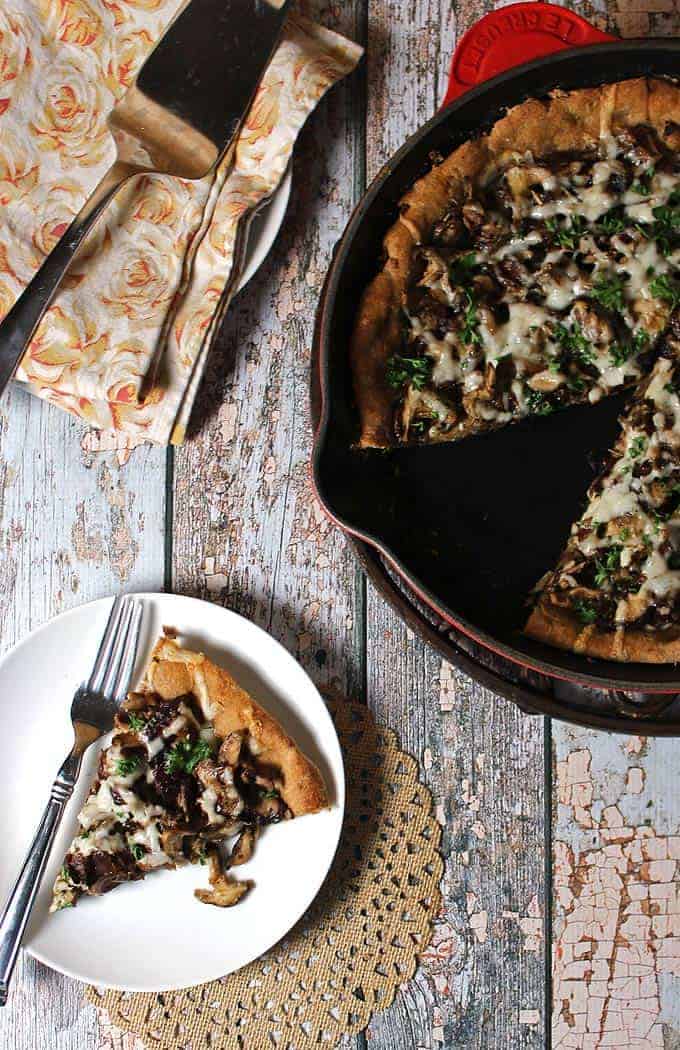 When our family decided to give up refined food 2 years ago, I committed to stop opening boxes and bags for meals and gave myself a big pat on the back for doing such a healthy thing for my family. Then spend the next 3 months (okay, maybe 6 months) trying to get through the day without crying because I spent so much time cooking and doing little else. My husband and I have 3 kids – a teenager and two toddlers. So not only were they all eating 3 meals plus snacks every day from my kitchen, they were eating at very different stages when we started this journey.
It is not a surprise to anyone that refined foods, particularly flours and sugars should be enjoyed in moderation. But it was an overwhelming surprise to me that they were in everything! Once I began reading labels and really understanding what I was reading (did you know there are more than 60 names for refined sugar in packaged goods?) I was one part appalled and three parts terrified because I had no idea how to cook without the pre-packaged conveniences found in the grocery store aisles.
At some point, it occurred to me that my grandmother had 4 sons. Can you imagine feeding a family of 6 with 4 teenage boys without any packaged food? But with that thought came the recognition that it could be done. I set about my kitchen trying to figure out how to make more food but spend less time cooking before I had a nervous breakdown. What I found was that cooking, while not always easy, isn't really all that hard either.
Before becoming a full time, whole food blogger, I spent fifteen years as a marketing executive. Rule number one in marketing is that you create the problem that you solve. If I want to sell you a new widget, I first have to create the need in you for the widget before I can sell it to you. All the years I spent in marketing, it never once occurred to me that very principle was being used with regard to the food I was feeding my family.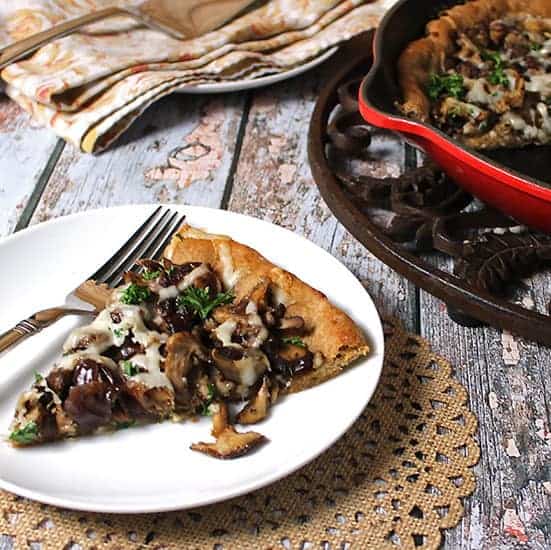 My mother never told me cooking was too hard, my grandmother certainly didn't. I came to that conclusion all by myself with help from lots of advertising dollars spent by companies who wanted to sell me something.  My blog My Nourished Home, originally called Whole Food | Real Families, was born around this time out of my excitement in learning that I could feed my large family real food without going completely insane.
After the subsequent smack to the forehead, cooking became so much easier and more fun. I no longer stressed about what I couldn't do in the kitchen and just started channeling my grandmother. By the way, the first lesson was to stop thinking about the meal in front of me and start thinking about meals (plural).
In the recipe below, you notice that it makes two whole wheat pizza crusts. Don't need two? Freeze one and thaw it in the refrigerator for an easy dinner next week. Need two crusts? While the first set is rising, mix up a second batch while your dishes are dirty and your ingredients are already on the counter. Then freeze them both for dinner next week. You want caramelized onions and mushrooms but your kids want pizza? Toss one in the skillet and one on a pizza pan with sauce and mozzarella.
I hope you enjoy the Skillet Pie with Caramelized Onions and Mushrooms. It is one of my family's favorite dishes. The crust is crisp on the outside and tender on the inside like good pizza crust should be. Served with a salad, it is hearty and satisfying. I also love that while this recipe takes a little longer on the clock, it is mostly passive time and easy to double. I just set the timer on my oven so I don't forget about the next step and go on about my day. Enjoy!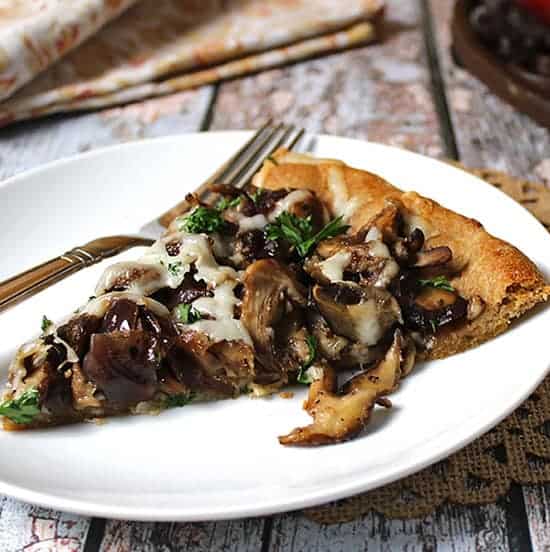 Print
Recipe card
Skillet Pie with Mushrooms and Caramelized Onions [guest post]
No need to call for takeout pizza when you can make a tasty Skillet Pie with Mushrooms and Caramelized Onions with wholesome ingredients.
Author: Cynthia Rusincovitch
Prep Time:

1 hour

Cook Time:

1 hour

Total Time:

2 hours

Yield:

4

to

6

servings

1

x
Category:

Main

Cuisine:

Italian
For Pizza Crust:

1 teaspoon

honey

1 ½ cups

warm water (

110

degrees)

1 tablespoon

active dry yeast

1 tablespoon

olive oil

1 teaspoon

salt

3 ¼ cups

whole white wheat flour
For Toppings (double if making two):

6

–

8

ounces Gouda or your favorite mild cheese (Provolone, Gruyere or Mozzarella would work well)

12 ounces

of mixed variety mushrooms (oyster, shiitake, bella)

1 tsp

dried rosemary

2

–

3

large red onions
olive oil for caramelizing onions

1 tablespoon

of butter
Kosher salt and black pepper
Parsley for garnish
Instructions
Add the honey and warm water to the bowl of your stand mixer. Whisk just enough for the honey to dissolve. Sprinkle the yeast over the top, and let it sit for about 10 minutes. The yeast will foam over the top of the water.
Add the olive oil and salt into the yeast mixture and using the mixing attachment (the one that looks like a whisk), mix the ingredients together just until combined. Add one cup of the whole white wheat flour, then mix again just until combined. Switch the mixer attachment to the dough hook and add the remaining flour (2 ¼ cups), making sure to use a rubber spatula to push any flour sticking to the sides down into the bowl, turn on the dough hook and allow it to work the dough for about 10 minutes.
Turn out the dough into an oiled bowl, turning the dough in the bowl to make sure the surface is coated in oil. Cover loosely with plastic wrap or towel, and let stand in a warm place until doubled in size, about 1 hour.
Once you set the dough aside to rise, drizzle olive oil into the bottom of a large pan (enough to cover the bottom if you swirl it around). Add a tablespoon of butter and let it melt slowly in the warm pan over medium low heat. Slice onions into long, thin strips and add them to the oil and butter. Add salt and pepper to taste and toss to coat the onions with oil. Now just leave them along to cook slowly over medium low heat – stirring only occasionally for 45 minutes to an hour. When they are dark brown and the liquid has all cooked out (and your house smells amazing!), just turn off the stove. (I usually just set my oven timer for an hour and go do something else, stirring the onions once or twice as I pass by the stove.)
When the dough is doubled, turn the dough out onto a lightly floured surface, and divide into 2 pieces. Form both pieces into a ball. Let rise for about 45 minutes, until doubled again. (I usually just leave everything on my counter and cover with a kitchen towel, again setting my oven timer for 45 minutes so I don't forget.)
Preheat the oven to 500 degrees. Add the mushrooms and rosemary to your caramelized onions and turn the temperature of the stove to medium heat. It will take about 8 minutes for the mushrooms to become tender and release all of their moisture.
While mushrooms are cooking, roll a ball of dough with a rolling pin until it will not stretch any further. Then, drape it over both of your fists, and gently pull the edges outward, while rotating the crust. When the circle has reached the desired size, place it in a large, well-oiled cast iron skillet. Make sure the dough is tucked into the corners of the pan and use your fingers to crimp the dough against the sides.
The second ball of dough can be refrigerated, frozen or turned into a second pizza on either a pizza pan or a second cast iron skillet.
Precook the pizza crust for 6 minutes. Remove pizza crust from the oven, drop the oven temperature to 425 degrees.
Top the precooked crust with your favorite toppings and bake for around 16 minutes until the crust is
golden at the edges and cheese is melted on top. Top with freshly chopped parsley and Enjoy!
Recipe Card powered by
 If you like this recipe, check out Three Cheese Pizza with Whole Wheat Crusts over on the My Nourished Home site.