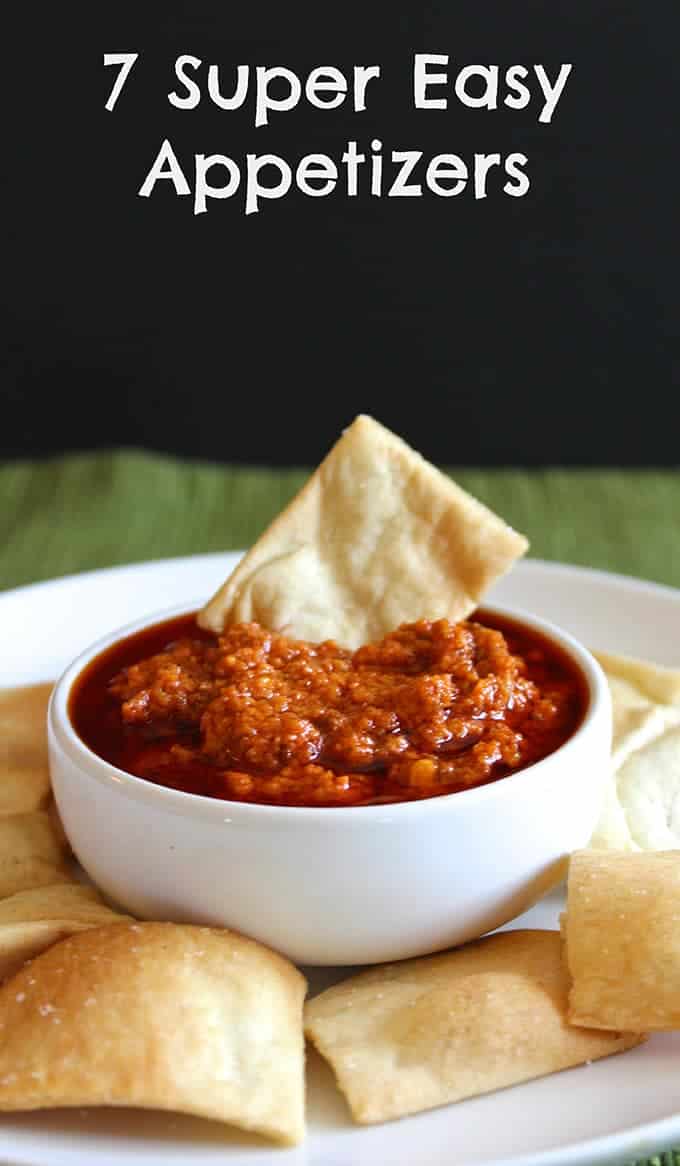 Update: I posted these super easy appetizer recipes for "Game Day" but they are great to whip up for a Christmas or New Year's party, too!
Guess I wouldn't be much of a food blogger if I didn't share a roundup of some Super Bowl food options! Seeing as I waited until so close to game day, I figured an "easy" appetizer theme would be best. So today I'm serving up 7 Super Easy Appetizers for Game Day.  As an added bonus, they are all pretty healthy, too!
Muhammara Spicy Red Pepper Dip I lead off with this favorite dip that can add some variety to your Super Bowl spread, featuring some Middle Eastern flavors. This vegan dip recipe is quite healthy, no cheese or cream involved.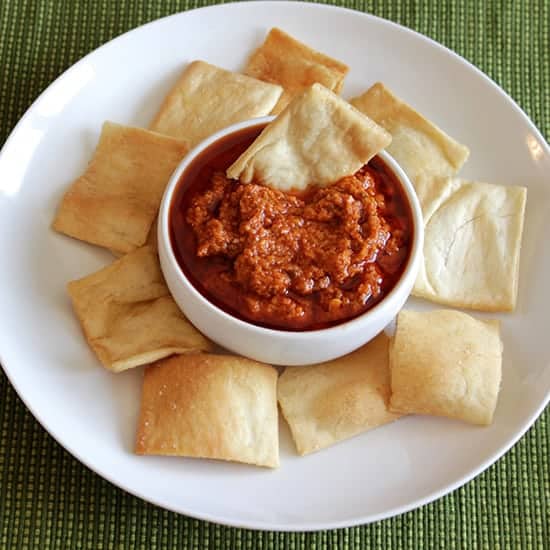 Spicy Green Onion Dip This dip is perhaps our champion when it comes to super easy appetizers! This can be whipped up in 5 minutes, and always gets rave reviews from the crowd…particularly those that like their food with a bit of kick!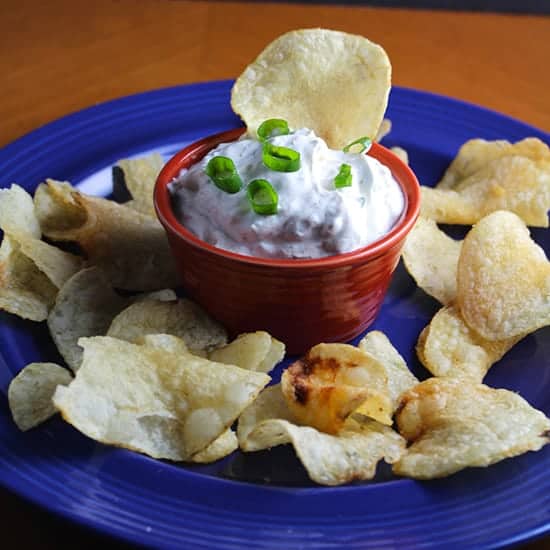 Simple Guacamole I can't claim my guacamole recipe is unique, but it's very tasty and easy to make! Plus, our post comes with this serving tip below, and a wine pick to go with the guac and other game day appetizers.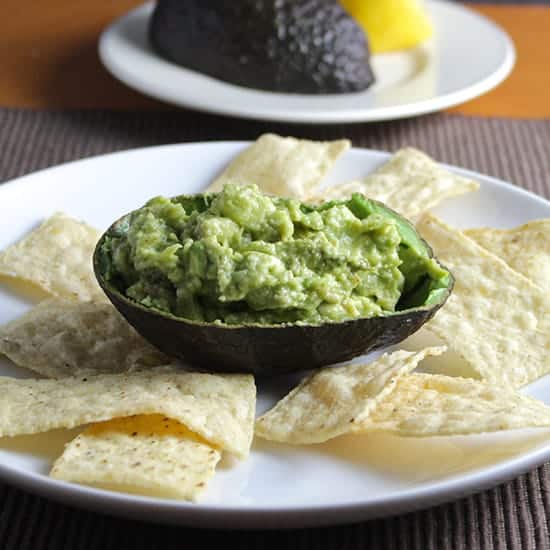 Kale Pesto Crostini Breaking up the lineup of dips here with a tasty crostini recipe. I lead with the kale pesto version, sticking with the healthy theme. But you can apply the same method to making crostini with traditional basil pesto, if you'd prefer.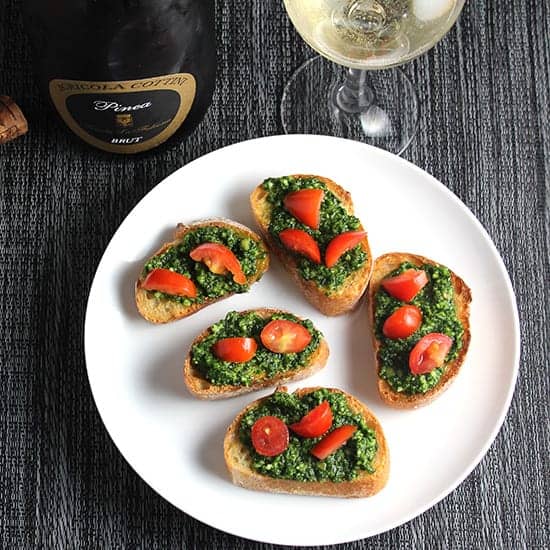 Bacon and Greens Dip It didn't seem right to put together a football game day spread without including some bacon! Here bacon combines with light cream cheese along with some healthy greens, so there is still some healthful aspects to this one. And so tasty (but what would you expect, with bacon involved?).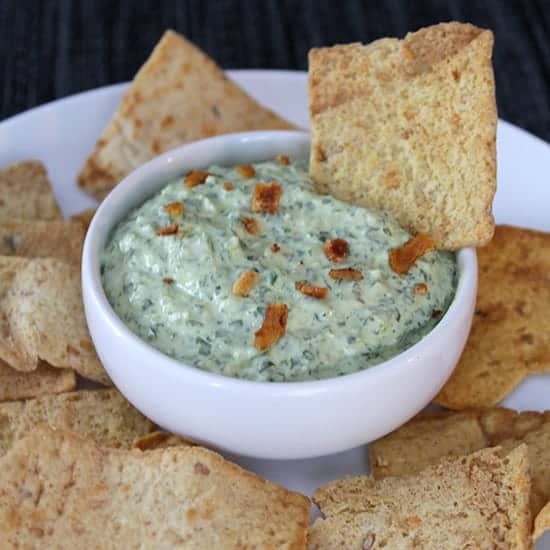 Spicy Eggplant Dip This dip gets you some healthy veggies, inspired by an abundance of eggplant we had on hand this fall. We liked it slightly better with grilled eggplant, but roasted eggplant is fine if your grill is under 2 feet of snow like mine! This probably takes the most effort out of the items in this lineup, mostly because of the time to roast the eggplant, but it's still a breeze! Super easy appetizers can still be a little off the beaten path like this recipe.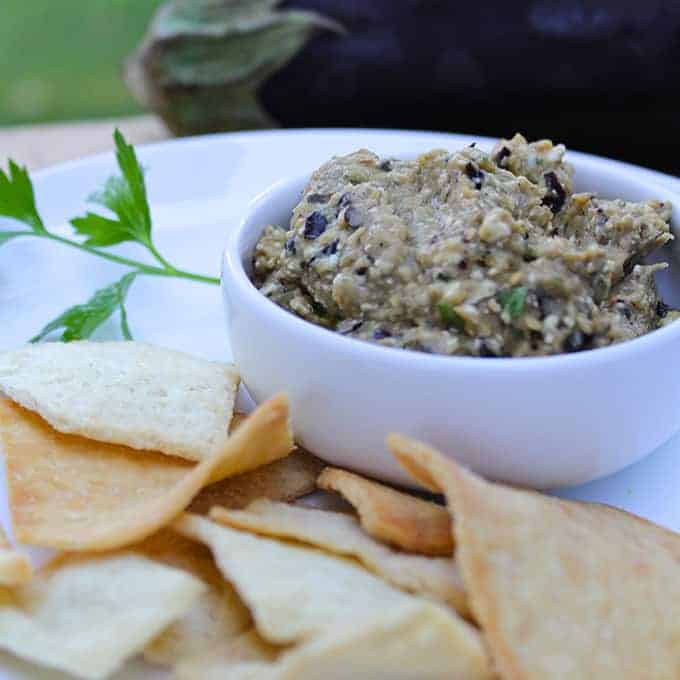 Alright, that wraps up my contribution to your Super Bowl appetizer game plan! What super easy appetizers do you have planned for the big game? If you are looking for more appetizer ideas, Maria has a great roundup of 80 healthy appetizers that include a couple of ours.