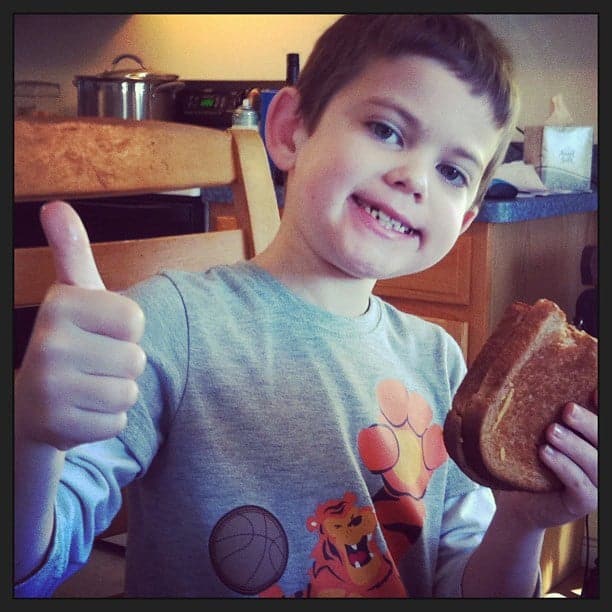 A grilled cheese is far from fancy, but it is a comfort food that many of us have enjoyed. However, we've found it to be a challenging item to replicate with the products we've tried previously. Well, sure, I've stuck a some tasteless soy cheese between bread and tried to make a grilled cheese, but until this latest attempt, was never tasty enough to lure B away from his daily soynut butter sandwich. So let me describe each ingredient that combined to work for a tasty grilled "cheese" for our lad, followed by instructions just in case you haven't made one successfully before!
The "cheese":  When I mentioned B is allergic to dairy, Ellie in the Whole Foods Woburn cheese department suggested the Daiya cheddar style shreds specifically for making grilled cheese. This product is also soy free, with tapioca and/or arrowroot flours, some vegetable oils and pea protein listed among its main ingredients. The product is vegan-friendly. Unlike some other dairy-free cheeses we've tried, this melts quite nicely. Given the ingredients, this doesn't have the protein or calcium of a dairy cheese. Our son eats meat so we're not worried about getting enough protein.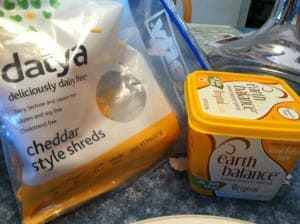 The bread: Those that haven't contended with food allergies would probably be surprised at how hard it can be to find bread that doesn't contain milk and/or eggs. Oh, and of course, other breads that don't have those items may contain nuts, or have potential traces of them. Lately we have been choosing Whole Food Organic 100% Whole Wheat Bread. It's free of milk, eggs, and nuts, with wheat being the only listed allergen. It does contain the stipulation that it is "produced in a facility where various types of nuts…are used." We've been comfortable choosing Whole Foods products with this label, as long as it doesn't indicate potential for traces of nuts or that it was made using shared equipment that also uses the allergens we avoid.
The "butter": A generous amount on butter on the bread is key to getting a grilled cheese to cook up with that nice golden brown color. We have long been fans of the Earth Balance Natural Buttery Spread. In fact, unlike some other dairy substitutes that I eschew, given that I can eat dairy, I like this about the same as cow's milk butter for many things. In fact, for spreading on something like grilled cheese, I'd rate it better because it's a bit softer and easier to spread. This is also vegan-friendly, made with a natural oil blend.
OK, that's the ingredient recap, typically the biggest challenge with find a food allergy friendly solution! The full instructions are in the recipe card below, but first, a few photos with some tips:
We start by spreading Earth Balance non-dairy buttery spread on the bread.
Then we sprinkle the Daiya cheddar slices on one of the pieces of bread. My son likes a modest amount, as shown below, just enough to make the pieces of bread stick together. I got a thumbs down when I piled on more than this!
Then you close it up and make your dairy-free grilled cheese sandwich…and hopefully by following these tips you will get a thumbs-up too!
Print
Disclaimer: Food allergies can be life threatening and must be taken very seriously. In posts such as this where I discuss things we've used and made to work around our son's allergies, the intent is to share our experiences, including products and techniques that have worked for us. Hopefully you might come up with some new ideas from this blog. Every case is unique, however, so you should be certain to read labels carefully, consult your own doctor, and always have an Epi-pen handy, if prescribed. Keep in mind we are just one family doing our best to manage food allergies; I'm not a medical professional and don't purport to offer medical advice.