We had been looking forward to a chance to visit Great Wolf Lodge for over a year since we first came across an ad for the indoor water park. We finally got a chance to go just before Christmas, and now wanted to share about our visit, including the allergy friendly food at Great Wolf Lodge. Just in time for the winter school vacations!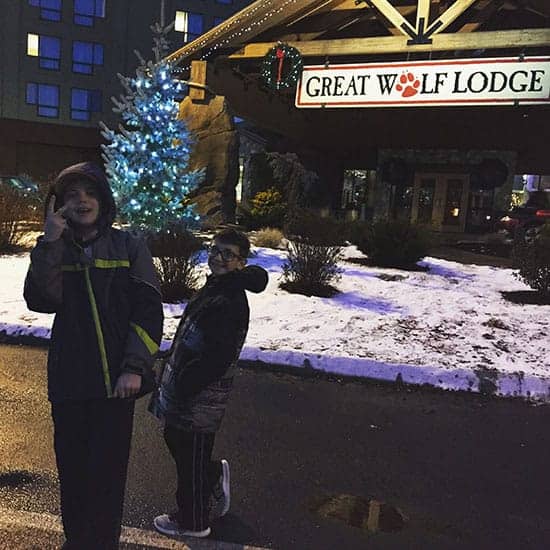 Planning Your Visit to Great Wolf Lodge
We went to Great Wolf Lodge New England, which is located in Fitchburg, Massachusetts. Fitchburg is about an hour's drive west from Boston. I assume much of what I cover would be similar at other Great Wolf Lodges, but you ought to check the particulars of the Great Wolf Lodge nearest you. There are about 15 across the US plus one in Canada; locations available via the Great Wolf Lodge home page.
You need to book a room at Great Wolf Lodge in order to use the indoor water park and other activities. That controls the crowd a bit, but also means it is not an inexpensive proposition. The lowest rate for a standard room at Great Wolf Lodge is $199.99 per night. The themed rooms start at $299.99, and premium go for $429.99. Those lower rates are based on going at a less popular time, such as a Tuesday evening. Weekends and vacation weeks the rates jump up over $500 for those themed rooms.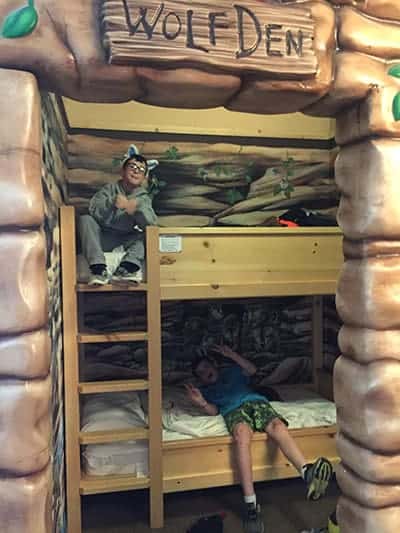 If you can plan to go at an off peak time, you will definitely save yourself some money! They also offer a lot of time sensitive deals, so it's worth signing up for their email list if you are planning to go to Great Wolf Lodge.
Fun Times at Great Wolf Lodge
We chose a themed room, the "Wolf Pup Den Suite" (see photo above). In fact, that room setup was one of the attractions of the place! Within the overall suite, which sleeps 4 comfortably, there is a little den room with a bunk bed that gives can give kids a fun area of their own. Our 11 year old son recruited one of his friends to come along, and they enjoyed hanging in their wolf den when not in the pool.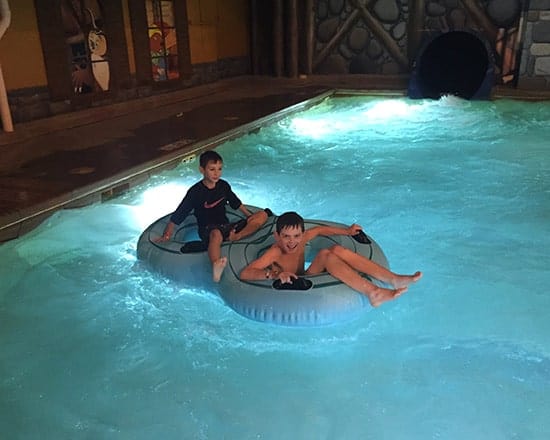 Speaking of the pool, the indoor water park is definitely the highlight of Great Wolf Lodge. I asked B about what his favorite slide. After some consideration, he said "Howlin' Tornado…but try everything!". B and his friend also spent lots of time playing water basketball when they weren't testing out the slides. There's also a big wave pool that they really enjoyed.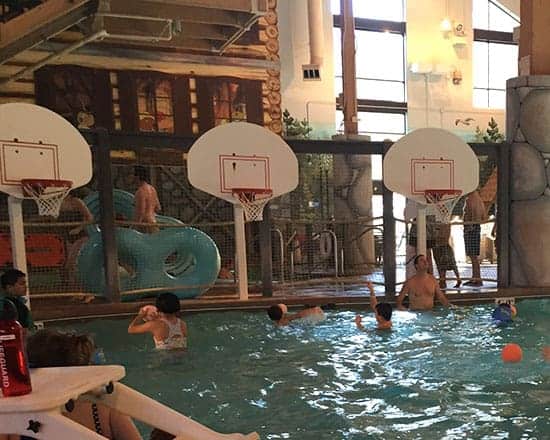 Great Wolf Lodge also has a number of splash pools and the like that are more suitable for younger children. Seems like plenty of options for families with young children ranging up to early teen years.
There are also quite a few activities available for when the kids (or parents) are ready for a break from the water. There's an arcade, a ropes course, and a lot of activities with forest animal characters. Some of those options were not for our middle school age boys, but the younger kids there seemed to be enjoying it.
Allergy Friendly Food at Great Wolf Lodge
We were very pleased to see an allergy awareness statement prominently displayed on the page for the Lodge Wood Fired Grill. The statement noted that they don't use peanuts or tree nuts in the Great Wolf Lodge dining facilities, and indicated an interest in working with food allergy concerns. That certainly encouraged us to the we could find allergy friendly food at Great Wolf Lodge! I checked out the restaurant pages for several other Great Wolf Lodge locations, and they seem to have the same allergy statement. As always with food allergies, be sure to do your own research on the location you are visiting.
The allergy notice suggested families with allergy concerns might want to get in touch with the dining facility contacts in advance of the visit. I reached out, and through that I did learn that they use a separate fryer for allergen free cooking. This is a big deal, as it means our guy was able to order fries, which isn't possible at many places. They indicated he could also order chicken tenders, which are often not safe due to his egg allergies.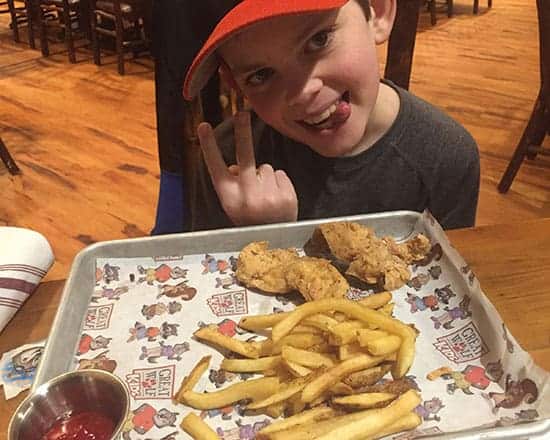 Of course, I would suggest double checking what items they don't put into the allergen free fryer. I would suspect they at least steer clear of the 8 major allergens required on food labels, but if you have a less common allergen thee could be an issue. B is allergic to sesame seeds, fairly common but not one of the eight, so that is something we also have to check.
The advance communication with the dining facilities did increase our confidence about getting allergy friendly food at Great Wolf Lodge. However, we didn't make specific arrangements in advance, so needed to explain our son's allergens to the servers and chef.
The Lodge Wood Fired Grill seemed like the best dining option for us at Great Wolf Lodge New England. There is also a pizza place, and a poolside snack option, but the Wood Fired Grill seemed like it would be the best for managing food allergies. We headed there for dinner on the night we arrived.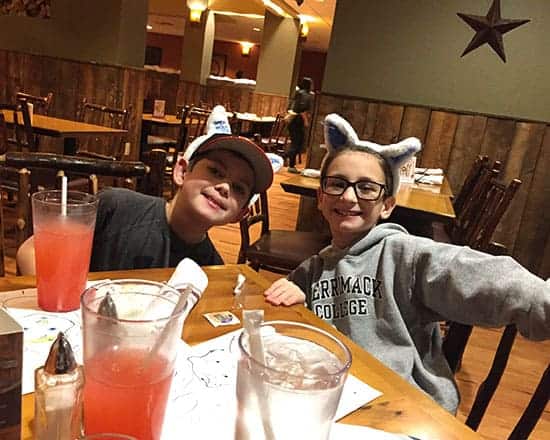 The Wood Fired Grill is definitely a casual family atmosphere. It was busy though not overcrowded on the night we were there. Keep in mind we were there just before Christmas, and it might be busier during other times.
B was excited to be able to order the chicken fingers, which is often not an option for those with food allergies. He had fries and fresh fruit to go with his chicken fingers, along with a strawberry lemonade. He gave his meal a big thumbs up, always nice to see him be able to enjoy a full restaurant meal. Yes, you can find allergy friendly food at Great Wolf Lodge!
B's buddy ordered the spaghetti & meatballs from the kids menu. He obviously liked it because he ordered that for lunch again the next day!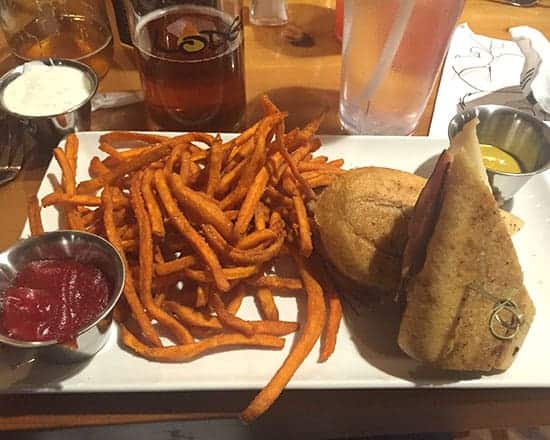 I ordered the Cuban sandwich, which was definitely tasty. I opted for a beer to go with it; they had a pretty good selection of beer including some local craft brews. The wine selection was pretty limited. I realize Great Wolf Lodge caters to kids and families, but they might want to try to expand their wine list a bit. The Wood Fired Grill does offer some pricier steak options, I would certainly want a suitable wine to pair if I were springing for filet mignon or the like.
Though the online menu indicated the Wood Fired Grill is open for lunch and dinner, we found it closed when we returned for lunch the next day. Fortunately, there was an adjacent bar area available that offered a similar menu. The food service there was a bit slow and spotty, however.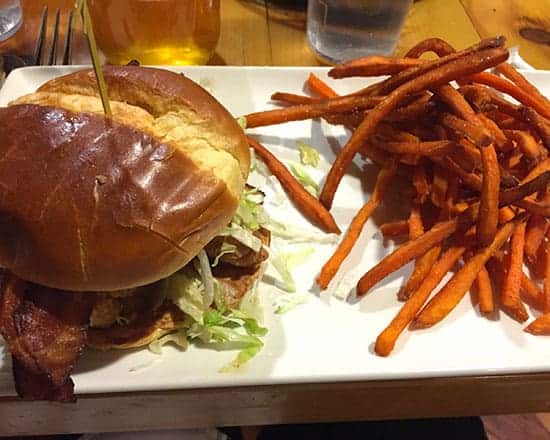 For lunch, B went with burger and fries, and more of the fresh fruit side. He was really pleased with the fruit, noting how fresh and tasty it was. I went with a crispy chicken sandwich, and Jodi had the chopped BBQ chicken salad. We were all pleased with our lunch–especially finding allergy friendly food at Great Wolf Lodge once again– and ready to get back to the pool for a bit before heading back home.