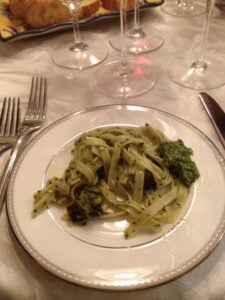 For the second course of the meal I made this past weekend, we landed on doing a pasta course, Italian style. A good hearty pasta dish seemed like it would hit the spot on a winter night. Plus, my pesto is very popular, so a pasta course would be a good way to work that in. I don't make pesto often in the winter when the basil isn't as good, but I did manage to find a nice healthy bunch at Whole Foods.
In the summer, I love to toss the pesto with some pasta, topped by chopped fresh tomatoes. For the big meal, I went with one of my go-to winter recipes for pesto, which calls for adding some roasted potatoes along with the pasta and pesto. This gives it a heartier feel, and makes it just right for winter. I got this good suggestion from Food & Wine Pairing (Williams-Sonoma Lifestyles). This dish is very simple to do once you have the pesto made. Simply roast some potatoes (start before you get the pasta going), then toss them with the cooked pasta and pesto sauce. I liked to offer extra pesto sauce at the table for those who want a little (or a lot!) more. I used fettuccine for the pasta, and the dish was served along with a nice salad tossed by John and Liz.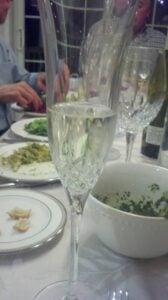 Now, pesto is one of those foods that has a widely accepted optimal wine pairing–Sauvignon Blanc in this case. I talked about that along with the recipe in my earlier pesto post. That was also what the Williams Sonoma book suggested; and they offered prosecco as an alternative option. We did have a bottle as a choice for people, but the season and earthiness of the roasted made me want to pair a red.
An Italian red seemed like a natural choice with this meal, but we went off the beaten path with the Manincor Reserve del Conte which is a blend of Lagrein, Merlot and Cab (40/40/20 in the vintage we had, I believe). I had actually had some of this wine in the week leading up to this dinner, and it struck me that it might work with the pesto, and Ray confirmed that intuition. The group seemed pretty pleased with the way the Manicor paired with the pesto, as was I! Lagrein is a grape varietal found only in Northern Italy's Alto Adige, and provided nice acidity and tannins to stand up to the flavorful pesto dish.
Well, as you might imagine, after soup and a pasta course we were not ravenous. Yet there was still a substantial third course to come…stay tuned for that! The post on the first course has more of the back story on the dinner.