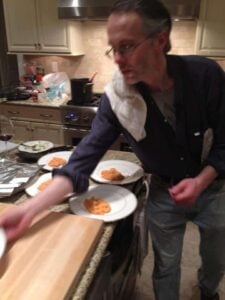 Really, I did make a three course meal last Saturday! Though after the fettuccine with pesto and potatoes, we probably could have called it a night. But not this time!
I've gone with pork tenderloin a few times for these multi-course meals. It's pretty easy to scale up for additional people, and you can supply most of the flavor by getting it marinading in advance. I like the way pork tenderloin absorbs the flavors of a marinade, making it an interesting culinary palette on which to work. I wound up serving the Spicy Lemon-Rosemary Pork Tenderloin based on the Food and Wine recipe. This recipe calls for a lot of garlic and a healthy dose of red pepper flakes along with the rosemary, giving it nice kick! I should also note that the pork took longer than the time indicated in the recipe. Check at their suggested time but know you might need an extra 10 minutes or more.
Speaking of kick, that gave me a good excuse to make one of my favorite side dishes, Sweet Potatoes Mashed with Cumin Sage Butter. This has been a big hit every time I make it, often eliciting more comments than the meat I serve it with. The natural sweetness of the potatoes is offset nicely by the spices in the butter.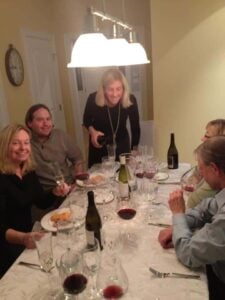 The wine recommendation that came with the recipe was for a "peppery Syrah" which seemed like sound advice. Ray Schaefer of Pairings Wine and Food provided a number of suggestions in this department. We continued the experimentation with this course, providing two very different Syrahs for people to try and choose for themselves.
First, there was the Old World 2006 Le Reve de Marine Sablet Rouge from Domaine de Piaugier, a Cotes du Rhone Villages, then the 2009 Stolpman Estate Grown Santa Ynez Syrah. As one might expect, the Cotes du Rhones was more subdued and nuanced, and the Stolpman was powerful and very fruit forward. I'd definitely say I'd prefer the Stolpman to drink by itself, but the Cotes du Rhones definitely had its advocates at the table, at least in terms of how well it match the dish. Perhaps it's the diplomat in me, I'd call it a draw between these two wines, but I suspect some of the guests might have a stronger opinion.
Well, that completed the official three course meal I'd promised. But there was still wine left, and some desserts provided by the Fransons. Not much note taking at that point of the evening though, so there won't be separate post on that! But I will do an overview and provide some tips on putting together a meal like this.