Between schedules, budget and our focus on home cooking, Jodi and I don't dine out too often when we are home. When we do have a chance for a special night out, Craigie on Main in Cambridge has long been one of our favorites. After going a year or so without a trip there, last month we headed back to Craigie on Main for our anniversary. Once again, we had a great dining experience and Craigie on Main remains high on our list of favorite restaurants in the Boston area.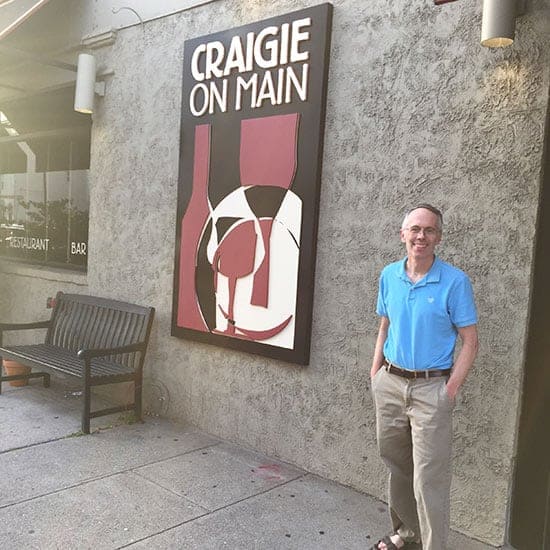 We first came to love the food from Chef Tony Maw and his team at the original Craigie Street Bistro off Harvard Square. We visited the new expanded restaurant shortly after it opened, and were pleased to see the food quality to be what we remembered from the original spot.
Our most recent visit got off to a good start when we found street parking about a block from Craigie on Main. The restaurant was busy but not overcrowded on this warm August evening. We got to our table in a back corner of the restaurant, with subdued lighting perfect for an anniversary dinner, if not the food photos!
As we considered our selections, we had amuse-bouche brought to us. Mine was a tasty piece of cured pork along with some melon. A good start!
We started with an heirloom tomato salad that was a wonderful celebration of tomato season. The tomatoes were served with a white balsamic-shallot vinaigrette, basil and sourdough croutons. I had a glass of rosé, 2015 Vino Rosato 'Elatis' from Burlotto, that provided nice crisp acidity to match the tomatoes. Jodi enjoyed hers with a glass of Riesling. Though the rest of the meal was excellent, this starter may have been my favorite part of the meal.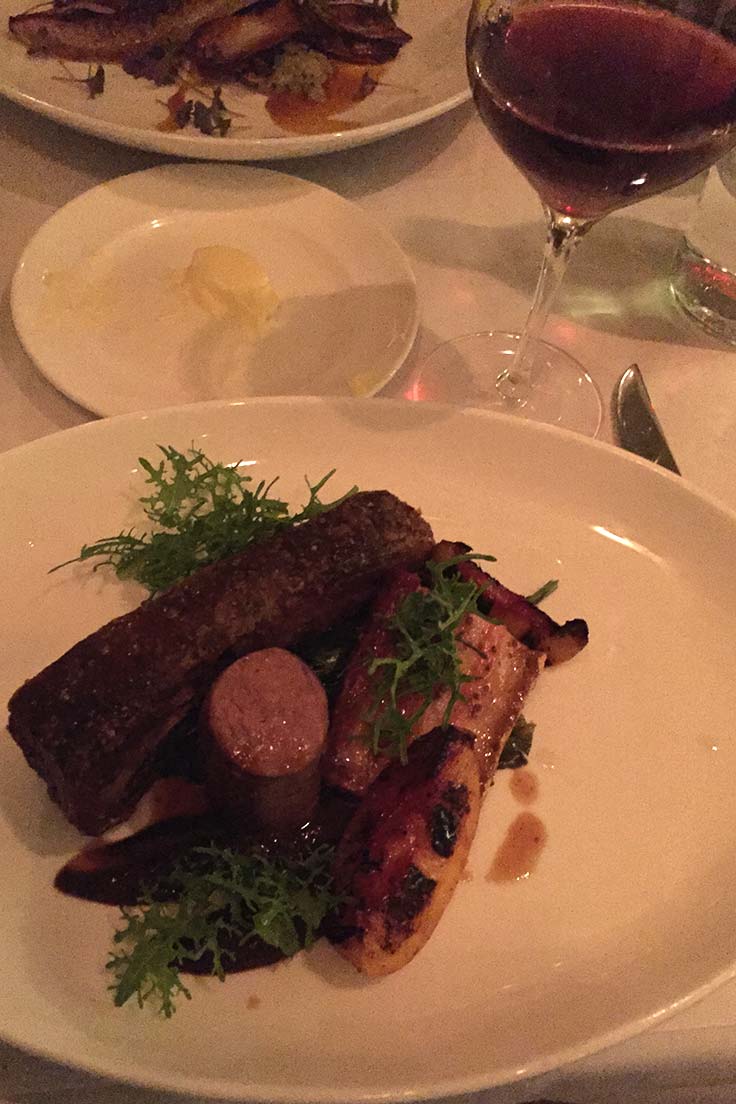 For my main course, I ordered Vermont pork three ways. I know Chef Tony is a big pork guy, so I will often gravitate toward that offering on the menu and Craigie on Main. This time, the dish consisted of a spicy pork rib, a country sausage and slow cooked pork belly. This was all delicious savory goodness! I'd say I liked the sausage best, made on the premises I assume. I appreciated the rib more when I decided to put down the fork and knife and eat it with my hands! The meat was accompanied by a smoked mushroom and ancho catsup, roasted peach and rapini.
Jodi had a creative vegetarian entree that she enjoyed: zephyr roasted squash with farro and king oyster mushrooms.
Craigie on Main has a great wine selection, with a wide array of offerings form France and Italy in particular. I seized the opportunity to try something off the beaten path. With helpful input from the sommelier, I ordered a bottle of 2014 Arbois "Les Grands Vergers" from Michel Gahier in the Jura region of France. The wine has a (good) funky nose, with a flavorful taste profile, plum fruit and a bit of tartness. The wine opened up nicely when decanted, and paired well with the pork. The Arbois is made from Trousseau grapes.
We still had some red wine in our glasses when the entree plates were cleared, so we opted to finish with a cheese plate. I tend to like a savory finish, and enjoyed nibbling on the cheese and sipping the wine with it. The server bringing out our cheese was very enthused with the cheeses, and was pleased to see we took a similar interest in the plate.
Craigie on Main continues to be one of those restaurants where the quality of the experience is consistently top notch each time we manage to visit there. If you'd like to check it out, visit the Craigie on Main website. They do take reservations, and have some programs that sound interesting such as the weekly Chef's Whim dinners, multi-course meals where you get surprised with dishes the chef feels like creating with the fresh ingredients on hand. Alas, the 9 p.m. start time on Sunday evening doesn't work well for our schedule, so we haven't made one of those…yet!