Wait, don't put away that grill yet! This Grilled Porterhouse Steak with Mushroom Sauce recipe combines a serious steak with a scrumptious savory sauce. We pair it with the Harvest Witch Cabernet Sauvignon, perfect for October! The wine was sent as a complimentary sample. Read on for details about the recipe and wine pairing, or click here to jump down to the recipe.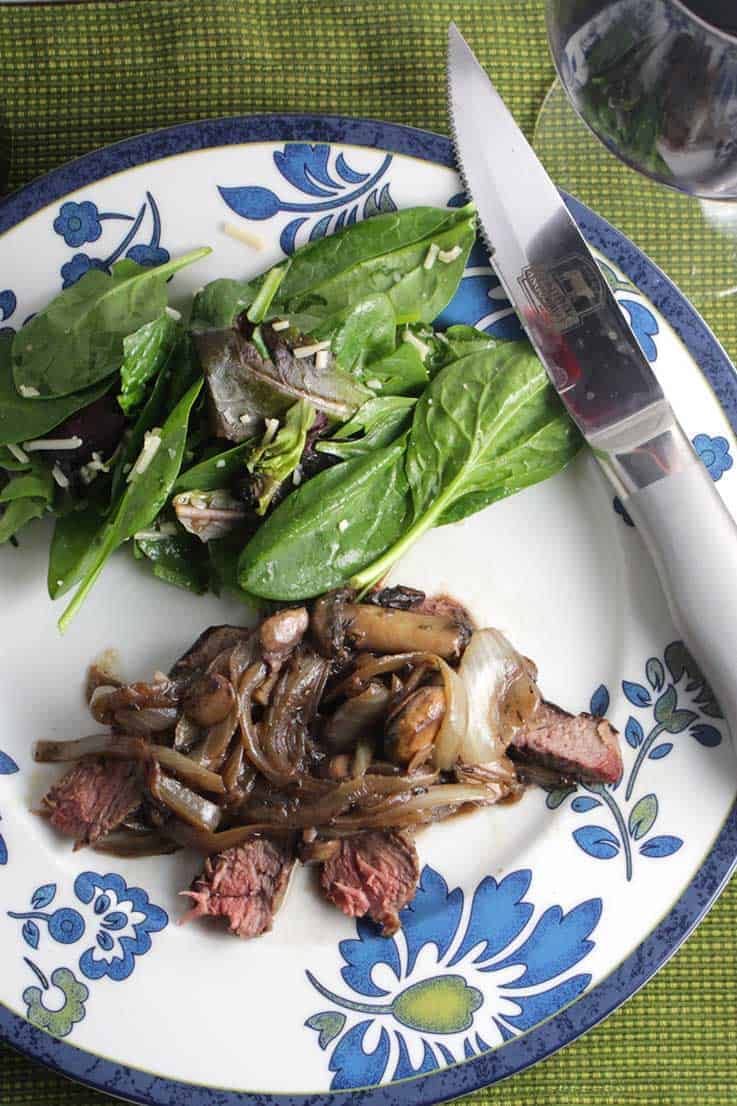 We're closing out grilling season in style with our Grilled Porterhouse Steak with Mushroom Sauce recipe! You've got a serious steak, topped with a savory mushroom sauce that you are going to want to heap on the steak generously. And we've got a great wine to go with it, perfect to enjoy in the weeks leading up to Halloween.
Sure, I'll be out grilling until snow makes it impractical. I have a weekly routine of making Juicy Grilled Chicken Breasts on Sunday to have available for sandwiches during the week. And certain things I much prefer grilled, such as swordfish. But here on Cooking Chat we will be switching our focus to cold weather recipes like soups, casseroles and spoon roast.
What is Porterhouse Steak?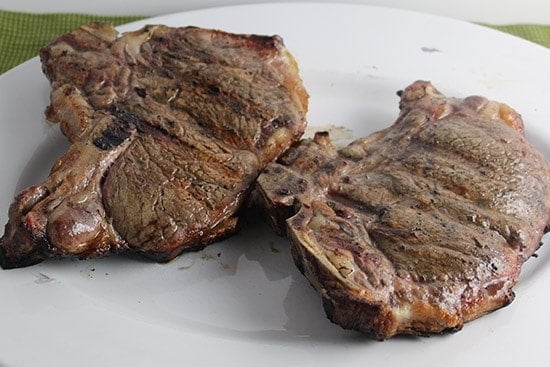 A Porterhouse steak comes with a T shaped bone, one side is a tenderloin filet and the other side is a top loin, which we know as NY Strip Steak–a cut I like to buy. So yes, the smaller piece of beef on the Porterhouse is what you get when you have filet mignon. This makes Porterhouse a great steak, with two quality portions of beef.
Keep an eye out for a Porterhouse with a sizable tenderloin portion for a cost-effective treat, as Porterhouse will be quite a bit less per pound than filet mignon. The Porterhouse steaks I got for this recipe, shown above, had a pretty small filet portion. I'll have to update with a new photo next time I grab a Porterhouse house with the classic T bone look. The Prime Steakhouses website breaks it down in more detail. Let's move to how we prepare this cut for our Grilled Porterhouse Steak with Mushroom Sauce.
Making Grilled Porterhouse Steak with Mushroom Sauce
You want to get the mushroom sauce going first, so that you can serve the steak after just a few minutes of resting after the Porterhouse is grilled to juicy perfection.
My standard mushroom sauce starts by sautéing a shallot, but for our for our grilled Porterhouse steak the mushroom sauce starts by caramelizing an onion in the skillet. This added a great savory sweet flavor to the sauce, and enhanced the wine pairing. Once the onion is caramelized, I proceed as I typically do with a mushroom sauce. Cook the mushrooms until they sweat, add some red wine and cook it down. This mushroom sauce gets finished by melting in a bit of butter.
Start prepping the Porterhouse steaks around the time you add the wine to the mushrooms. This will give the steaks a little time to absorb the rub, enhancing the flavor and tenderness.
Six minutes per side of grilling gave us nice juicy medium rare steak–maybe a bit closer to medium. Adjust your grilling time based on the thickness of the steaks, your grill and preference for how you like steak cooked. To finish the Grilled Porterhouse Steaks with Mushroom Sauce, let the steaks rest for a few minutes after grilling. Slice crosswise, and top with the scrumptious mushroom sauce. You are ready for a great meal! But don't forget the wine…
Wine Pairing for Porterhouse Steaks with Mushroom Sauce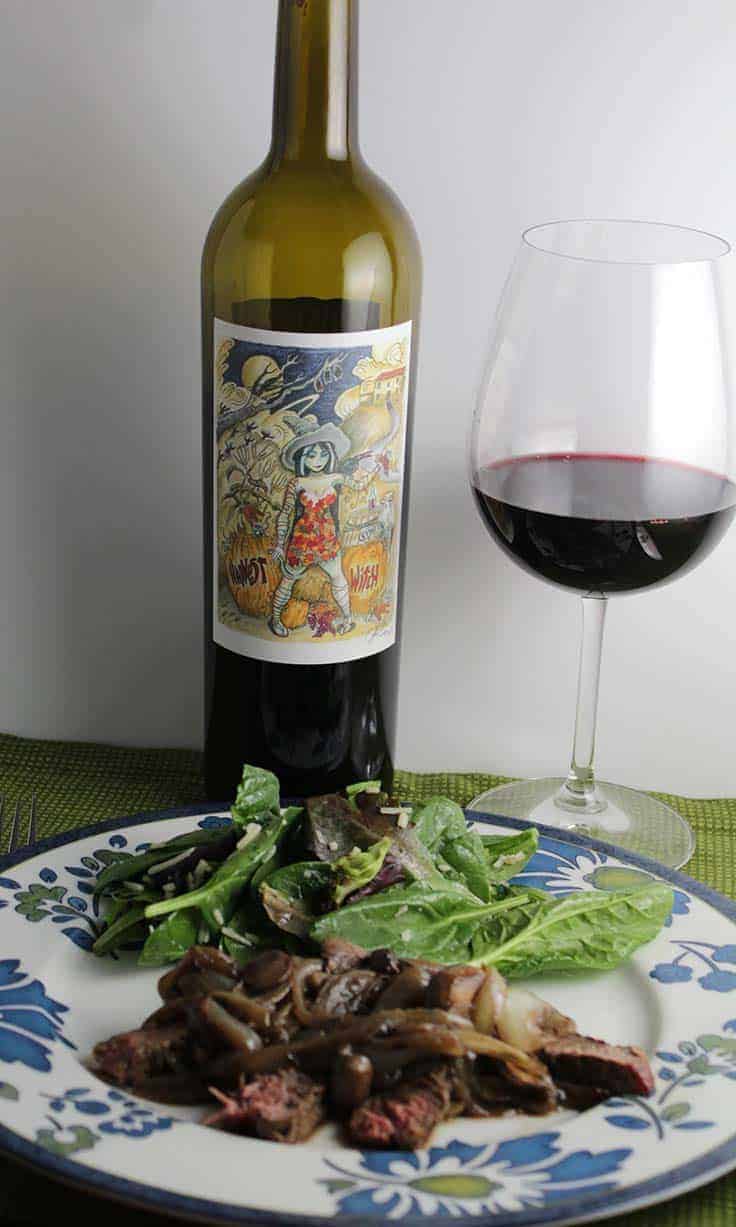 I had a good bottle of Cabernet Sauvignon in mind when I came up with the Porterhouse Steaks with Mushroom Sauce recipe. Flora Springs Winery in Napa has a lineup of Halloween wines, which ties into the winery's history, located where there had been an abandoned ghost mine.
They sent me the lineup to sample, which includes a Cab Franc and a Merlot as well as the Cabernet Sauvignon we had with this steak recipe. You can get yourself "Flora's Spooky Six-Pack", with two bottles of each, for $299 and save on the per bottle price. I have also tried and enjoy the Cab Franc, and suspect the Malbec is also very good based on my experience with Flora Springs wines. There were just 250 cases produced of the Harvest Witch Cab.
I was looking forward to trying the 2013 Flora Springs Cabernet Sauvignon Harvest Witch ($50, 14.2 % ABV), with our grilled Porterhouse steaks, and it certainly didn't disappoint. I got lavender on the nose, juicy blackberry fruit, with a touch of oak and vanilla. Plush mouthfeel, an enjoyable wine to sip on its own, but even better paired with a good steak! Steak and Cab is a good building block for a winning pairing. This pairing is enhanced as the fruit and body of the wine enhance the savory mushroom sauce that tops the steak. So go ahead, before you put the grill away for the winter grab this bottle of Cab and enjoy it with our Grilled Porterhouse Steak with Mushroom Sauce!

Print
Recipe card
Grilled Porterhouse Steak with Mushroom Sauce
Grilled porterhouse steak topped with a delicious mushroom sauce makes for some serious eating!
Author: Cooking Chat
Prep Time:

5 mins

Cook Time:

30 mins

Total Time:

35 mins

Yield:

4

servings

1

x
Category:

Main

Method:

grilling

Cuisine:

American
2

porterhouse steaks
FOR THE STEAK RUB

1 tsp

garlic powder

1 tsp

sage

1 tsp

salt

½ tsp

thyme
FOR THE MUSHROOM SAUCE

1 tbsp

olive oil

1

large onion, chopped

10

ozs sliced button mushrooms

1 tsp

dried thyme

⅓ cup

red wine

2 tbsp

butter
salt and pepper to taste
Instructions
Combine the steak rub ingredients–garlic powder, sage, salt and ½ teaspoon of dried thyme–in a small ball and set aside.
Start making the mushroom sauce. Heat the olive oil over medium heat in a skillet. Add the onions, and cook until they have browned, about 10 minutes.
Add the garlic to the skillet, cook for another minute.
Stir in the mushrooms, cook until they begin to "sweat" (moisture starts coming out), about 5 minutes.
Stir the red wine into the skillet with the mushrooms, and add the 1 teaspoon thyme and salt and pepper to taste. Simmer until the wine is mostly absorbed, which takes 3 to 5 minutes.
Finish the mushroom sauce by stirring in the butter, and letting it gradually melt. Cover the sauce pan and keep warm while you cook the steaks.
Around the time you add the wine to the mushrooms, preheat a grill to medium high. Lay the steaks out on a work surface. Sprinkle roughly half of the spice mixture onto the steaks, and rub into the meat. Turn the steaks over, and repeat the rubbing process. Let the steaks sit with the rub as the mushroom sauce gets finished up.
Spray the grill with some oil spray, then add the steaks to the grill. Grill covered on direct heat for about 6 minutes, then turn the steaks over. Grill for another 6 minutes or so for medium rare. Check steaks for doneness, as cooking times will vary based on your grill and thickness of steaks.
Remove steaks to a platter, and let them rest briefly.
To serve, slice the steaks crosswise, and place 4 or 5 strips on a plate. Scoop some mushroom sauce over the steaks, and repeat the plating process for additional servings. Enjoy!
Keywords: grilled porterhouse, steak with mushroom sauce, porterhouse steak
Recipe Card powered by