Great side dishes are an essential part of making a special Thanksgiving meal. Yes, sometimes you want to roll out the old standys, but it's nice to add some variety, too! With that in mind, we have pulled together this roundup of Creative Thanksgiving Sides from our fellow bloggers along with a few of our favorites from here on Cooking Chat. Originally published in 2014, with new recipes and other updates added recently. Check them out and let us know what you try!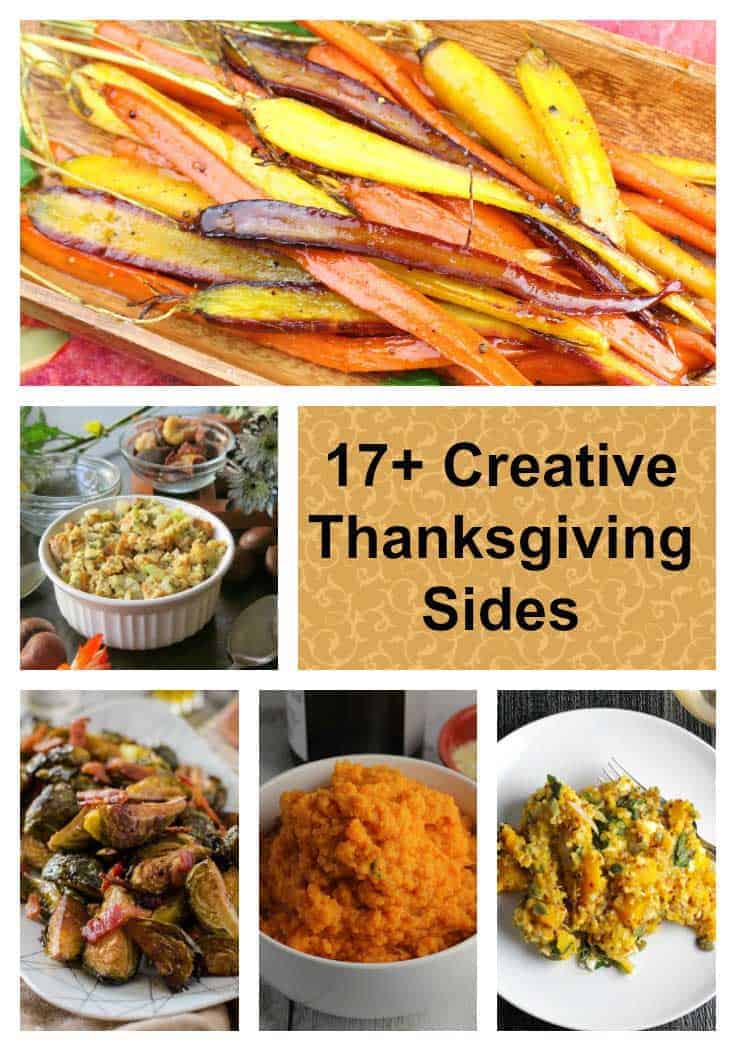 Well, Thanksgiving day is almost here! Do you have your menu 100% locked in? Or do you plan like me…you think about your menu for a big dinner for weeks, have it basically set but are tweaking right up until the company arrives. If you're looking for one more idea (or maybe a few more!) to put on the table Thursday, today we bring you these delicious Creative Thanksgiving Sides.
I feature more entrees than side dishes here on Cooking Chat, so I thought I'd tap some of my fellow bloggers to share with you. The result is a great lineup of creative Thanksgiving sides that can add some tasty variety to your table.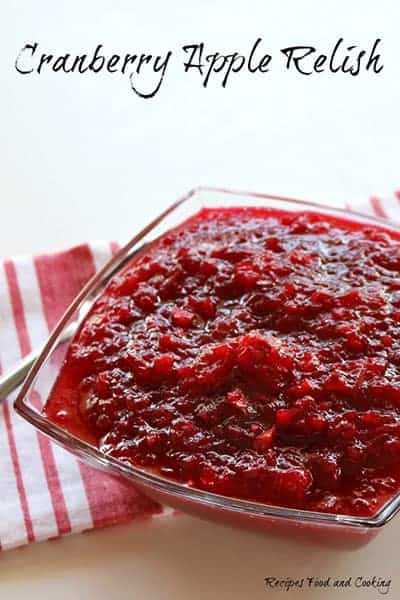 Cranberry Apple Relish Let's start off this post with a classic Thanksgiving side, cranberry. But with the addition of apples, Mary Ellen from Recipes, Food & Cooking puts a creative twist on this one, and the colors just pop right out of the picture.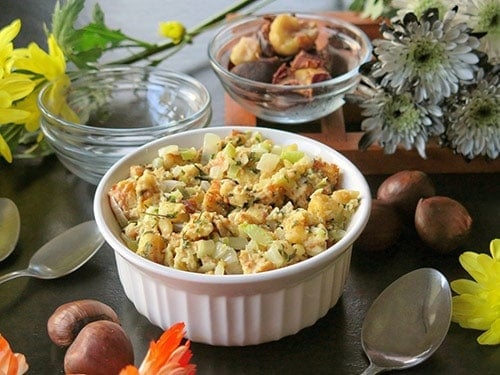 Chestnut Stuffing How about some chestnuts to get you in the holiday mood? Thanks to Cindy's Recipes and Writings for the tasty contribution to our Creative Thanksgiving Sides roundup.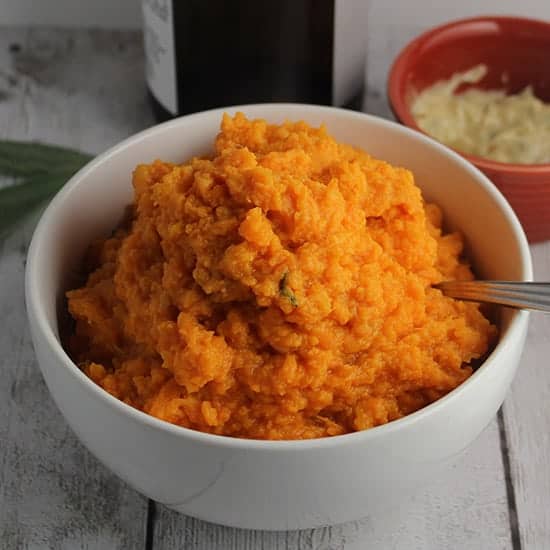 Sweet Potatoes with Cumin Sage Butter Probably a good time to add one of my favorites from here at Cooking Chat! This flavorful sweet potato dish was originally created to go with pork tenderloin, but I recently found it goes well with turkey, too, as shown in the photo at the top of the post. By the way, if you're still looking for a turkey recipe, my Roasted Turkey with Garlic Herb Butter is quite tasty!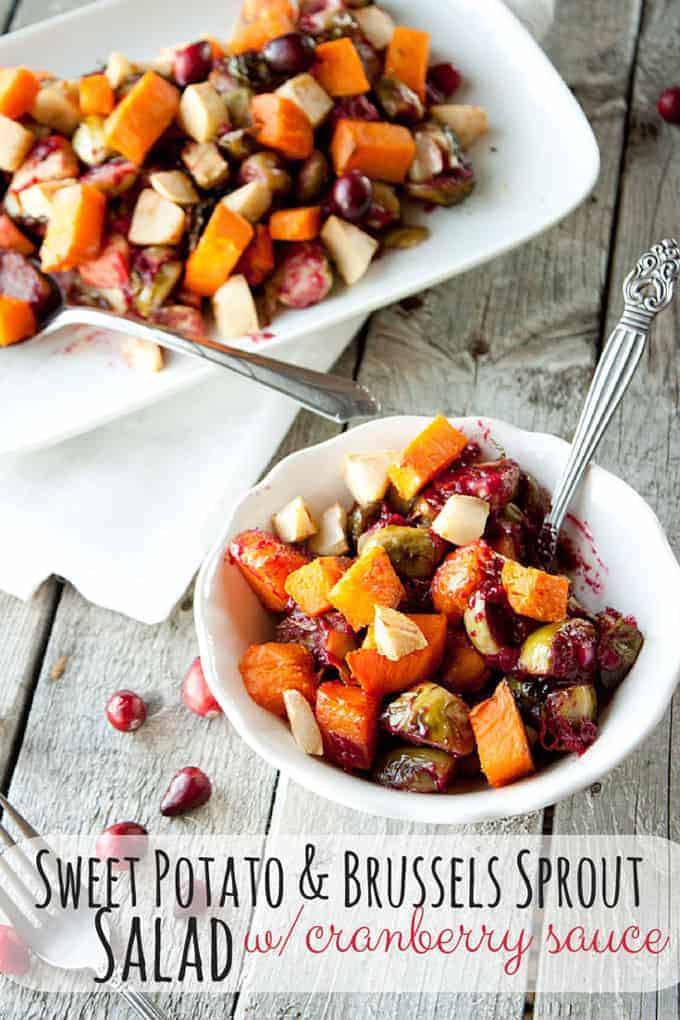 Sweet Potato and Brussels Sprout Salad with Cranberry Sauce from Simple Roots Wellness. Sure, three ingredients in this dish are often found on the Thanksgiving Table. But combining it all in a salad with cranberry sauce definitely qualifies as creative!
Roasted Brussels Sprouts, Butternut Squash and Pomegranate  Keeping on the brussels sprouts theme, they get roasted here along with some butternut squash and super-healthy pomegranate for another creative Thanksgiving side. This one from Foodie Tots.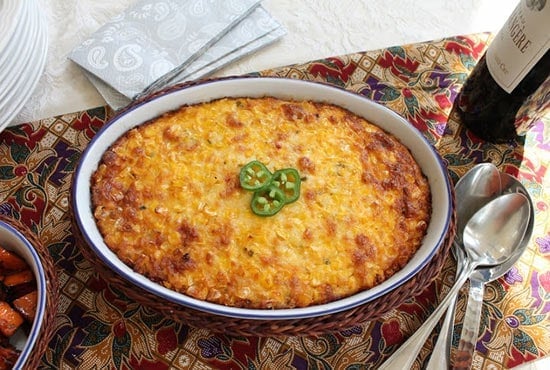 Cheesy Jalapeno Corn Casserole I'd sure want to dig into this spicy and savory casserole if it were on our Thanksgiving table! Definitely earns a spot in this Creative Thanksgiving Sides roundup. From Stacy at Food Lust People Love.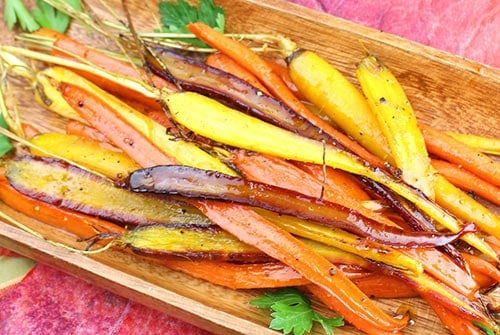 Pan Roasted Carrots with Apple Molasses Sue from a Palatable Pastime roasts multicolored carrots for a great presentation, along with a buttery apple glaze. Yum!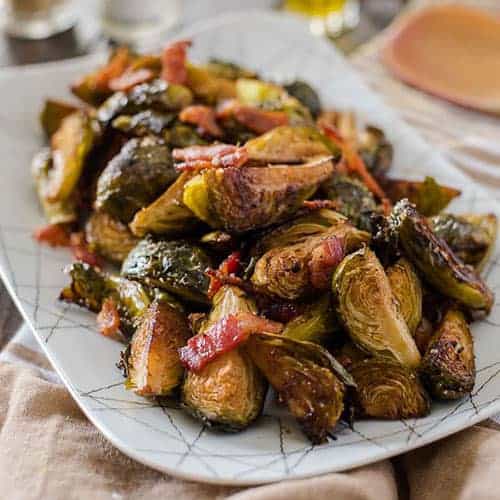 Bacon Balsamic-Roasted Brussels Sprouts I had a chance to try this creative Thanksgiving side from Erica at the Crumby Cupcake the other day, and it is delicious! Can't go wrong with bacon, right?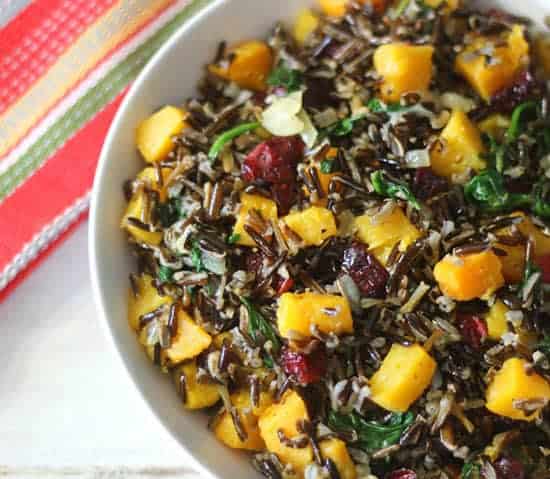 Butternut Squash Wild Rice Pilaf I saw this post title first from Curious Cuisiniere, and thought, "Hmm…this is something different–and tasty looking!". Then I saw Jennifer from Peanut Butter & Peppers had also put these ingredients in her Butternut Squash Wild Rice (shown above). I don't think of rice on Thanksgiving, but it looks great in the recipes these two bloggers have shared!
Cornbread Stuffing from Noshing with the Nolands looks tasty and easy–great features in a dish as the big day approaches!
Mashed Potatoes with Sour Cream from Platings & Pairings is a great looking dish of potatoes! Mashed potatoes is probably my favorite Thanksgiving sides, but haven't tried it with sour cream, might need to.
2-Ingredient Slow Cooker Rustic Mashed Potatoes with Garlic and Herbs from Shockingly Delicious. Putting the slow cooker to use sounds like a great way to manage all the Thanksgiving prep work, and you can't go wrong with mashing potatoes with garlic and herbs!
Roasted Pumpkin, Pesto, Corn and Polenta Lover's Bites from What's on the List? sure looks like it would pack plenty of flavor!
Savory Butternut Squash Crumble from the Texan New Yorker sure sounds like a winner! I hadn't heard of a savory crumble that can be served with the main course, but sounds like a great idea. Better yet, it can be assembled ahead of time and heated up in time for the meal.
Simple Cranberry Sauce from Amee's Savory Dish gets "cleaned up" with wholesome ingredients. So it's good for you, and doesn't take much more effort than opening that canned cranberry sauce.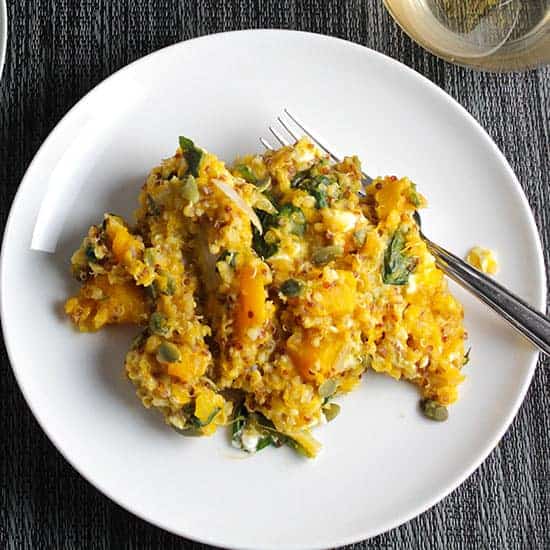 Butternut Squash Quinoa Casserole is a healthy new addition from our kitchen! Typically one thinks that a casserole is likely to be on the heavy side, but this side dish is light and packed with nutrition.
Scalloped Sweet Potatoes and Apples get cooked with gorgonzola and spiced butter and topped with an oat-pepita crumble. Yum! From the Wimpy Vegetarian.