Butternut Squash and Quinoa Casserole with feta cheese and pumpkins seeds is a savory recipe perfect as a side dish or a vegetarian main course. Read on for more details about the recipe and our wine pairing suggestion, or click here to jump down to the recipe.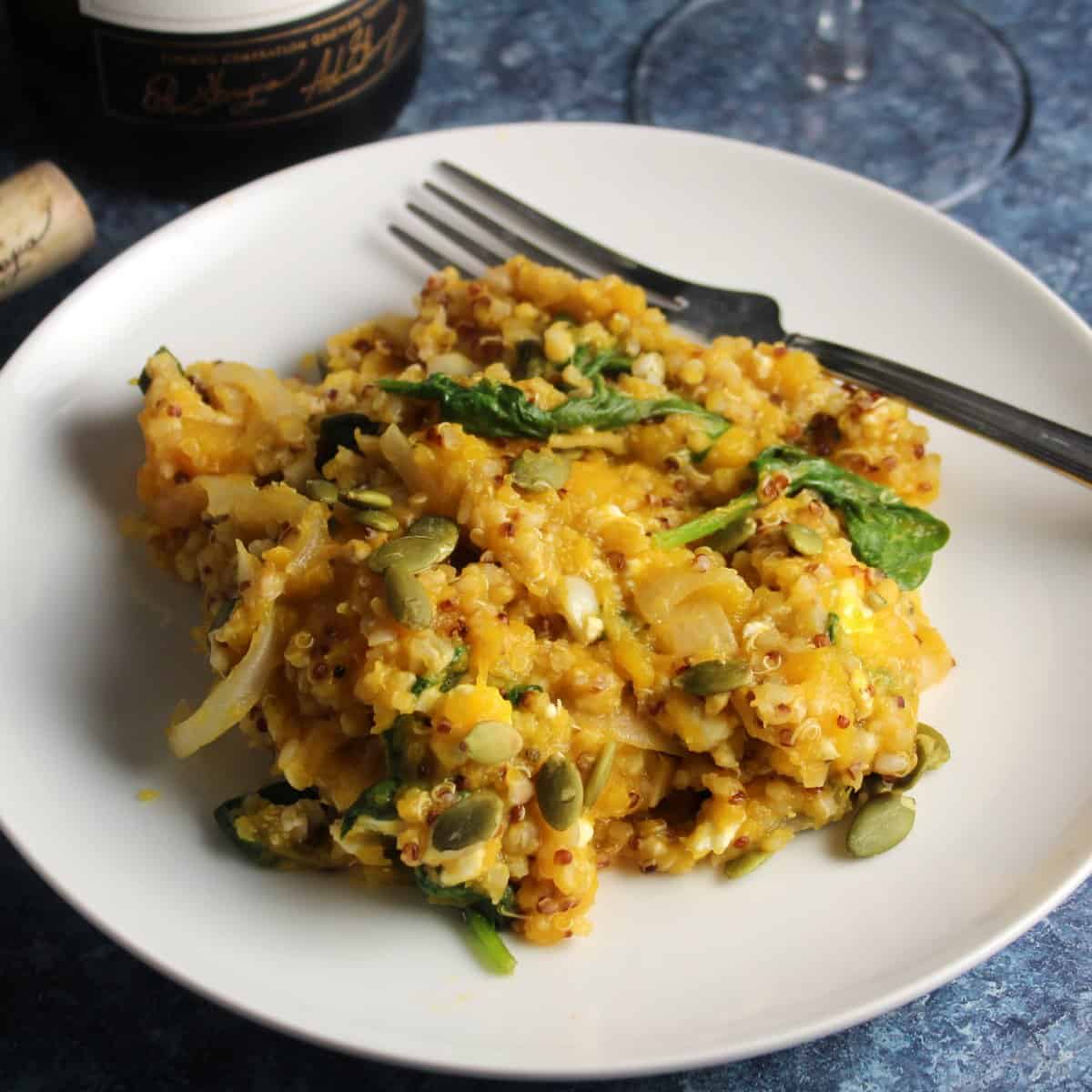 When the weather turns cold, shortly after making my first soup of the season, I'm usually ready to make a casserole. I've whipped up many good casseroles with pasta as a main ingredient, but I wanted to try something different this time. I wanted to make something with a definite fall flavor, too, and the results was this savory Butternut Squash Quinoa Casserole.
The Butternut Squash and Quinoa Casserole dish gets topped off with some pumpkin seeds for some extra fall flair. You can order some here on Amazon, using my affiliate link, if you need some to make this recipe.
Tips for making this recipe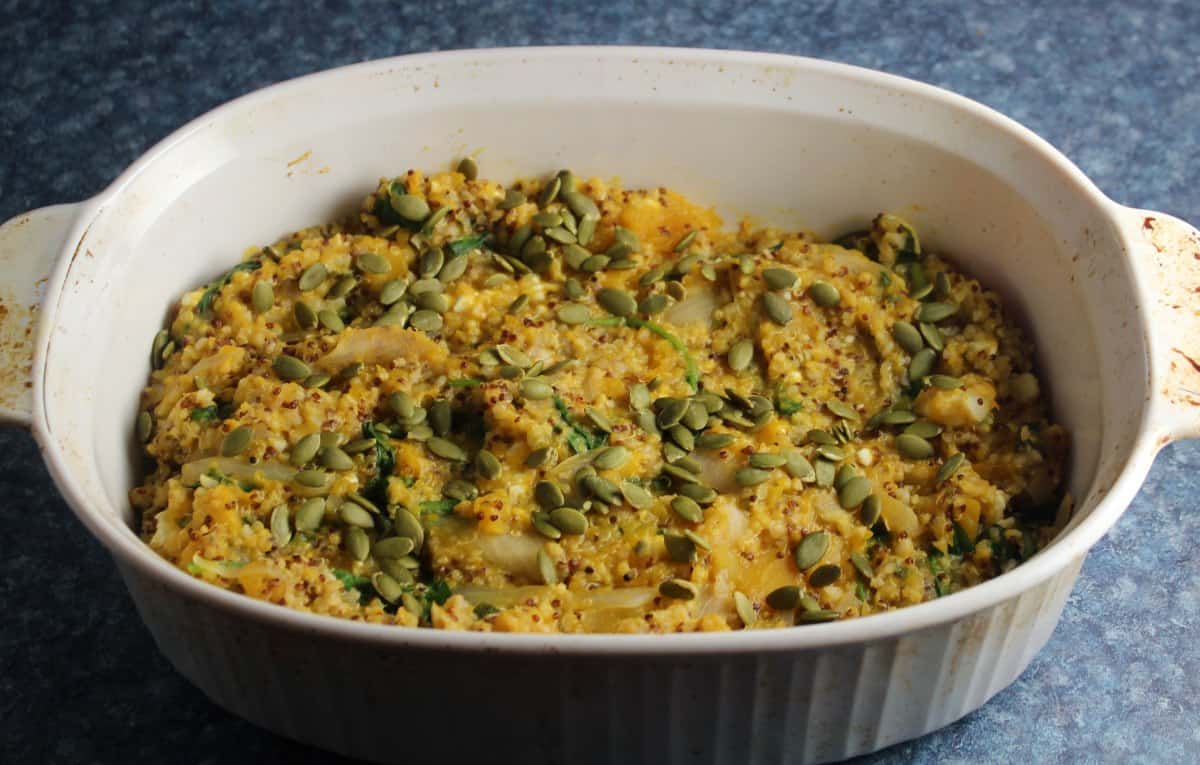 Here are some tips for making this casserole with butternut squash and quinoa. Scroll down the recipe card for the detailed instructions.
Start by getting the squash cooking. I boiled the butternut squash, but one reader notes that she roasted the squash with good results. Set the cooked squash aside as the quinoa cooks.
I like to use 365 Organic Super Grains blend for this recipe, which uses a blend of red and white quinoa as well as some millet and buckwheat.
Rinsing quinoa is advice I've always followed, but according to the testing done by the kitchn, this step might not be totally necessary. But I've had good results rinsing it so will continue to do so.
After sautéing the onions, stir the cooked squash into the skillet along with the broth and sage. Use the side of a sturdy spoon to mash up the squash, creating a creamy consistency.
Combine the squash / onion mixture with the cooked quinoa. Add the feta cheese, then transfer the mixture to a casserole dish. Top with pumpkin seeds. The casserole is ready to be baked — 10 minutes covered, 5 minutes without the cover to finish it.
Is this recipe healthy?
This casserole definitely scores big on the healthy front. Quinoa is packed with nutrition, and we add some spinach to further enhance the nutritional value, and adding some nice color. Feta cheese, lower in fat than many cheeses, is used to add some rich flavor.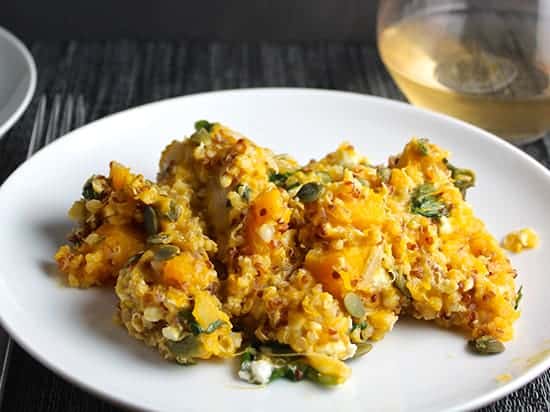 Butternut squash brings some health benefits to the table, too. The squash is high in Vitamins A and C, and is also a good source of potassium.
Don't forget about those pumpkins seeds! They are small but mighty, packed with nutrients including fiber, protein and a range of minerals.
For another healthy recipe with butternut squash, try our Butternut Squash Chickpea Curry! And you might also like our Savory Mashed Butternut Squash!
How to serve this casserole
The recipe is substantial enough to be served as a vegetarian main dish, with a green salad to round things out.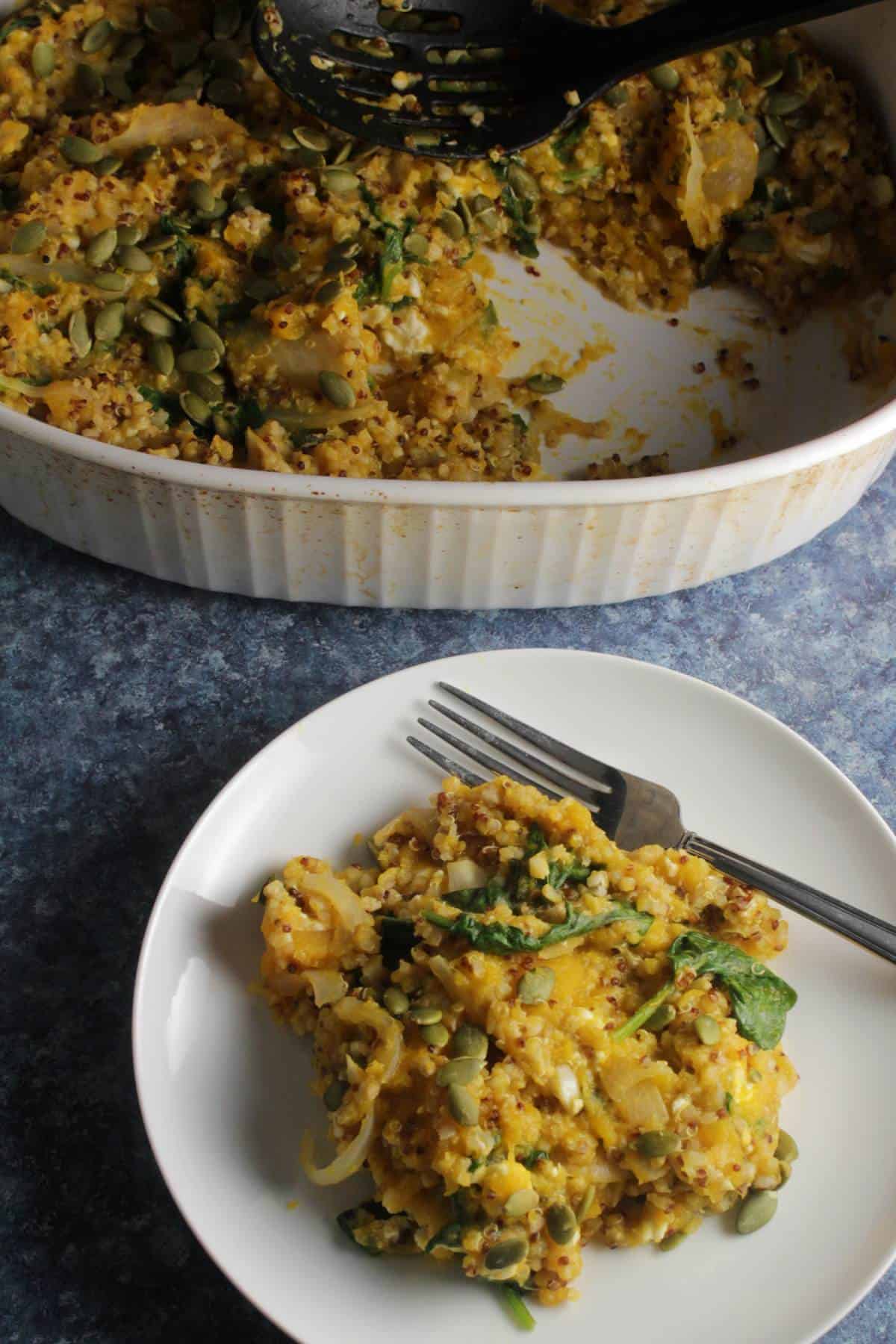 This casserole also makes a nice side dish. We had it along with some baked haddock when I originally made it. More recently, I served this alongside some BBQ Crockpot Chicken, and that was a delicious combo.
I suspect it could also work with turkey, perhaps as a change of pace Thanksgiving side dish.
Can you freeze this casserole?
It is possible to freeze extra butternut squash quinoa casserole, but this is best eaten fresh.
The last time I made this recipe, I did have extra that I didn't anticipate using. So I scooped a couple of servings into a freezer bag, and froze it. After a couple of weeks, I took the casserole out and thawed it in the refrigerator. The casserole was still flavorful, but the consistency was a bit watery. Perhaps the butternut squash water content?
I would freeze extras of this rather than throwing it out, but the more you can use it while fresh, the better. It does keep well cooked in the refrigerator for a good 4 to 5 days, so that is a better option for leftovers.
Wine Pairing for This Recipe
We previously served this casserole with a white Rhône wine.
Seeing as one full bodied white wine worked well, I stuck with that theme and opened a bottle of the 2018 Sbragia Home Ranch Chardonnay ($21 avg. price). This Chard is from Dry Creek in Sonoma County.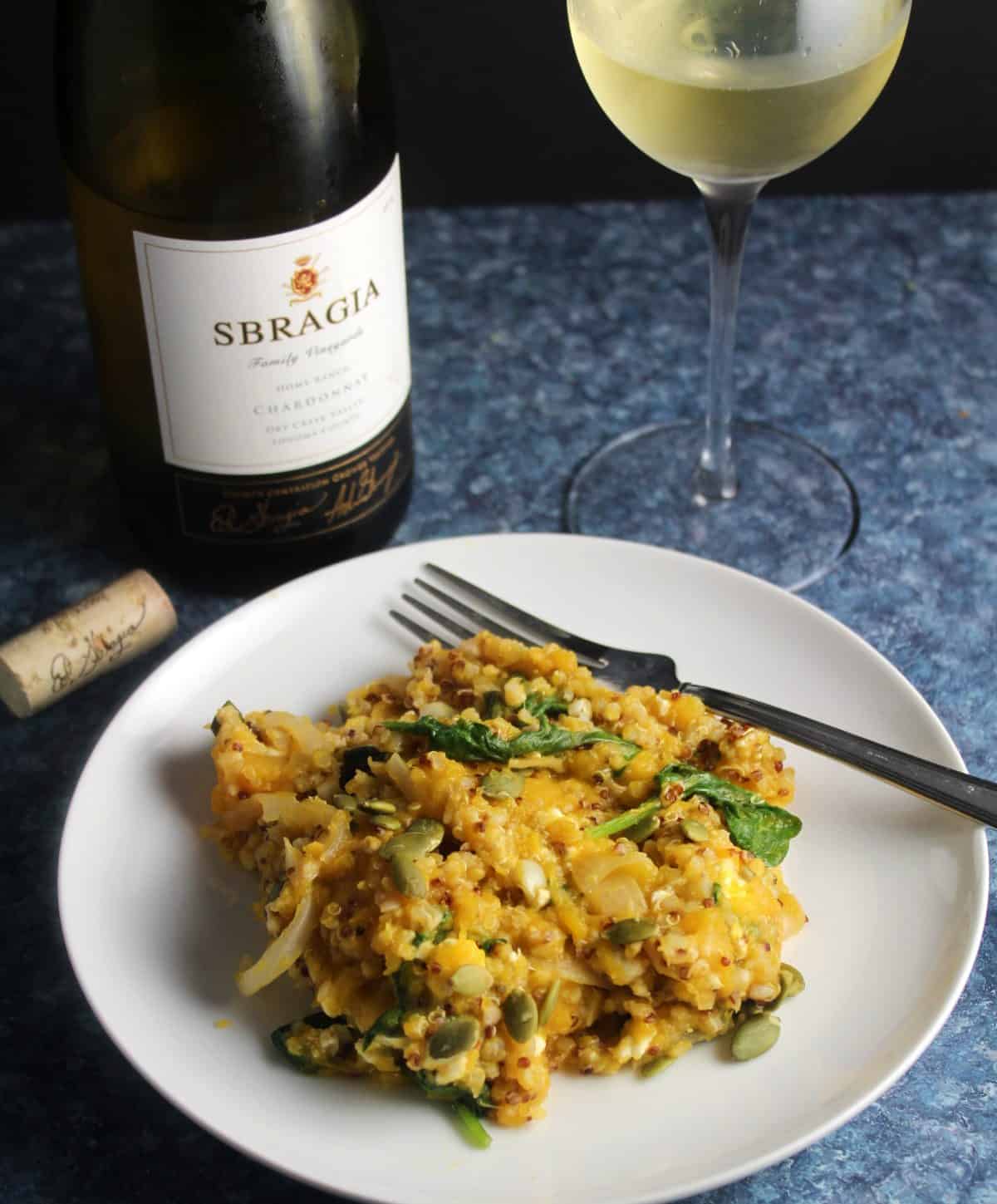 The Sbragia Chardonnay is a well-balanced wine. Lemon fruit and a light touch of butter. Flavorful but not overwrought; a good example of the kind of California Chardonnay I enjoy.
In fact, seeing as this was the last bottle of a half-case we got for just $14/bottle, just ordered some more! If you're in the Boston area, Bin Ends Wine has it for that price as of fall September 2020.
We originally had this recipe with the delicious 2014 Au Bon Puit Côtes du Rhône, and I'd be remiss not to mention it as it is very good for under $15. This white wine is a blend of Viogner, Roussanne, and Grenache Blanc.

Print
Recipe card
Butternut Squash and Quinoa Casserole
Butternut squash baked with quinoa, spinach and feta cheese for a hearty cold weather casserole dish that can serve as a substantial side or vegetarian main course.
Author: Cooking Chat
Prep Time:

10 mins

Cook Time:

50 mins

Total Time:

1 hour

Yield:

6

servings

1

x
Category:

Casserole

Method:

baking

Cuisine:

American

Diet:

Vegetarian
5 cups

butternut squash, peeled and chopped

1 cup

quinoa, rinsed in cold water until the water runs clear

2 cups

of water

1 tbsp

olive oil

1

onion, chopped

2

cloves garlic, minced

4

sage leaves, chopped — if you like sage, feel free to add a bit more

6

ozs vegetable or chicken broth — vegetable broth to make this a vegetarian recipe!

2 cups

baby spinach

¾ cup

feta cheese
handful pumpkin seeds
Instructions
Preheat oven to 400 degrees.
Cook the squash: Boil a pot of water. Add the butternut squash, boil for 15 minutes or so, until the squash is tender.Drain the squash, and rinse with cold water. Set aside.
Cook quinoa: Heat the water to boiling, stir in the quinoa. Reduce heat to medium low, and simmer covered for 16 to 20 minutes until the water is absorbed.
Sauté onions and garlic: As the quinoa cooks, heat the olive oil in a skillet on medium. Add the onion, sauté until it begins to soften, about 5 minutes. Add the garlic, cook for another minutes.
Add the cooked squash to the skillet along with the chicken broth and sage. Bring the broth to a simmer, stir occasionally with a sturdy spoon. As you stir, gradually break up the squash.
Simmer squash with onions: Let the squash simmer for about 10 minutes, and it will gradually break up into a creamy consistency.
Add the spinach into the butternut mixture toward the end of its 10 minute cooking time. Remove the squash mixture from heat and cover while the quinoa finishes cooking.
Finish the quinoa: When the water in the quinoa has been absorbed after the 16 to 20 minute simmer time, remove cover and stir the quinoa with a fork.
Combine the quinoa with the skillet of butternut squash mixture. Stir in the feta cheese.
Prep the casserole: Scoop the butternut squash and quinoa mixture into a casserole dish. Sprinkle the top with pumpkin seeds.
Bake the casserole: Cover the casserole dish, and bake for 10 minutes. Remove cover after 10 minutes, and bake uncovered for 5 more minutes. Remove from oven and serve.
Notes
A couple of people who tried the recipe commented they added more sage and liked it that way. Give that a try if you are a sage fan!
Deborah mentioned that she roasted the butternut squash instead of boiling it. Great idea! I love roasted veggies. If you want to try that, toss the chopped squash with a tablespoon of olive oil in a baking dish. It will take about 30 to 35 minutes to get the squash nice and tender at the 400 degree temperature.
Keywords: casserole, quinoa, butternut squash casserole
Recipe Card powered by