Ligurian Pesto Pasta features trofie pasta popular in Liguria tossed with classic basil pesto Genovese along with steamed green beans. Paired with a white wine from Liguria for the Italian Food, Wine & Travel visit to the region.
For some of our Italian Food, Wine and Travel events, I am simply making a recipe that I think will go with the wine I have picked from the region we are visiting. Sure, the recipe might have an Italian flavor to it, but my #ItalianFWT dishes are not necessarily authentic regional dishes. But when I realized Liguria is the home of pesto that I love so much, I had to share an authentic Ligurian dish today.
Pesto originated in the Ligurian city of Genoa, located on the Mediterranean coast in Northern Italy. Thus, the classic pesto consisting of basil, garlic, cheese, pine nuts and olive oil is often referred to as Pesto Genovese. This helps distinguish classic basil pesto from the many variations of pesto you can find, such as the kale pesto that I make a lot.
Today we are going all in for authenticity and sharing Ligurian Pesto Pasta for the #ItalianFWT visit to Liguria. I tossed our pesto Genovese with trofie, a short pasta shape popular in Liguria. Trenette, a long narrow pasta shape similar to linguine, is another pasta commonly used in Liguria. Trofie might not be easy to find in the US, so here's a link to where you can order trofie pasta from Amazon (that's an Amazon affiliate link, meaning I'd earn a small commission if you place an order using the link).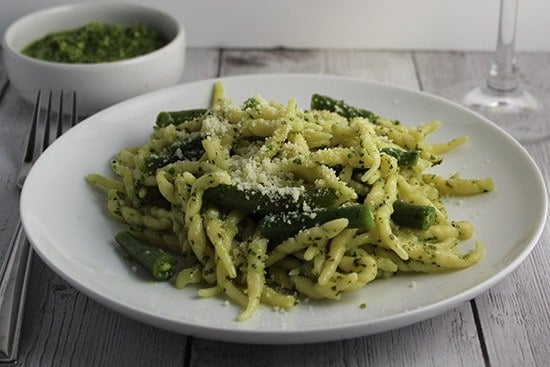 A Ligurian pesto pasta dish often includes green beans and roasted potatoes. I've enjoyed that combination before, but it is getting a bit warm here to be roasting potatoes. So I added some steamed green beans to my Ligurian Pesto Pasta as my nod to authenticity.
Speaking of authenticity, traditional pesto Genovese would certainly include pine nuts. Thus, I give the recipe including the pine nuts. But we are nut free in our house and make our pesto using toasted pumpkin seeds as a substitute for pine nuts, and find our nut free pesto tastes quite similar to the version with pine nuts.
So how does our Ligurian Pesto Pasta taste? The pesto does cling very nicely to the short, substantial trofie pasta shape. You could certainly enjoy this pesto recipe with other pasta shapes, but definitely grab yourself some trofie pasta at some point and make this authentic Ligurian Pesto Pasta. And of course, pair it with a Ligurian wine for the full experience. Speaking of wine pairings, we will talk about wine momentarily; if you want to get right to the pesto instructions, click here to jump down to the recipe…
Wine Pairing for Ligurian Pesto Pasta
Well, I believe there was only one wine from Liguria available at Pairings when I inquired, so that made my choice easy. Plus, Ray's description of the 2013 Punta Crena Vigneto Ca' da Rena ($27, 12.5% ABV) , a Pigato Riviera Ligure Di Ponente, made it sound like it would be a perfect partner for pesto.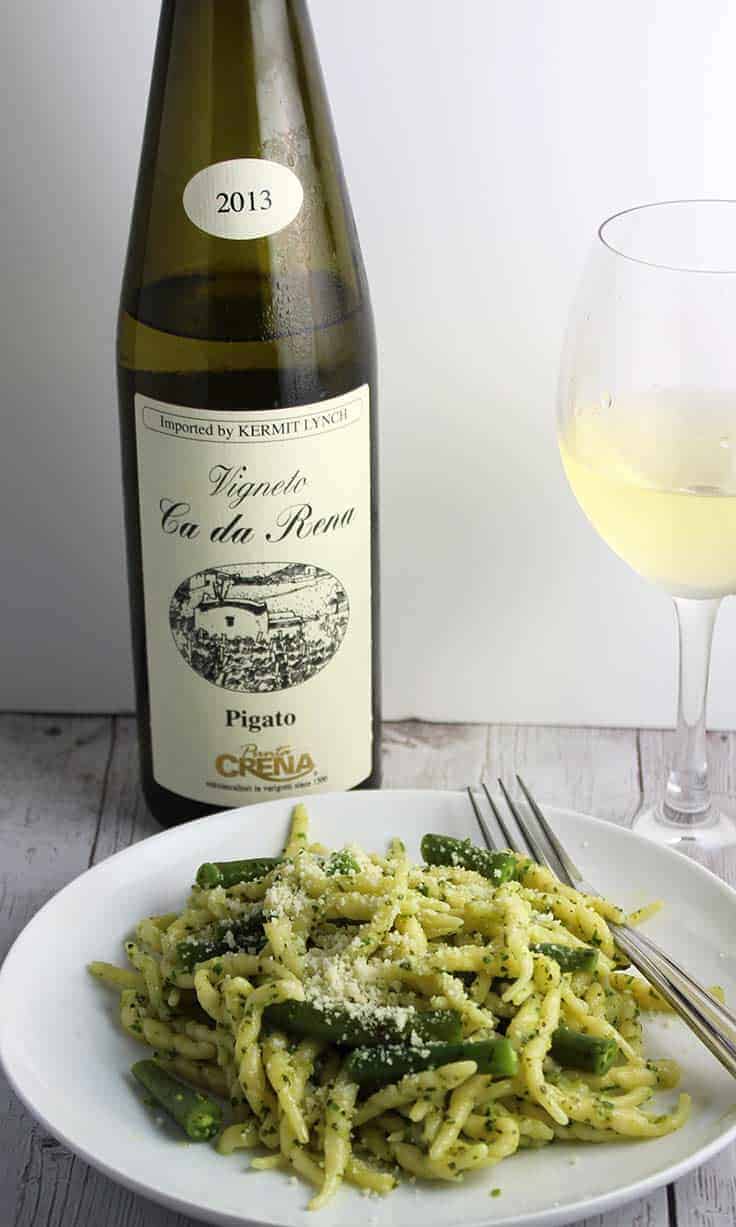 The bouquet of this Pigato from Punta Crena correctly suggest it originates near the sea, as I get a fresh ocean breeze on the nose. Lemon fruit taste, with notes of salinity and crushed clamshells (going all out for the ocean theme here!). This wine definitely refreshes after a bite of the Ligurian Pesto Pasta. An excellent regional pairing. In addition to being a great pairing, the wine is very high quality. Shortly after enjoying it, I went back to the shop to pick up the last bottle of it they had on hand!
Importer Kermit Lynch's website has some wonderfully colorful descriptions of the Punta Crena winery. They are located in the small seaside village of Varigotti. I especially like this description of the winery's traditional methods:
Ask Paolo if the family follows organic methods in the vineyards and he'll laugh. We're not "organic," he says as if you had asked about some crazy new technology. We just do everything the same way our ancestors have for hundreds of years.
Sounds like a good approach to me, and it certainly is working in the bottle of Pigato we enjoyed. Speaking of Pigato, some web reading indicates that it is genetically the same as Vermintino, but tends to be described as "the local strain of Vermintino". It would seem that the Ligurian wine grape called Pigato is a unique local expression of Vermentino, and one that I have enjoyed.
Print
Recipe card
Ligurian Pesto Pasta
Classic basil pesto tossed with trofie pasta and green beans for an authentic Ligurian meal.
Author: Cooking Chat
Prep Time:

10 mins

Cook Time:

15 mins

Total Time:

25 mins

Yield:

6

servings

1

x
Category:

Main

Method:

boiling

Cuisine:

Italian
2 cups

green beans, prepped and chopped

2 cups

fresh basil leaves, rinsed and tightly packed

4

cloves garlic

¾ cup

extra virgin olive oil

¾ cup

Pecorino or Parmesan cheese

2 tbsp

pine nuts (substitute

2 tbsp

toasted pumpkin seeds for nut free pesto)

1

lb trofie pasta (other pasta shapes can be used as a substitute)
Instructions
Place about an inch of water in a pan, and bring to a boil. Add the green beans, cover and steam until tender, about 6 minutes. Drain the beans, and put back in pan, covering to keep warm.
Start boiling water for the pasta.
Have a food processor at the ready. Put the basil into the food processor, and give it a quick whir to begin chopping the basil and make room for the other ingredients.
Add the garlic, and hit the food processor button again to get the cloves chopped up with the basil.
Add the olive oil, cheese and pine nuts, and then puree to get everything well combined.
Open the food processor, scrape the sides to get bits of garlic and basil that haven't been incorporated, then give the processor a final whir.
When the pasta water has come to a boil, add the pasta and cook according to package instructions, taking care not to overcook.
Drain the pasta. Stir in several scoops of pesto. Add additional pesto as needed to get the pasta well coated. Plate the pasta, and pass additional pesto at the table.
Notes
Pumpkin seeds are a good substitute for pine nuts. We use them to make this a nut free pesto, but you can use pine nuts for the traditional recipe if you like.
Recipe Card powered by
Italian Food, Wine & Travel Group visits Liguria

Take a look at what our fellow Italian fans have found for our virtual visit to Liguria. If you see this note in time, please join our conversation on Twitter, Saturday June 4 at 11am EDT, at #ItalianFWT. Hope to see you there!
Girl's Gotta Drink
– A Cinque Terre Alternative? 5 Less Touristy Italian Riviera Destinations
Avvinare
– Liguria – Home to a Host of Unsung Wines