There are so many ways to use nutrient packed kale pesto! An easy way to add flavor and nutrition to many different meals. Read on for some great ideas for using this healthy pesto; or if you came simply to grab our easy instructions, click here to jump down to the recipe. Or you can also check out our new How to Make Kale Pesto video!
I first posted a pesto recipe using kale here back in 2012, a result of finding new ways to use the kale rolling in from our consumer supported agriculture (CSA) program. Since then, it has become a staple in our house, and it is often requested by friends. I seem to make it at least once per month, and have found many tasty ways to use it. This post will cover benefits of kale pesto, how to make this pesto, and many ways to use it. For more recipes with kale and other healthy greens, be sure to check out our
Collards & Kale Cookbook.
Benefits of Kale Pesto
As you may well know, kale is a dark green leafy green vegetable loaded with nutrients. Using kale to make pesto instead of the traditional basil packs serious nutrition into this no cook sauce. In addition, you can usually find good kale year-round in grocery stores around here, meaning this pesto is always an option. By contrast, I typically only make traditional basil pesto in the summer when fresh basil is rolling in.
What Does Kale Pesto Taste Like?
I realize I need to do more the extoll the nutritional benefits of kale pesto! Some ready may be wondering what kale pesto tastes like. I'd say my pesto with kale tastes fairly similar to traditional basil pesto– fresh and flavorful. I would say the way I prepare kale pesto gives it a bit more bit than basil pesto. People that rave about my basil pesto say they like the kale pesto as much if note more. Bottom line, if you like basil pesto you will probably like kale pesto, too.
How Long Does Kale Pesto Keep in the Refrigerator?
I have found that kale pesto definitely stays good in the refrigerator for longer than classic basil pesto. Tightly seal leftover pesto in a glass or plastic container and it will be good for 7 to 10 days. Kale is a hardy vegetable which helps the pesto last. By contrast, after a few days in the fridge fresh basil pesto will start turning a darker color and lose its fresh flavor.
Take kale pesto out of the fridge about an hour before using if you think of it. The sauce spreads better when it is at room temperature.
Ways to Use Kale Pesto
You can simply toss kale pesto with pasta for a simple meal, but there are so many other ways you can use it. We are going to cover some of our favorites next, and would love to hear how you use it. Speaking of using kale pesto, I should note that kale pesto will keep for about 5 to 7 days, refrigerated in a tightly sealed container. That said, this pesto is at its best when you first whip up the batch, so I usually try to use at least some of it the day I make it.
Let's start with a simple way to use kale pesto. In this Linguine recipe , we toss our pesto with hot linguine, and top it with some tomatoes for an easy meal.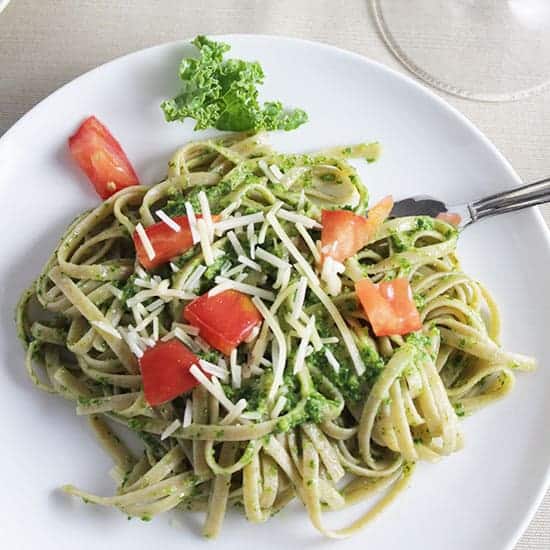 A slight variation on the basic kale pesto with pasta theme is this Ziti with Pesto and Roasted Broccoli. The roasted broccoli adds some delicious earthiness to the dish, and was further enhanced paired with an interesting Italian white wine.
For a lower carb version of kale pesto with pasta, Veggie Inspired Journey brings you Pesto Spaghetti Squash.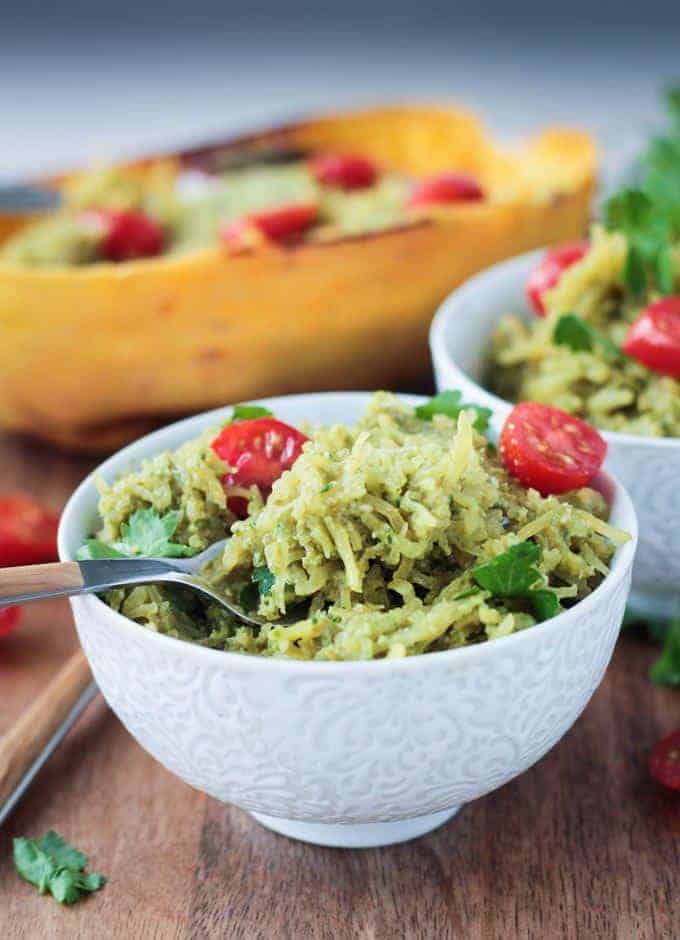 I also love tossing kale pesto with tortellini, as I do here.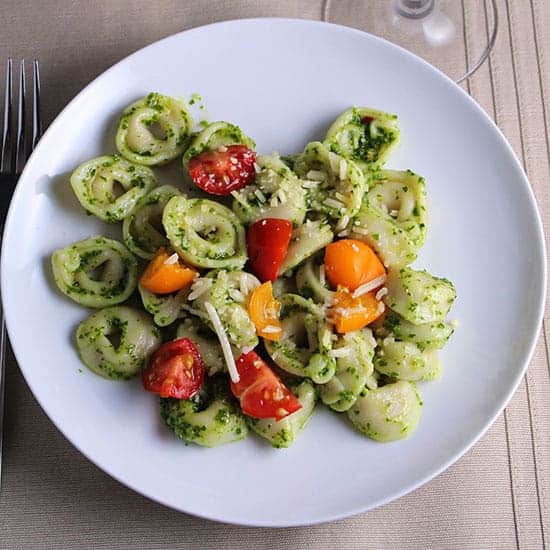 Kale pesto can also be tossed with orzo and veggies for a salad that is great for bringing to cookouts or picnics.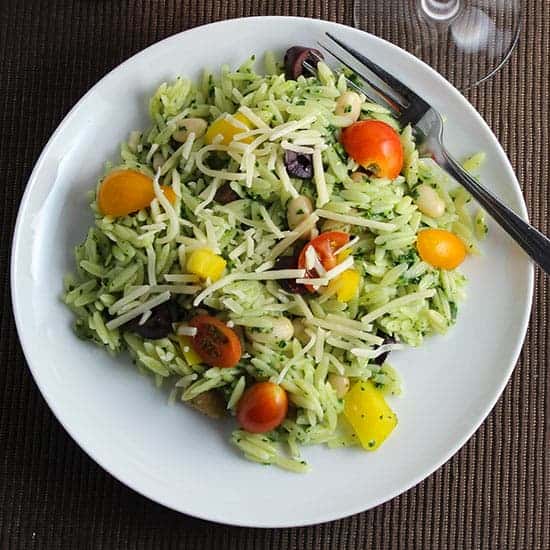 Trying serving one of these pasta dishes with these Pesto Bread Rolls from Little Big H. I am loving the looks of these!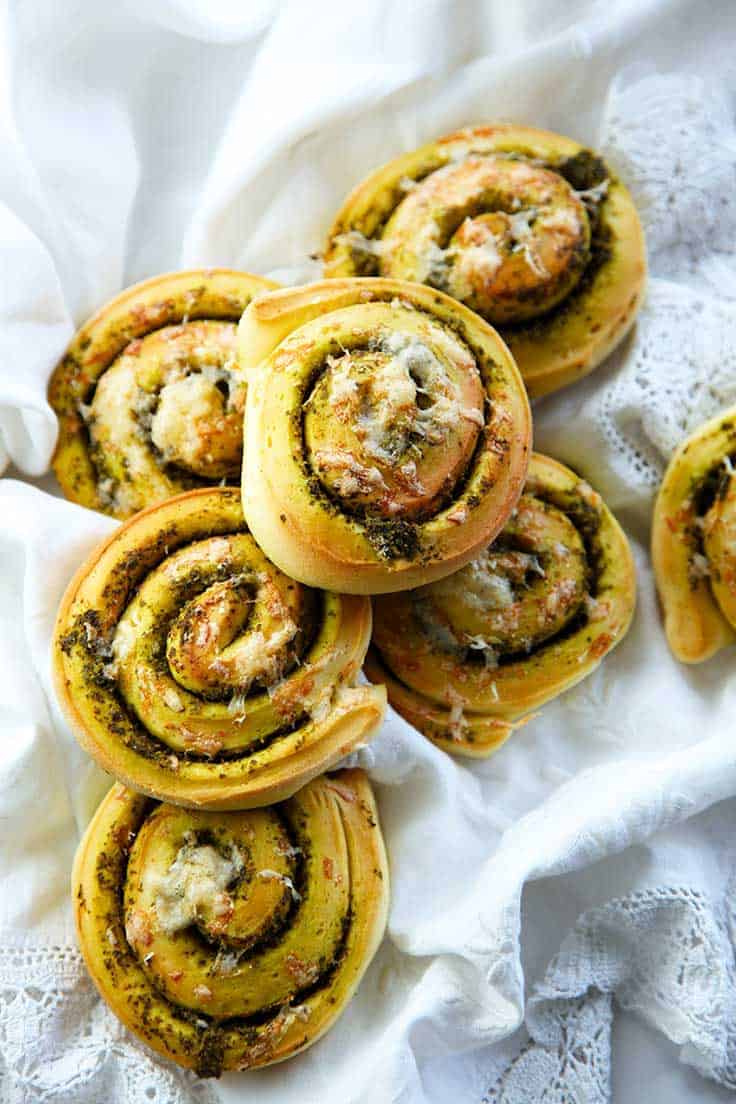 I also love spreading kale pesto on toasted bread in these delicious Pesto Crostini.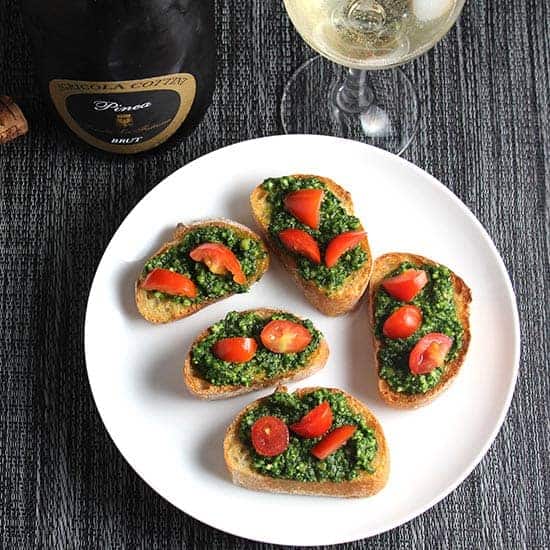 Another tasty appetizer idea is this kale pesto dip recipe.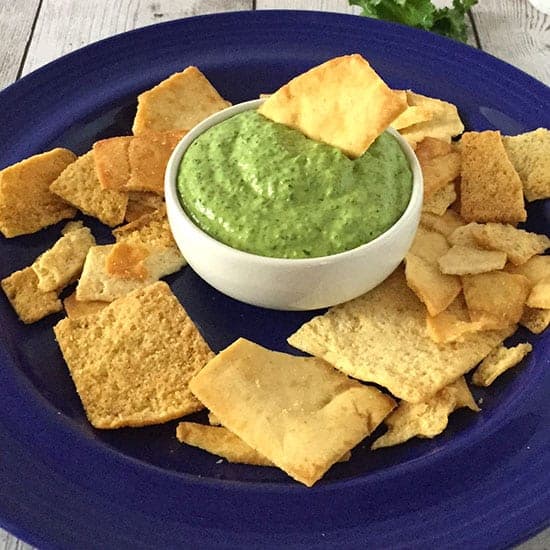 Perhaps my favorite use of this pesto is making this delicious lasagna. OK, a bit more decadent than the other recipes here, but more nutrition that traditional lasagna!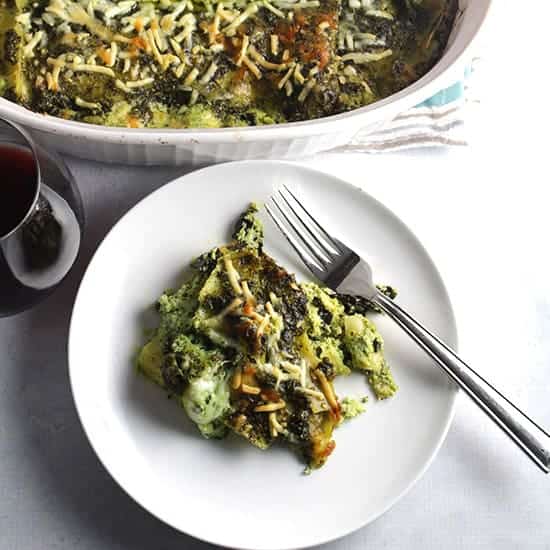 How about some pesto with kale to flavor up some soup? Simple potato soup gets a tasty lift from pesto here.
Another great, healthy way to use our pesto is top some seafood with kale pesto. We just recently made this Tilapia with very good results.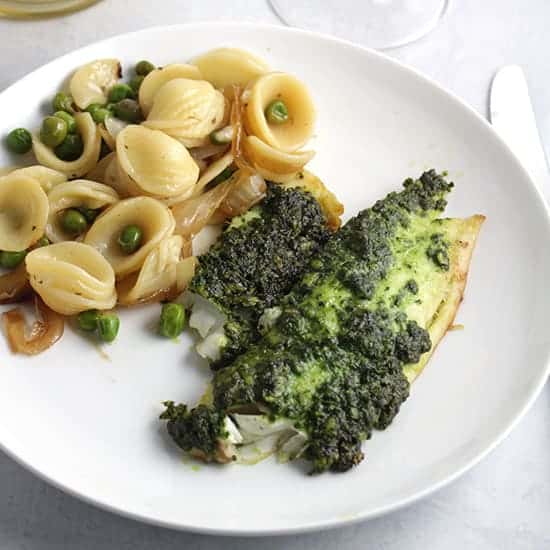 And with grilling season rolling in, I'll be sure to make this Swordfish with our healthy pesto again soon!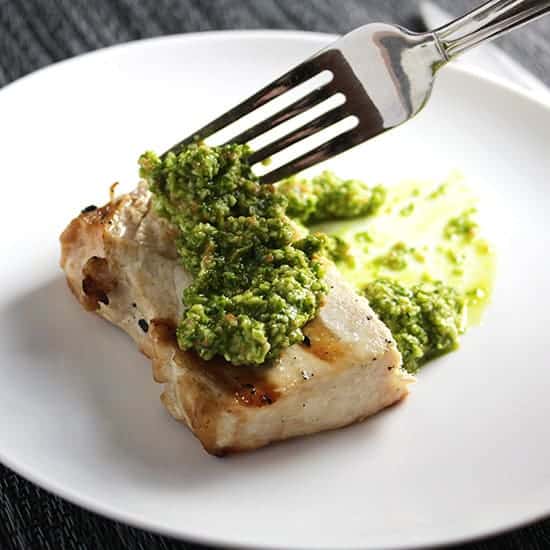 That grilled swordfish with pesto is good on its own, but also combines nicely with orzo in this seafood pasta dish.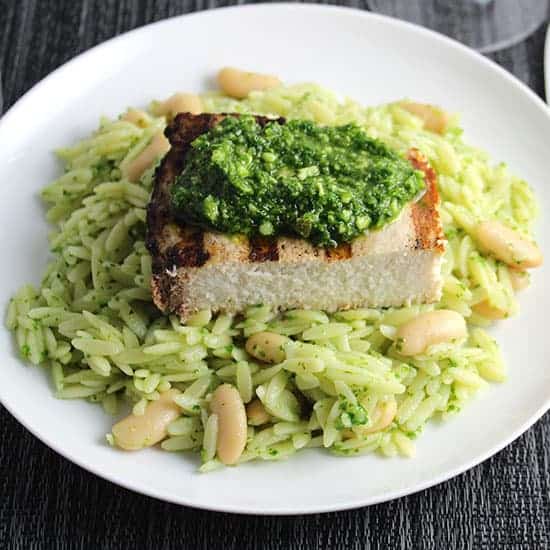 Another recent tasty use of our pesto is this risotto using Tuscan kale, for a vegetarian main course or substantial side dish.
Wine Pairings for Kale Pesto
What wine to pair with kale pesto? It depends on how you are serving it. Most of the recipe links above contain some good wine pairing tips for the particular recipe. If you are having a basic kale pesto tossed with pasta, you might go with Sauvignon Blanc, a classic pairing for traditional basil pesto. But I've had a number of other wines that works well with basic kale pesto pasta. Recently we opened a bottle of 2015 Chave Circa Saint-Joseph (appx $30, 14% ABV), with a taste of peach fruit and honey, this is a very nice bottle that enhances the kale pesto meal.
Kale Pesto Recipe and Variations
The original recipe I posted called for 1 cup of arugula along with 3 cups of kale. It also used walnuts and pine nuts instead of the pumpkin seed. Since then, we have switched from nuts to pumpkin seeds to make our kale pesto with no nuts, due to a food allergy. Visit our pesto recipes without nuts collection for more ideas for nut-free pesto.
If you don't have a problem with nuts you can certainly use them instead of the pumpkin seeds. If I have arugula on hand, I will sometimes add it, but using all kale for the greens is often easier.
Print
Kale Pesto
Kale makes a nutrient packed pesto and is readily available year round. Easy recipe for a flavorful nut free kale pesto.
Author: Cooking Chat
Prep Time:

10 mins

Total Time:

10 mins

Yield:

8

servings

1

x
Category:

Sauce

Cuisine:

Italian
4 cups

tightly packed kale leaves, stems removed

3

garlic cloves

2 tablespoon

pumpkin seeds, lightly toasted
generous pinch red pepper flakes
salt and pepper to taste

½ cup

grated parmesan cheese

⅔ cup

extra virgin olive oil
Instructions
Add the kale and garlic to a food processor, coarsely chopping to create enough room for the other ingredients.
Add the pumpkin seeds, red pepper flakes, salt and pepper, cheese, and olive oil, and puree until it comes to a nice smooth consistency. You have kale pesto ready to use!
Notes
You can use pine nuts instead of pumpkin seeds. Pine nuts are a typical ingredient in basil pesto. We use pumpkin seeds as we don't use nuts due to a food allergy.
Keywords: kale pesto, kale, kale pesto recipes, pesto
Recipe Card powered by
Tools to use: A food processor is an essential tool for making this pesto! Providing the Amazon affiliate link to the brand that has served us well for many batches of pesto, which means I would earn a modest commission if you choose to purchase using the link below.