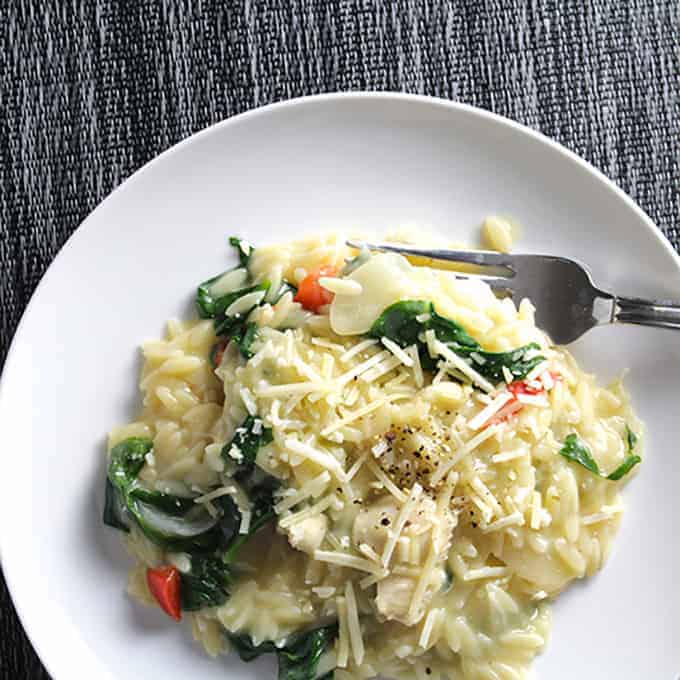 I cook with chicken stock a lot here, so was excited to have the opportunity to try the new PERDUE® Signature Chicken Stock. Many of my recipes call for a modest amount of stock, such as in this Rigatoni with Chicken Sausage and Collard Greens. But I wanted to be able to really showcase this new stock,  so I developed this Orzo with Chicken and Spinach recipe.
Orzo typically gets boiled in water like other pasta, but here it slowly simmers in the chicken stock along with the other ingredients to impart a deep, rich flavor. This is a bit like cooking orzo, with some stirring required, but cooks up faster and is thus suitable for a #WeekdaySupper. I've got a step-by-step overview of the method with photos, you can scroll down past the pics if you just want to grab the EasyRecipe card instructions. Here we go!
Get your ingredients together, then pour the PERDUE® Signature Chicken Stock into a pan, and gently warm it.
After you get the stock poured, prep the onions, red bell peppers, and garlic. Oh yes, don't forget the sage, adds such great flavor!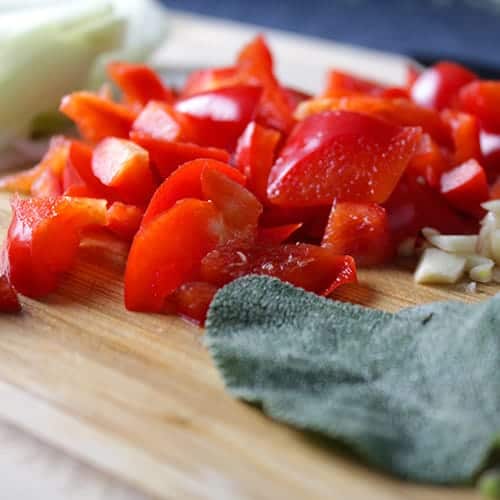 Again, the full details are below, but basically you get things started by sautéing the onions, then adding the peppers, sage and garlic. Next start cooking the chicken. After the chicken starts to turn white, add the orzo. Then go ahead and stir in the rest of that good PERDUE® Signature Chicken Stock!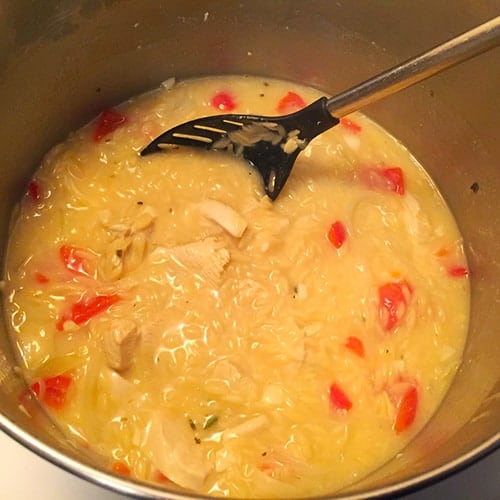 Let the stock simmer and cook the orzo for about 15 minutes. When the stock is mostly absorbed, it's time to add the spinach.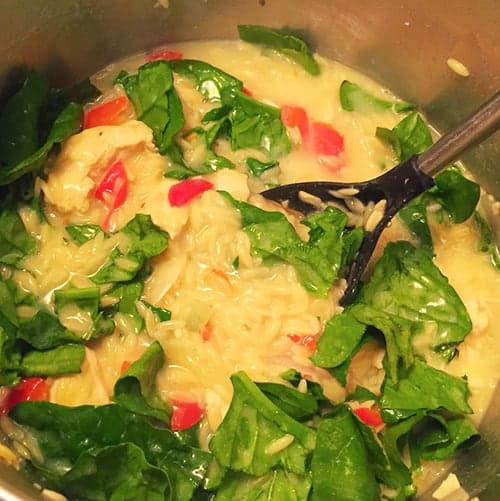 The spinach just takes a few minutes to wilt. Then it's time to stir in some cheese, serve and enjoy! And enjoy we sure did, using the PERDUE® Signature Chicken Stock definitely helps provide a depth of flavor to the dish, further enhanced by some tasty parm cheese. You could make a similar dish by boing the orzo, but using the stock is an great and easy way to elevate the flavors of this tasty dish.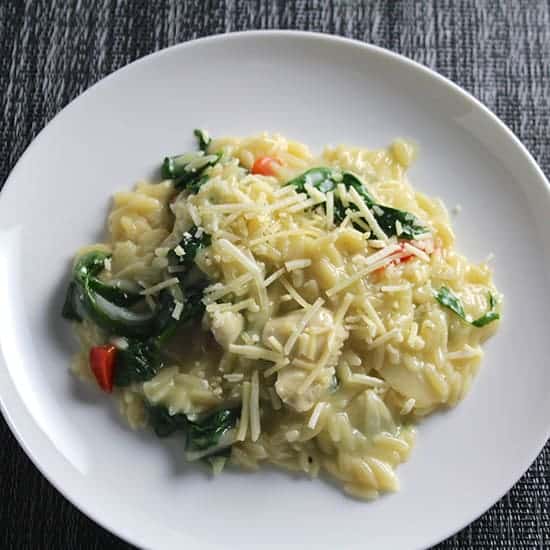 Print
Recipe card
Orzo with Chicken and Spinach
Orzo with Chicken and Spinach gets great flavor as the dish simmers in PERDUE® Signature Chicken Stock for an easy and tasty #WeekdaySupper.
Author: Cooking Chat
Prep Time:

10 mins

Cook Time:

30 mins

Total Time:

40 mins

Yield:

6

serving

1

x
Category:

Entree

Cuisine:

Italian
5 cups

PERDUE® Signature Chicken Stock

1 tbsp

olive oil

1

small onion, coarsely chopped

3

cloves garlic, minced

1

red bell pepper, chopped

2

sage leaves, chopped

½ tsp

dried basil
salt and pepper to taste

1.5

lbs boneless chicken breast, sliced crosswise ½ inch thick before cooking

1

lb. orzo

1

bunch of fresh spinach, rinsed and chopped. (

5

ozs packaged spinach works too).

½

lb. grated Parmesan cheese
Instructions
Pour the PERDUE® Signature Chicken Stock into a pan and bring to a gentle simmer.
Heat the olive oil in another large pan on medium heat. Add the onions to the olive oil, and sauté for a few minutes until they begin to soften.
Stir in the red bell pepper, sage and dried basil, and sauté for another 5 minutes.
Add a ladle full of the stock into pan with the onions and peppers after they have softened. Bring to a simmer.
Add the chicken to the pan, cook for about 5 minutes until the chicken begins to turn white.
Stir the orzo into the pot, then add the remaining chicken stock from the other pan.
Simmer uncovered, and stir frequently until the broth has been mostly absorbed, about 15 minutes. When there's just a bit of broth left unabsorbed, stir in the spinach, which will wilt with a couple minutes of cooking.
Test the orzo after the liquid is absorbed. If you want it to be a bit more tender, finish it by adding another ½ cup of broth or water and cooking for a few more minutes. When the orzo is cooked to your liking, stir in the cheese, and add salt and pepper to taste. Serve and enjoy!
Recipe Card powered by
 A few more words about the PERDUE® Signature Chicken Stock. Not only does it have great flavor, it's made from chicken raised with no antibiotics, something I definitely appreciate. There's a low sodium version, which I'm partial to using. You will find this new stock in the refrigerated section–a great sign of its freshness–right by the PERDUE® chicken breasts you need for this and many more great recipes. You can learn more about PERDUE® Signature Chicken Stock here.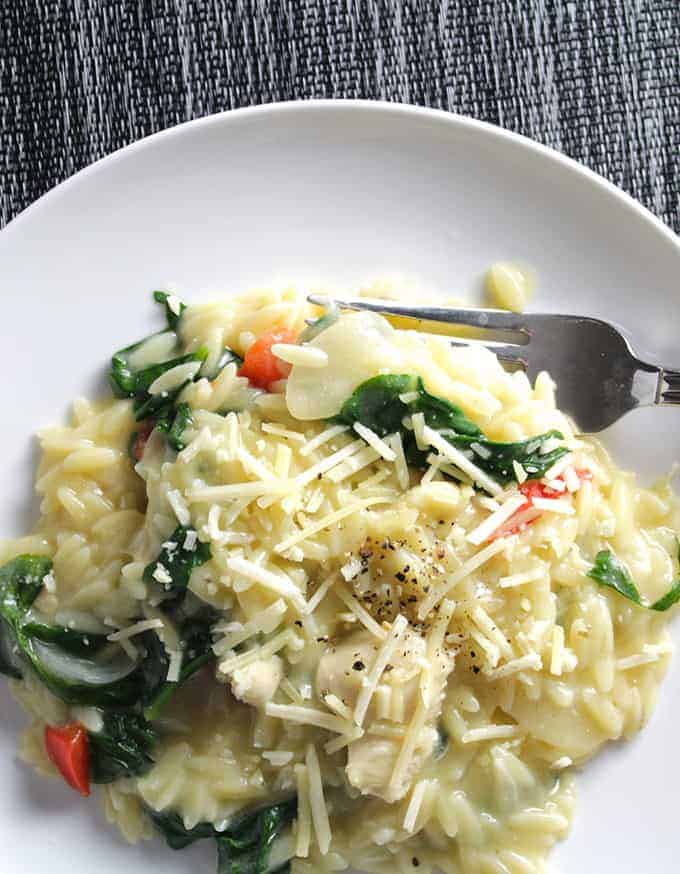 This dish is part of a great series of #WeekdaySupper recipes featuring PERDUE® Signature Chicken Stock. Here are the links to this week's recipes: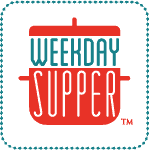 Monday – Quick Chicken Francese by Rants From My Crazy Kitchen
Tuesday – Dijon Chicken by The Messy Baker
Wednesday – Chicken, Squash and Spinach Salad with Bacon Vinaigrette by The Redhead Baker
Thursday – Quick & Creamy Risotto by Eat Picks
Friday – Orzo with Chicken and Spinach by Cooking Chat (you are here!)
I'd encourage you to follow this Pinterest board to find and pin other great recipes made with this stock.
Learn more about PERDUE® Signature Chicken Stock here: http://www.perduechickenstock.com/   and keep up with PERDUE on social media here:
Facebook: https://www.facebook.com/PerdueChicken
Pinterest: http://www.pinterest.com/perduechicken
Twitter: https://twitter.com/PerdueChicken 
Learn more about Perdue, including The Perdue Way, Where to Buy, Recipes and Tips From the Kitchen, at http://www.perdue.com/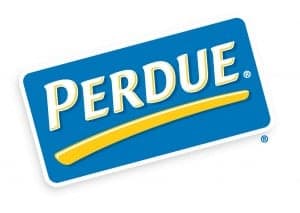 Oh, yeah, one cool feature about the stock before I sign-off. There's a little window on the carton so you can see how much of the stock you have left after using it…so you'll know when you need to get more!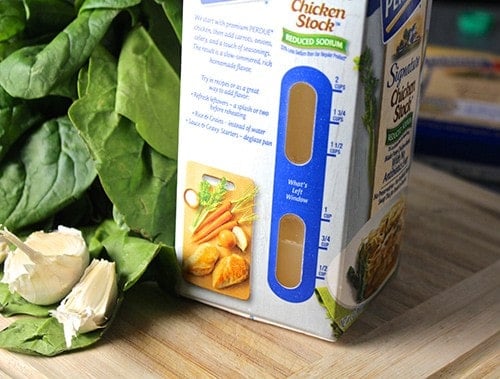 Full disclosure: I received PERDUE® Signature Chicken Stock from Perdue in conjunction with a sponsored social media campaign through Sunday Supper LLC. All opinions are my own.