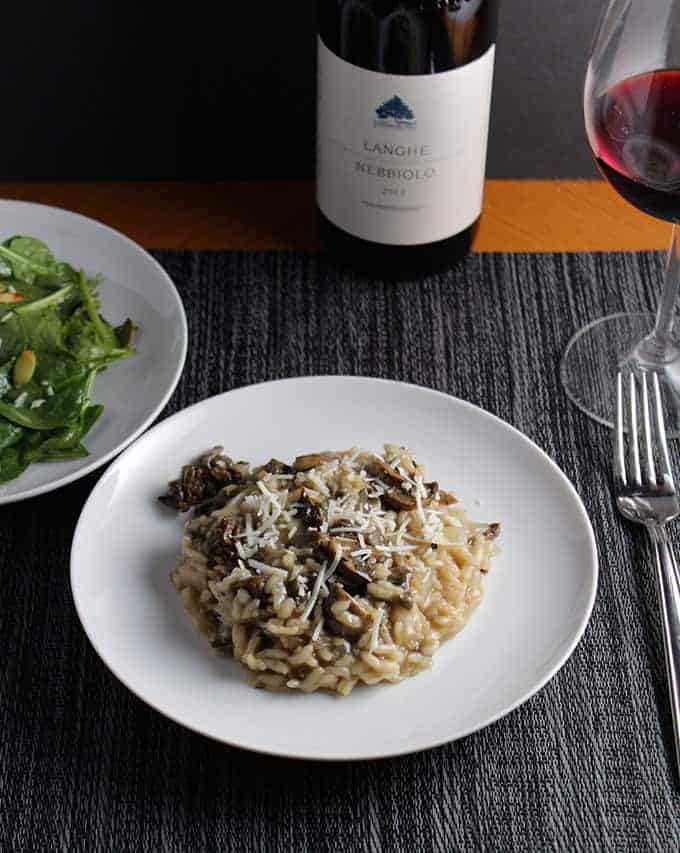 I'm loving the way we are making are way around the map of Italy for the new monthly Italian Food, Wine and Travel event started by Jen at Vino Travels. We started with Veneto, which brought back good memories of our honeymoon, and I served up a swordfish dish along with some Valpolicella. I haven't been to the Piemonte region in Northeastern Italy, but I feel like I have travelled there through enjoying the region's wines on a regular basis.  I have found a good risotto dish to be a good partner for the Nebbiolo grape found in the area, so today I am sharing my recipe for Porcini Mushroom Risotto.
Good cooking starts with great ingredients. Now, fresh truffles are surely a great Piemonte ingredient, and I've featured them in risotto before, but they are a bit pricey…at least here in the US. So I went for porcini mushrooms, definitely a special mushroom.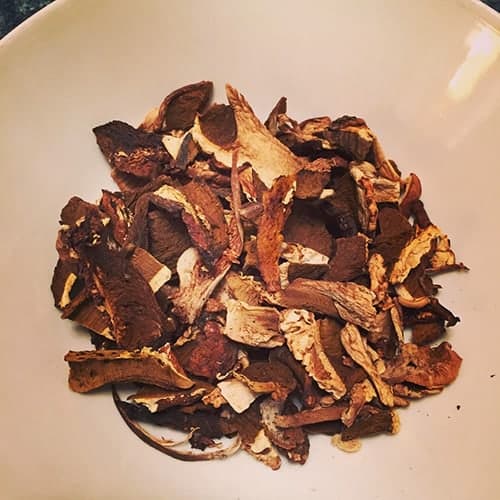 The full recipe can be found in the EasyRecipe card toward the end of the post, but I'll highlight a few points with visuals for risotto rookies. The process gets started by sautéing some onions and garlic in olive oil. Then the arborio rice gets stirred in, followed by some wine, as shown below.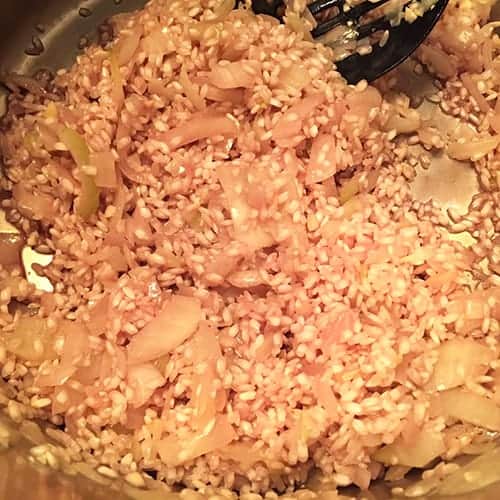 Once the wine gets absorbed, the broth gradually gets stirred into the risotto.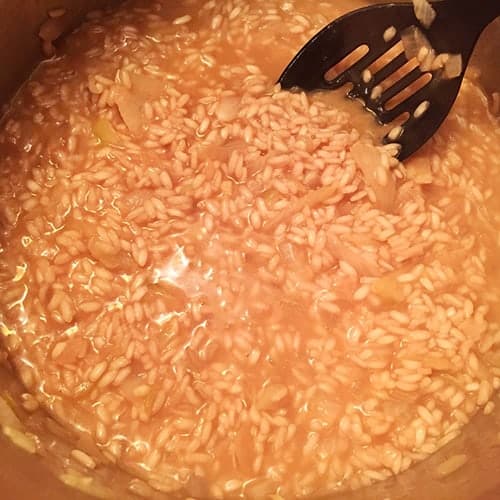 You can get going on prepping the porcini mushrooms as you gradually stir the broth into the risotto.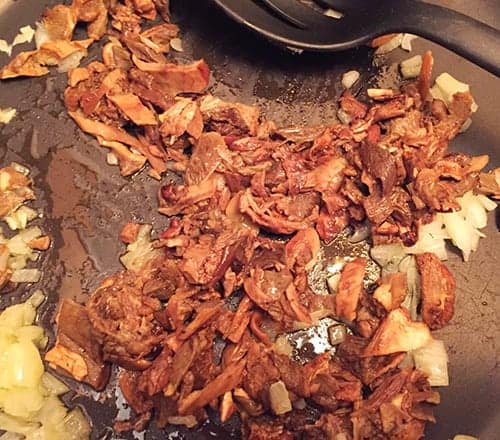 The mushrooms can be set aside while you finish cooking up the risotto so that it's tender. The mushrooms get stirred into the risotto when it's done along with the cheese and truffle oil (truffle butter or truffle shavings would certainly work, too!). It takes a bit of effort, but it's well worth it when you sit down to dig into this Porcini Mushroom Risotto and enjoy it with some Nebbiolo. Speaking of which, it's about time to talk more about the wine!
Wine Pairing for Porcini Mushroom Risotto
I enjoy many wines from the Piemonte region. I'm regularly grabbing Barberas, finding it to pair well with tomato-based sauces we feature here. But Barolo is probably my favorite wine from the area; but it tends to be on the expensive side. A great trick I've learned is that one can get some very good quality wine made from the Nebbiolo grape at a decent price if you look a bit outside the official Barolo designated areas. That's the direction we went to come up with a wine pairing for porcini mushroom risotto.
I chose the 2013 Cantina Del Pino Langhe Nebbiolo to pair with our risotto. Still not cheap, but a good value at around $26. I can't imagine drinking a 2013 Barolo at this point, given how they are made to age, but this Nebbiolo is very approachable now. I get forest floor on the nose of the wine, prune fruit and leather on the palate. An earthy wine, and well-suited for this porcini mushroom risotto. A winning pairing!
Though my suggestion of buying a wine labelled "Nebbiolo" rather than one with the official Barolo designation, occasionally you can come across a good, relatively affordable Barolo. That was the case the last time we had this Porcini Mushroom Risotto. I picked up a bottle of 2012 San Silvestro Patres Barolo ($28, 14.5% ABV). An approachable, fruit forward Barolo that definitely pairs well with the dish. Maybe not the depth and complexity of some Barolos, but certainly a good buy.
Now on to that recipe…
Print
Recipe card
Porcini Mushroom Risotto
Recipe Card powered by
Thanks for joining our 2nd Italian Food, Wine & Travel event on Piedmont, but it doesn't stop here.  Follow along with some other great blogs featuring all elements of life in Piedmont and what it has to offer.
Here are our featured articles this month:
Vino Travels – The difference between Barolo and Barbaresco
Cooking Chat – Porcini Mushroom Risotto with a Nebbiolo (you are here!)
Food Wine Click – A Walk from Neive to Barbaresco and Back
Curious Appetite – Cheese and Wine Pairings of Piedmont
Flavourful Tuscany – Moscato and their appellations
Girls Gotta Drink – The Ultimate Guide to Piedmont Food and Wine Pairing
Make sure to join our bloggers' conversations on Twitter throughout the day at #ItalianFWT.  We also post on #ItalianFWT throughout the month so feel free to join us all the time and share your Italian experiences!
Make sure to check back on January 3rd for our 3rd Italian Food, Wineand Travel event.  Next month's feature will be Emilia Romagna!