Our juicy Roasted Sirloin Steak with Avocado Sauce has big, bold flavors that pair well with a Cabernet Franc. We served up this recipe for #CabFrancDay 2016, and are sharing it as part of today's Wine Pairing Weekend. Read on for details on our tasty recipe and wine pairing, or click here to jump down to the recipe.

This past Sunday, December 4, was #CabFrancDay. This wine observance helps to highlight Cabernet Franc as a grape that can shine on its own, rather than just being a bit player in a red wine blend. Lori from Draecana Wines is the force behind #CabFrancDay, and she is hosting today's Wine Pairing Weekend event where we will be sharing pairings we enjoyed with our Cabernet Franc.
Beef first comes to mind when I think of food pairings for Cabernet Franc. Researching for #CabFrancDay last year I came across the suggestion that Cab Franc pairs well with fresh herbs. I made some guacamole with fresh cilantro, and I was on my way to a tasty Guacamole Cheeseburger that paired well with a classic Cab Franc from the Loire Valley.
I didn't stray too far from last year's #CabFrancDay theme with today's Roasted Sirloin Steak with Avocado Sauce recipe. Again we feature beef and avocado, always a good combo. This time, we made a batch of our Awesome Avocado Sauce for the steak. This sauce features plenty of fresh parsley, along with a healthy amount of garlic. We like the way it came together in sirloin steak with avocado sauce recipe.
Making Roasted Sirloin Steak with Avocado Sauce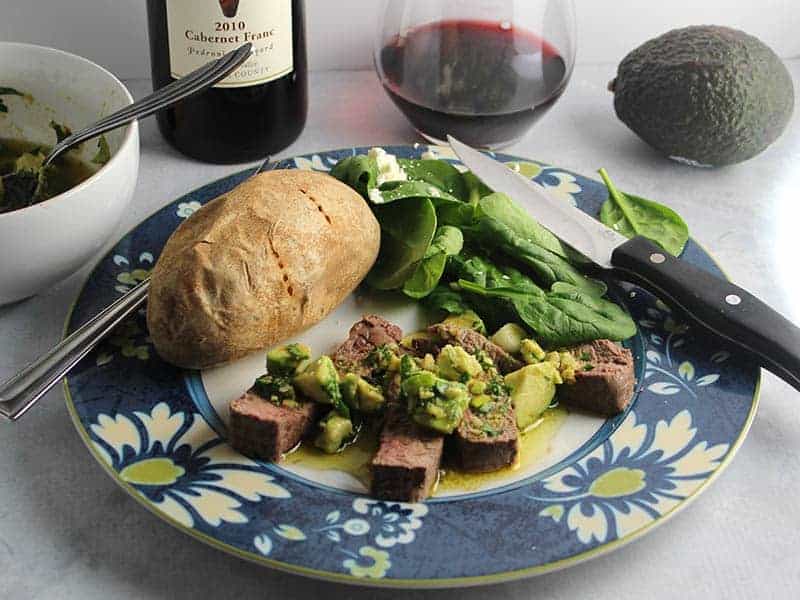 You can put together this Roasted Sirloin Steak with Avocado Sauce recipe in about half an hour. We start with a quick rub for the steak. As the steak absorbs that rub at room temperature, you get going on the avocado sauce. The trick here is to hold off on dicing the avocado and adding it to the sauce until the steak is just about ready.
Sirloin steak is a cut that doesn't take long to cook. I definitely recommend serving it medium rare; it looses its flavor quickly if you cook it much more than that.The steak in our photos was in the oven just a bit longer than optimal. Luckily there was a second one, a bit thicker so our timing was perfect. Realized that after we put the camera away!
After pan searing the steak on the stove top, finish it in the oven, which will take about 10 to 12 minutes. Slice it up thin, plate and serve with the avocado sauce. You have your Roasted Sirloin Steak with Avocado Sauce, just need on more thing…
Cabernet Franc Paired with Roasted Sirloin Steak
OK, no secret that we were going to serve a Cab Franc with our sirloin steak with avocado sauce. But this year, we decided to go with a New World wine for #CabFrancDay. I opened a bottle of 2010 Amphora Pedroni Vineyard Cabernet Franc ($26, 14.6% ABV). This Cab Franc is from Dry Creek Valley in Sonoma County.
I get a scent of pine on the nose of the Amphora Cab Franc. It has that distinctive green pepper one often finds in a Cab Franc, along with bold raspberry fruit. It's a big wine, less subtle than its Cab Franc counterparts in the Loire Valley. That big taste certainly matched up well to the flavorful sirloin with avocado sauce, and I was pleased with the pairing.

Print
Recipe card
Roasted Sirloin Steak with Avocado Sauce
Juicy roasted sirloin steak topped with an awesome avocado sauce, and paired with a Cabernet Franc for a delicious meal.
Author: Cooking Chat
Prep Time:

15 mins

Cook Time:

13 mins

Total Time:

28 mins

Yield:

4

servings

1

x
Category:

Main

Cuisine:

Tex Mex
FOR THE STEAK

2

sirloin steaks

1 tsp

garlic powder

1 tsp

cumin

1 tsp

salt
FOR THE SAUCE

5

cloves garlic, minced

1

scallion, minced

¾ cup

extra virgin olive oil

1 tbsp

Champagne vinegar (white wine vinegar is OK)

1 tsp

cumin
pinch red pepper flakes

1 tsp

salt

¼ cup

chopped parsley

2

avocados, diced close to serving time

1 tbsp

lime juice
Instructions
Preheat the oven to 400 degrees.
Make the steak rub by combining the cumin, salt and garlic powder in a small bowl.
Pat the steak dry and place on a work surface. sprinkle half the rub over one side of the steak, then gently rub it in. Turn the steak over, and repeat with the remaining half of the steak. Set the steak aside for 10 minutes or so to let the flavors from the rub absorb.
Begin making the avocado sauce by combining in a bowl the minced garlic, scallion, olive oil, vinegar, cumin, red pepper flakes and salt. Set aside to finish close to serving time.
Heat an oven-proof skillet on medium high, lightly coated with cooking oil. When the skillet is good and hot, add the steak, and sear for one minute, then flip to sear the other side for another minute.
Move the skillet with steak to the oven to finish the steak. Check for doneness after 10 minutes of roasting, keeping in mind this is a lean cut that cooks quickly. Let the steak rest for a couple of minutes.
Finish the avocado sauce as the steak roasts by dicing the avocado and adding it to the sauce along with the parsley and lime juice. Stir gently to combine the flavors.
Slice the steak to serve, placing 4 to 6 strips on each plate. Top the steak with the avocado sauce. Serve with a Cabernet Franc and enjoy!
Recipe Card powered by

Participants for #CabFrancDay Wine Pairing Weekend
Join us for live #CabFrancDay #winePW Twitter chat Saturday, December 10, at 11 a.m. ET/8 a.m. PT by following the #winePW tag. And be sure to join us for our January Wine Pairing Weekend on 1/14, New Wine for the New Year, which I will be hosting. You can see all the past and upcoming #winePW events here.