Grilled Steak with Garlic Butter is an easy recipe to make on the grill. We served it with an interested Shiraz based blend for today's Wine Pairing Weekend event focusing on Australian wines for the "barbie". An excellent food and wine pairing to try this summer!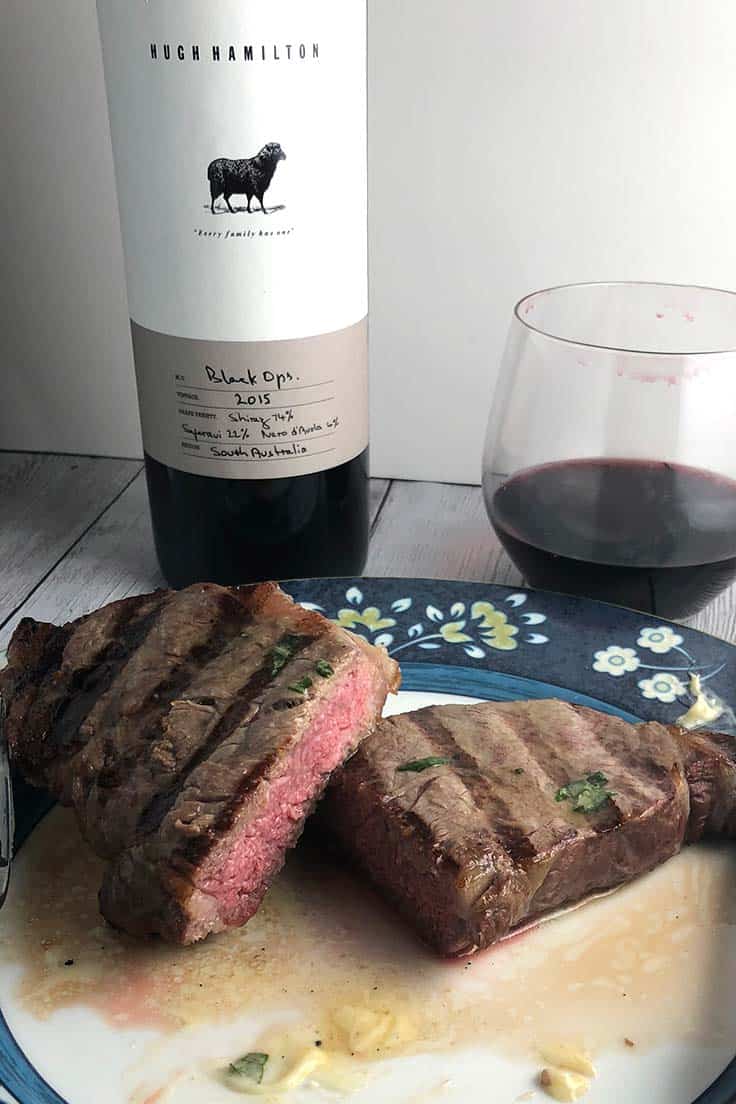 Today the Wine Pairing Weekend crew, hosted by Gwendolyn at Wine Predator, is talking about Australian wines for "the barbie".
I poked around the web a bit for ideas on what I would make on the barbie, as they are known to call the grill in Australia. I didn't find a lot of elaborate preparations for an Aussie barbie meal. Simple recipes for a variety of meat and fish seems to be the thing.
I had an idea I'd be going with Shiraz based wine, so that naturally led me to think about steak. So I made Grilled Steak with Garlic Butter. I served the steak with Quinoa with Grilled Onions and Peppers and a little kale Caprese salad.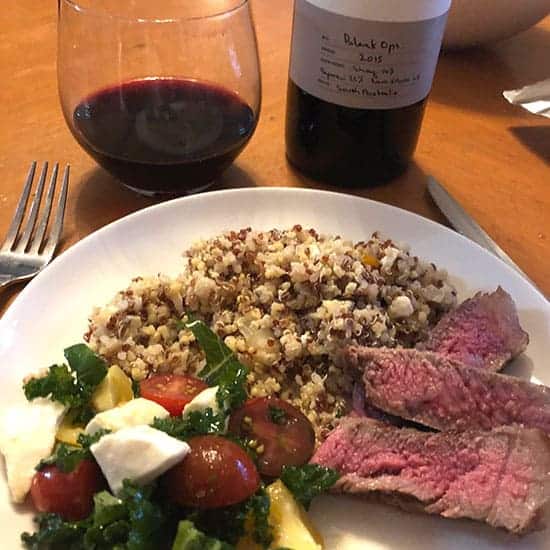 Our Grilled Steak with Garlic Butter is definitely an easy recipe. We simply rubbed a bit of salt into our NY strip steak before grilling, and got some garlic butter ready to pop onto the steak after grilling.
How do you make garlic butter?
Making a compound butter–butter with some extra ingredients– such as garlic butter is an easy way to add some extra flavor to a wide variety of dishes. I started getting in the habit of making a compound butter for my Sweet Potatoes with Cumin Sage Butter.
To make garlic butter for this steak, start by softening some butter. Set the butter out at room temperature for 20 minutes or so, making the butter soft enough to work with. You can briefly put the butter in the microwave for 5 to 10 seconds to soften it if you are short on time.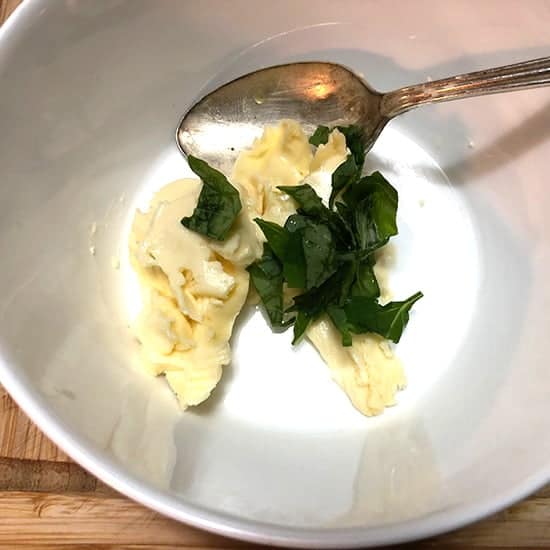 Note I often use Earth Balance nondairy spread in place of regular butter, and that works great here.
Once you have the butter softened, add in your additional ingredients for flavor. Today I chose to use garlic powder instead of fresh garlic cloves. I thought less of that sharp garlic bite would be better for the wine pairing.
Typically a fresh herb gets added to a compound butter. I chose basil for our steak with garlic butter, as basil is one of the herbs suggested to go with Shiraz in this handy guide from Mother Earth Living.
Salt and/or pepper is often added garlic butter, but I already had salt on the steak so I didn't add any to the butter. A tablespoon of fresh lemon or lime juice can be a nice addition to garlic butter, but I skipped that today in the interest of a good wine pairing result.
Hugh Hamilton Wine for Steak with Garlic Butter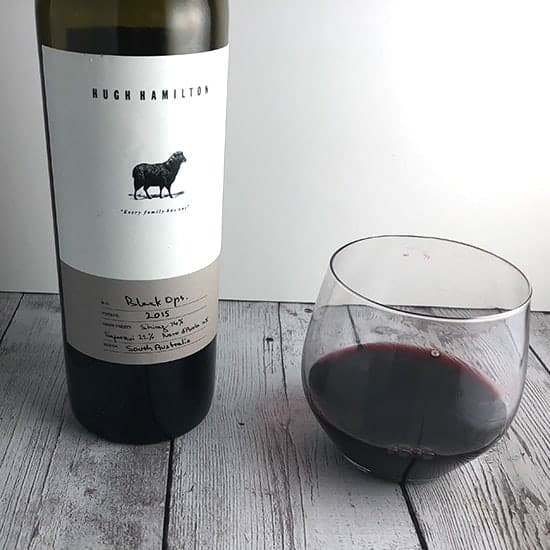 Hugh Hamilton is an Australian winemaker with a gregarious personality. He also makes some excellent wine. I've had a chance to meet him when he has visited Pairings Wine & Food, and had one of his wines in the back of my mind when planning for today's #winePW event.
We were working on a pretty tight deadline for today's post. Thursday was the one night without a meeting or baseball game, so I stopped by Pairings on my way home from work to pick up a bottle of the 2015 Hugh Hamilton Black Ops.
Although Shiraz is the dominant grape in the Black Ops at 74%, as you might expect from an Aussie red wine, this wine also blends in Saperavi (22%) and Nero d'Avola (4%). Saperavi is a red wine grape native to Georgia (the country!), that is starting to be grown a bit in Australia as well as the Finger Lakes.
Hugh Hamilton says that he had a notion for awhile that Shiraz and Saperavi would go well together, and he had a chance to prove that true with the Black Ops. I get pepper and violets on the nose. Cherry fruit and black pepper on the palate. There's definitely some refinement to this wine–flavorful, but not one of those over the top red wines you can get sometimes from Australia. Although it is 14.5% alcohol, the wine is still food friendly.
Is the nuanced aspect of the Black Ops from the blending of Shiraz and Saperavi? It is also interesting that the 2015 Black Ops has a bit of Nero d'Avola, which we typically associate with Southern Italy. Previous vintages of the Black Ops that I've had just had the Shiraz and Saperavi.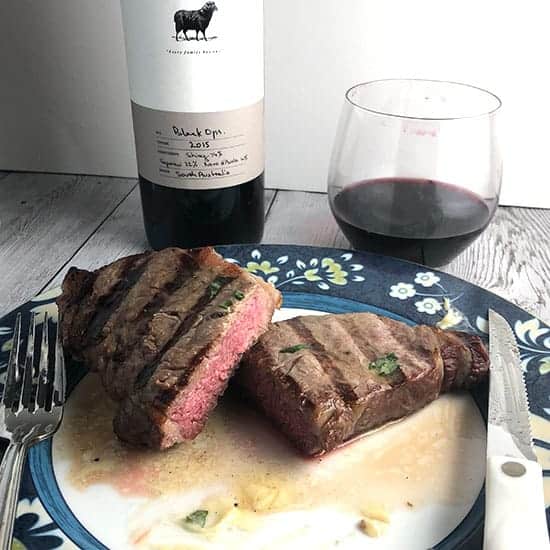 The bottom line is that the Black Ops Shiraz blend is a great pairing for our Grilled Steak with Garlic Butter. Plenty of bold flavor to go with the beef, and some subtleties that work with the garlic and herb flavor imparted by the butter. I give the pairing an A, and definitely encourage you to consider the Black Ops for your next meal from the barbie!
Print
Recipe card
Grilled Steak with Garlic Butter
Grilled Steak with Garlic Butter is an easy recipe for delicious steak from the grill.
Author: Cooking Chat
Prep Time:

15 mins

Cook Time:

15 mins

Total Time:

29 mins

Yield:

5

servings

1

x
Category:

main

Method:

grilling

Cuisine:

American
For the Garlic Butter:
2 tbsp

butter

⅓ tsp

garlic powder

4

basil leaves, rinsed and thinly sliced
For the steak:
2

New York Strip Steaks (appx.

24

ozs, about

1 ¼

inch thick)

1 ½ tsp

coarse salt
Instructions
Preheat a grill to medium high. Put the butter into a bowl for about 10 minutes to soften.
Pat dry the steaks with a paper towel. Sprinkle half of the salt over one side of the first steak, and rub it into the meat a bit. Repeat to salt the other steak. Let the steak sit with the salt at room temperature for 10 to 15 minutes.
Add the basil and garlic powder to the butter. Use a fork to stir and mash together the ingredients. Set aside.
Coat the grill rack with oil spray. Add the steak to the grill, and grill covered for 7 minutes. Flip the steak over and grill for another 6 to 7 minutes. Check for doneness after 13 to 14 minutes total grilling time. That timing yielded nice medium rare steaks; adjust according to your taste and the thickness of the steak.
When the steak is cook to your liking, move the steak to a platter to rest. Top each steak immediately with a portion of the garlic butter. Gently move the butter across the steak to let the butter melt across the steak. Let the steak rest for a few minutes with the butter.
Slice the steak and serve. Enjoy with a glass of red wine, perhaps a Shiraz blend from Australia!
Notes
You can substitute another steak of your choosing if you like, just note the grilling times may need to be adjusted. Grilled sirloin or ribeye would be good choices.
We actually use Earth Balance spread rather than regular butter here, and it comes out very well. This is a good nondairy option.
If the butter hasn't softened enough to work with, microwave it briefly (e.g. 5 to 10 seconds).
Recipe Card powered by
More Australian Barbie Pairings from Wine Pairing Weekend
Be sure to check out all the great Wine Pairing Weekend Articles about Wines for the Barbie! And join us for a live Twitter chat on the topic, using hashtag #winePW, at 11 a.m. ET and 8 am PT on Saturday, June 9, 2018. You can view past and upcoming Wine Pairing Weekend events here.