Our 59 Grilling Recipes for Labor Day Weekend will get you ready to enjoy the final days of summer! We have updated this post just in time for Labor Day 2023. If you're wondering what to grill this weekend, we have you covered for all your Labor Day BBQ ideas!
Scroll through all these great recipes, or click ahead to the section of interest: Meat (beef, pork, lamb) | Veggies & Vegetarian | Seafood | Poultry | Drinks and Dessert
If you are looking for side dish ideas for your cookout, our collection "What to serve with ribs" has many ideas that would work well with these grilling recipes.
Grilling Recipes for Labor Day Weekend
Hold the pumpkin recipes and Ockoberfest beer! It is still officially summer for a few more weeks, and we have a long Labor Day Weekend to be enjoyed. In my book, Labor Day Weekend is a time to celebrate and savor summer. What better way to do than by firing up the grill and enjoying some tasty food along with family and friends. Pour a summer ale if you've managed to save one before the stores switched over to pumpkin beer–or check out one of our drink options below–and pick a couple of these great recipes for the grill.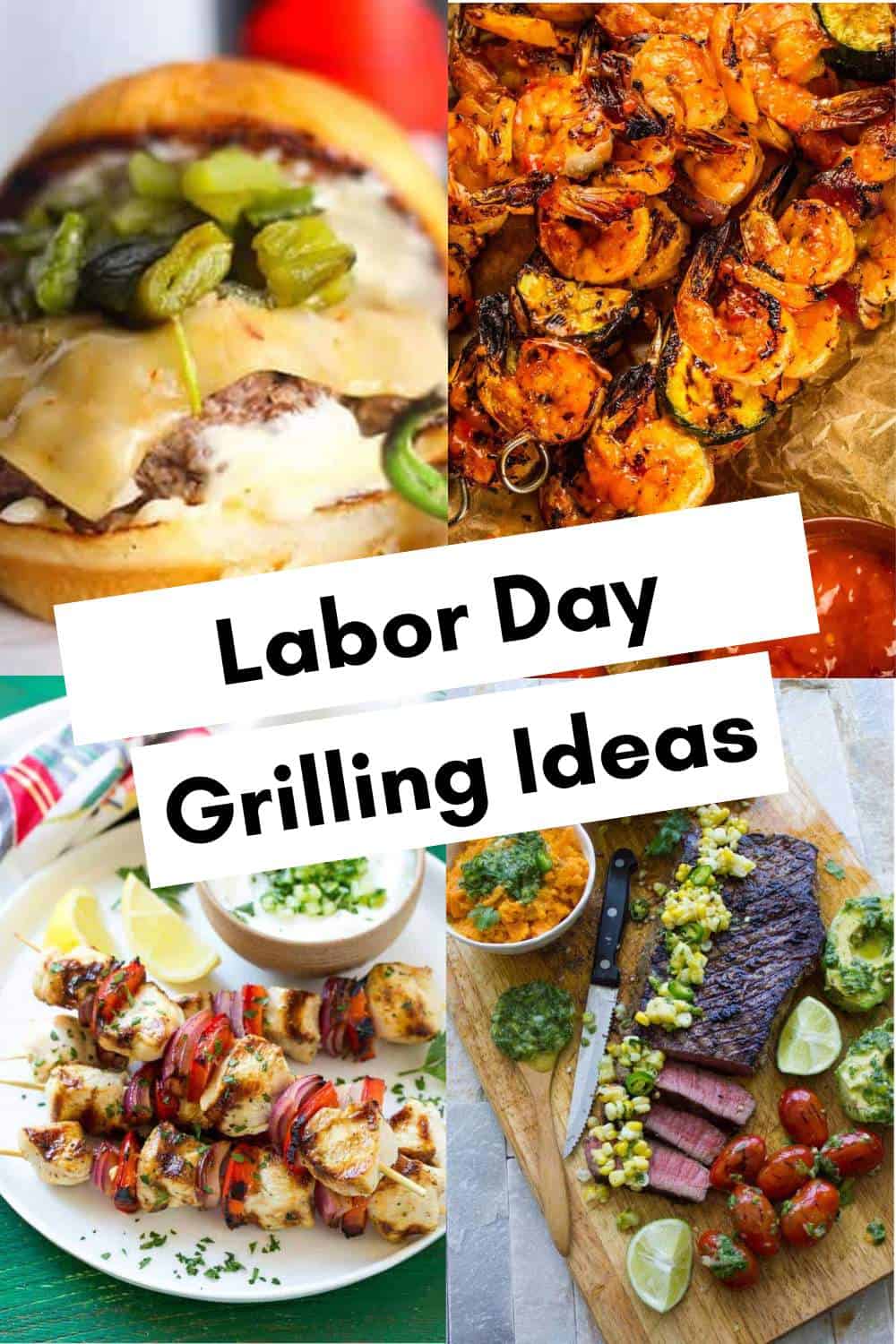 I've assembled 59 Grilling Recipes for Labor Day Weekend with the help of fellow food bloggers. 59 recipes are a lot, so this grilling recipes for Labor Day Weekend post is organized into sections: Meat, Veggies/Vegetarian, Seafood, Poultry and Drinks/Dessert. If I don't mention the blogger who shared the recipe, that means the recipe is from here on Cooking Chat.
I'm sure you will find many recipes here that can make for a tasty Labor Day Weekend meal from the grill!
Grilled Meat Recipes
Easy Grilled Steak Tips You can find some more complicated recipes in this collection, but if you simply want some good, flavorful meat on on the grill, our Easy Grilled Steak Tips recipe (shown in the photo above) is a good place to start!
NY Strip Steak with Garlic Cumin Rub We updated this recipe with grilling instructions for Labor Day 2021.
Grilled Filet Mignon with Mushrooms: Our newest addition to this collection of Labor Day grilling recipes is this grilled filet mignon we re-made recently. Tender filet mignon doesn't require too much adornment to make a special meal. The mushroom topping does the trick!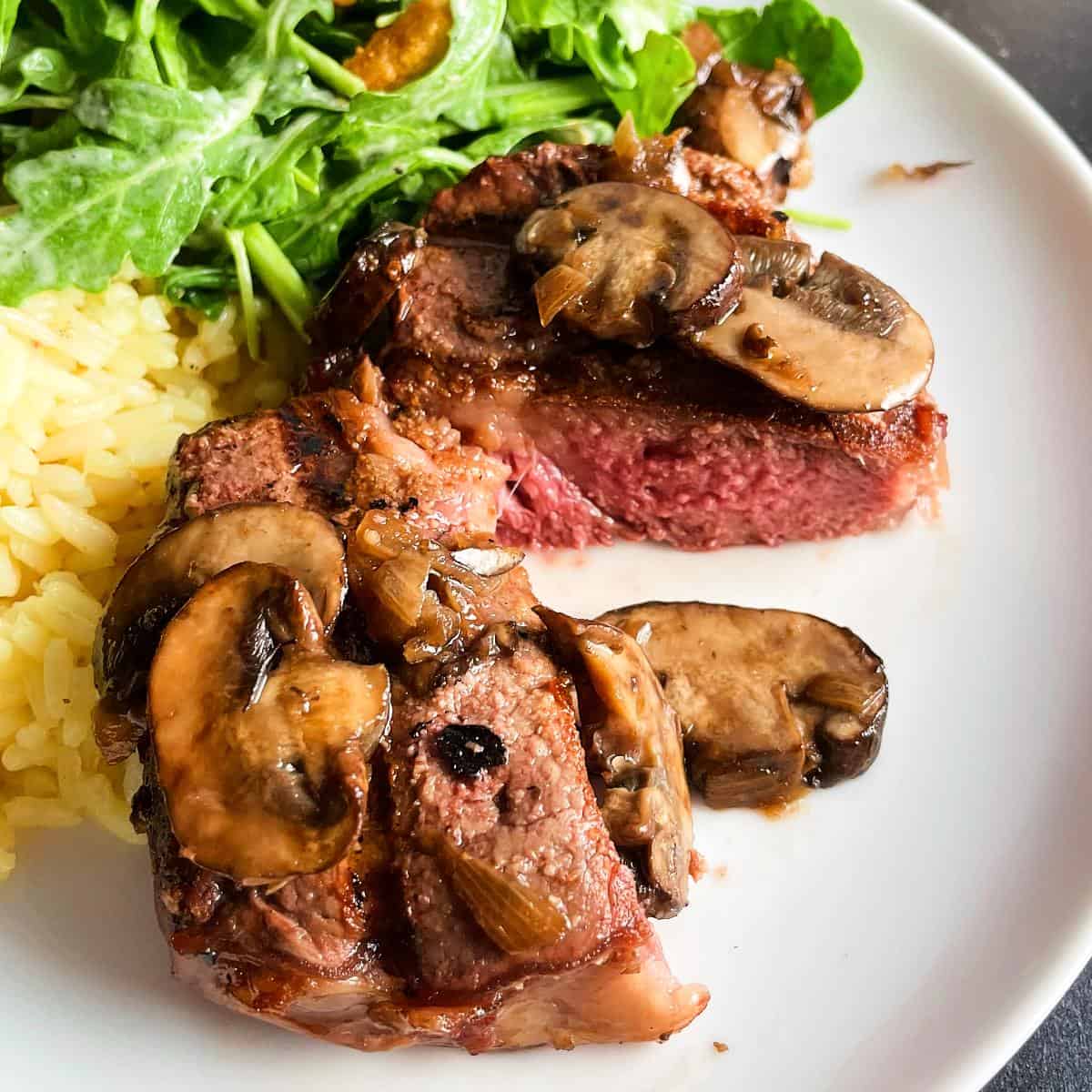 Grilled Ribeye with Hatch Chile Avocado Salsa We will kick off our 50 grilling recipes for Labor Day Weekend with this perfect late summer dish. Use those Hatch Chile peppers just now rolling into stores to make a delicious topping for grilled steak.
Garlic Mushroom Pork Chops with Quinoa
One of the newer additions to this lineup, this recipe features grilled pork chops smothered with a garlic mushroom sauce, served with some hearty quinoa for a satisfying meal.
Heaven Sent Grilled Pork Chops: The succulent pork chops with a simple garlic cumin rub get their name from our nine year old's reaction to how tasty they are! Consider this one if you're looking for something that packs a lot of flavor with minimal work.
Cilantro and Lime Marinated Pork Tenderloin with Chipotle Cream This is one of my all-time favorite recipes, especially served with these Sweet Potatoes with Cumin Sage Butter. This was another Wine Pairing Weekend pairing, served with a Bonny Doon Syrah.
Asian Grilled Pork Tenderloin Here's another one featuring pork tenderloin, and is super easy to make! We enjoyed this with a good Beaujolais, but you could certainly go with a Pinot here, too.
Pork Tenderloin Tacos Pork tenderloin makes a nice taco filling, even better paired with a good red wine.
Grilled Steak and Onions Steak with onions is always a winner in my book! Gets better on the grill.
Grilled Sirloin Steak with Cilantro Corn Salsa I can tell this steak recipe must be just bursting with flavor! From Mahy at Two Purple Figs.
Grilled Ribeye with Portobello Mushrooms Meaty portobello mushrooms grilled and served alongside ribeye steak for a succulent supper.
Grilled Steak Tacos with Awesome Avocado Chimichurri Sauce: Entertaining this weekend? This is a great way to get your guests some steak without breaking the the bank! A few pieces of beef along with the tasty sauce makes a a great taco. "Awesome" was the operative word for the sauce when we served it to family at a recent gathering.
Grilled Turkish Kofta Kebabs Ground lamb with Turkish spices sounds like the makings of a great meal. Recipe from Lisa at Panning the Globe.
Caprese Grilled Filet Mignon Two of my favorites get combined here, the tomato and mozzarella Caprese taste with tender filet mignon. Great recipe and photo from Brianne at Cupcakes & Kale Chips.
Grilled Steak with Garlic Cumin Rub Regular readers of Cooking Chat may have figured out by now I use this rub a lot! Hey, when you've got something that packs a lot of flavor but also gets a thumbs up from a nine year old, you're going to make it a lot. This is another easy option for a low maintenance weekend grilling plan.
Bistecca alla Fiorentina This Florentine Steak recipe is a good one to enjoy for an Italian style Labor Day weekend!
Umami Burger Erin from Platings & Pairings serves up a full-flavored burger. Like us here on Cooking Chat, she offers pairing tips for most of her recipes and suggests serving this with an ice cold beer, or a rosé if you're in the mood for wine.
Cocoa & Coffee Roasted Beef Kebabs I love my coffee, but am more likely to have it on my cup than on my steak. But I'm intrigued by the idea! This one shared by I am Not the Nanny.
Korean Barbecued Beef Sandwich Some international flair gets added to this steak sandwich from Sarah at Curious Cuisiniere.
Turmeric Spiced Steak here's a tasty way to get some more turmeric in your diet! Feature it in a dry rub for grilled steak like we did!
Fig Glazed Bacon-Wrapped Pork Tenderloin Another tasty pork tenderloin preparation. Gotta be good with bacon, right? Recipe from Sue at a Palatable Pastime.
Grilled Paprika Pork Chops Add a little Spanish flavor to your Labor Day grilling with our grilled paprika pork chops recipe! Excellent paired with a Rioja wine.
Turmeric Pork Skewers & Thai Basil Dipping Sauce A flavorful Asian twist on grilled pork tenderloin from Bam's Kitchen.

Veggies and Vegetarian Recipes from the Grill
Grilling recipes for Labor Day Weekend doesn't have to be all about the meat! Check out these great dishes to get your veggies from the grill. Includes main course and side dish options.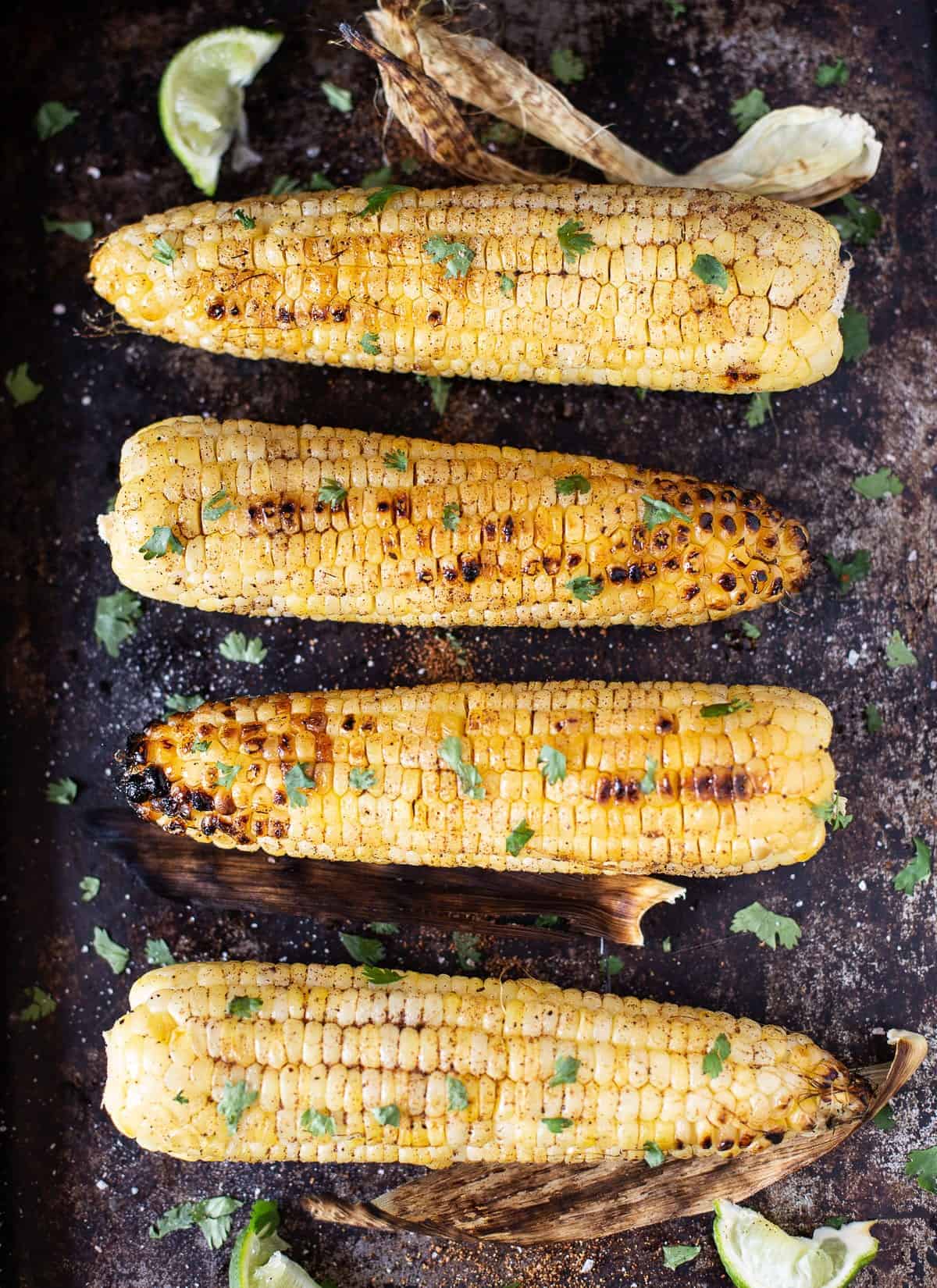 Grilled Corn in Husk from Gina at Intentional Hospitality is in the essence of summer flavors!
Herbed Cream Cheese Grilled Bell Pepper Boats Carla from Homemade in the Kitchen has grilled up some peppers and filled with cream cheese and fresh herbs for a must-try summer appetizer.
Charred Broccolini with Preserved Lemon and caper dressing is delicious as a side dish or salad. This can be made over coals for grilling, and also has an oven method in case you have a rainy Labor Day! From Non-Guilty Pleasures.
Tangy & Sweet Grilled Corn Salad I still haven't tried grilling corn, but looking at this tasty grilled corn salad from I'm Not the Nanny has bumped grilling corn higher on my to do list!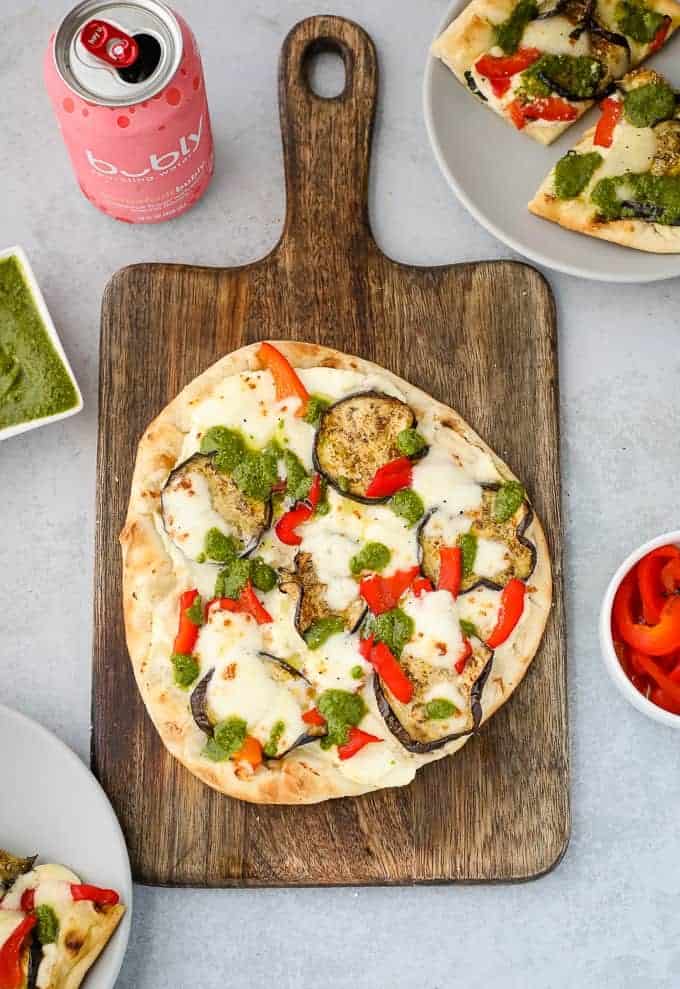 Grilled Naan Pizzas These grilled naan pizzas from Liz at I Heart Vegetables are topped with caramelized eggplant, roasted red peppers, and creamy ricotta for a delicious pizza perfect for an easy long weekend meal! Get more ideas from Liz via my Cook Local Eat Local podcast interview with her.
Grilled Vegetable Sandwiches Wow, these sandwiches from Magnolia Days are gorgeous! Great option if you want to grill something lighter that will still impress.
Grilled Bok Choy Dorothy from Shockingly Delicious originally shared this recipe for Father's Day, but it would also be a great option as summer winds down.
BBQ Cauliflower Curry Grilled veggies can be wonderful, and Tara from Noshing with the Nolands has put her stir fry BBQ wok to creative use with this dish!
Grilled Lemon Pineapple Tofu I haven't tried grilling tofu yet, so I need to try this vegan recipe from Where You Get Your Protein.
Cuban Quinoa Bowl Grilled Sweet Potatoes and Plaintain This healthy recipe from the grill gets topped off with avocado-mango salsa. Yum! From Caroline's Cooking.
Quinoa with Grilled Onions and Peppers There are a lot of tasty things you can do with grilled peppers and onions! We like to add them to quinoa for a healthy side dish.
Grilled Baby Romaine Lettuce with Parmesan Vinaigrette Wow! I wouldn't have thought of grilling lettuce, but this recipe from Bobbi's Kozy Kitchen looks awesome.
Grilled Portobello Mushroom Pasta Here's a substantial vegetarian main course featuring portobello mushrooms. Great with a Pinot Noir!


Best Grilled Seafood for Labor Day
Grilled Tilapia with Tomatoes & Olives
We will kickoff the seafood section with this one from Cooking Chat. I like tilapia on the grill, and it is delicious with this combo of tomatoes and olives. This tilapia recipe pairs very nicely with a Greek white wine.
Grilled Halibut with Mango Salsa I tried grilling halibut for the first time this year, and love the way it came out topped with a mango salsa.
Grilled Swordfish with Garlic Soy Marinade
Swordfish is one of those things I have pretty much exclusively from the grill. You can see a variety of ways to prepare it here in this collection, but the simple Grilled Swordfish with Garlic Soy Marinade is probably my most frequently made version.
Grilled Swordfish and Eggplant with Fusilli and Tomatoes I'm a fairly new convert to the virtues of eggplant. Grilling is the key for me. This Sicilian inspired combination was very good. For more swordfish ideas, see our 16 Best Grilled Swordfish Recipes collection.
Our Simple Grilled Shrimp is ready to go in about 20 minutes! That includes 10 minutes for a quick marinade. Serve as a main course or appetizer.
Grilled Swordfish with Pineapple Salsa Gotta love salsa! The pineapple in this one gets grilled along with the fish. Grilling pineapple create a delicious, complex fruit flavor!
Seared Trout on the Grill with a Tropical Viogner Sarah from Curious Cuisiniere came up with this one for a Wine Pairing Weekend event. This post demonstrates that cooking whole fish on the grill can be pretty easy, and is especially nice served with a good wine!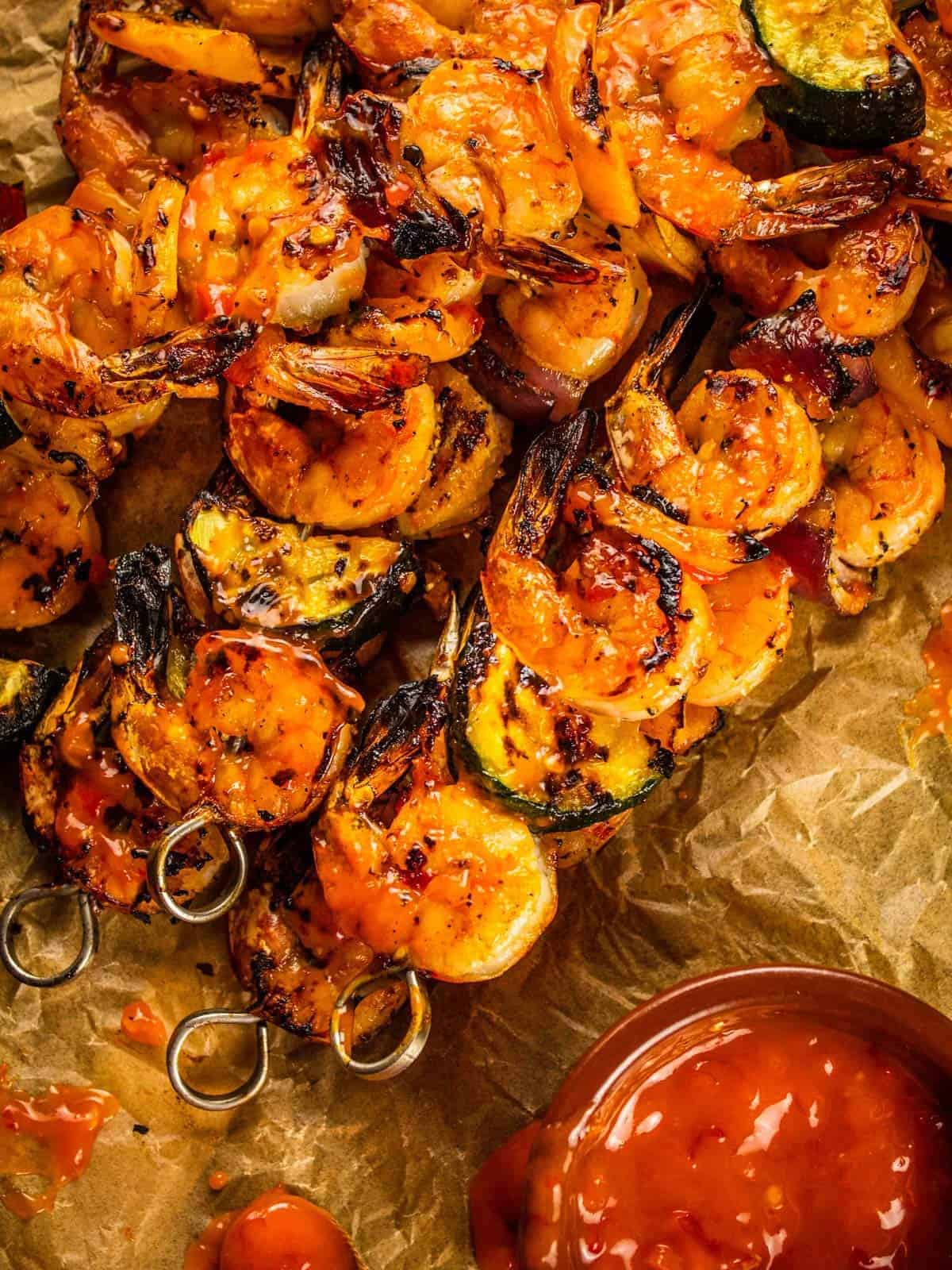 This shrimp kabob recipe from Amanda at Saporito Kitchen features fresh shrimp and vegetables seasoned and grilled, then finished off with a banana pepper sauce for a light and fresh meal with a bit of a kick!
Marinated Grilled Octopus If the grilled whole trout got your creative juices flowing, maybe you are ready to try the grilled octopus from Culinary Adventures with Camilla! Gotta love that this dish was inspired by her kid's requesting this when visiting the local fish market…and now he has some interesting leftovers to scare his friends at school!
Simple Grilled Tilapia Though it's a fairly light fish, tilapia grills up nicely. This is a simple recipe to try.
Red Snapper Fish Tacos Fish tacos make good eating, and this version with grilled red snapper looks very good! Recipe from A Gouda Life.
Grilled Salmon Sandwiches Love the sound of these salmon sandwiches from Peas and Crayons. The arugula, avocado and pesto combination along with the salmon can't be passed up!
Grilled Salmon with Mushroom Sauce Grilled salmon gets even better when topped with a tasty mushroom sauce! Pinot Noir is the perfect wine pairing for this recipe.
Grilled Red Snapper with Cilantro and Onion Stuffing Another tasty idea for grilled whole fish! This one from Stacy at Food Lust People Love has a stuffing that certainly has me wanting to give this a try.
Poultry
Simply Scrumptious Grilled Chicken with Garlic Basil Butter: Bone-in chicken breasts can be a good value. Many online recipes for them can get a bit complicated; my recipe streamlines the process with tasty results!
Juicy Grilled Chicken Breasts These boneless chicken breasts are cooked in a very different manner than the bone-in chicken above, but comes up with similarly tasty results!
Grilled Tandoori Chicken Typically baked in an Indian clay oven, Tandoori chicken is tasty on the grill, too! This marinates in a yogurt spice blend for a flavorful meal, but is not overwhelmingly spicy.
Finger Lickin' Chicken Drumsticks Another chicken drumstick option for you, this one via Tara from Noshing with the Nolands. Yum!
Vegetable and Chicken Shish Kebabs We'll stick with the kebab theme and share this tasty looking dish from The Freshman Cook.
Grilled Maple Mustard Chicken from What the Fork blog has flavors that are right up my alley!
Piri Piri Grilled Chicken Ready to kick things up a notch? Stacy has you covered with this recipe from Food Lust People Love! Plenty of hot pepper and garlic flavor here, inspired by a trip to Portugal. Or maybe you'd like the similar flavors to go with some grilled fish.
Grilled Chicken with White BBQ Sauce Here's a creative BBQ sauce for chicken from Bobbi's Kozy Kitchen. I don't think I've had white BBQ sauce but I'd like to try this!
Grilled Chicken Broccoli and Garlic Penne This Italian classic gets a tasty twist when the chicken, broccoli and garlic come from the grill!
Greek Chicken Kabobs These chicken kabobs from Dinner at the Zoo look simple yet full a flavor, a nice option for Labor Day Weekend Grilling!

Drinks and Dessert
Grilled Lemon Cherry Drop Martini All this grilling is going to make you thirsty! So why not add some lemons to the grill and try this creative martini recipe from Renee at Magnolia Days. So fire up the grill, pour a glass, and enjoy your weekend!
Summer Wine Pairings If wine is your beverage of choice, you'll want to be sure to check out my always growing list of summer wine pairings! Many of these pairings would be great with these grilling recipes for Labor Day Weekend.
Grilled Figs with Mascarpone & Honey I don't make a lot of dessert, but was pleased with the way the grilled figs came out when I made them for our anniversary last year. A great dessert to enjoy in the backyard to celebrate the last long summer weekend!
We hope you have a chance to enjoy some of these grilling recipes for Labor Day Weekend. Whatever you choose to grill, enjoy your final days of summer!