Looking for a spoon roast recipe? This Spoon Roast with Horseradish Cream is one of our favorite recipes. Follow our cooking method for making tender spoon roast. Top it off with a simple and tasty horseradish cream for a delicious meal! Sirloin roast is the name of the cut used for a spoon roast.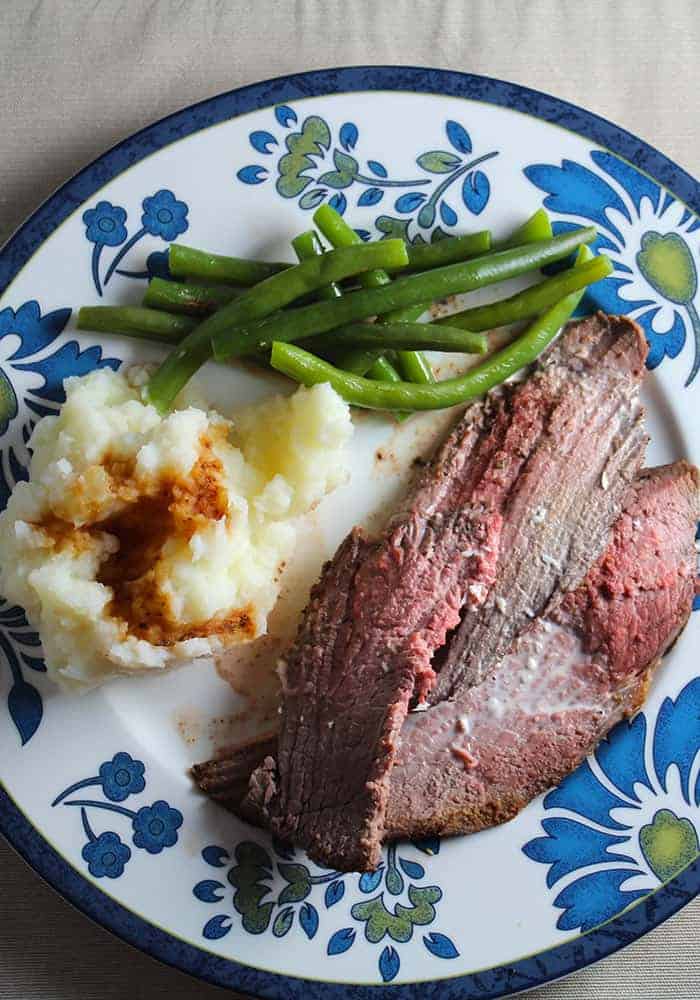 There's nothing like the smell of roast beef cooking in the oven on a cold winter day. For me, it brings back good memories of Sunday visits to my Nana's. The roast beef we enjoyed there was served with a basic gravy. I kick thing up a notch here with my Spoon Roast with Horseradish Cream recipe.
What is spoon roast?
Spoon Roast is made using the sirloin roast cut of beef. When I first made it a few years back, I found a wide range of opinions about how to cook it. I decided to try the method that has you start the roast in a cold oven, turning the heat up high to get some browning going on the outside. After ten minutes, the oven is reduced to a lower roasting temperature. This approach worked well the first time, and I stick with it here in this Spoon Roast with Horseradish Cream recipe. I also used the same basic method with good results in the Spoon Roast with Mushrooms and Farro recipe we made.
I typically by the jar of chopped horseradish root, but they were out of it the day I was planning to make this. So I got a whole horseradish root and prepared it myself. The recipe assumes you've found the prepared horseradish, but if you want to try preparing it with the root, here's the method I followed.
There's not too much active cooking here. Just get rub made and the roast started in the oven, then relax and enjoy the smells as it slowly cooks to perfection! Slice it up thin, topped with the sauce, along with some potatoes and a green vegetable. And of course, serve with a good glass of red wine…
Wine Pairing for Spoon Roast with Horseradish Cream
This fall, I came up with this Roasted Sirloin Steak with Chanterelle Mushrooms recipe to go with a bottle of the 2012 Paso Robles Cabernet Sauvignon from Halter Ranch. I had a second bottle on hand that I decided to save for a hearty winter roast. This spoon roast with horseradish cream seemed to be a good time to open it up!
This Cabernet is deep red in the glass. I got eucalyptus on the nose. I tasted blackberry and cherry fruit, along with notes of charcoal. Tannins are well-integrated. Definitely had the substance to stand up to the roast, and did fine with the kick from the horseradish. A very good pairing for Spoon Roast with Horseradish Cream!

Spoon Roast with Horseradish Cream
Spoon Roast is a classic roast beef, made with a simple rub and served with a tasty horseradish cream sauce.
Ingredients
1 medium sirloin roast (ours was about 4 lbs)
1 tbsp garlic powder
1 tbsp salt
½ tbsp dried rosemary
2 tbsp chopped horseradish
1 cup whipping cream
½ tsp mustard
Instructions
Make the rub by combining the garlic powder, salt and rosemary in a bowl.
Spread the rub over the beef, patting it into the meat. Let the beef sit at room temperature for 10 minutes to let the flavors absorb.
Place the spoon roast into a roasting pan, and then put it into a cold oven. Turn the oven up to 450 degrees, cook for 10 minutes after it has reached 450.
Lower the heat to 325 degrees, and cook at that temperature 20 minutes for every pound of meat.
Check for doneness toward the end of the projected cooking time. When almost done cooking to your taste, remove from oven. Tent loosely with foil to let it rest.
Make the cream by whipping the cream together with the horseradish and mustard.
Slice the beef thinly, then serve with the cream and a nice Cabernet Sauvignon!
Tools to use: 
You need a good roasting pan for this recipe and other roasts. We have been happy with the Circulon roasting pan, pretty affordable and good size for roasts like this. Sharing my Amazon affiliate link for the product, meaning I'd earn a modest commission if you choose to buy using this link.
Full disclosure: I received a courtesy sample of this wine from the winery. As always, the opinions expressed here are entirely my own.