Asian Tuna Noodle Bowls are easy to make and packed with great flavor and lean protein! Keep those resolutions to eat healthy with this simple and delicious recipe. Read on for details, or click here to jump down to the recipe.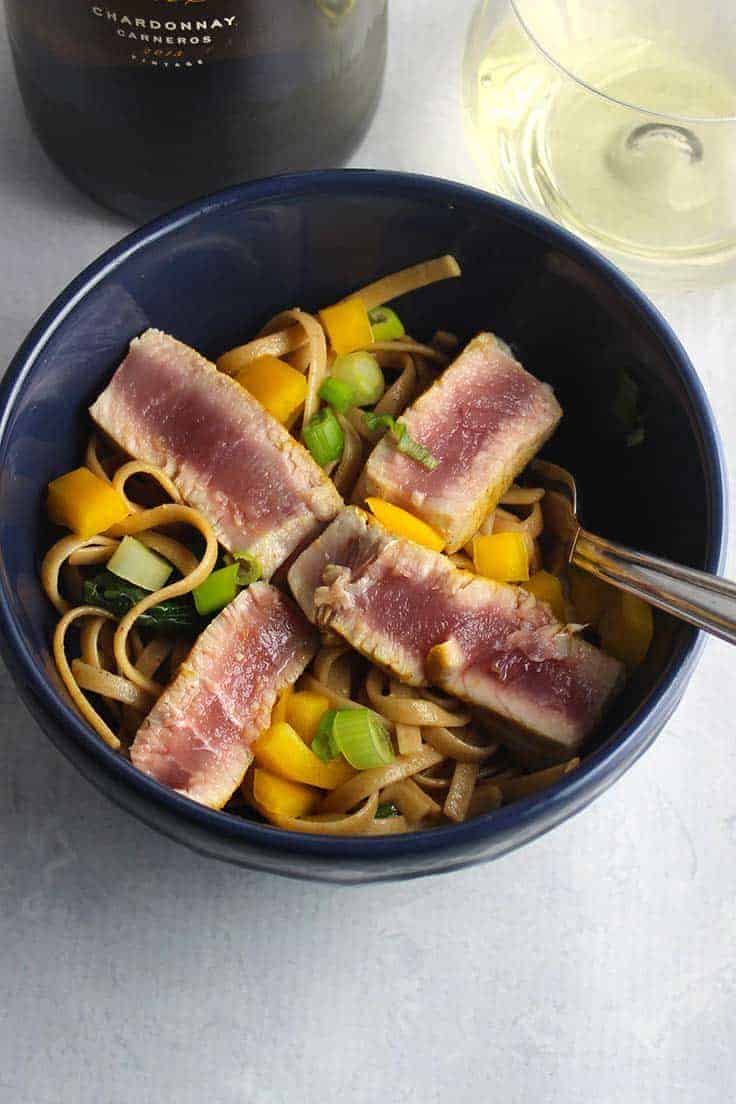 Happy New Year! The Sunday Supper group is welcoming 2017 by sharing Easy Supper Recipes. We anticipate a lot of people will be looking for easy recipes they can make at home in the new year. Home cooking can help with many types of New Year's resolutions–eating healthy, saving money and spending more quality time with the family, to name a few.
Our Asian Tuna Noodle Bowls recipe certain gets high mark on all those New Year's goals. This dish can be on the table in 20 minutes, and provides a great source of lean protein. Oh yes, I can't forget to mention that our Asian Tuna Noodle Bowls are so tasty, too…a great combo of salty and savory flavors.
Fresh tuna steaks can be pricey, but I have had very good luck getting frozen yellowfin tuna at the grocery store for a reasonable price. One tip for eating more healthy fish in 2017–keep in mind that there is virtually no waste when you get something like tuna steak. By comparison, you are likely to trim and discard parts of the meat you purchase, so the relative cost per pound figures can be a bit misleading.
Making Asian Tuna Noodle Bowls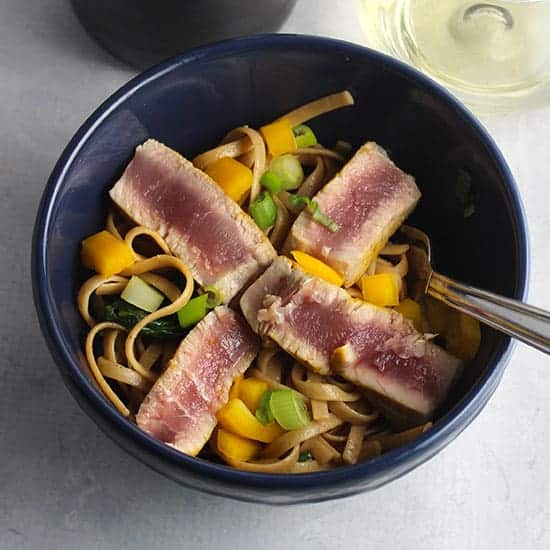 The basic approach here is to get the water going for the noodles as you start to make a simple rub for the tuna and sauce for the noodles. Keep in mind you need to allow up to an hour for frozen tuna to thaw in some warm water. Cook the noodles and toss with the sauce, then quickly pan sear the tuna. I like to do 3 minutes total cooking time for a medium rare tuna that leans toward rare. Add a minute extra if you like but not much more!
Place a serving of noodles in a bowl, then lay several slices of tuna over the noodles. Sprinkle scallions and peppers for a great presentation!
Note I used whole wheat linguine for the noodles. I tend to have these on hand, but you could certainly use udon noodles here if you like. Definitely get a low-sodium soy sauce here to make the dish as healthy as possible. You could also try dialing back the amount of soy sauce if you are watching sodium closely, perhaps replacing a tablespoon or two of the the soy sauce with juice.
Wine Pairing for Tuna Recipe
I tend to gravitate toward red wine for a meaty fish like tuna–see for instance this Garlic Thyme Crusted Tuna paired with a Merlot. But given the Asian flavor profile of the dish, I was thinking a full-bodied white wine would be better. We opened a good Chardonnay from Sonoma County, and was very pleased with the pairing!

Print
Recipe card
Asian Tuna Noodle Bowls
Pan seared tuna steak slices served with flavorful Asian style noodles for a quick and healthy meal.
Author: Cooking Chat
Prep Time:

5 mins

Cook Time:

15 mins

Total Time:

20 mins

Yield:

4

servings

1

x
Category:

Main

Cuisine:

Asian
1

lb tuna steak

1 tsp

garlic powder

½ tsp

coriander

½ tsp

dried ginger

¼ tsp

turmeric

¼ cup

low sodium soy sauce

1 tbsp

canola

1 tsp

honey

1 tsp

rice wine vinegar

1

scallion, chopped

1

yellow or red bell pepper, diced

10

ozs whole wheat linguine or udon noodles
Instructions
Begin bowling a pot of water to cook the noodles, and cook according to package instructions.
Make the rub: combine the garlic powder, coriander, dried ginger and turmeric in a small bowl.
Sprinkle about half the rub over one side of the tuna steak, then gently rub it into the fish. Turn the tuna over and repeat the process of applying the rub.
Make the sauce for the noodles: combine the soy sauce, canola oil, honey and rice wine vinegar in a small bowl.
When the noodles are cooked, drain the noodles. Toss the drained noodles immediately with the sauce. Set aside while you cook the tuna.
Coat a nonstick skillet with oil spray. Heat on medium high. Add the tuna steak when the skillet is hot, and sear for 90 seconds. Turn the tuna over, and sear for another 90 seconds. Remove the tuna to a platter. Cut the tuna into slices about ½ inch thick.
Place a serving of the noodles in a bowl. Arrange 4 slices around the top of the noodles. Sprinkle a bit of scallion and bell pepper over the tuna and noodles. Repeat the process for the other bowls you are preparing. Enjoy!
Recipe Card powered by