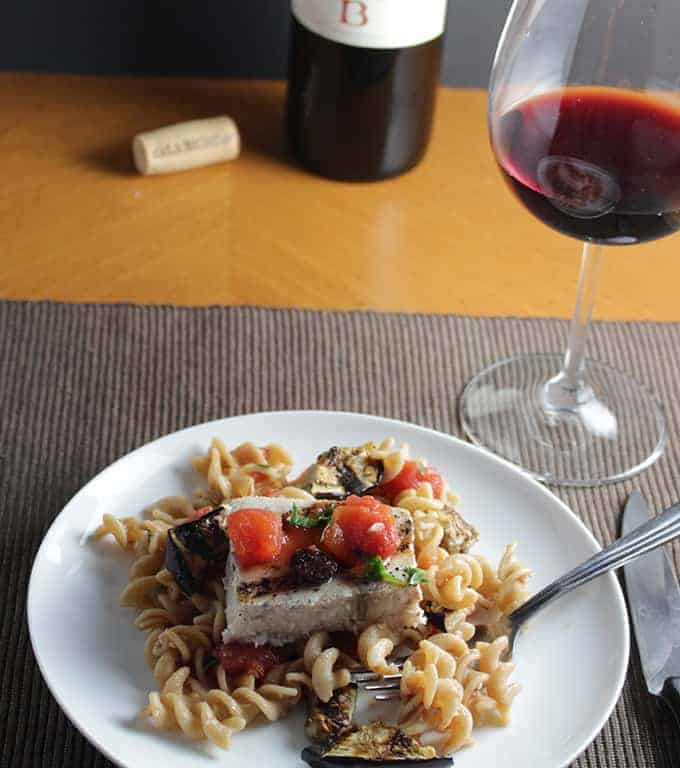 I was a pretty easy sell for the new monthly Italian Food, Wine and Travel (#ItalianFWT) bloggers event Jen from
Vino Travels
is launching. Though I'm fairly eclectic in my cooking style, I draw most heavily on Italian foods and flavors. I love the way food and wine from the various Italian regions complement one another, and how I can always be discovering new Italian grape varietals.
Oh yeah, then there's good memories of our honeymoon. The first ItalianFWT event is focusing on the Veneto region. Though it's been twenty years since our honeymoon, I can still quickly conjure up the feeling of enjoying a crisp white wine at an outdoor cafe, watching all the late afternoon activity in the piazza and nearby canal.
Now, time to focus on my first ItalianFWT recipe and wine pairing. I'd like to start with something very authentic, showing how those regional pairings work so nicely. But alas, it's been a very busy fall, and this pairing was driven by need to get something together in time for this first event. I was planning to make this Grilled Swordfish and Eggplant Pasta dish recently. Though it might be more Sicilian in its flavors, I thought I'd pair it with a wine from Veneto in case I didn't have a chance to make a risotto in time for the event. Good thing I did, because I haven't gotten risotto stirring in my pot since this one earlier in the fall.
It may not be a classic dish from Veneto, but the combination of grilled swordfish, eggplant and tomatoes is very tasty! Give it a try, and check out the other recipes and pairings my fellow FWT bloggers have come up with.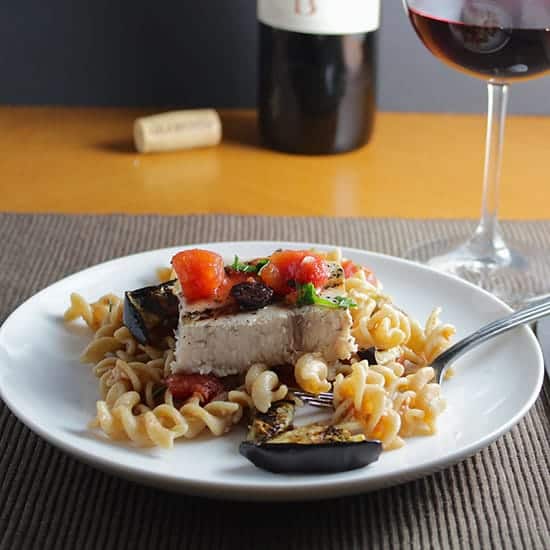 The ingredients and complete instructions are in the EasyRecipe card at the end of the post, but I'll first given overview of the key steps. Start by spreading the eggplant sliced out on a plate in a single layer. Salt the eggplant slices generously, and let the eggplant sit and absorb the salt for at least 30 minutes. I've found this salting process to be a key factor in getting me to add eggplant to the list of veggies I enjoy.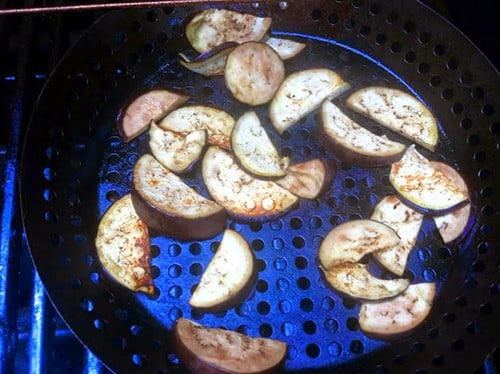 After salting the eggplant for the minutes, they are ready to grill. I like to use a grill pan for this, but you can grill the eggplant directly on the grill if you don't have anything to put them in, but you'd want to use whole circle slices and turn them carefully. For larger eggplants, directly on the grill works fine.
When you put the eggplant on the grill, start a pot of water to boil for pasta and prepare the swordfish marinade. Combine the ¼ olive oil, garlic, lemon juice and a dash of salt in a large bowl. Add the swordfish, and gently turn it over to coat it thoroughly. Let the fish marinade for 10 to 15 minutes at room temp.
As the fish marinades, prep the tomatoes. Gently combine the diced tomatoes with 1 tablespoon of olive oil, parsley, 1 clove of minced garlic, parsley and a dash of salt. Set aside.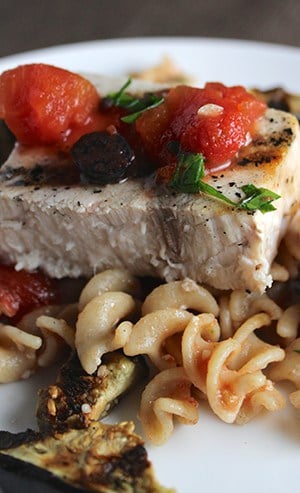 Put the pasta on to cook just before you start grilling the swordfish. Remove the swordfish from the marinade, and gently shake off the excess marinade. Reserve the marinade. Place the swordfish on a the grill, and grill covered on medium high for about 6 minutes. Turn the swordfish over, and grill until just cooked through, which will take about 6 more minutes. Keep in mind the fish will cook a bit more while resting and you don't want to overcook it. Our swordfish steak was about an 1 ½ inches thick, if yours is different that would impact the cooking time a bit.
When the fish is done, place on a platter and loosely cover with aluminum foil to keep warm as you put together the pasta dish. When the pasta is cooked to your liking, drain it and combine with 1 tablespoon olive oil, the roasted garlic (squeezed out of the garlic skin after it has cooled enough to work with) and eggplant. Next stir in the cheese and olives, followed by one-half of the tomato mixture, saving the other half of the tomatoes to top off the dish.
To plate the dish, divide swordfish to have a piece ready for each diner. Plate a serving of pasta, followed by a piece of swordfish, then spread some of the reserved fresh tomato topping. A tablespoon or so is good to start, and pass the tomatoes along with romano cheese for additional toppings. Enjoy!
Visit our collection of the Best Grilled Swordfish Recipes for more ideas!
Wine Pairing: My dish might not be classic Veneto, but my wine qualifies! I do have a Cab/Merlot blend from the region on hand, but opted for the Valpolicella, much more typically associated with the region. The bouquet of the 2013 Ca' La' Bionda' Valpolicella Classico reminded me of an overgrown garden in midsummer, with notes of prune. Tart acidity, with plum fruit and hint of cinnamon. The acidity plays nicely with the tomatoes. Like many Italian wines, much more enjoyable with the food than on its own. This Valpolicella is a Corvina and Rondinella blend, as you might expect if you know the area.
I've long enjoyed Pinot Noir with swordfish and salmon, but have been pushing the envelope lately with other red wine pairings for seafood. Valpolicella might not become a classic seafood pairing any times soon, but it worked pretty well with the combination I had here with the swordfish, tomatoes and eggplant.
Print
Recipe card
Fusilli with Grilled Swordfish, Eggplant and Tomatoes
Recipe Card powered by
Thanks for joining our 1st Italian Food, Wine and Travel event on the Veneto, but it doesn't stop here. Follow along with some other great blogs featuring different aspects of living in the Veneto and what it has to offer.
Here are our featured articles this month:
Food Wine Click – Veneto Food and Wine From Half a World Away
Curious Appetite – Traditional Artisan Cheeses
Just Elizabeth – Venetian Shadows
Italian Journeys – Asolo and Basana del Grappa
Monica Cesarato – Veneto off the Beaten Path
Vino Travels – Sensational Soave
Make sure to join our bloggers' conversations on Twitter throughout the day at #ItalianFWT. We also post on #ItalianFWT throughout the month, so feel free join us all the time and share your Italian experiences! Make sure to check back on December 6th for our 2nd Italian Food, Wine and Travel event. Next month's month's feature will be one of my favorites, Piedmont!