A collection of the best grilled swordfish recipes along with suggestions for wine pairings. Favorites from Cooking Chat as well as other contributing bloggers. Article starts with tips on grilling swordfish; click here to jump right to the recipes. That will get you to a variety of recipes that we start with. You can also go directly to swordfish with fruit salsa recipes or grilled swordfish pasta recipes. And we have updated the article recently with a roundup of swordfish sides.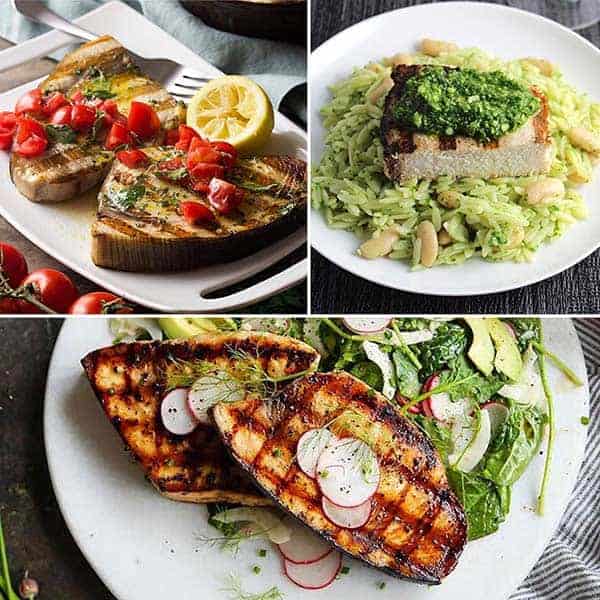 I love grilled swordfish! And apparently Cooking Chat readers do too, as some of my most visited posts in the summer time involve grilling swordfish. So I figured rounding up some of the best grilled swordfish recipes from Cooking Chat and elsewhere around the blogosphere would be a good resource.
Regular Cooking Chat readers know that most of my recipes come with a wine pairing suggestion. No reason to change that here! In addition to recipe ideas, this article can be a resource for picking wine to serve with swordfish.
We are going to start with a few tips on grilling swordfish. If you want to jump right to our recipe roundup, click here. For more summer recipe inspiration, check out our Top 10 Summer Recipes.
Jump to:
How long should you marinate swordfish?
Swordfish is a fairly mild tasting fish on its own. Using a marinade can add some good flavor, but a quick five or ten minutes marinating at room temperature is enough to impart flavor.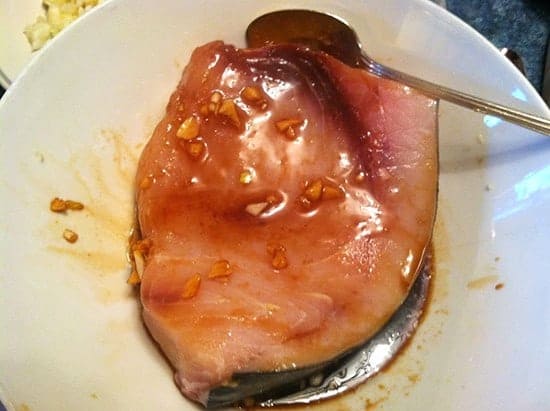 Leaving the swordfish in a marinade for too long is likely to make it taste to salty, assuming you have some salt or soy sauce in your marinade.
Marinades have two main purposes. One is to give fish or meat flavor, which is the goal with swordfish marinades.
Marinating is also a method for tenderizing tough meats. That one doesn't apply to swordfish! So if you are thinking it seems odd to see such short marinating times with these swordfish recipes, it's probably because you are used to marinating meats that need the longer time to become more enjoyable to eat.
How do you cook swordfish on the grill?
You can click through the various recipes below for particular grilling times. But generally speaking, I like to grill swordfish on direct heat, about 6 minutes per side based on the cuts I get which are typically about 1 inch thick.
I noticed several of my colleagues cited here call for slightly shorter grilling times; but it also seems like they are working with cuts that are a bit thinner than I typically buy.
The talk of grilling times also leads to the question "how do you know when swordfish is done?".
Swordfish doesn't flake the way lighter white fish does, so that method doesn't work. At this point I've got the timing down pretty well on my grill, so I just cut into the fish to double check when the grilling time has done. The cooked swordfish should be white all the way through but still moist.
Annemarie from Just a Little Bit of Bacon, who shared a recipe for this article, recommends checking the temperature. She says aim for 130 degrees for a fish that is still moist.
What wine to serve with swordfish?
The best wine pairing for swordfish will depend on how it is prepared. Because it is a "meatier" fish, you can choose from a range of options that include full bodied whites (Chardonnay, white Rhones), full bodied rosés or light to medium bodied red wines (e.g. Pinot Noir, Nebbiolo).
I start to go toward the medium red option when the grilled swordfish is served along with something else that suggests a bigger wine, such as my grilled swordfish recipe with eggplant.
There's an old idea that you need to serve white wine with fish. While a white is the best choice for lighter fish like haddock and most shellfish, when you start getting to the bigger fish like swordfish, tuna and salmon, a red wine will often be a great choice, particularly if you stay away from reds with more tannins such as Cabernet Sauvignon.
What goes with swordfish?
If you are talking about something other than wine when asking "What goes with swordfish?" we still have you covered here. This roundup of best grilled swordfish recipes has marinades for grilled swordfish, different kinds of pesto you can serve with swordfish, and some tasty swordfish with fruit salsa recipes.
Grilled swordfish can be served with rice, couscous and quinoa on the side. For more inspiration, we have a full collection of sides for swordfish. I particularly like swordfish with pasta, and have a whole section on grilled swordfish pasta recipes here.

Grilled Swordfish Recipes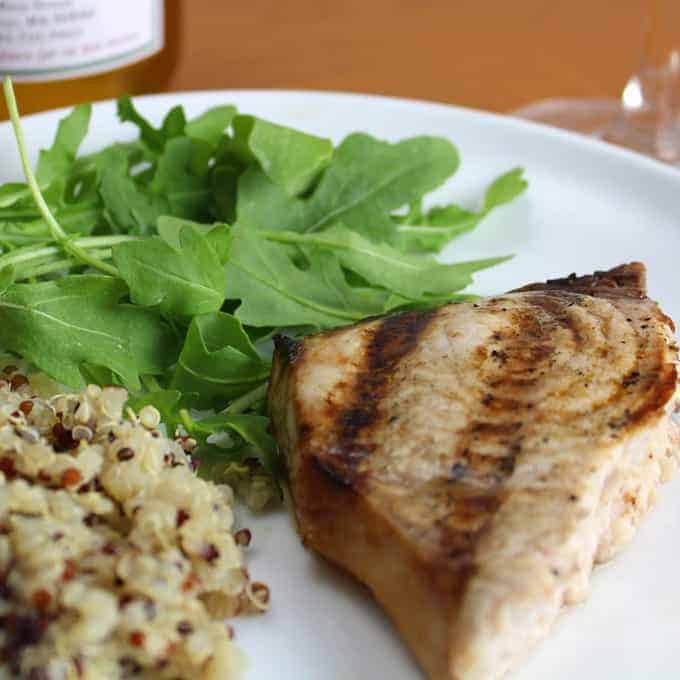 Grilled Swordfish with Garlic Soy Marinade
I'm going to start this roundup of best grilled swordfish recipes with a simple preparation we make regularly, Grilled Swordfish with Garlic Soy Marinade. Soy sauce and garlic come together for a flavorful marinade that doesn't take too long to make for a tasty fish meal. We most recently paired this grilled swordfish with a full bodied rosé from Provence, the 2015 Chateau de Pibarnon Bandol Rosé. That bottle or a similar rosé is a nice choice, but a full bodied white wine such as a white Rhone blend (Marsanne, Roussanne, etc.) can also work here.
Grilled Swordfish with Tangy Rosé Wine Mayonnaise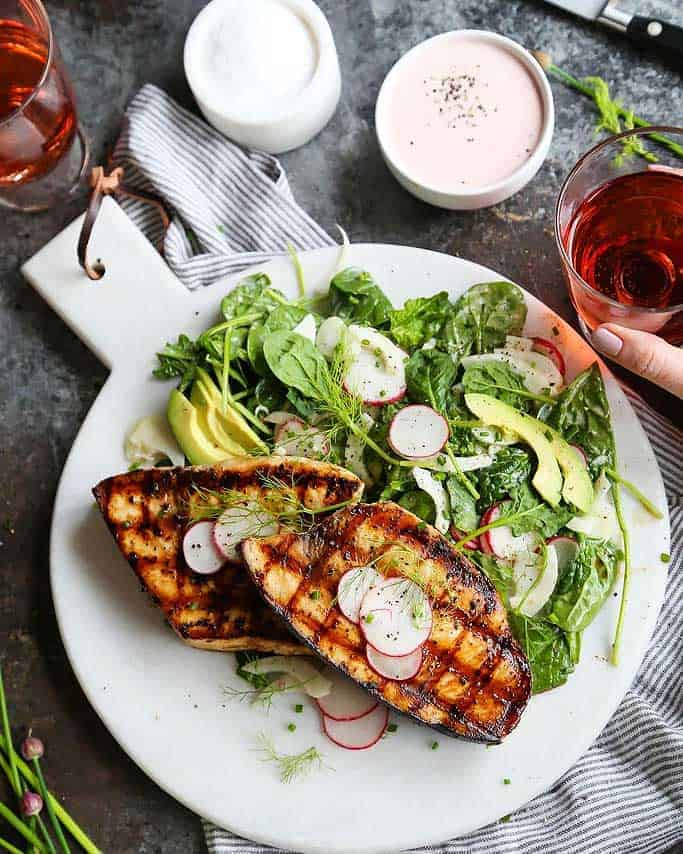 Seeing as I just mentioned rosé, next up let's share this Grilled Swordfish with Tangy Rosé Wine Mayonnaise recipe from Erin at Platings & Pairings. This one features a creative idea of blending rosé with mayonnaise for a tangy swordfish topping. But wait, that's not all! The recipe also comes with a fennel, radish and avocado salad. Of course rosé is a natural pairing, but Erin also suggests you could go with an unoaked Chardonnay or a Viogner if you like.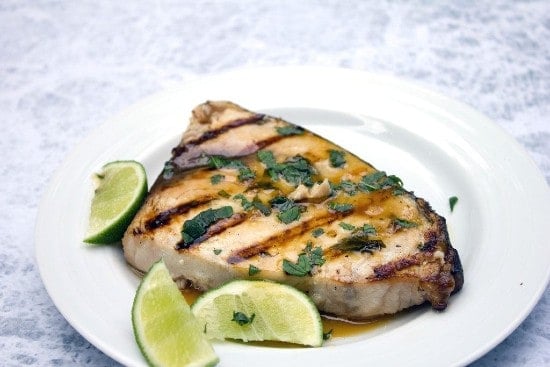 Your favorite summer cocktail in fish form? This grilled Mojito Swordfish has all the flavors of the classic mojito and is so quick and easy to prepare. Shared by We Are Not Martha. Seems like a Mojito would be thing to pair with this one! Maybe a Sauv Blanc if you want to go with wine?
Grilled Sicilian Swordfish with Oregano and Summer Squash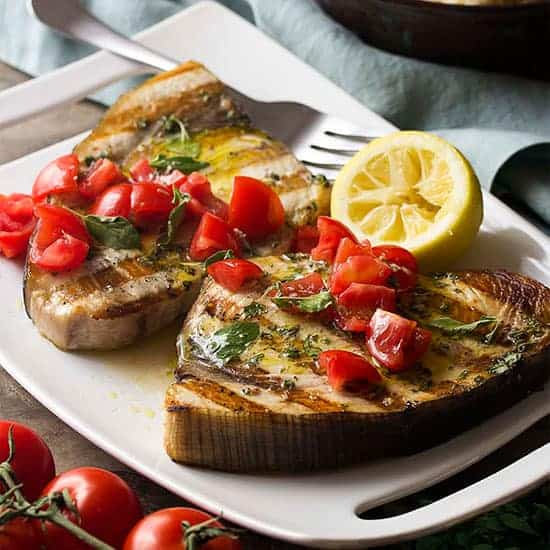 Annemarie from Just a Little Bit of Bacon was looking to feature more healthy Mediterranean style cooking, and her Grilled Sicilian Swordfish recipe is definitely a winner! This grilled swordfish gets topped at the end with a simple sauce featuring fresh oregano and lemon. A Sicilian white wine such as a Grillo would be a natural pairing for this swordfish recipe!
Swordfish Skewers and Roasted Artichokes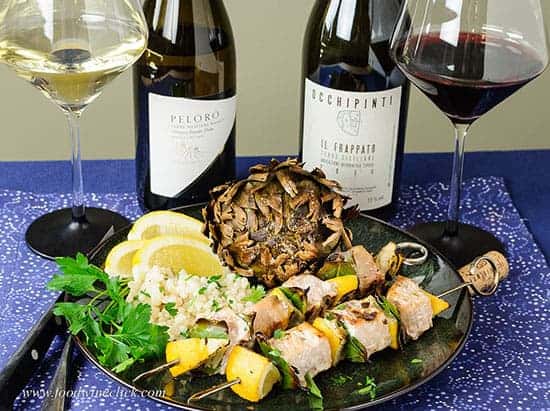 Jeff from foodwineclick gives us a swordfish skewers recipe along with roasted artichokes. His article has a lot of good info on picking Sicilian wines to go with this dish. Sounds like the Frappato (red) works nicely with the swordfish, but if you are matching to the artichoke the white Grillo probably makes sense. You might also consider trying one of these if you are doing the Sicilian Swordfish recipe above from Just a Little Bit of Bacon.
Grilled Swordfish with Basil Pesto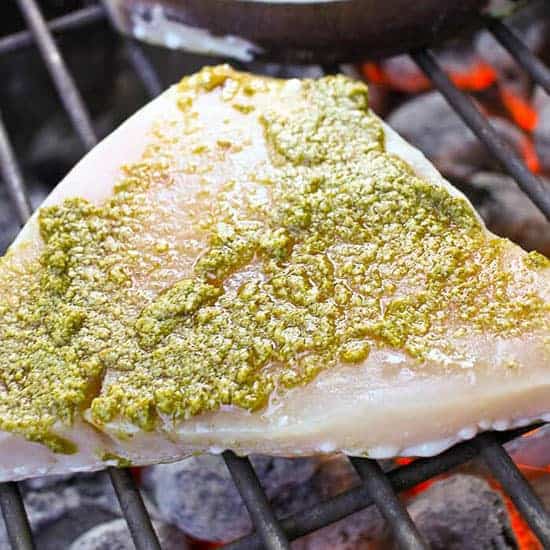 We definitely love grilled swordfish with pesto! As you can see further down in this article, we like to top our swordfish with kale pesto. But first check out this grilled swordfish with classic basil pesto from Champagne Tastes.
I am mostly sharing finished grilled swordfish photos here, but I thought this article should have at least one showing swordfish on the grill. The version slathered with pesto seemed like a good choice!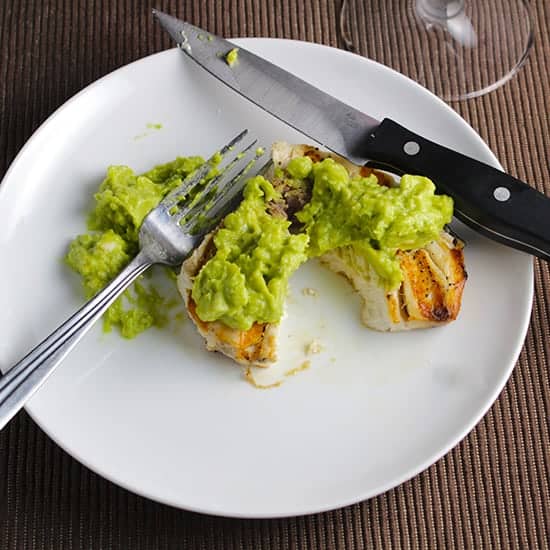 Grilled Swordfish with Guacamole
Pesto isn't the only green sauce that works with swordfish! Our Grilled Swordfish with Guacomole recipe brings some Mexican flair to the swordfish conversation. We paired this one with a Portuguese red wine blend that worked well with the spicy aspects of the guac.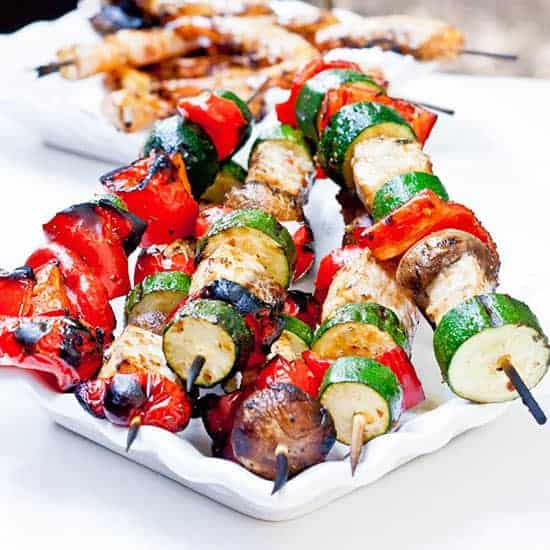 Swordfish Kabobs

Vicky from Avocado Pesto brings us Swordfish Kabobs grilled with a variety of veggies. Glancing at the veggies used here, I'm thinking I might try this one with a rosé of Pinot Noir.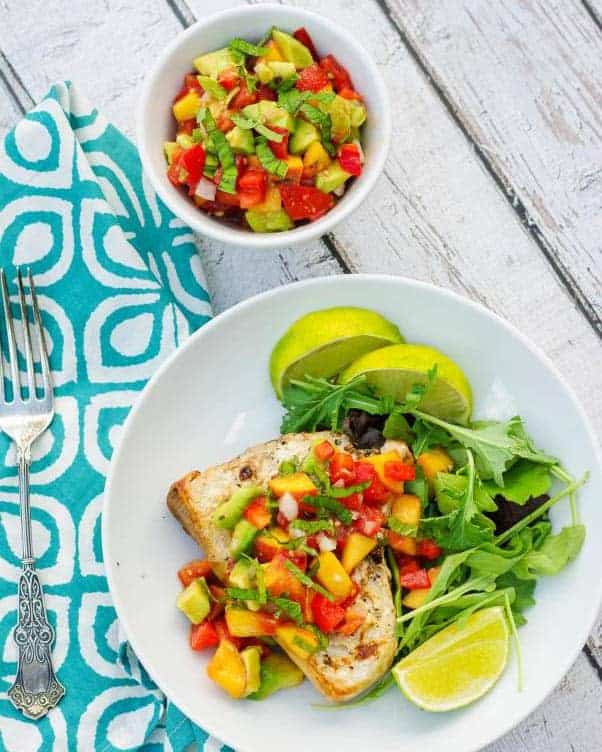 Topping seafood with a fruit salsa is something I like to do a lot, it's a great way to add some bright fresh flavors to a simple piece of fish. So it's no surprise that we have several ideas for making serving grilled swordfish with salsa. The first Grilled Swordfish with a Fruit Salsa recipe, shown in the photo above, is from Ali at Home & Plate. Ali's fruit salsa includes peaches, avocado and tomato, along with some fresh herbs. She suggests pairing it with a fumé blanc wine.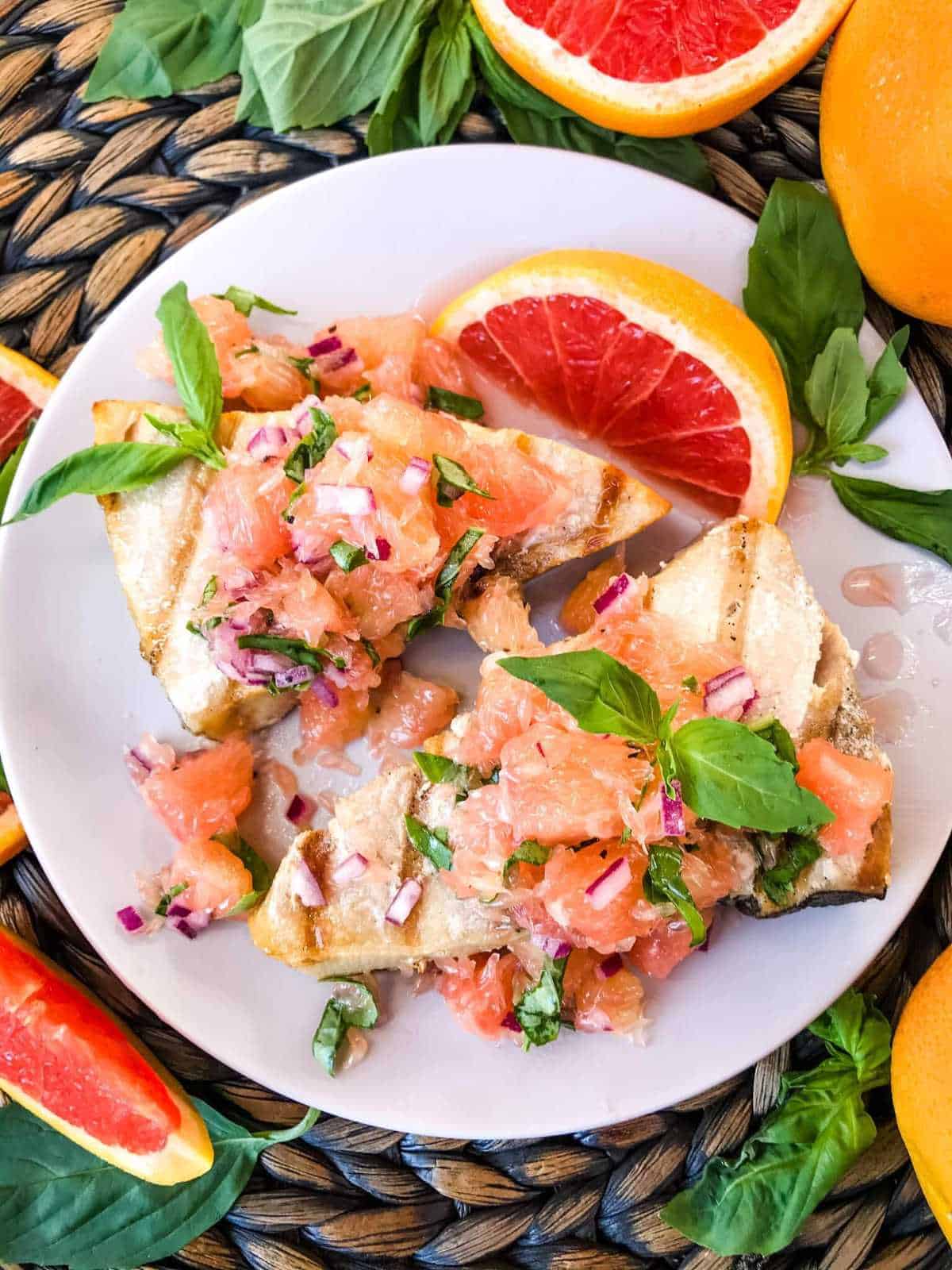 Basil Grapefruit Grilled Swordfish Steaks
Kim from Three Olives Branch brings us a fresh take on swordfish with her Basil Grapefruit Grilled Swordfish Steaks. In this one, grilled swordfish is topped with a basil, grapefruit, and red onion salsa for a fresh summer meal! I'm not a big grapefruit guy, but the lively flavors of this recipe definitely piqued my interest! Kim suggest pairing this swordfish recipe with a Sauvignon Blanc.
Charlotte Fashion Plate also shares a fruit salsa for swordfish in her recipe Grilled Swordfish with Mango Salsa. Yum, we love mango salsa!
Here on Cooking Chat, we feature Grilled Swordfish with Pineapple Salsa for a refreshing way to enjoy the grilled fish. We served this with a rosé last time we made it, but I am thinking it might be nice to try a Torrontes because of the floral aspect of this white wine from South America.

Grilled Swordfish and Pasta Recipes
I'm often serving grilled swordfish along with pasta, or in some cases, using the grilled swordfish as a central ingredient in a pasta recipe. I had enough grilled swordfish pasta recipes that it warranted a section of its own! Now on with some more recipes…
Orzo with Grilled Swordfish and Kale Pesto

I have to lead off the swordfish and pasta recipes section with my most frequently made swordfish recipe! I often will make a batch of kale pesto on Sunday, and serve it along with some seafood and pasta. Orzo with Grilled Swordfish and Kale Pesto is a good example of this combination. I like ziti with swordfish and kale pesto too. The zesty pesto used in this recipe definitely points in the direction of a white wine pairing that can offset the strong flavors of the pesto. In my notes with the recipe I mention an off the beaten path Italian white wine. While that is a fun way to go, a Soave or Pinot Grigio might be easier to find and would pair well.
Grilled Swordfish Pasta Margherita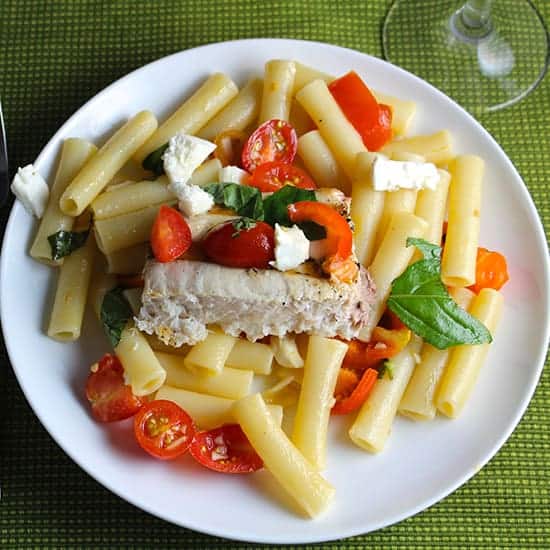 Here's a swordfish pasta recipe inspired by margherita pizza. This one features fresh tomatoes, basil and mozzarella just like the pizza. The combo works well with grilled swordfish and ziti, too! We paired the dish with a Greco di Tufo, an Italian white wine.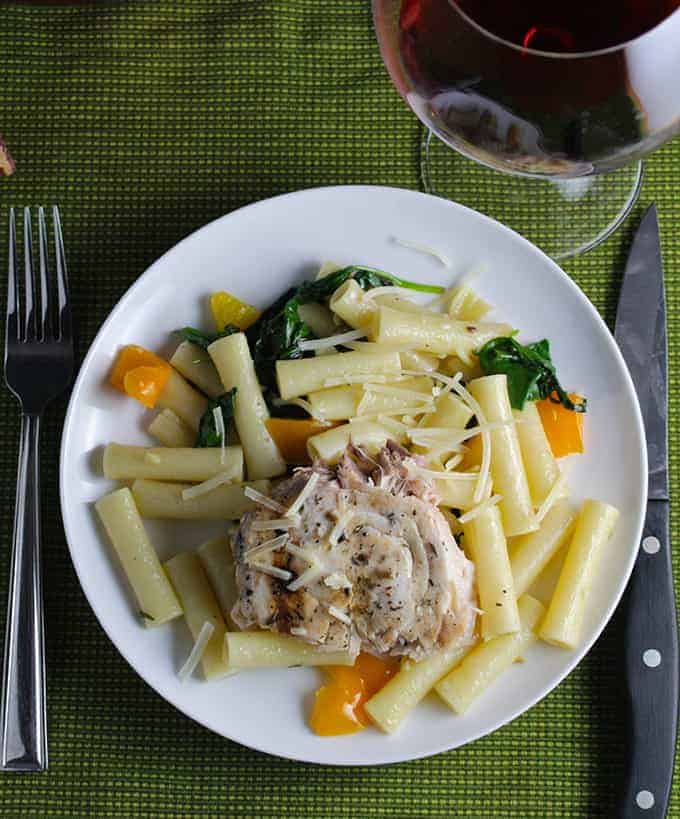 Ziti with Swordfish and Truffle Butter
If you happened to have splurged on some truffle butter and are looking for ways to use it, this Ziti with Swordfish and Truffle Butter recipe is for you! The richness of the truffle butter sets up a good Italian red wine pairing for the swordfish — we enjoyed this dish with a Nebbiolo. This one definitely earns its place in the best grilled swordfish recipes collection!
Grilled Swordfish and Eggplant Pasta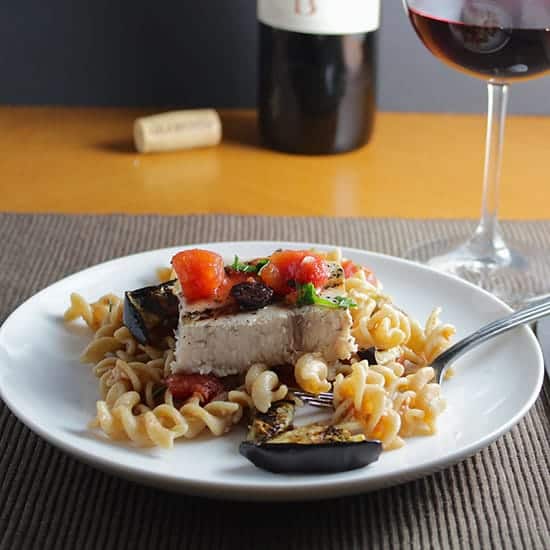 Another grilled swordfish preparation that is red wine friendly! The meatiness of the grilled eggplant along with the swordfish lent itself to a pairing with a Valpolicella — a medium bodied red blend from Northern Italy.
Before we get on to our side dishes for swordfish, let me suggest you checkout our Grilled Seafood Recipes category for more fish on the grill ideas.
Side dishes to serve with swordfish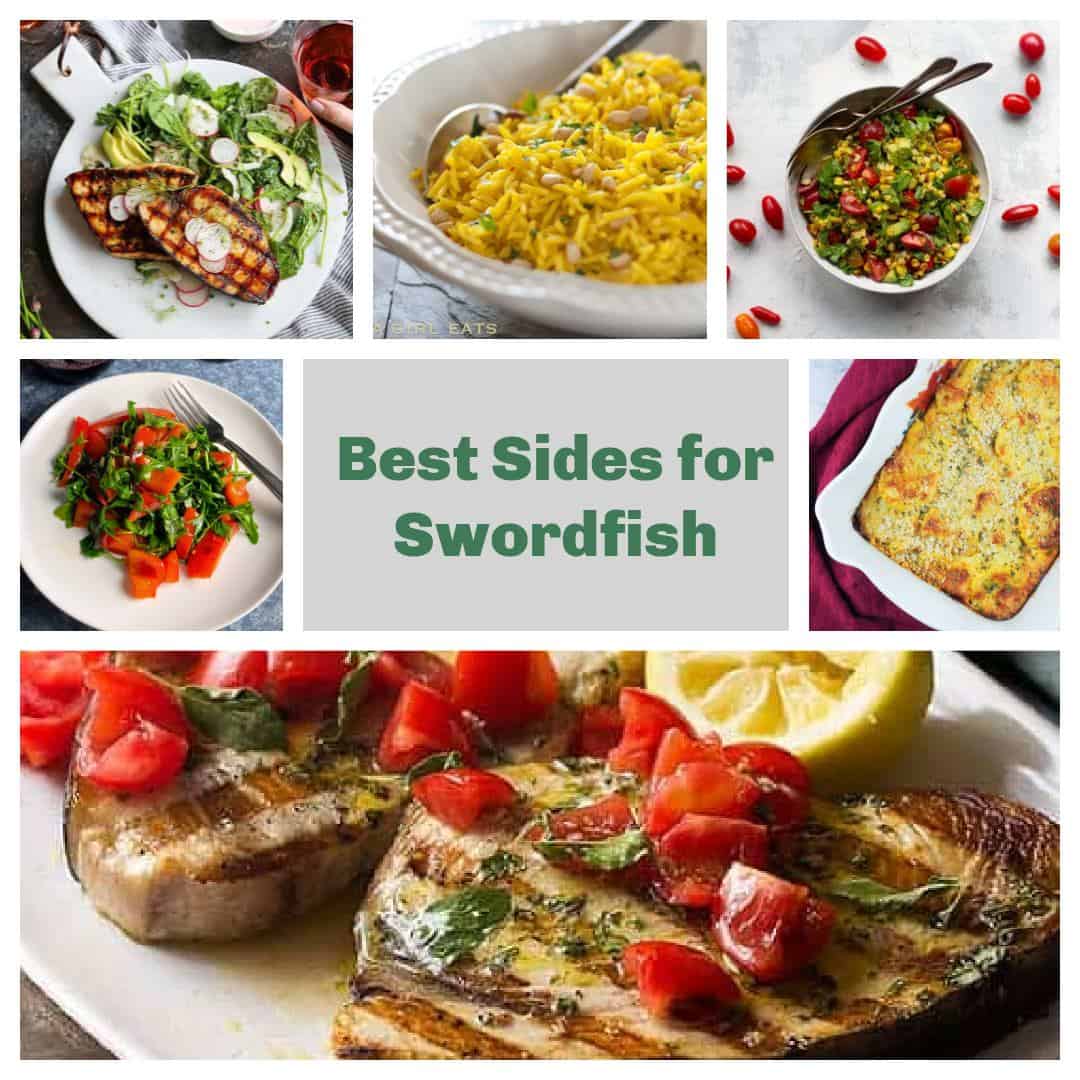 Now that we have covered some great swordfish recipes, now let's get into what to serve with swordfish. Here is a collection of some great side dish recipe ideas that will work well with the fish.
What to serve with swordfish
A collection of delicious side dish recipes that work well with swordfish.