Have you discovered Abruzzo wine? You may know Montepulciano d'Abruzzo, but the region also has wonderful white wines and a delicious rosé called Cerasualo. This article covers types of Abruzzo wine and provides an overview of Abruzzo wine regions, based on my recent trip to the area. Disclosure: my trip to Abruzzo was sponsored by Consorzio Tutela Vini d' Abruzzo. As always, the opinions are entirely my own.
Up until recently, my primary experience with Abruzzo wine was having Montepulciano d'Abruzzo from time to time. That all changed recently when I had to spend four days in Abruzzo, Italy, visiting wineries as part of a press trip sponsored by Consorzio Tutela Vini d' Abruzzo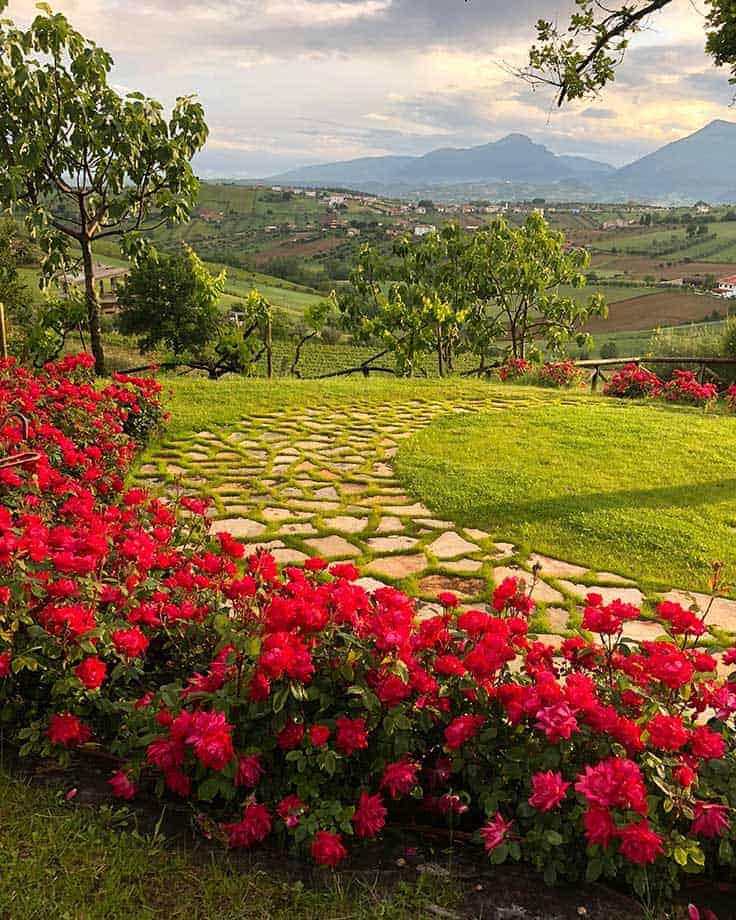 Visiting Abruzzo gave me a chance to gain a deep appreciation for the wide range of high quality wines available from Abruzzo. Whether you are looking for a very enjoyable every day wines, or a special bottle with aging potential, there are many great Abruzzo wine options.
Abruzzo is a beautiful region of Italy, and I encourage you to go visit when you get a chance. Meanwhile, this Abruzzo wine article will provide you with an overview of Abruzzo wine regions and types of Abruzzo wine. With this information, you can go to your local wine shop to sample for yourself some of the wonderful Abruzzo wine options available.

Types of Abruzzo Wine
Abruzzo is most known for its Montepulciano d'Abruzzo. We will start with that well known wine, then walk you through some of the other Abruzzo wines you should try.
Montepulciano: When it comes to red Abruzzo wine, it is almost all Montepulciano. I tended to think of Montepulciano as a simple, rustic pizza wine. My trip to Abruzzo opened my eyes to the potential of Montepulciano D'Abruzzo to be complex and capable of aging for many years. Montepulciano tends to be a medium bodied red wine with good acidity and tannins–making it food friendly and in some cases age worthy. Look for Montepulciano reserves to sample one with more finesse. In 2018 the Consorzio Tutela Vini d' Abruzzo is celebrating the 50th anniversary of Montepulciano D'Abruzzo achieving DOC (Controlled Designation of Origin). Montepulciano accounts for 80% of the DOC wine production in Abruzzo.
Cerasuolo: I don't believe I had heard of Cerasuolo wine before my trip to Abruzzo. I'm a bit surprised I hadn't seen it with all the interest in rosé wines lately. Cerasaolo d'Abruzzo is a rosé wine made from Montepulciano grapes. It tends to be a darker color than most rosés, more of a light red color than pink. I like the fuller body and flavors I tasted in the Cerasaolos we tried. This rosé from Abruzzo is a good partner for tomato based dishes, and can also work with lighter meats. Visit this article on Cerasuolo d'Abruzzo for more on this type of wine along with some of our favorite pairings for it.
Trebbiano: White Abruzzo wine definitely starts with Trebbiano, the most planted white wine grape in the region. While there is certainly some bland wine made from Trebbiano from around Italy, we definitely sampled a lot of high quality Trebbiano wine in Abruzzo. At Emidio Pepe, we were told that this grape needs to evolve, and then tasted the truth of that concept in our glass as we sampled 2014 and 2004 Emidio Pepe Trebbianos.
Pecorino: You might know Pecorino as a cheese, but it is also a white wine grape from Italy. You can find Pecorino in a number of Italian regions, but it is certainly gaining an increasingly strong place in Abruzzo's wine productions. Several of the winemakers noted the grape's name gives it marketing appeal (wine and cheese do go together, right?). And guess what, Pecorino the wine goes very well with the cheese by the same name! The Pecorino from La Valentina stands out as one I particularly enjoyed, with a good clean mouthfeel and a creaminess that owner Sabatino Di Properzio attributes to the vintage conditions.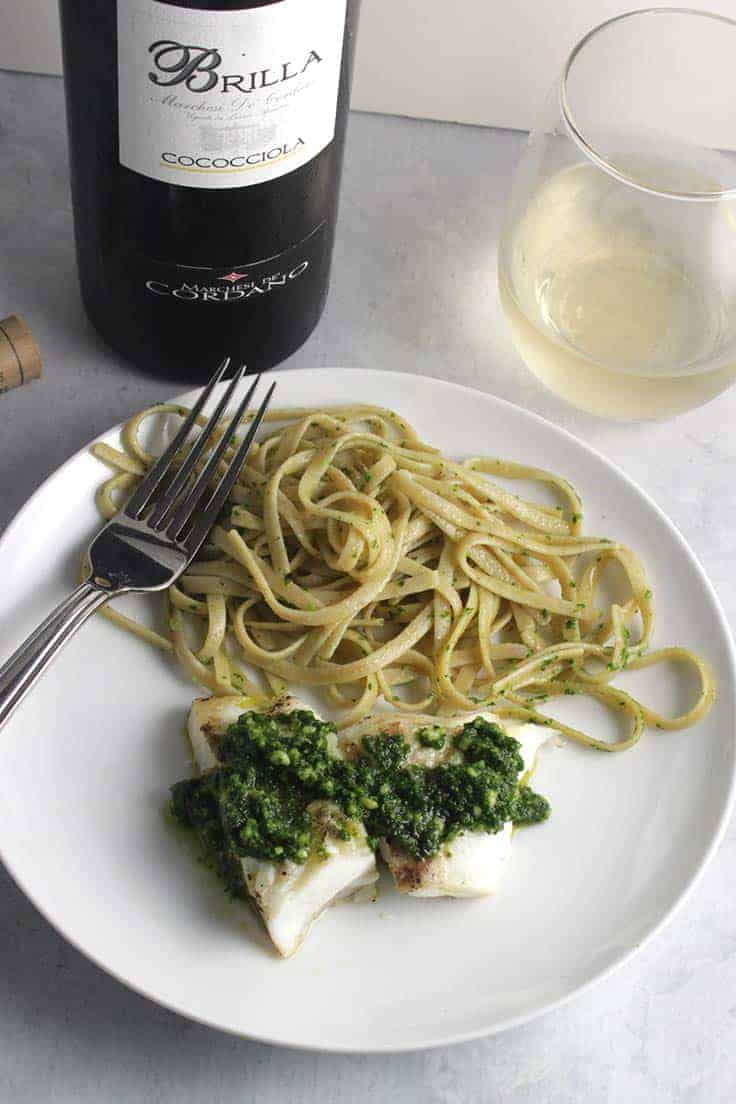 Cococciola: This grape is as fun to drink as it is to say! The Cococciola white wine grape is native to Abruzzo. Cococciola might not have the popularity of Pecorino, but produces a nice, crisp white wine perfect for summer sipping. When sampling a lineup of white wines in Abruzzo, I often found myself liking the Cococciola best. In fact, I chose Cococciola as the bottle to take home from Marchesi De Cordano, and paired that with this Grilled Halibut with Kale Pesto recipe. And sticking with the seafood theme, I have also paired Cococciola with our Baked Haddock recipe.
Passerina: Although the top web mentions of the Passerina white wine grape associate it with the Marche, which is to the north of Abruzzo, Passerina is also fairly common in Abruzzo. We had a chance to sample it at several of the wineries we visited, particularly in Chieti province.
Sparkling: Abruzzo wineries are increasingly including the production of sparkling wine as part of their repertoire. The majority of sparkling wines from the region are made via the Charmat method, or Martinotti as it is more commonly known in Italy. These sparkling wines undergo secondary fermentation in a steel tank as opposed to bottle fermentation, which is the way Champagne is made. The sparkling wine we sampled in Abruzzo tended to be a light, crisp style, made from a variety of grapes including Pecorino, Cococciola and Montonico. Some of the wineries we visited are making some sparkling wine by the "traditional method", doing the second fermentation in the bottle as they do in Champagne.
Abruzzo Wine Regions
Abruzzo is an Italian region nestled between the Apennine Mountains and the Adriatic Sea, on Italy's east coast. It is directly east from Rome. A gorgeous two and a half hour drive over the mountains from the airport in Rome takes you to the seaside city of Pescara. Our base of operations was just north of Pescara city, at the Sporting Hotel Villa Maria.
There are three primary Abruzzo wine producing provinces– Teramo, Chieti and Pescara. The map below provides an overview of where different Abruzzo wines are grown.
Below is an overview of each Abruzzo wine region with mention of the wineries we visited there.
Teramo
Teramo is the wine region furthest to the north in Abruzzo. Within Teramo is the Colline Teramane Montepulciano d'Abruzzo DOCG, which was established as a separate DOCG in 2003. The name translates to "hills of Teramo", and our visit to the region definitely gave us appreciation for this area's combination of hills and proximity to the Adriatic Sea.
There is a long history of wine production in the Teramo region. In fact, Hannibal and his troops are said to have rested around Controguerra after their trek over the Alps. They found the local wine helped them relax and regain their strength. I was happy to follow in Hannibal's footsteps and fortify myself with wine from Teramo!
Notable wineries we visited and sampled in the region include:
Fattoria Nicodemi is located in Notaresco. The winery is 300 meters above sea level and about 10 kilometers from the Adriatic Sea, with views of the Gran Sasso Mountain on clear morning. They produce wines from Montepulciano and Trebbiano grapes. I particularly liked Le Murate Cerasualo from Nicodemi, with bright watermelon fruit. This wine made from Montepulciano is pretty full-bodied for a rosé, which I find appealing. Nicodemi's U.S. importers Regal Wine Imports, and is marketed in Massachusetts by Masciarelli Wine Company. Good news! I have a bottle of their Cerasualo that I'll be opening soon.
Illuminati Wines, Controguerra, has been producing wines for over 120 years. We got an appreciation for this history as we had a chance to meet 3 generations of Illuminati winemakers. Illuminati's Zanna Montepulciano Reserve is produced from old vines, and has nice structure and length. Look for this bottle as a good expression of the Colline Teramane D.O.C.G. Illuminati was the first visit where I began to appreciate how well Montepulciano can stand the test of time, as a 1987 bottle we tried was still very fruit forward. Illuminati also produces a good "Super Brusco" called Lumen, a blend of 70% Montepulciano and 30% Cabernet Sauvignon. You can find Illuminati wines at restauarants and shops in New York and Boston. They are imported in the USA by Montcalm Wine Importers.
Emidio Pepe is a legendary Italian winemaker committed to natural winemaking methods in the vineyard and cellar. This commitment extends to starting the winemaking process by stomping on the grapes with rubber boots! "Give something truthful every year" is one of the winemaker's central commitments to bringing forth the unique expression of terroir and vintage. At least 50% of each vintage is aged in the cellar, and gradually released over time. Emidio Pepe can change your perspective on Trebbiano–here they say Trebbiano needs six or seven years before it really comes into its own. We sampled their 2014 Trebbiano which showed some significant complexity. Then we tried a 2004 Emidio Pepe Trebbiano that has an amazing nose, and flavor profile that reminds me of orange wines I've sampled. Oh yes, and Emidio Pepe makes some amazing Montepulicianos that have helped to raise the profile of the grape with prices well north of $100/bottle.
Pescara
Pescara is the name of the largest city in Abruzzo, as well as the name of one of the three major wine producing provinces within Abruzzo. Pescara is located in between Teramo and Chieti, going from north to south. Approximately 10% of the land in Pescara is dedicated to cultivating grapes.
Pescara wineries we visited and sampled include:
La Valentina has been producing wine in Spoltore since 1994. Reflecting a theme we heard frequently in Abruzzo, La Valentina wines are based on the concept that "high-quality DOC wine has the mark of the vine on its grapes." La Valentina's main vineyard, Bellevedere, is on hills just a few miles from the Adriatic Sea. It was interesting to learn that La Valentina dedicates specific vineyards for Montepulciano to be used for the Cerasuolo rosé, which results in a very good version of this Abruzzo rosé. At Valentina we were able to sample quite a range of Montepulcianos, from different vineyards and vintages.
La Valentina's Spelt Montepulciano is well-structured and balanced, with black cherry fruit. I've been able to find the Spelt here in the Boston area to enjoy at home, and paired with our Spicy Chicken Sausage Pasta. The Belvedere Montepulciano d'Abruzzo is produced from a single vineyard, only in years where the conditions are favorable. The Binomio, made from a unique clone of Montepulciano, is produced in collaboration with Stefano Inama, from Inama Azienda Agricola. I also really enjoyed the Pecorino white wine from La Valentina.
Marchesi De' Cordano, located in Loreto Aprutino, impressed me with their whites in particular. Franceso let us each pick a bottle to take home. It was a tough choice, but I went with their Cococciola, and enjoyed that paired with Grilled Halibut with Kale Pesto upon returning home. Cordano also makes a very good Passerina white wine, something we only tasted a few places in Abruzzo. They also produce Pecorino, Trebbiano and of course, Montepulciano. I noted their Aida Montepuliciano d'Abruzzo would likely be very good with pizza, keep that in mind if you spot a bottle!
Chieti
With more than 75% of the land devoted to growing grapes, Chieti is the largest wine producing province of Abruzzo. Chieti lies south of the province of Pescara, also stretching from the hills to the sea.
In addition to visiting wineries in Chieti, a highlight of our final day was dinner at a traditional trabocco, "Punta Cavulluccio", turned into a seafood restaurant. A trabocco is a small pier with a fishing hut at the end, a structure unique to the Abruzzo coast.
Chieti wineries of note that we visited and sampled include:
Citra Producing 20,000 bottles per hour from the fruit of 3,000 growers that are part of its cooperative, Citra is the largest winery in Abruzzo. 82% of Abruzzo wine production is through cooperatives, so Citra typifies the way much of the region's wine is made. We enjoyed two easy drinking, fruit forward sparkling wines to start out at Citra– one made from Passerina, the other from Montonico, an Italian white wine grape occasionally used in Abruzzo. The 2013 Caroso Montepulciano d'Abruzzo Riserva is a good quality, everyday type wine that we tried at Citra. We then sampled their 2012 "Laus Vitae" Montepulciano d'Abruzzo Riserva, a single vineyard Montepulciano that shows the level of refinement you can get with this grape. As a large producer, you might have more luck finding wines from Citra at your local shop. Citra definitely has a lot of measures in place to produce good quality wine at a significant scale.
Masciarelli was our next stop during our day in Chieti province, another major producer. From the start of our visit, we quickly began hearing about the legend of winery founder Gianni Masciarelli. He founded the winery in 1981 at age 20, and Gianni's blending of traditonal methods, respect for the land and innovation helped the winery grow rapidly. Gianni is often described as the "Robert Mondavi of Abruzzo" based on the way his passion and vision helped raise the profile of Abruzzo in the wine world. You can find moderately priced Masciarelli wines here in the US–I just picked up a Montepulciano that we enjoyed with some pizza.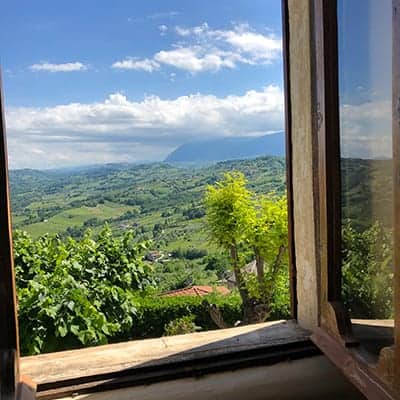 But our tasting experience with Masciarelli was more geared to show us how top wines from Abruzzo can compare with any of the top wine regions of the world. The lunch we had at Castello di Semivicoli–a castle owned by the winery–really warrants its own post, stay tuned for that! But a few hints to whet your appetite…picture yourself in castle dining room with views of rolling green hills, sipping aged Trebbiano that has taken on a golden hue, perfectly matching the colors of the saffron risotto. Oh yes, that saffron is from those hills you are admiring.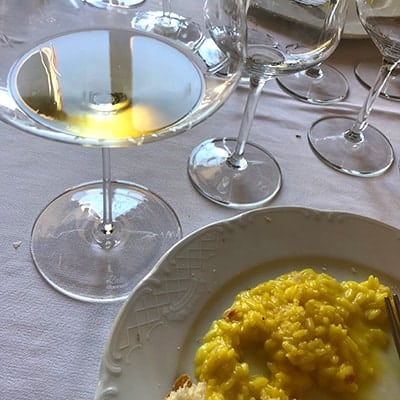 Tenuta Ulisse was the final winery visit during the trip. Tenuta Ulisse is a relatively new winery, founded in 2006. Located close to the sea in Chieti province, Tenuta Ulisse applies some modern science to traditional winemaking methods. For instance, they ferment the white wines at a lower temperature than typical methods, in order to achieve a taste they believe is pleasing to the customers. I found their wines, especially the whites, to be conducive to sipping alone; whereas many Italian wines are best when paired with food. I noted some of their Montepulciano d'Abruzzo had a plush, fruit forward style that could be described as more "New World" than one would expect from an Italian wine.
Finding Abruzzo Wine in the USA
First, let me say I was disappointed to return home from Abruzzo and see that it was challenging to find many of the wines here that I enjoyed while visiting the region! Given the variety of high quality wines produced in Abruzzo, I hope that those in the wine business reading this post will consider ordering more Abruzzo wines. While Montepulciano is plenty enough here, I am quite sure my fellow wine fans here would love the Cerasualo rosé and the range of refreshing, food friendly white wines.
If you are a wine consumer reading this post, I would encourage you to talk to your local wine shop about trying some Abruzzo wines. A good shop is likely to be able to order some of these wines for you if they don't already carry them. Pairings Wine & Food, where I shop, doesn't carry anything from the wineries I visited. But they were able to put in an order for some of them. They also carry some excellent Montepulciano d'Abruzzos and an Abruzzo Cococciola from places I didn't get to visit. I'll be writing up notes on those bottles and others I've sampled back home.
If you happen to be in the Boston area, I found a couple of the Montepulcianos from La Valentina at Dion's Wine in Waltham. I also understand from La Valentina's distributor that Blanchard's in Jamaica Plain carries their Cerasualo. I haven't got a chance to stop by there to grab some….yet!
You can often find Montepulciano d'Abruzzo in the lower end of the price range at many restaurants. Don't assume that the low price tag means it's not a good wine! You can grab yourself a great value by picking out a wine from an under-appreciated region. If you recognize a bottle from any of the producers I visited, definitely consider ordering a bottle!