Our Vegetarian Sausage Pasta uses spicy Italian Beyond Sausage to provide robust sausage flavor without meat. The Beyond Sausage cooks along with onions, peppers, tomatoes and more for a flavorful and healthy Italian dish. You can add greens for additional veggies if you like.
We originally enjoyed this pasta meal with a good Terzini Cerasuolo d'Abruzzo, an Italian rosé made from Montepulciano grapes. More recently, we paired an updated version of the recipe with a Cabernet Franc for Livermore County. Disclosure: The wines discussed here were provided as complimentary samples.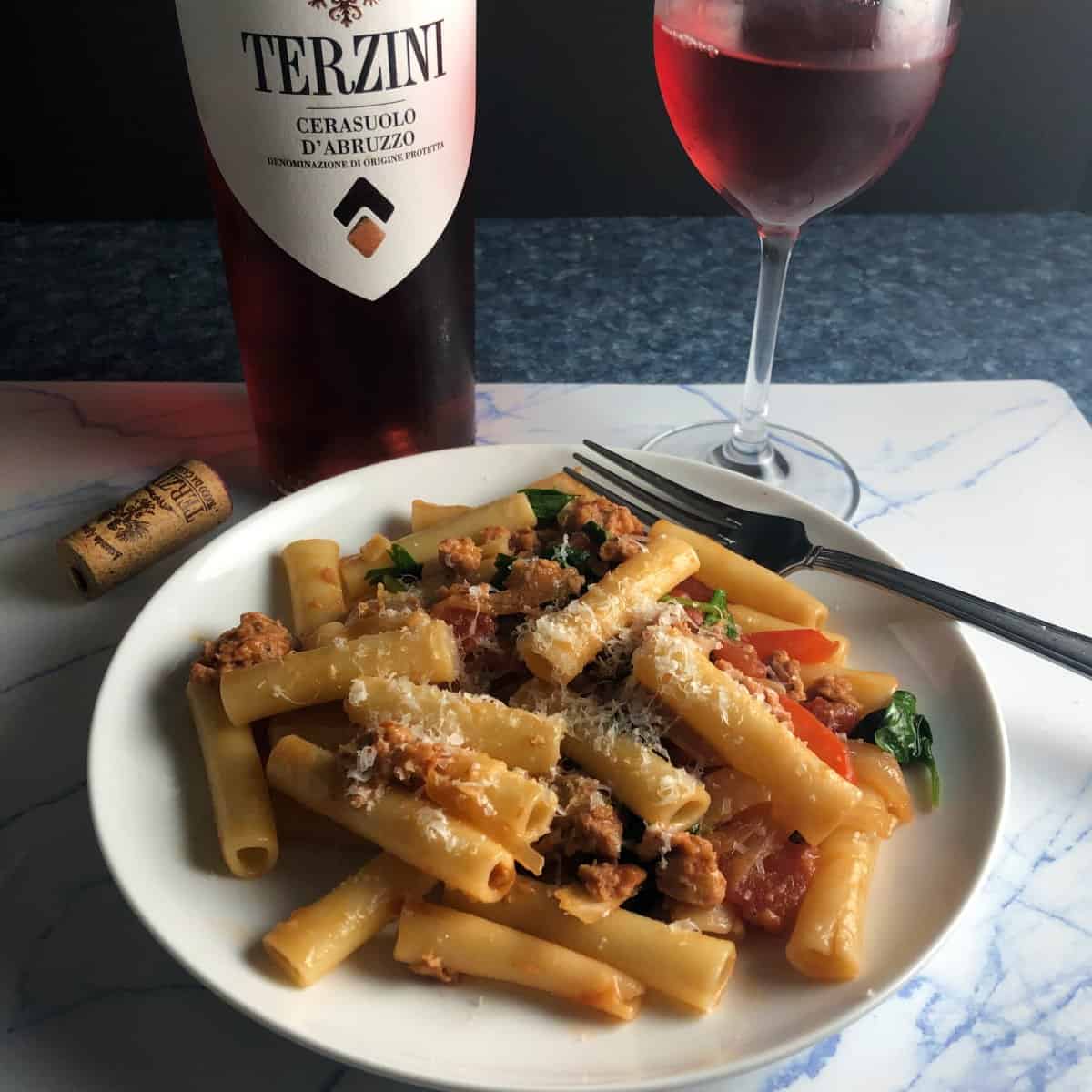 Jump to:
What makes this recipe work
This is a delicious meatless pasta recipe to try! If you like pasta cooked with sausages, but are trying to cut back on meat, this recipe is for you. We try to work plant based meals into our rotation on a regular basis, although maybe not enough to be considered flexitarian.
The spicy Italian Beyond Sausage we used, from the Beyond Meat company, does a pretty good job of matching the flavor you would get from the traditional pork product. Thus, it was pretty easy to pivot from a recipe like this Ziti with Sausage, Peppers and Onions to today's Vegetarian Sausage Pasta.
For another healthy pasta recipe, check out our Andouille Sausage Pasta recipe, which uses chicken sausage along with beans and veggies for a healthier option.
In case you want to go all in on the Italian Beyond Sausage, we are including our Amazon affiliate link to a set of 8 packages of them.
Tips for making veggie sausage pasta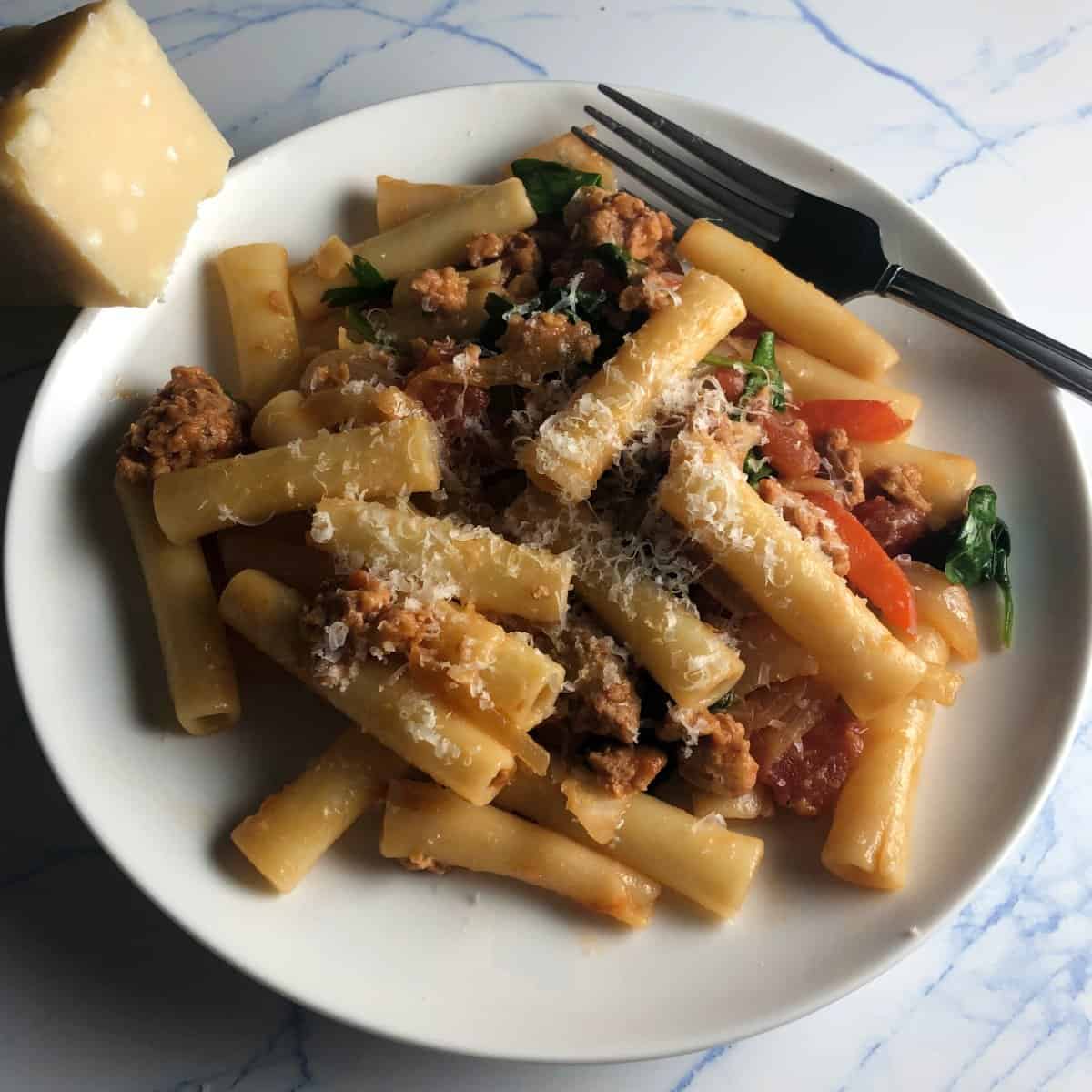 Here are some of our tips for making this veggie sausage pasta. Head down to the recipe card for all the details!
Start by browning the vegetarian sausage, as you would a meat based sausage.
Take the browned sausage out and set it aside. Cook the onions and other veggies in the same skillet as the sausage.
We added a 14.5 oz can of diced tomatoes. Sometimes we skip tomatoes with a sausage pasta, but we correctly thought it would work well with our wine pairing.
To make this recipe vegan, skip the cheese topping or use a nondairy alternative such as the Go Veggie plant based cheese (Amazon affiliate link provided).
You could use a chicken or turkey sausage here if you are looking to reduce fat content without necessarily making a vegetarian dish.
Adding greens is an option to add more vegetables to the recipe. We had a bag of small braising greens available during a recent remake, and added them to the pan after adding the tomatoes.
Vegetarian Sausage Pasta: Frequently Asked Questions
What vegetarian sausage should I use for this recipe?
We like to use the Spicy Italian Beyond Sausage for this veggie sausage pasta recipe. You can try other vegetarian sausages if you like. Use some kind of vegetarian Italian sausage for a similar flavor.
What is vegetarian sausage made from?
Pea protein is what gives the Beyond Sausages protein and substance. In general, vegetarian sausage can be made from a variety of plant-based ingredients, such as grains, vegetables, legumes, and soy products. Some common ingredients used in vegetarian sausage include textured vegetable protein (TVP), seitan , tofu, tempeh, beans, lentils, quinoa, and mushrooms. Some vegetarian sausages also contain egg or dairy products, so check the ingredient list if you're looking for a fully vegan option.
Is this recipe suitable for vegans?
This recipe can easily be made as a vegan dish. The only dairy product we used is Parmesan cheese, which we pass at the table as an optional topping. You can either skip the cheese or use a vegan cheese product to make this vegan. The Beyond Sausage products are suitable for vegans; if you use a different sausage, choose one that is vegan if you want to make this dish suitable for vegans.
What other vegetables can I add to this recipe?
A variety of vegetables can be added to this recipe. For instance, you can use different types of greens such as arugula or chard instead of the spinach. You can also vary the color of bell peppers you use. A cup of peas or other cooked vegetables could also be stirred in at the end.
What wine goes with veggie sausage pasta?
We have enjoyed this recipe with a full bodied rosé and a good Cabernet Franc.
Wine pairings
For our latest remake of this veggie sausage pasta, we paired it with a bottle of Cabernet Franc that we had available for a Livermore Valley Wines event.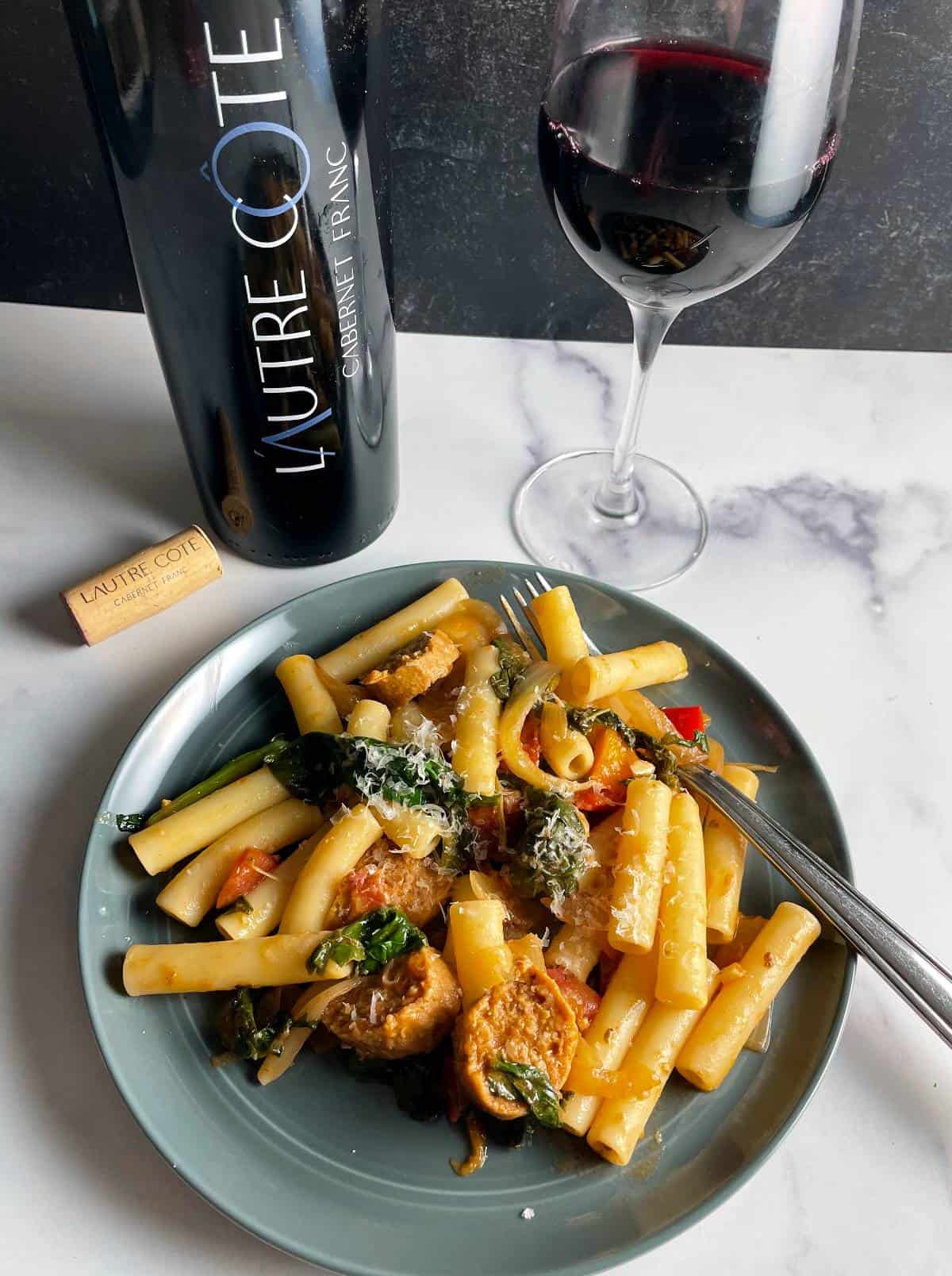 L'Autre Côte Cabernet Franc ($49, 13.4% ABV) has light notes of bell pepper on the nose. Bright cherry fruit, with a dusky finish. A light, well-balanced red wine.
This Cab Franc is definitely very food friendly, and is a good red wine match for the spicy sausage and the tomato in the pasta sauce.
L'Autre Côte is a project of Steven Kent Winery. Sixth generation winemaker Steven Kent Mirassou brings his passion for making excellent Cabernet Franc to L'Autre Côte. My understanding is that he only makes Cab Franc with that label, with other Steven Kent wines going by different brand names.
Original rosé
We had Cerasuolo in mind when we cooked up the idea for this Vegetarian Sausage Pasta.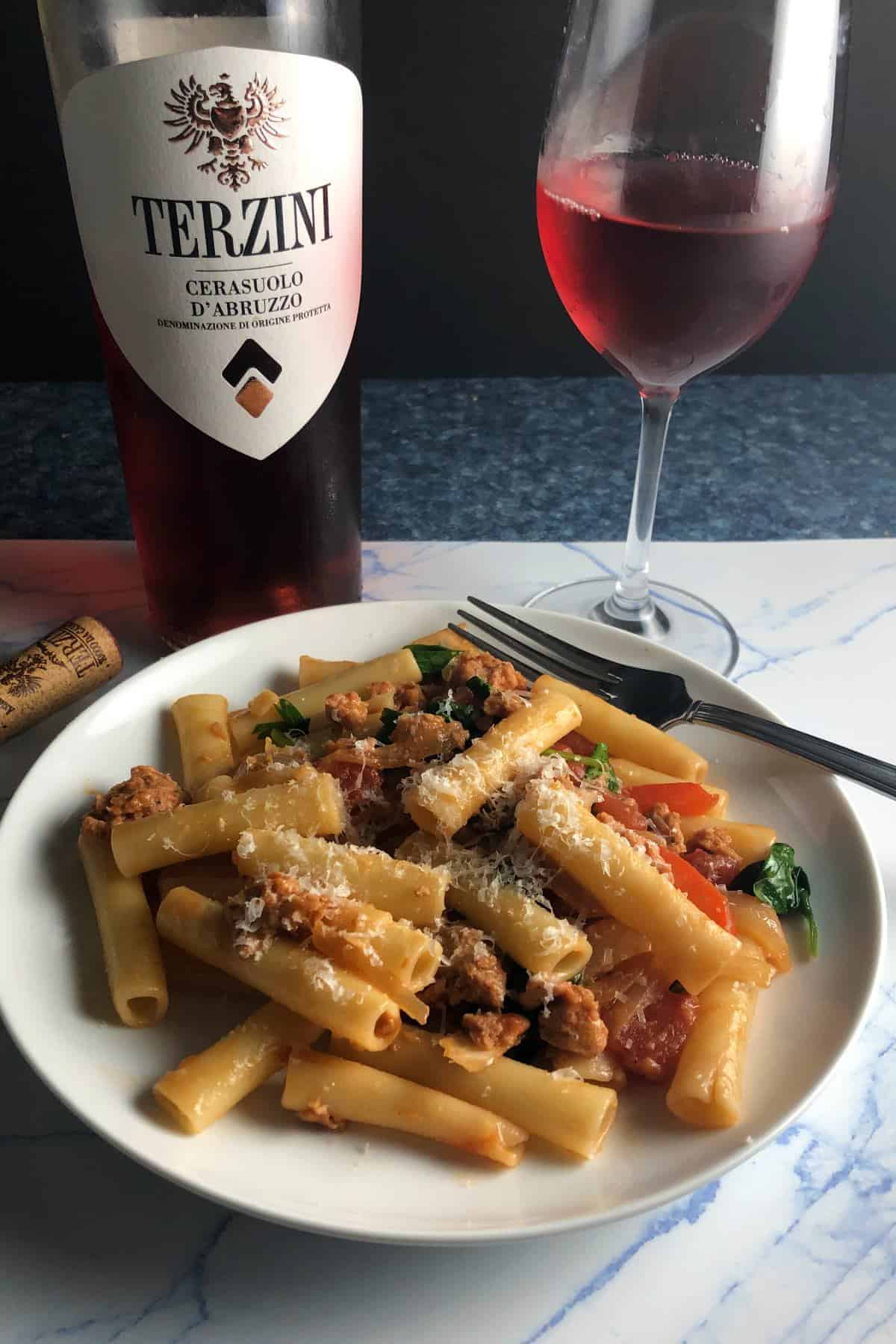 Cerasuolo is an Italian rosé made from Montepulciano grapes. I first learned about it when visiting Abruzzo back in 2018. For more on this type of wine, read our recent Cerasuolo d'Abruzzo article, which includes some other pairing ideas for the wine.
Unfortunately, Cerasuolo can be a bit hard to track down in the US. Fortunately, I was able to connect with John Maisano of Bacchus Imports to obtain a bottle of 2018 Terzini Cerasuolo d'Abruzzo (14% ABV).
This rosé is classic deep dark pink in glass, cherry on the palate, good structure and some moderate acidity and minerality. As suspected, it turned out to be an excellent pairing for the pasta dish!
About Cantina Terzini
Cantina Terzini is located by the commune of Castiglione a Casauria, which is in the the province of Pescara, in the Abruzzo region. The area is close to the Gran Sasso mountain, and not far from the Adriatic sea.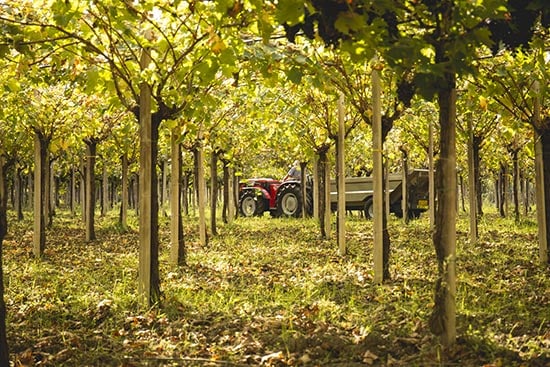 This is typical of Abruzzo wineries, to be located between the mountains and the sea, with good elevation and terroir.
For more about the winery, check out the interview I did back in 2019 when their export manager was visiting our area.
The Cantina Terzini website explains that in 2009 Domenico Terzino founded Cantina Terzini winery, building on a longstanding family vocation of making wine. Terzini has grown from 6 hectares to over 22 during this period of time. The Terzini family continues to actively manage the winery, both the winemaking and the business operations.
Print
Recipe card
Vegetarian Sausage Pasta
Vegetarian Sausage Pasta uses spicy Italian Beyond Sausage to provide robust sausage flavor without meat. The Beyond Sausage cooks along with onions, pepper, tomatoes and more for a flavorful and healthy Italian dish.
Author: Cooking Chat
Prep Time:

10 mins

Cook Time:

30 mins

Total Time:

40 mins

Yield:

6

servings

1

x
Category:

main

Method:

stove top

Cuisine:

Italian

Diet:

Vegetarian
2 tbsp

extra virgin olive oil, divided

3

spicy Italian Beyond Sausages (

10

to

11

ozs total) or similar

1

onion, chopped

1

red bell pepper, chopped

2

cloves garlic, minced

14 ½ oz

can diced tomatoes

½ tsp

dried oregano

½ tsp

dried basil

1 tsp

balsamic vinegar

6

olives, sliced

12

ozs ziti
handful of spinach or other greens

1 tsp

fresh parsley, chopped (optional)
grated Parmesan cheese to pass at table (use vegan version to make the dish vegan)
Instructions
Heat 1 tablespoon of the olive oil in a large skillet on medium heat. Add the Beyond Sausages and brown the outside, turning occasionally. Remove when the sausage has browned, about 5 minutes. Set the sausage aside to cool.
Heat the other tablespoon of olive oil in the same skillet used to brown the sausage. Add the onion, and cook for about 5 minutes until it begins to soften.
Stir the bell pepper into the skillet, cook for a few more minutes. Then add the garlic and cook for another minute.
After adding the pepper to the skillet, start cooking the pasta in a large pot according to package instructions.
Stir the tomatoes into the skillet, along with the basil and oregano. Cook for about 5 minutes.
Slice the browned Beyond Sausage, and stir back into the skillet along with the sliced olives.
Simmer the sauce for 5 to 10 minutes after adding the Beyond Sausage slices, stirring occasionally. It will likely start breaking up in into smaller bits; that is fine. Add the fresh parsley toward the end of simmering, if using.
Drain the pasta after cooked to your liking. Toss the pasta immediately with the Beyond Sausage sauce. Plate and pass cheese at the table for topping. Enjoy!
Notes
We like the Beyond Sausage brand for a vegan sausage option, but you could other brands. We have also made a similar dish with chicken or turkey, if you are a flexitarian looking for healthy sausage pasta recipes.
We label the dish vegetarian sausage pasta as we like to add regular Parmesan cheese. You could make this vegan by using a product such as the Go Veggie plant based cheese.
As mentioned in the instructions, we found the Beyond Sausage breaks into little bits when cooking, particularly when using a package that we had frozen and then thawed for the dish. Though not our intention, this did make for a nice thick sauce.
Keywords: beyond sausage, vegetarian sausage pasta, meatless sausage recipes
Recipe Card powered by