With six years of experience focusing Merlot in the month of October, it was time to round up some of our favorites along with tips for Merlot Food Pairing! Disclosure: Most of the wines mentioned in this article were sent to me as complimentary samples as part of the #MerlotMe observance with Wine Pairing Weekend.
Jump ahead to: Merlot pairing tips | Pork pairings | Beef | Chicken and Turkey pairings | Seafood | Vegetarian meals and Veggie Sides
Wow! We've been observing #MerlotMe month in October for seven years now.
In 2020, many of our Merlot samples came pretty close to our publish date. It was the perfect time to put together a collection of some our best Merlot food pairing tips and recipes. We are circling back to add some of the recipes we have cooked up since then.

Merlot Pairing Tips
A good Merlot can be very enjoyable to sip on its own. But Merlot's versatility, with its medium body, moderate acidity and tannins, can make it a good option to pair with a wide range of foods.
The Merlot matters: By this I mean we need to keep in mind there is a wide range of Merlot styles. There are a lot of fruit forward, easy sipping Merlots on the market. These are best with simple fare, or perhaps enjoying with some cheese.
But there are also Merlots with a lot of refinement and nuanced flavor profiles; many of the #MerlotMe month samples fall into this category. Such Merlots go with more complex sauces and preparations, as you will see in a number of our pairing suggestions.
As you get more familiar with Merlots and some of the top producers of the grape, you can anticipate which ones are going to be well suited for a more gourmet oriented recipe.
Check the alcohol: The #MerlotMe month samples we've had come from warm growing regions in California and Washington, and that is reflected in the alcohol content. The ABV ranges from the high 13% range up to 15%. When I have a number of Merlots on hand, I plan on the higher alcohol wines for heavier dishes such as pork and beef. The relatively lower alcohol bottles tend to be good options with the vegetarian or poultry meals.
Base ingredients: Merlot can go well with a wide range of primary ingredients, including meats such as beef, pork, and lamb. While the meats might be the first thing you think of, Merlot can also do quite well with some vegetarian dishes, seafood, chicken and turkey.
Whether Merlot is a good option for your recipe, therefore, is going to have more to do with how you prepare the meat or other protein. Read on for ideas for some of the best ways to enjoy a Merlot with food!
Bridge ingredients are items that you can add to a recipe that help pick up the flavor profile and other characteristics of the grape. Adding one of more good Merlot bridging ingredients to a recipe can help set you up for a winning pairing!
Resources such as The Wine Lover's Cookbook give a long list of bridge ingredients that work well with Merlot. My short list of ingredients that I have found work really well with Merlot include:
Beets — roasted or grilled
Cranberries
Blackberries (a lot of my Merlot tasting notes indicate "blackberry fruit" so this is a natural)
Tomatoes — cooked in a sauce, especially with a Merlot with a bit more acidity
Mushrooms
Fennel
Eggplant
Rosemary
Say Cheese: The addition of cheese can enhance many wine pairings, and Merlot is no exception. In addition to cooking with cheese, one of the best ways to enjoy a glass of good Merlot is to serve it along with some good cheese. This topic probably warrants its own article, for now I would say like Merlot with high quality cheddar cheese, and have also enjoyed it with a few different sheep's milk cheeses. Do you have a favorite cheese to eat with Merlot? Let me know in the comments!
Cooking with Merlot: Cooking with the wine you plan to serve with the meal is always a solid pairing strategy. Several of my favorite pairings below feature a Merlot wine sauce, combined with one or more of the bridge ingredients.
Bring on the pairings
Ok, armed with some basic tips for pairing Merlot with food, it's time to get into some of the favorite pairings I've enjoyed with Merlot over the years. Any recipe making this list is very good with Merlot, I have indicated ones that I consider a "Top Pairing" indicating it is a "best of the best". To use a back to school term, these would get an "A+" as a opposed to a mere A or A-.

Pork Pairings
If I had to pick a favorite meat to serve as the basis for a recipe to pair with Merlot, I'd have to go with pork. Like the grape, pork has a lot of versatility, and you can prepare it with ingredients that play well with Merlot in order to come up with an excellent pairing. See our examples for inspiration, or come up with your own pork dish to pair with Merlot!
Pork Tenderloin with Blackberry Merlot Sauce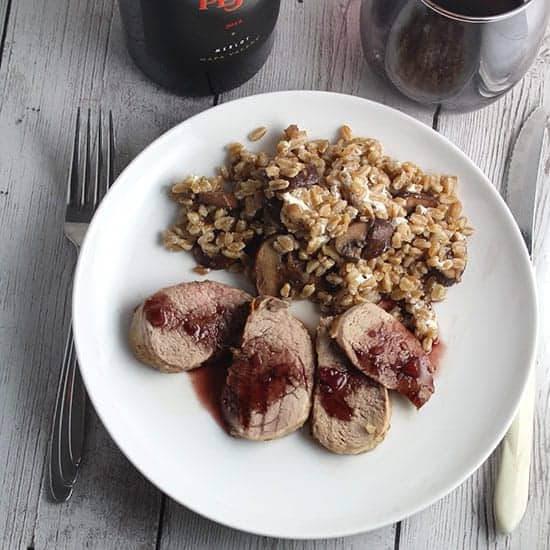 Pork is a natural partner for Merlot, so we were off to a good start with the meal selection. I ready that blackberries make a good bridge ingredient for Merlot, so that led us to make Pork Tenderloin with Blackberry Merlot Sauce. This dish was very good paired with the 2013 Peju Napa Valley Merlot. The cherry fruit and vanilla notes made it an excellent pairing with the pork and sauce. **Top pairing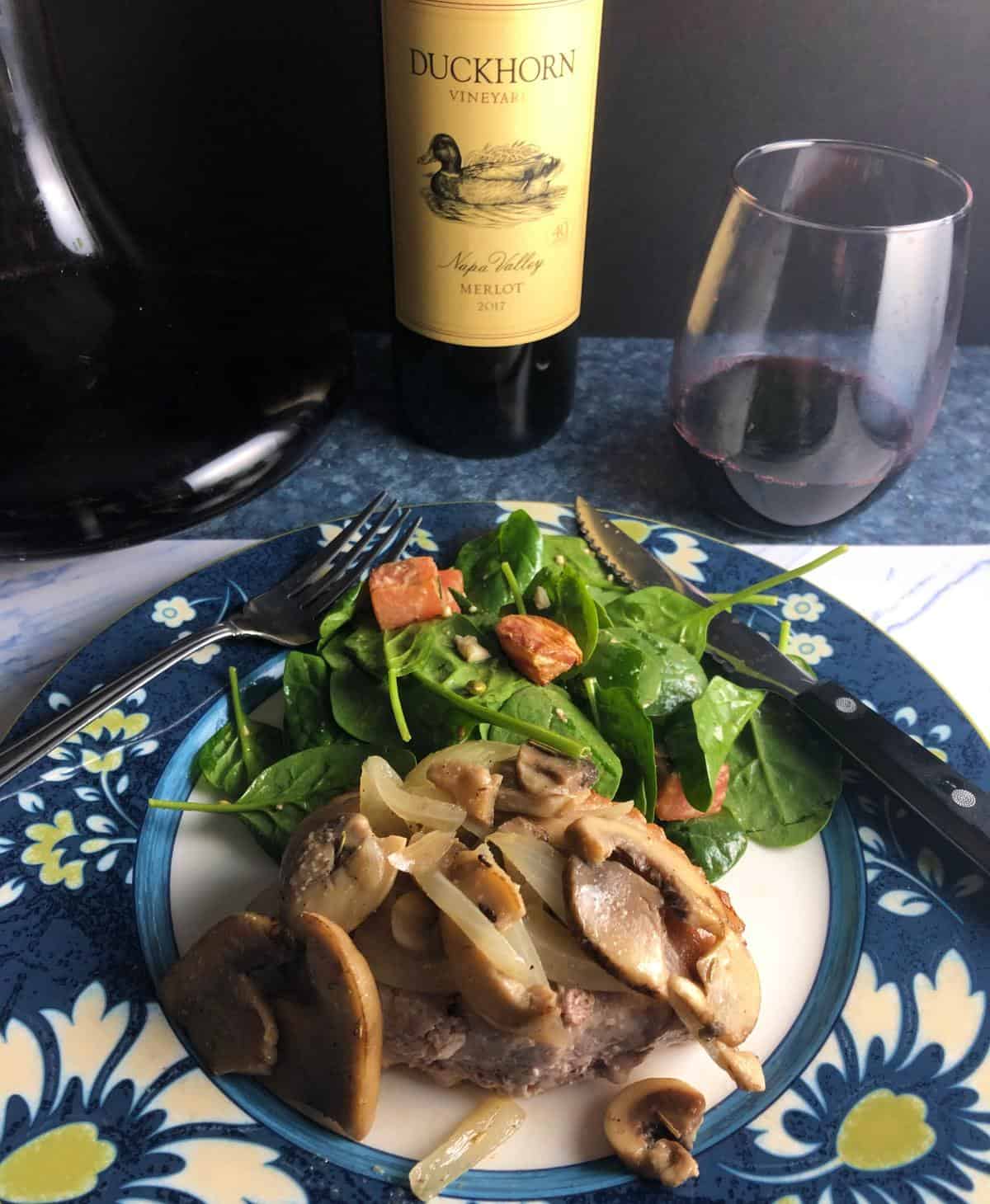 One of our final 2020 #MerlotMe pairings featured the 2017 Napa Valley Merlot ($56, 14.5% ABV) from Duckhorn. Always one of our favorite sources for Merlot, this was a good pairing for the hearty mushroom and pork combo. Followed our Garlic Mushroom Pork Chops with Quinoa recipe, but skipped the quinoa. Served it with a spinach and roasted beet salad instead.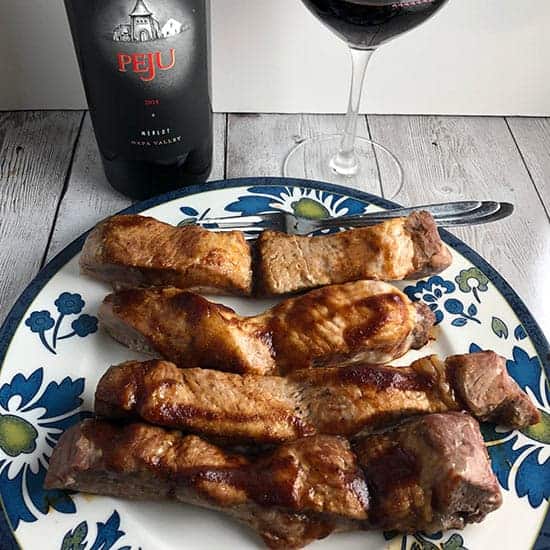 This boneless pork ribs recipe has taken over the top traffic spot on Cooking Chat. One of those blog sweet spot things — people search a lot for boneless pork ribs recipes, and ours is on the page one Google results. So a lot of people are coming across the Merlot love there! We paired the pork ribs with the Peju Winery Napa Valley Merlot, with very good results. The tannins and structure help the wine stand up to the meat, and there are enough subtle spice and herb notes to play along nicely with the BBQ sauce. **Top pairing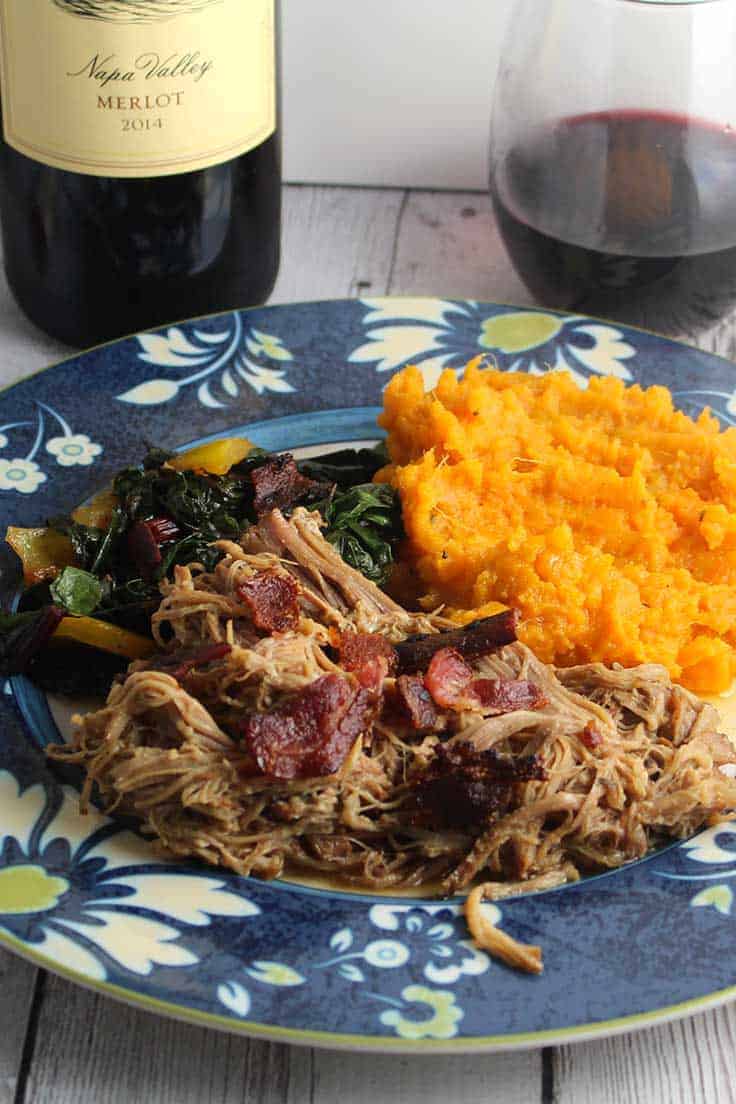 I published this recipe back on Halloween 2017. I note in the article that this is a slow cooker recipe where the modest amount of work is done in advance, so it is actually a good Halloween meal idea if you have plans for the evening that limit your cooking time. Or another Halloween angle for this one is that Pulled Pork with Bacon along with a good Merlot from Duckhorn is a much better treat than any candy, as far as I'm concerned!

Merlot with Beef
We've got a couple of recipes to recommend, but it is generally a good idea to Merlot in mind when you are serving a beef dish!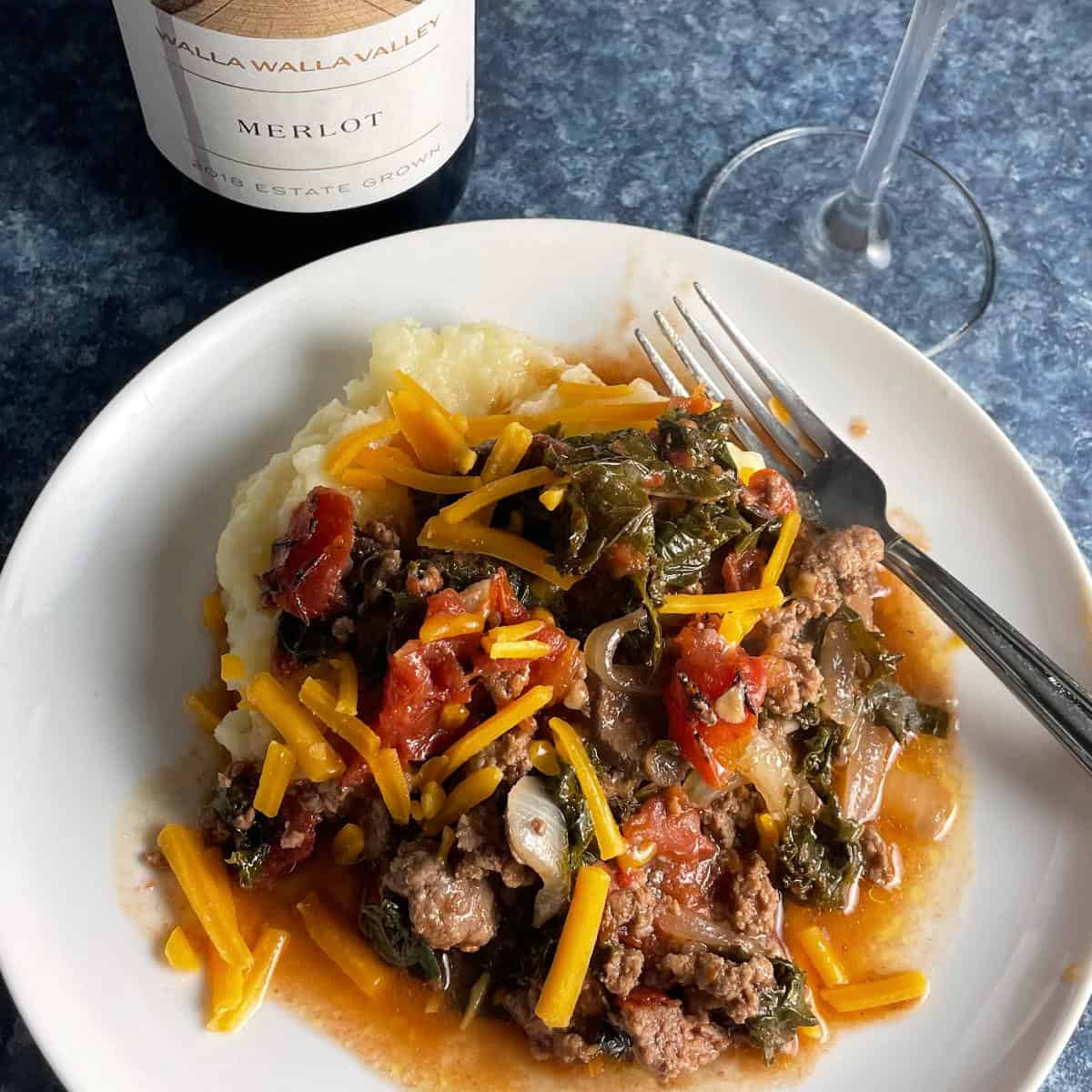 Our new Ground Beef and Kale Recipe is delicious with the 2018 L'Ecole Walla Walla Merlot! Beef and kale simmer with tomatoes, and get topped off with cheddar cheese for a Merlot friendly meal.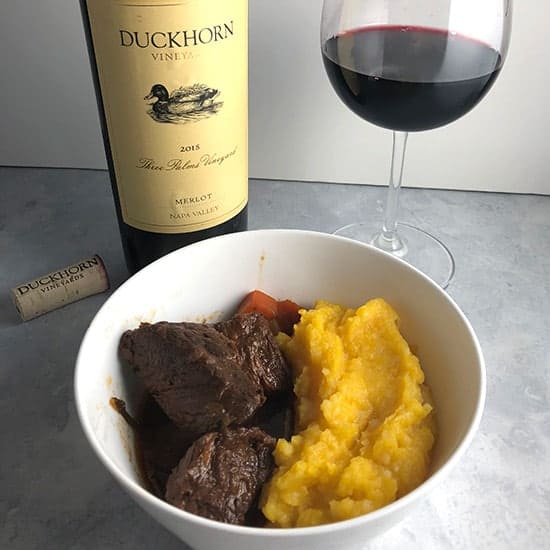 We put together an easy BBQ Beef Stew to go with the 2015 Three Palms Vineyard Napa Valley Merlot. This Merlot has complexity to match the barbecue sauce, and plenty of heft for the beef. This is definitely a pairing to try! **Top Pairing
Spoon Roast with Mushrooms and Farro
Spoon Roast is a super tender version of roast beef, making for a classic Sunday meal. This Spoon Roast recipe, served with mushrooms and hearty farro grain, is a great partner with Merlot. We enjoyed the roast beef with the Peju Napa Valley Merlot.
Before leaving the beef section, let me mention that one #MerlotMe year I noted that the Duckhorn Napa Valley Merlot was great paired with a basic cheeseburger. I don't have a great photo to share of that pairing, but keep Merlot in mind for a burger night pairing!
Mushroom Farro with Ground Beef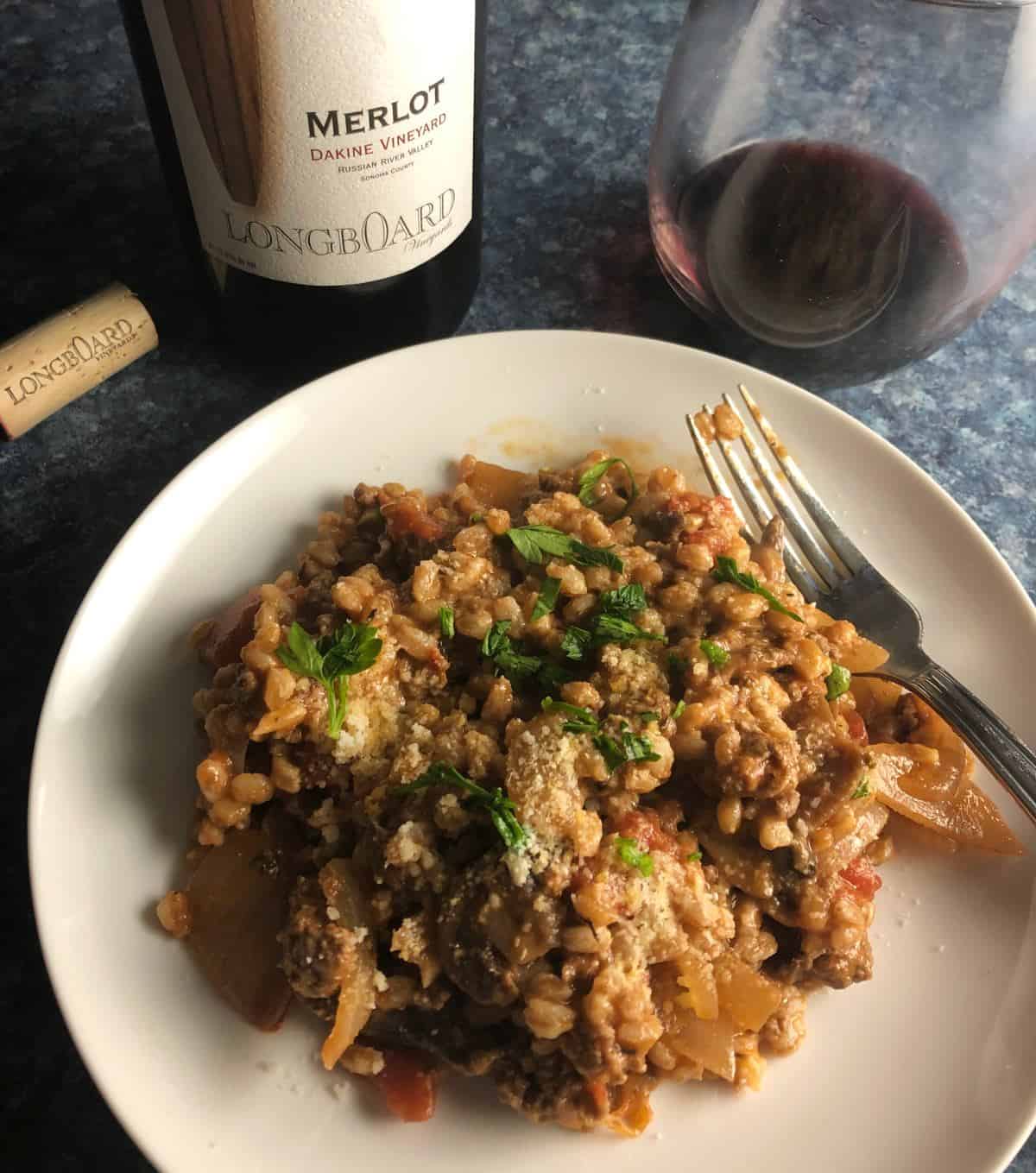 Writing this article reminded me how well Merlot went with the beef and farro combo. That gave me the idea of making my Mushroom Farro with Ground Beef recipe again, and serving it with the 2018 Longboard Merlot from the Russian River Valley. This was definitely another great Merlot pairing!

Chicken and Turkey Recipes
While meat like beef and pork might come to mind first in terms of Merlot friendly foods, you can definitely consider opening a bottle of Merlot with a variety of chicken and turkey recipes, too. Particularly if they are hearty poultry preparations, and use one or more of the Merlot bridging ingredients.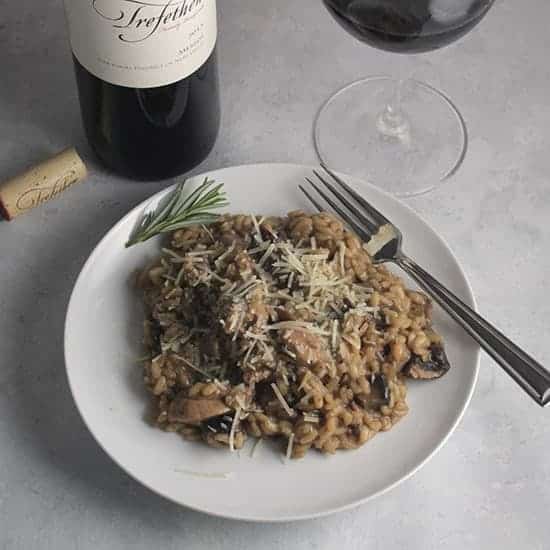 We paired Chicken and Mushroom Risotto with 2015 Trefethen Merlot. Balanced, moderate tannins makes this a good match for the risotto. The wine sample actually came with a recipe for mushroom risotto, which helped point me in the direction of this tasty pairing. **Top Pairing
Roast Turkey Breast with Cranberry Merlot Sauce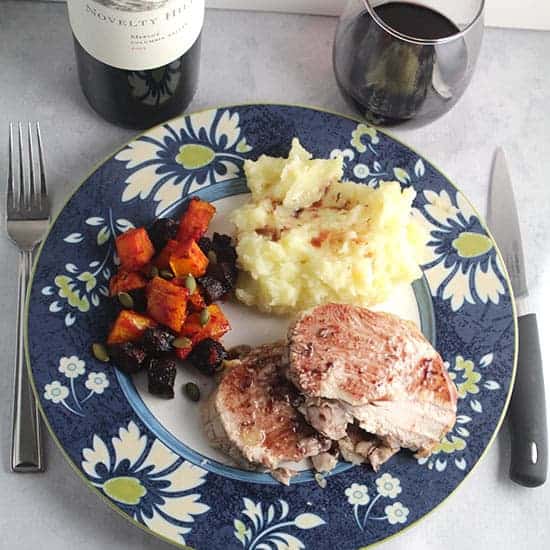 Cranberries are a good bridge ingredient for Merlot, so I added them to a red wine sauce in this Roast Turkey Breast with Cranberry Merlot Sauce recipe. A good fall pairing! Something to keep in mind if you're looking to change up your usual turkey routine.
Tomato Eggplant Pasta Recipe with Turkey
We leveraged a couple of Merlot friendly ingredients to make this work. Tomato based sauces can work with Merlot, and eggplant seems to have a particular affinity for the grape. Put these two ingredients in our Tomato Eggplant Pasta recipe, and added some ground turkey for protein. This all set up a nice pairing with the 2015 J. Lohr Los Osos Merlot. The wine has just enough acidity to go with the tomato, and a flavor profile that includes blackberry, chocolate and notes of cedar. A good combination with the pasta dish!

Seafood
Yes, red wine and seafood can be a good pairing! I've had more experience pairing Pinot Noir and some Italian reds with fish, but Merlot can definitely be added to the mix, too.
For now, I only have one tuna recipe for this section, but I am definitely looking forward to trying more seafood and Merlot pairings. I have a good feeling that salmon with mushrooms would be one good option in this department! And I recently came across a post on foodwineclick about a Merlot pairing with grilled swordfish, that I'm going to have to try.
Stay tuned for updates with more seafood pairings.
Can Merlot go with seafood? If you've got a "meaty" fish like tuna it can. Our grilled Garlic Thyme Crusted Tuna paired quite nicely with the 2013 Duckhorn Napa Valley Merlot.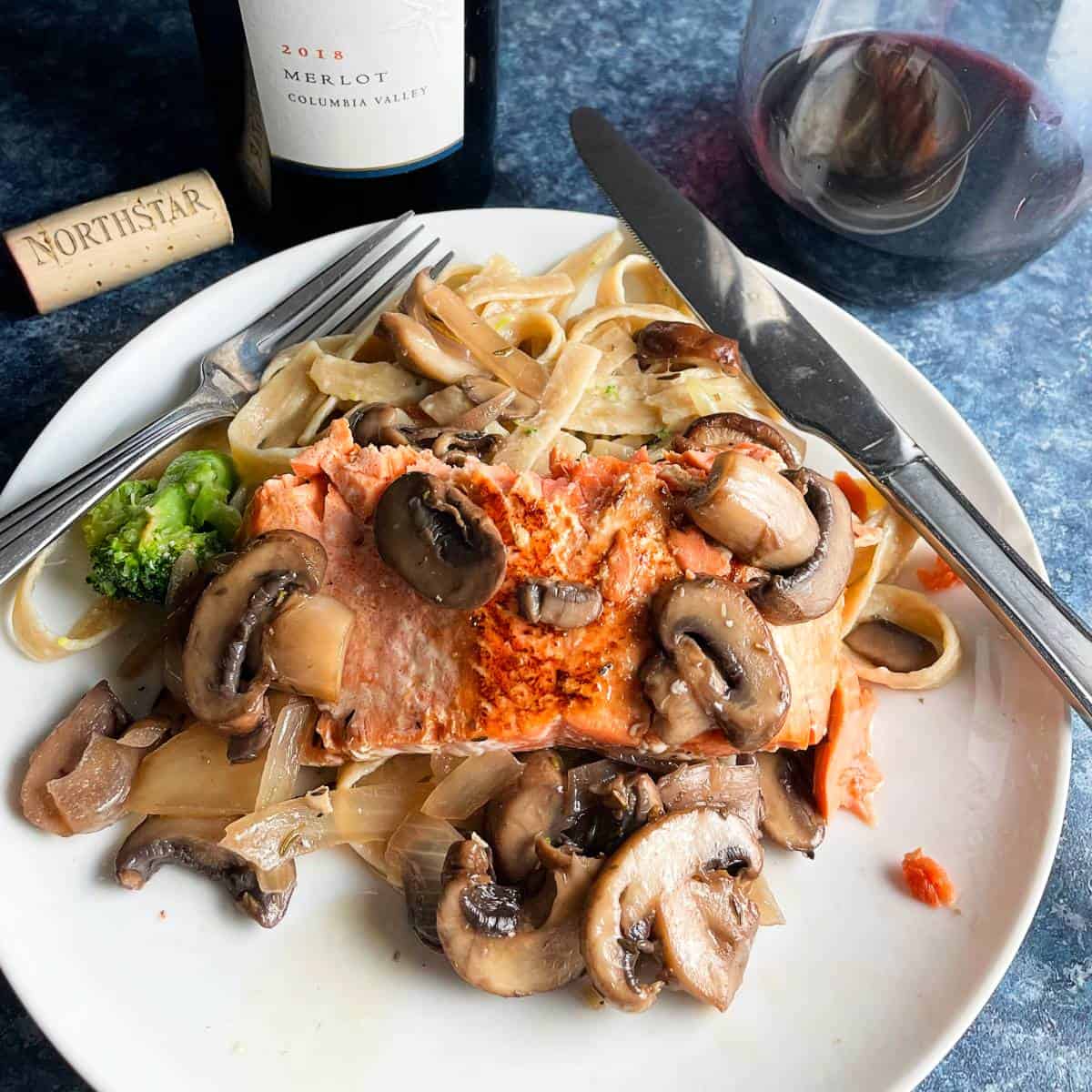 We had previously enjoyed our Salmon with Mushrooms recipe paired with Pinot Noir, but from our research and experimenting for #MerlotMe month over the years, we figured it would be worth trying a Merlot. Sure enough, the 2018 Northstar Columbia Valley Merlot ($41, 14.5% ABV) showed that Merlot can be a good wine to pair with salmon. Especially if you top the fish with mushroomS!

Pairing with Vegetarian Meals and Veggie Sides
While you might first think of Merlot with meat, the wine can be featured with some hearty vegetarian meals. In addition, we have found some vegetable side dishes that work especially well with Merlot, and can round out a great meal.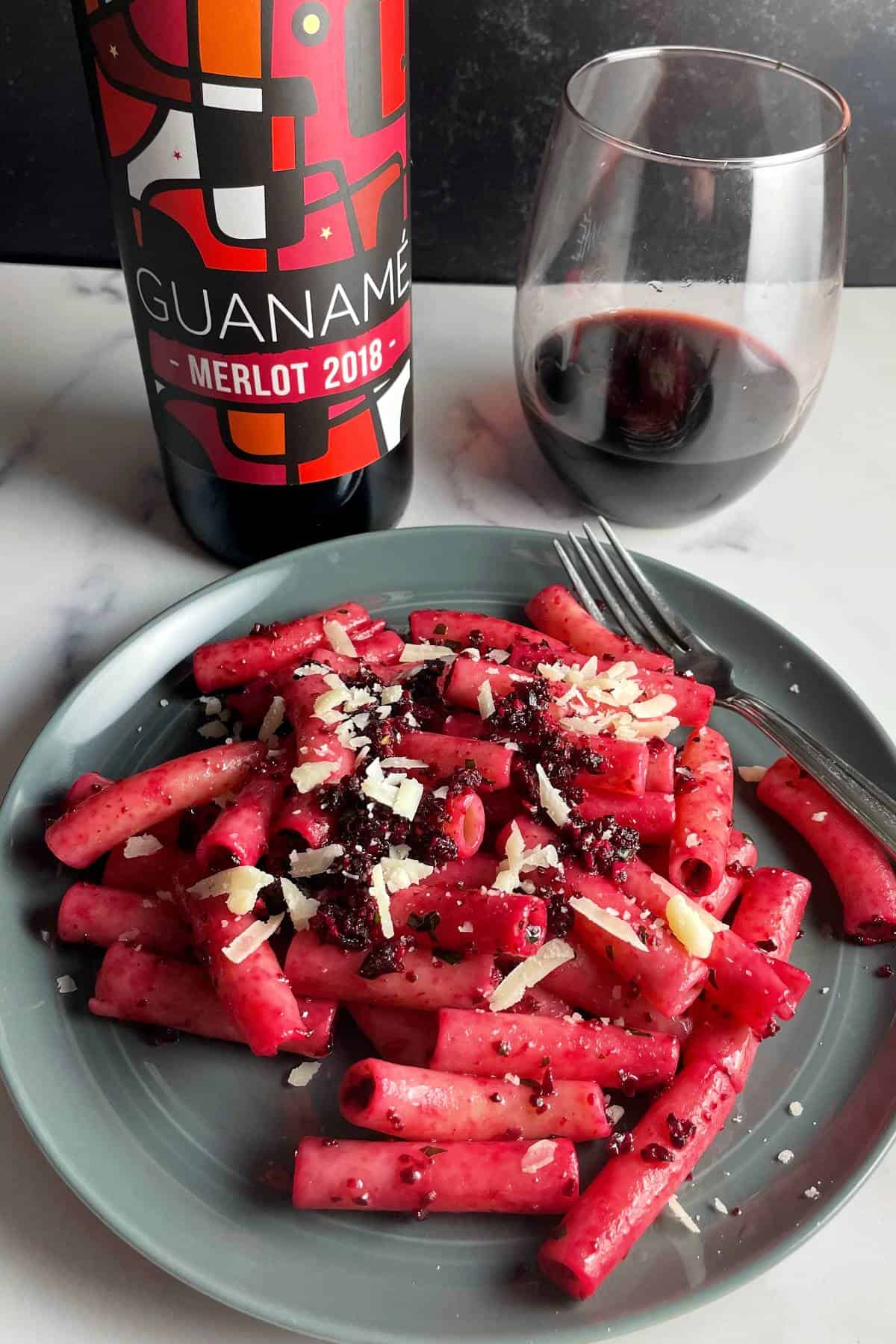 We have learned that roasted beets pair well with Merlot. We enjoyed this pairing when we paired our Roasted Beet Dip with a Decoy Merlot. That was in the back of my mind when thinking about a pairing for the Guanamé Merlot from Mexico. So I put together this Roasted Beet Pesto, tossed with pasta, which sure enough, is delicious with the Merlot!
Vegetarian Stuffed Acorn Squash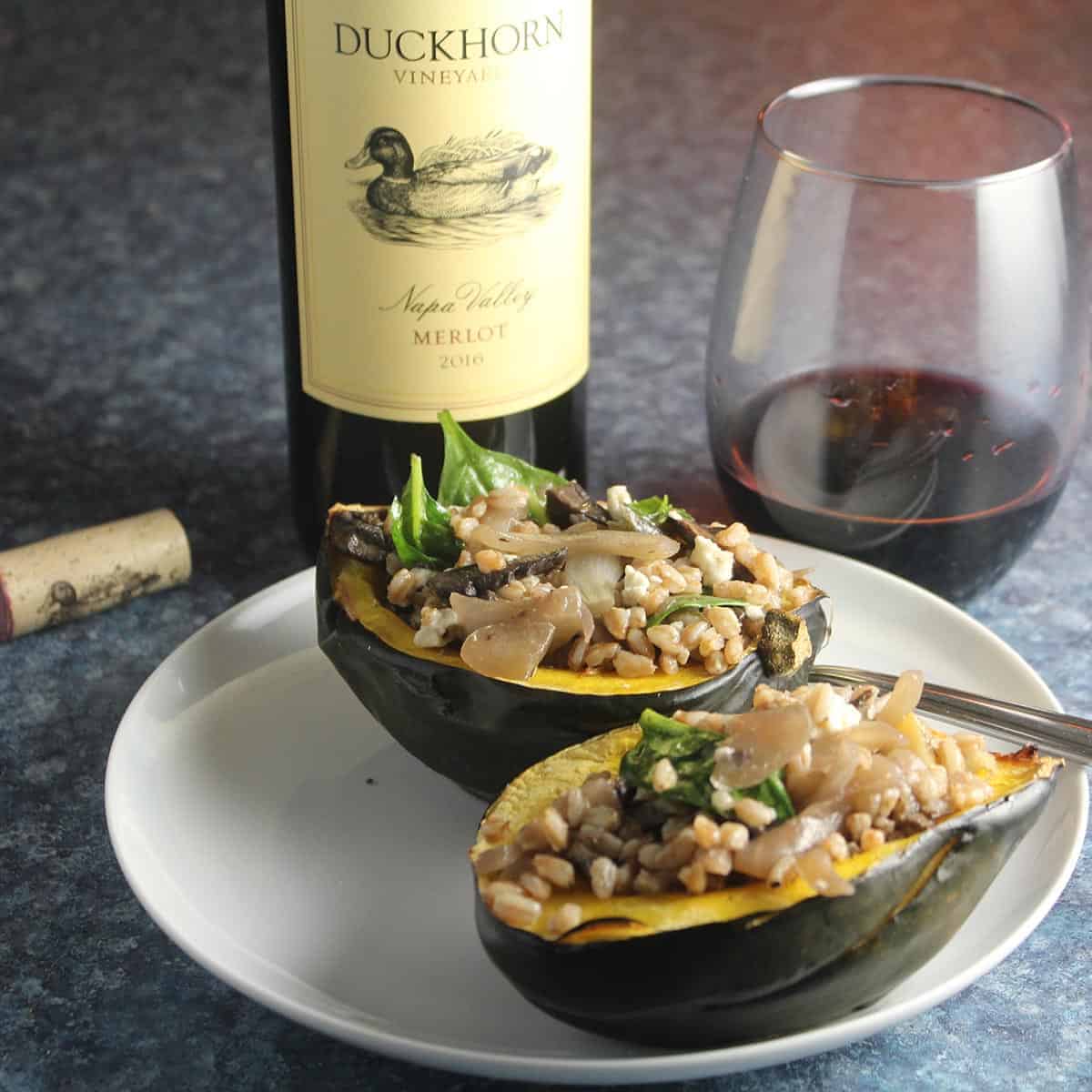 Our Vegetarian Stuffed Acorn Squash is a great dish to enjoy during the fall, and it paired quite nicely with the 2016 Duckhorn Napa Valley Merlot. This worked as a strictly vegetarian pairing, but got even better when I added just a few bits of pork we had on hand.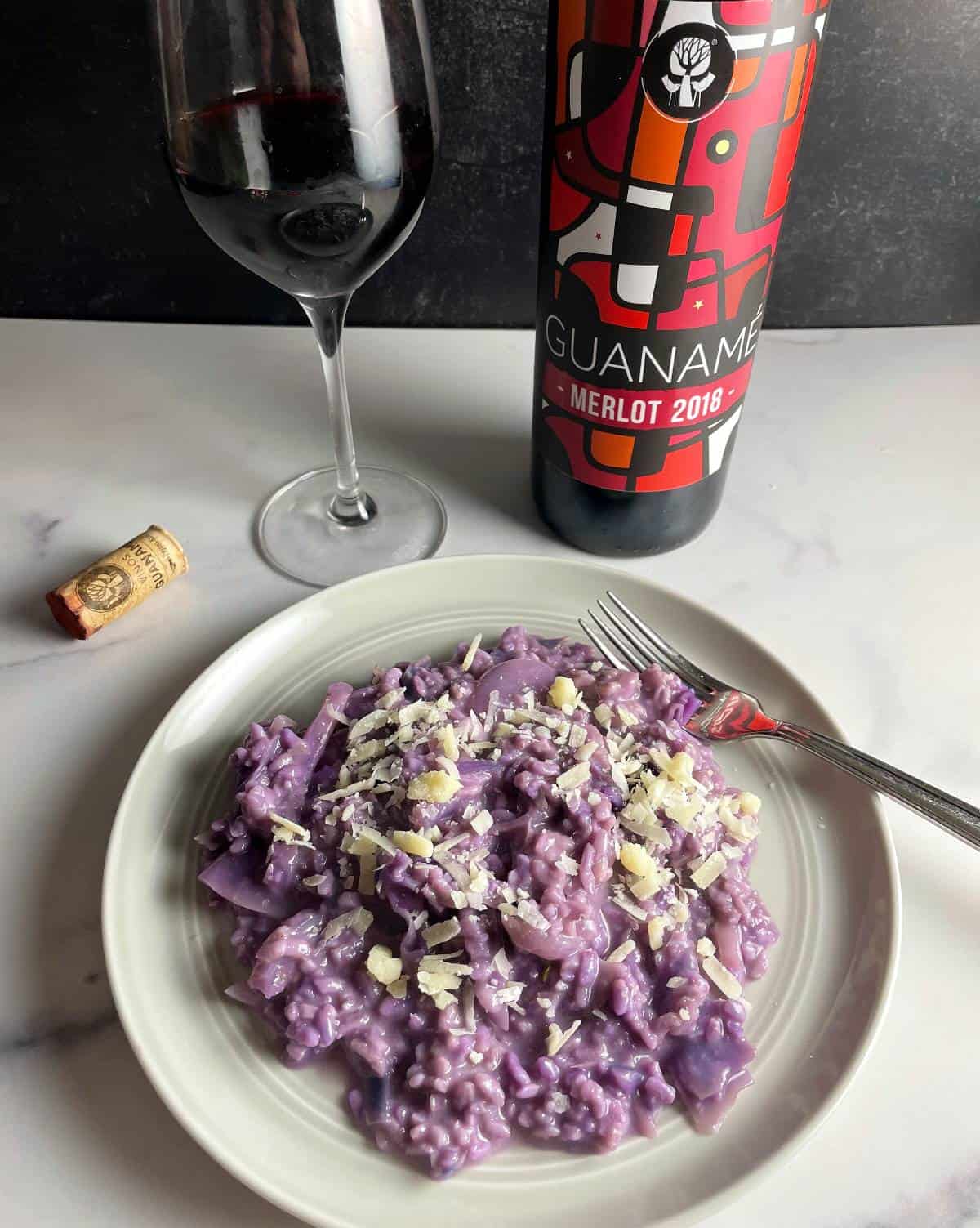 Cabbage can be a little tricky for wine pairings. But in this red cabbage risotto, the veggie gets cooked slowly with onions and a savory broth. Then stirring in cheese at the end certainly helps make it more wine friendly…and yes, once again, Merlot worked nicely with it!
Mushroom Pizza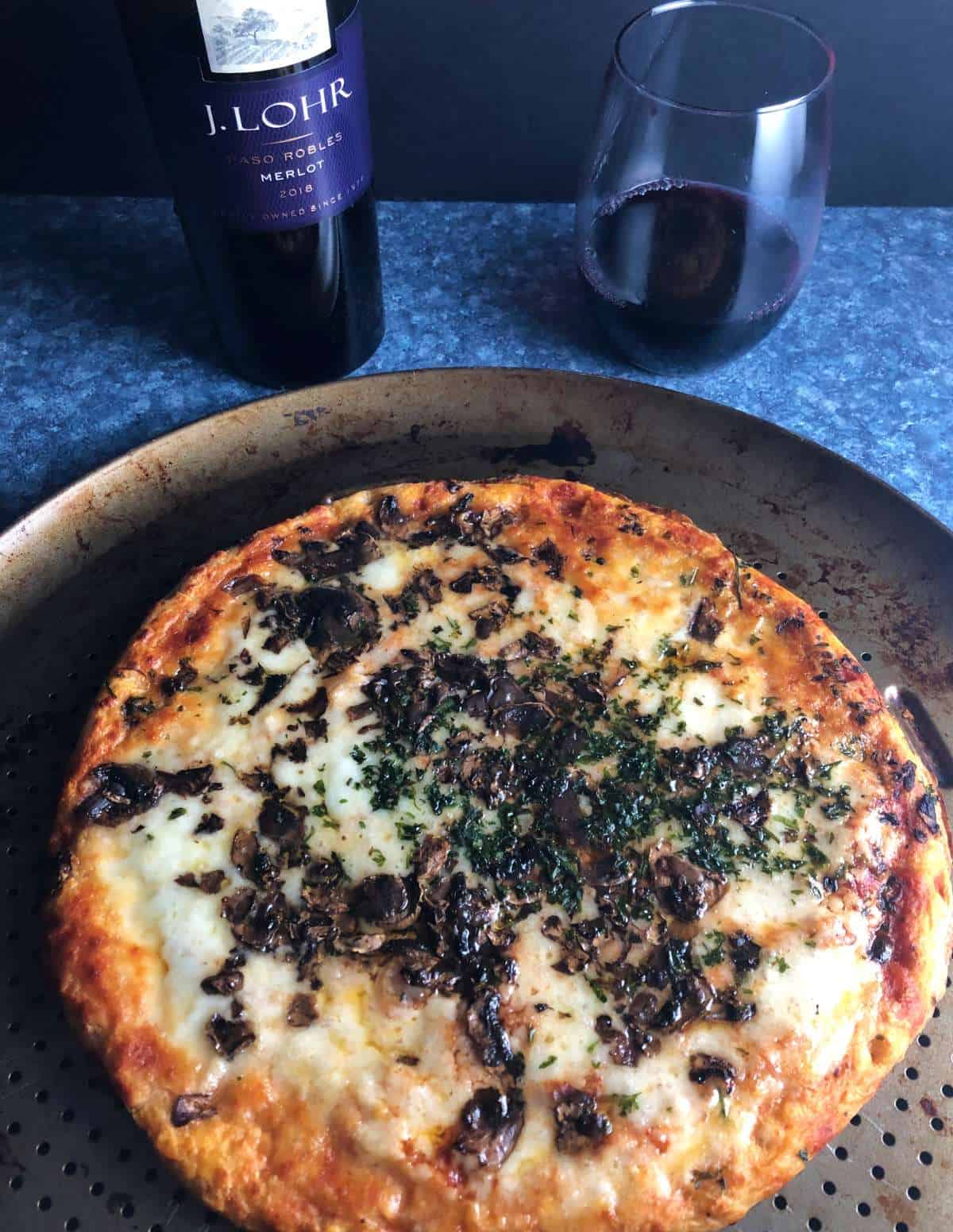 Last night I saw a chance to test out one more Merlot pairing before going to press with this #MerlotMe article! No recipe link here, I simply popped a Flatbread frozen mushroom pizza in the oven and opened the 2018 J. Lohr Los Osos Merlot from Paso Robles, with 16% Malbec along with the Merlot. Violets on the nose, blackberry fruit and lead pencil on the palate. A good, straightforward Merlot, and at 13.9% ABV, a bit lighter on the alcohol than some California Merlot. All these factors set it up to be a solid pairing for the pizza.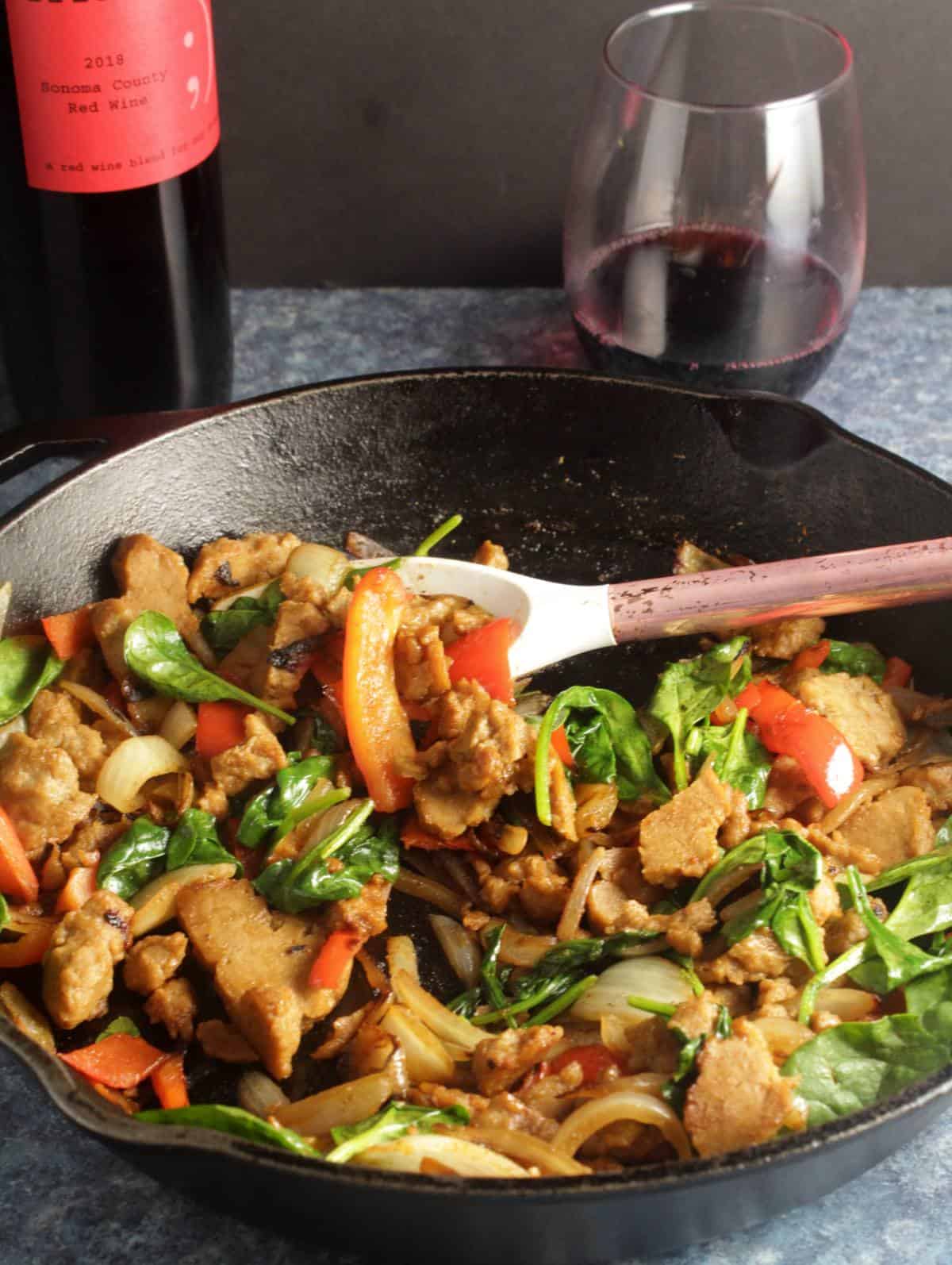 If you are looking for a good "meaty" vegetarian dish, our Seitan Skillet recipe is a great option. I have enjoyed the dish paired with the friends.red blend, which includes Merlot as the first grape listed. I would say this would be worth trying with a true Merlot if you are in the mood for a vegetarian #MerlotMe month meal!
Roasted Beets and Butternut Squash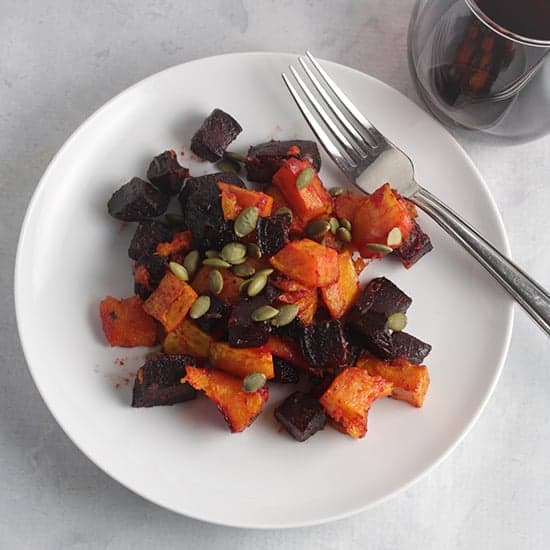 I was reminded that Roasted Beets and Butternut Squash worked well with Merlot when I saw the picture of the Roast Turkey Breast with Cranberry Merlot Sauce, as it was plated with the Roasted Beets dish. The pairing description notes that the Merlot was very good with the beets.
Mashed Sweet Potatoes with Cumin Sage Butter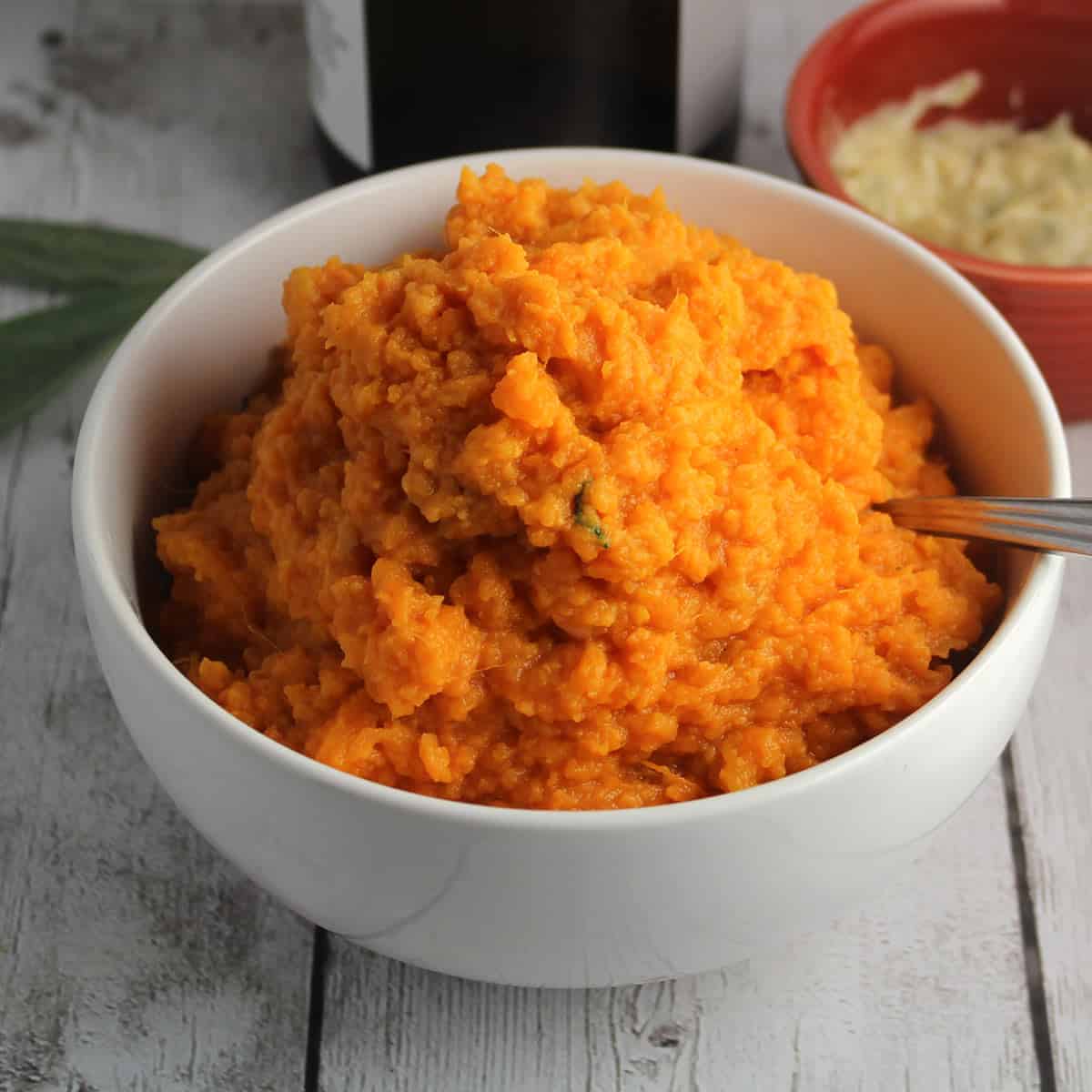 Our Mashed Sweet Potatoes with Cumin Sage Butter pairs well with fruit forward Merlot that also has a bit of spice. We served the sweet potatoes with the garlic thyme tuna mentioned earlier, and this recipe is also a great side for pork dishes.
More Merlot Pairings from Wine Pairing Weekend
This is our 6th year and our group continues to have a great time celebrating #MerlotMe and exploring food pairings for the Merlot grape in October. Join us as we chat all things Merlot on Saturday morning, Oct. 10 at 11 am – noon Eastern Time. Just look for us on Twitter at the hashtags: #MerlotMe and #WinePW. Here are our posts, and be sure to look out for more in October, as our bloggers will no doubt be adding more posts!