In episode 16, we talk to Greg Woodworth and Kelly Coughlin from Stony Brook Wholehearted Foods about their business producing pumpkin seeds and butternut squash seed oils.
You can also listen to the podcast on:
Apple podcasts | Spotify | Amazon Music
In this episode, we cover:
How Stony Brook evolved from a company making cookies to one that produces culinary oils and seed snacks.
The fact that the vast majority of pepitas consumed in the US are imported from China and other countries.
How their collaboration with local farmers growing pumpkins and butternut squash turns potential food waste into another delicious culinary product.
Benefits of butternut squash seed oil.
The role Cornell University plays supporting agricultural businesses in the region.
Types of pumpkins that grow well in the Finger Lakes area.
Ways to use butternut squash seed oil and pumpkin oil.
Today's Guests – Greg Woodworth & Kelly Coughlin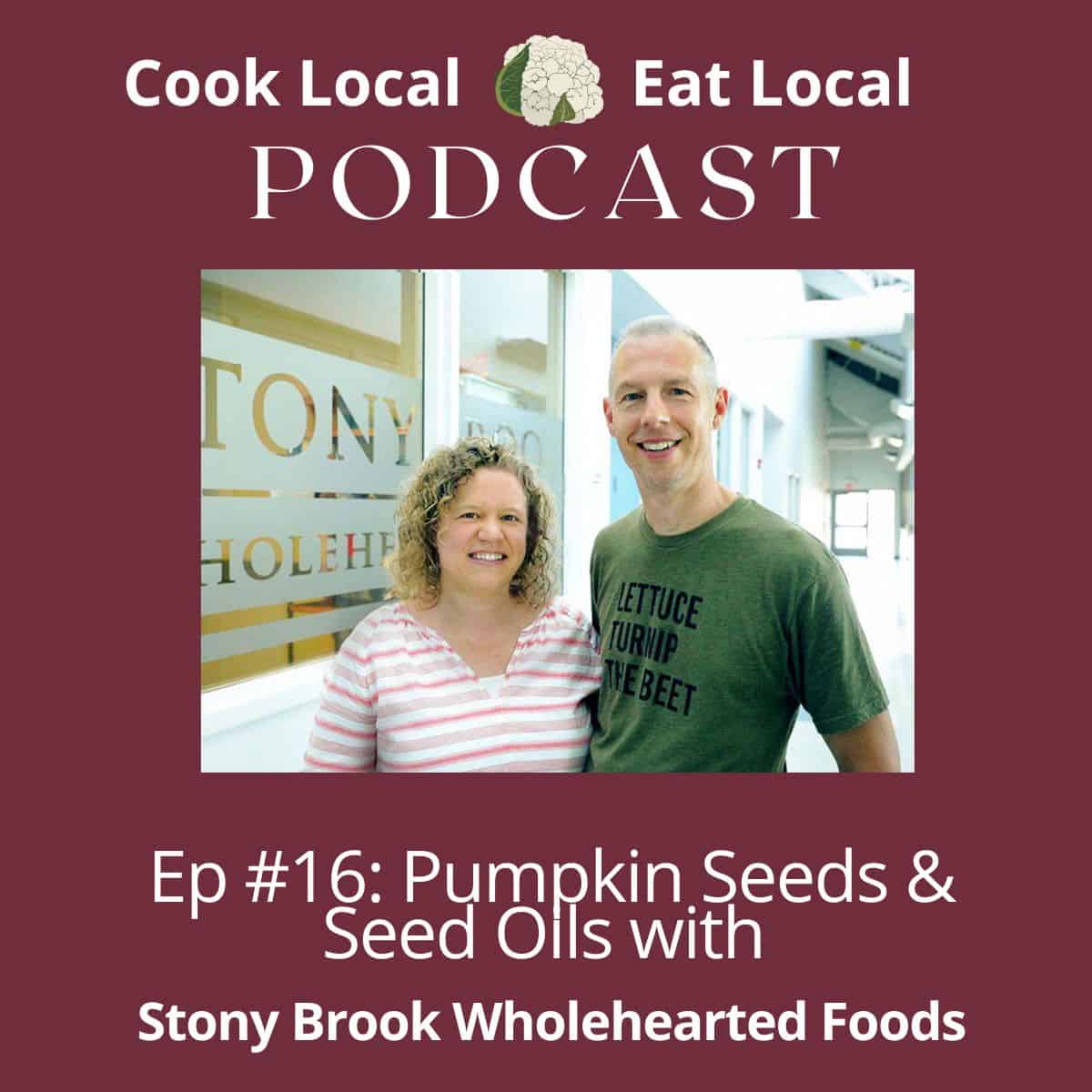 Here's some more background information about this week's guests.
Kelly Coughlin is co-founder and manages design and marketing of Stony Brook WholeHeartedFoods, LLC, which she founded in 2008 alongside Greg Woodworth, her partner in life and business. Stony Brook WholeHeartedFoods is a manufacturer of culinary oils and seed snacks in Geneva, NY that features local, farm-sourced ingredients. Kelly received a BA from Cornell University with a double major in Biology and English, and a master's in Public Health from Harvard University. She maintains her connections and passion for the environment and more than 20 years in environmental management with memberships in local watershed organizations and assisting in nonprofit water quality research.
Greg Woodworth is the co-founder and managing director of Stony Brook WholeHeartedFoods, a Finger Lakes based manufacturer of seed snacks and culinary seed oils. Prior to moving to the region, Greg founded Stony Brook Cookie Company in Boston, an online cookie gift service provider. As part of Restaurant Associates, Greg worked as Director of Foodservice Operations, Director of Catering, Financial Controller and Corporate Purchaser. Greg has served two terms on the Board of Directors for Cornell Cooperative Extension, Ontario County and serves on the City of Geneva Revolving Loans Committee to assist and direct start-up businesses. Greg graduated from the Cornell Hotel School and lives with his wife Kelly Coughlin in Geneva, New York.