Asian Grilled Pork Tenderloin is an easy and flavorful meal to make from the grill. Allow for at least one hour of marinating time in addition to the active prep and cooking time given; in other words start working on this at least 90 minutes before you want to sit down to dinner. Most of that time you can relax as the pork marinates and then cooks on the grill!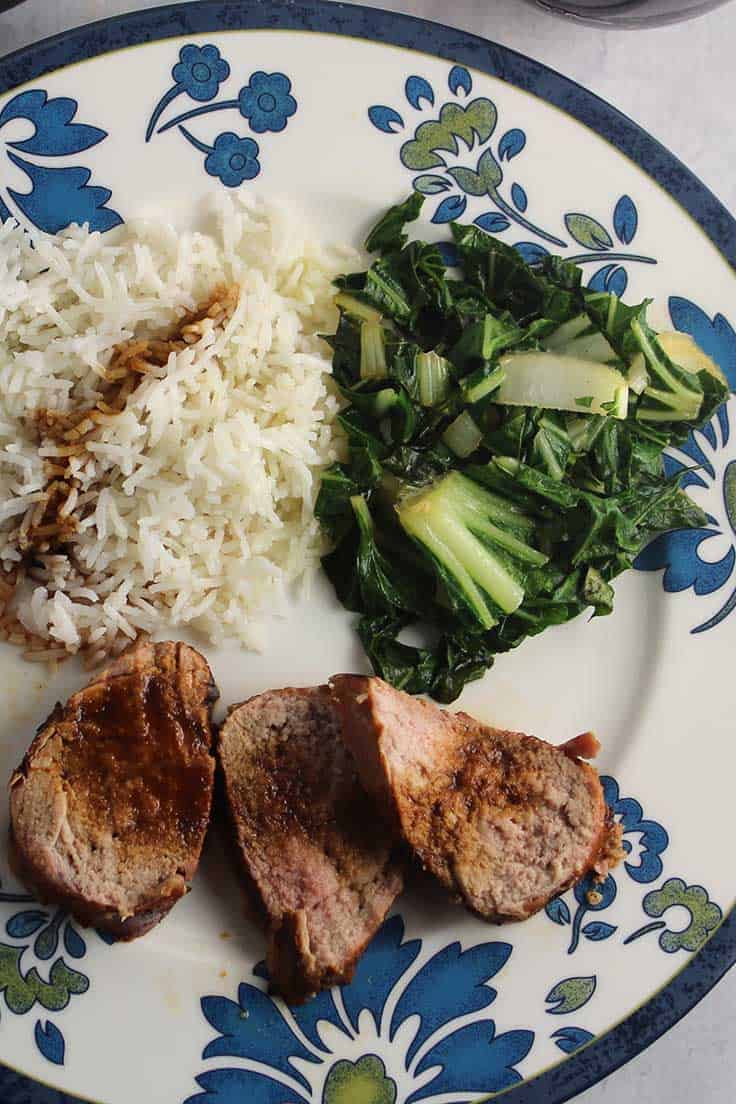 Two of my board members share my passion for good food and wine, and we often find ourselves sharing some after our quarterly meetings.
Recently one of these board members hosted us for a casual summer meal to catch up. We started by blind tasting two GSM blends (Grenache, Syrah and Mourvedre). We knew one was a Châteauneuf-du-Pape, and the other a GSM blend from Paso Robles. The Paso winemaker used old world techniques, making it a tough call picking out which was which–but both wines were wonderful!
As we sipped our wine on the patio, Frank put together a simple, low maintenance meal featuring grilled pork tenderloin and fresh corn on the cob. As I savored the pork tenderloin with an Asian flavored marinade, I thought I would need to replicate the dish at home soon. Our Asian Grilled Pork Tenderloin is the result of that plan!
Pork tenderloin is juicy and flavorful when cooked right, and easily absorbs the flavors you cook and serve it with. For instance, we recently enjoyed Grilled Pork Tenderloin with Cilantro Pesto. And we also recently featured it in a delicious Pork Tenderloin Pasta recipe!
Making this recipe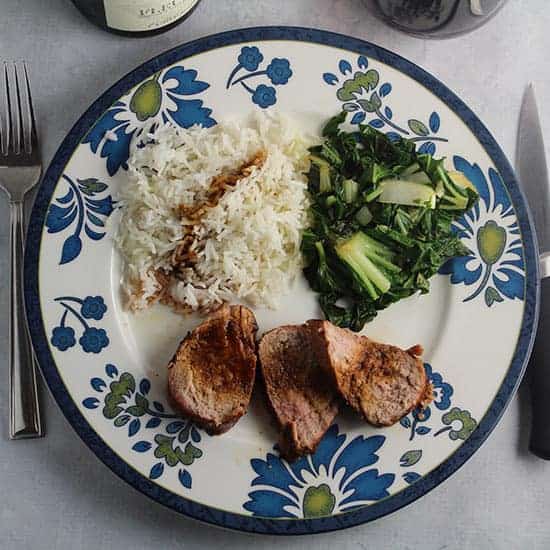 The Asian Grilled Pork Tenderloin starts with a simple marinade with soy sauce and a few other ingredients. Allow at least an hour to marinate the pork, two hours would work great if you have time.
We reserve the marinade to make a tasty sauce for the pork tenderloin. Any time you want to use marinade for a sauce, be sure to boil it for a good five to ten minutes. This reduces the sauce while also ensuring food safety.
I give the grilling time for pork tenderloin as 15 to 20 minutes. Your actual time will vary based on your grill and size of the pork. Be sure not to overcook the pork! As explained in this post on The Spruce, cooking pork to medium (145 degrees) is perfectly safe and much tastier than well-done meat.
I served the Asian Grilled Pork Tenderloin with some sautéed bok choy and rice drizzled with a bit of the sauce.
If you like this recipe, you might also like our Maple Pork Tenderloin recipe!
Wine Pairing
A white wine could work for Asian flavor pork. I did contemplate trying a Riesling with the Asian Grilled Pork Tenderloin; a white Rhone or a Chardonnay might also work. But I was in the mood for a red wine.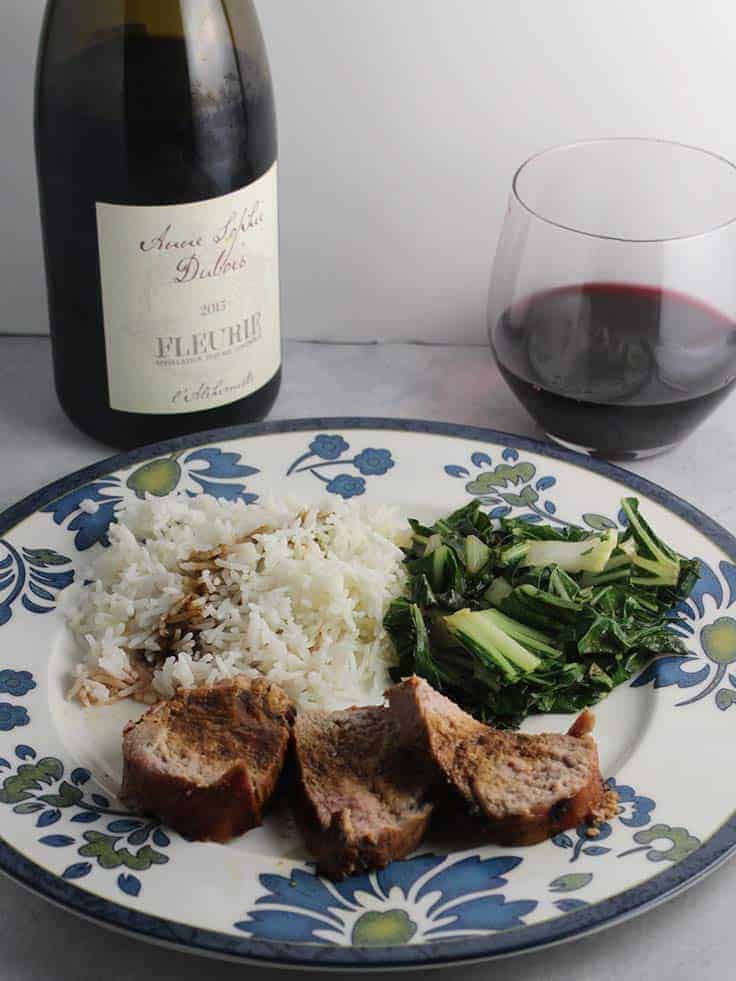 Pinot Noir is a natural red wine choice for Asian style meat dish, as the acidity can offset the saltiness of the dish. Keeping in mind that a Beaujolais can often be a good pairing alternative to Pinot, I served the Asian Grilled Pork Tenderloin with the 2015 Anne Sophie Dubois Fleurie ($24, 13.6% ABV), a red Beaujolais wine made from the Gamay grape. The wine is bright purplish red in the glass, with good cherry fruit and a pleasant mouthfeel. Notable minerality, a very good wine that is a great choice for our Asian Pork Tenderloin.
Fleurie is a region in the northern part of Beaujolais, noted for its soil which is largely pink granite. Definitely can see that come through in the mineral notes in the wine. I really enjoyed the wine and will have to try more from this appellation.
If you happen to be in the mood for a white wine, we have enjoyed this with a special white wine from Southern France, the Cigalus Blanc from Gérard Bertrand.
Print
Asian Grilled Pork Tenderloin
Pork tenderloin with a simple Asian style marinade for a flavorful meal from the grill. Topped with a sauce made using the marinade.
Author: Cooking Chat
Prep Time:

15 mins

Cook Time:

20 mins

Total Time:

35 mins

Yield:

6

servings

1

x
Category:

Main

Method:

grilling

Cuisine:

Asian
FOR THE MARINADE
⅓ cup

soy sauce, preferably low sodium

1 tbsp

cider vinegar

2 tsp

brown sugar

1 tsp

vegetable oil

½ tsp

garlic
Pinch of ginger

¼ tsp

Chinese five spice blend

2

pork tenderloins
FOR THE SAUCE

2 tbsp

white wine

1 tbsp

soy sauce

3 tbsp

orange juice
reserved marinade
Instructions
Make the marinade by combining the marinade ingredients in a bowl — from the ⅓ cup soy sauce through the five spice blend.
Rinse and pat dry the pork tenderloin. Add the pork to a large sealable plastic bag. Pour in the marinade and close the bag. Gently toss the pork to get it well coated in the marinade. Put in the refrigerator to marinate for 1 to 2 hours.
Remove the pork from the refrigerator 15 minutes prior to the time you plan to start grilling. Preheat a grill to medium high and light coat the grill with oil spray.
When the grill is hot, remove the pork from the marinade, gently shaking the excess marinade back into the bag.
Place the pork tenderloin on the grill, and grill covered for a total of 16 to 20 minutes, turning halfway through the grilling time.
Pour the excess marinade from the bag into a small sauce pan, and add the remaining sauce ingredients–white wine, 1 tablespoon soy sauce and orange juice. Bring to a boil, then reduce to a gentle boil for 10 minutes, stirring occasionally. Keep warm as the pork finishes cooking.
Check the pork for doneness at 15 minutes of grilling time. Pork tenderloin should be 145 degrees internal temperature and still juicy and moist when done.
When the pork is done, let it rest on a platter for 5 minutes. Slice the pork and plate, drizzling a bit of the sauce over the pork and passing extra sauce at the table. Enjoy!
Keywords: grilled pork tenderloin, Asian pork tenderloin
Recipe Card powered by