My ears perked up when the woman next to me at the farmer's market inquired in a Caribbean inflected accent about callalloo. Back when I was working in Cambridge, a vendor at the Central Square farmer's market turned me on to this tasty green popular in the islands. And he urged me to use the meaty stems as well as the leaves, which makes it a heartier side. But it's not something I've seen at the grocery store, so hadn't made it in years. I was glad to come upon it at our local market at Spence Farm last weekend and make up a batch following this simple recipe. And yes, though its flavor is a bit different than some more familiar greens, it too tastes good with bacon!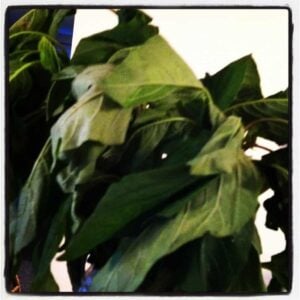 bunch of callallo ready for prep
1 strip bacon
2 to 3 cloves garlic, minced
2 tablespoon olive oil
bit salt red pepper flakes
callalloo, coarsely chopped including stems
pinch of salt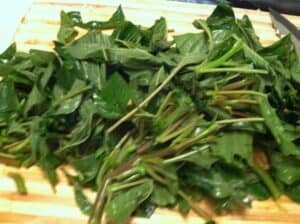 Heat a large skillet with cooking oil on medium. When hot, add the strip of bacon and cook until nice and crispy. Remove the bacon, set on a plate with a paper towel on top to cool. Empty most of the bacon grease, leaving a bit in the pan for flavor.
Add a tablespoon of the olive oil to the skillet on medium heat. Add the garlic, cook for a minute until it begins to turn golden. Gradually stir in the callalloo in batches, so that one batch begins to cook down creating room for more greens. Once all the greens are in the pan, stir to combine with the garlic and the 2nd tablespoon of olive oil. Add a pinch of red pepper flakes and salt. Saute for about 15 minutes until the greens are softened, stirring occasionally. You want to have a bit of liquid in the pan, if needed add a bit of additional oil and/or some water. White wine would be another option.
The greens are ready when nice and tender. Crumble the bacon and stir it into the greens shortly before serving. We had this along with some mashed potatoes, which was a nice combo, though rice would be a more traditional accompaniment. Though the stems have a meaty quality to them, we also enjoyed a bit of roast chicken with this dish, too. If you're looking to try a new healthy vegetable, give this one a try!