As Thanksgiving approaches, you may be wondering what wine goes with turkey? Well, we have been experimenting over the years to find some of the best wine with turkey, and will share our picks with you here. Bonus: we are also including our Herb Roasted Turkey Breast recipe, which is a great option for a smaller group.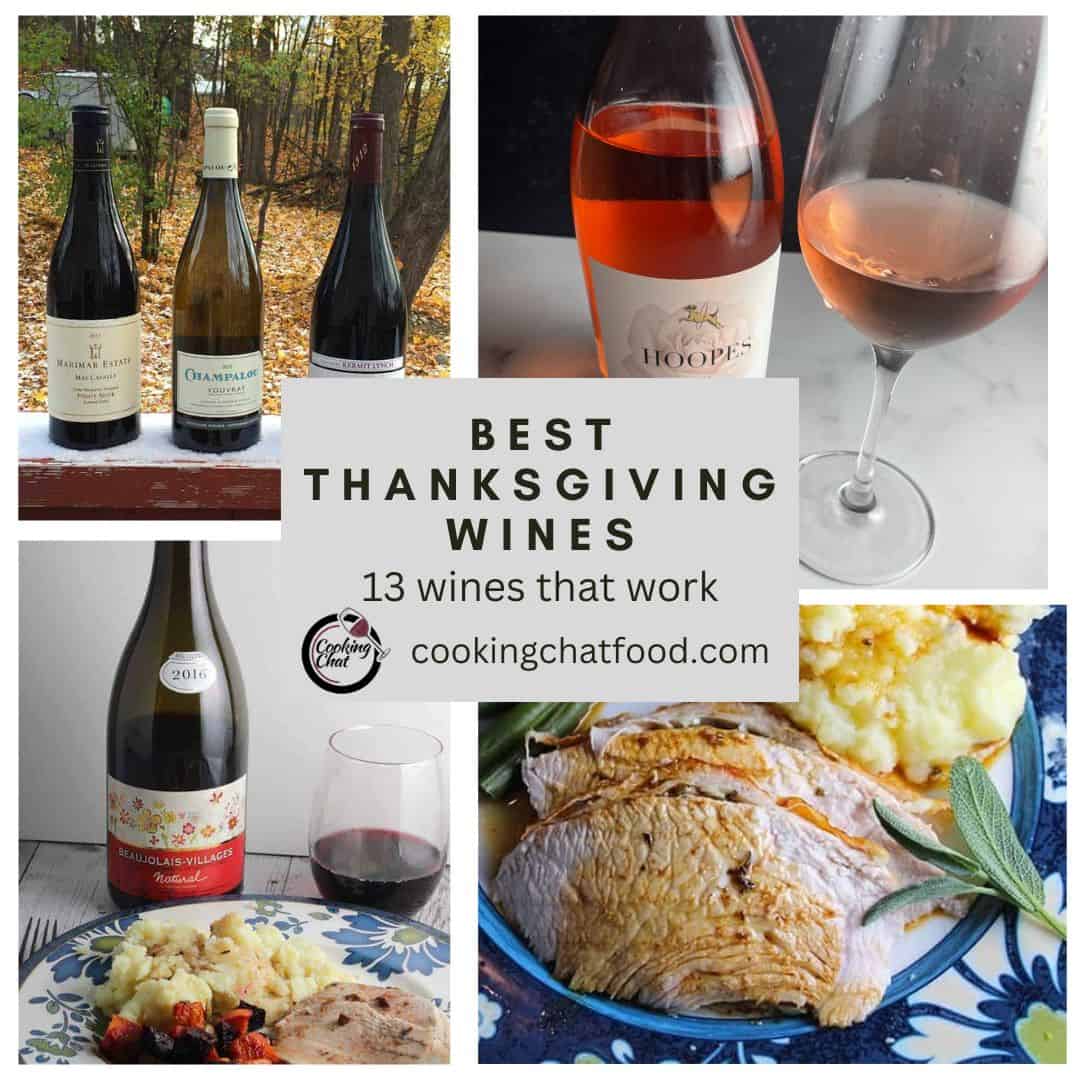 We start out with some reliable choices for pairing wine with turkey, followed by some creative turkey wine pairing ideas. Read on for some additional tips…plus, if you are looking for a delicious roast turkey breast recipe that goes especially well with some of the red wine options, we have you covered there, too.
Jump to:
Best wine with turkey – reliable options
OK, I have a lot to say about wines to pair with turkey. But let me start by giving some solid, reliable types of wine that go with turkey, for those of you who want to cut to the chase. These wines go well with the turkey itself and tend to also pair with common side dishes for a turkey dinner.
White wine and rosés
Chenin Blanc is a medium-bodied white wine grape that is versatile and food-friendly. France, particularly the Loire region, and South Africa, are good sources for Chenin Blanc. Vouvray is a great type of Chenin Blanc to pick. This is an appellation within the Loire where the the white wine is made with Chenin Blanc.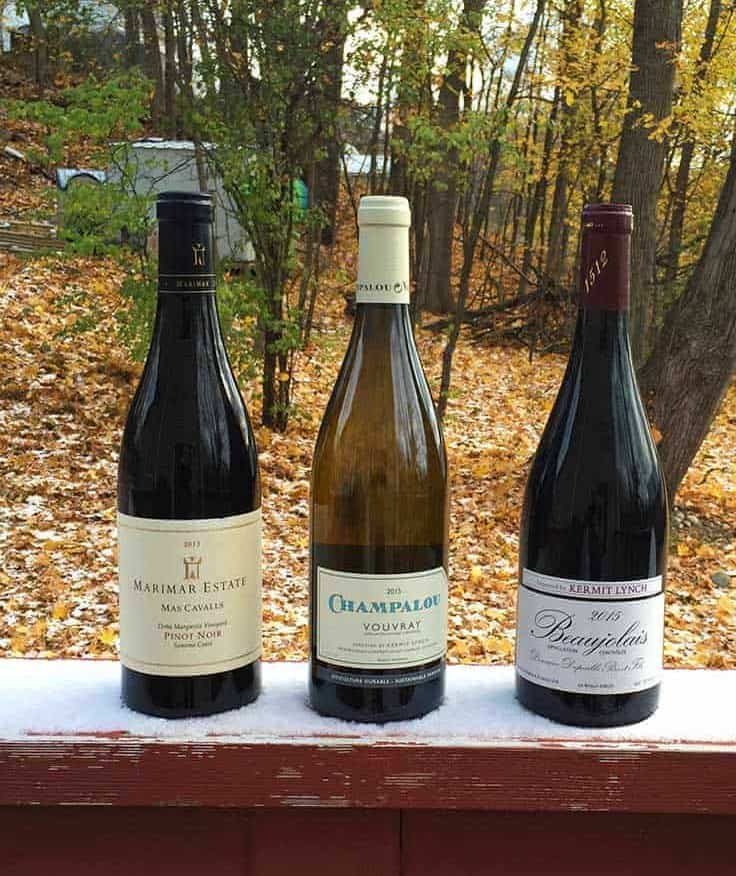 Champalou Vouvray is a reliable choice in this category.
Pinot Gris/ Pinot Grigio is another good choice in the white wine department if you pick a good quality bottle (there are cheap versions that give the grape a bad name). Albino Armani is an Italian producer with a great passion for Pinot Grigio; and can be a great choice.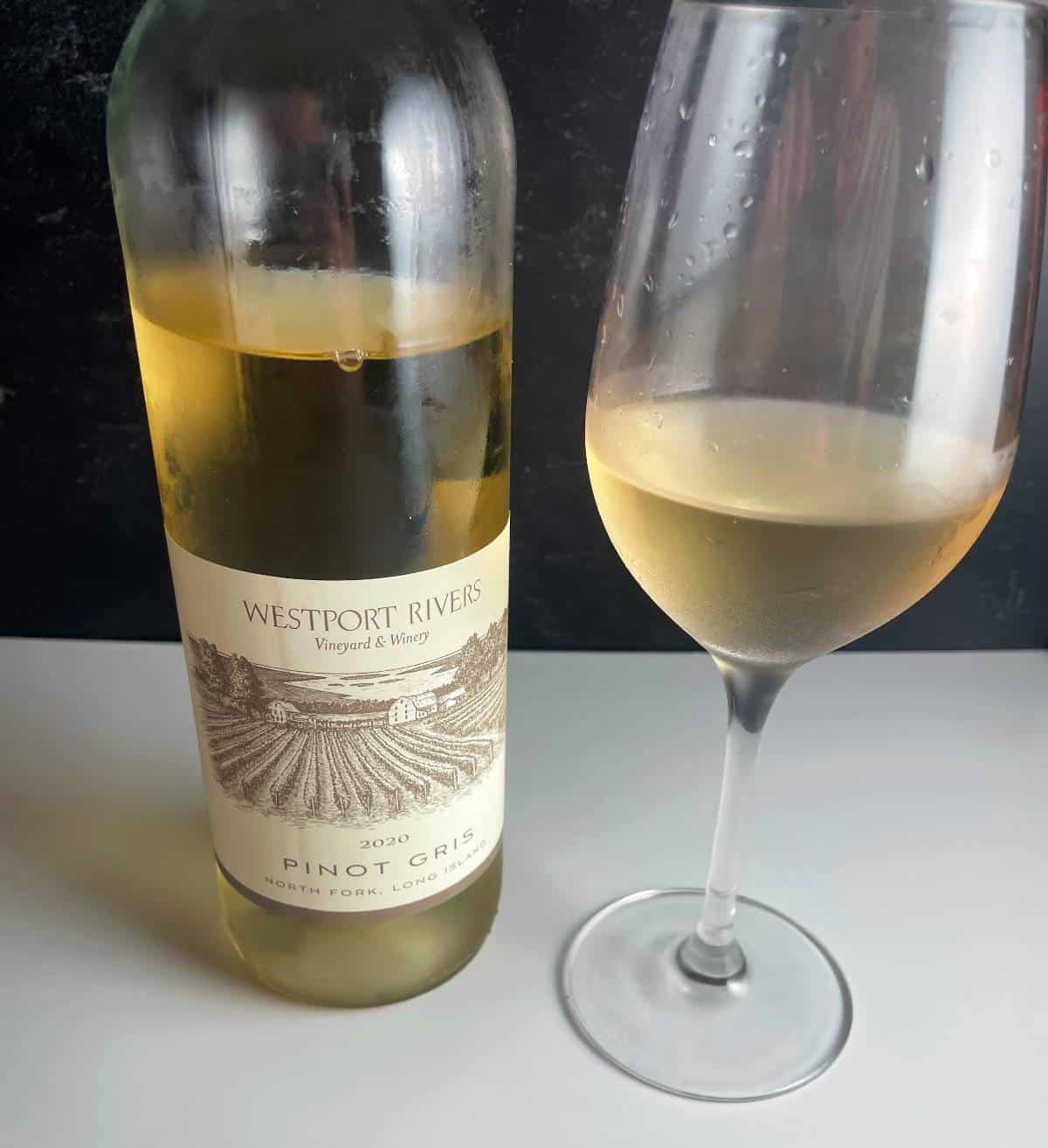 Pinot Gris from Oregon is a nice option for Thanksgiving if you want go for an American white wine. Westport Rivers Pinot Gris is a nice option if you'd like to feature a New England winery. It's located about an hour from Plymouth.
Full bodied rosés can pair well with turkey and match the sides as well. We enjoyed a Cerasuolo d'Abruzzo for a recent Thanksgiving, but those can be a bit hard to find. The Hoopes Rosé is a very good one I've tried recently, made from Napa Cabernet. Other good recent rosés I've had include the Alexander Valley Vineyards Dry Rosé of Sangiovese ($18) and the Famille Bougrier Rosé d'Anjou ($12).
Red wine pairings
Pinot Noir is definitely a go to red wine turkey! While I like to try other wines, there's almost always Pinot Noir involved for Thanksgiving. Pinot tends to be lighter than other reds, and many have an earthiness that can work well with a variety of foods served with the turkey dinner.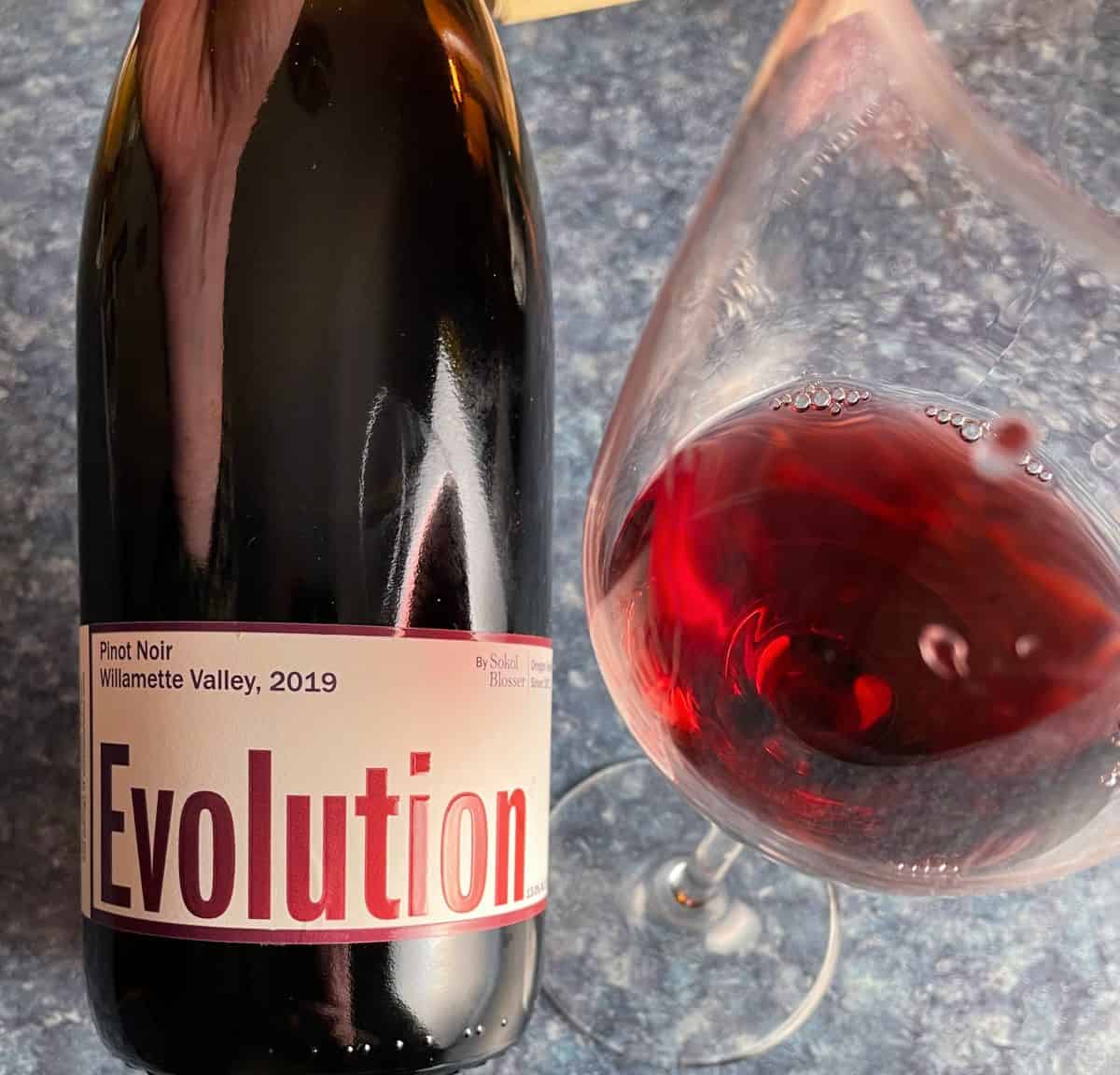 As much as I like Burgundy, I tend to go for American Pinot Noir for Thanksgiving, both because it's an American holiday and they tend to be more fruit forward. Some moderately priced (i.e. around $20 or less) Pinot options include Hahn Pinot Noir (California), Ritual Pinot Noir (Chile – I wrote about Ritual here), Evolution from Sokol Blosser (Willamette Valley) and Banshee from Sonoma County. The 2020 Pullus Pinot Noir ($17) from Slovenia is another good option that I recently tasted at the Pamplemousse (Reading, MA) holiday tasting.
If you're up for considering a higher priced Pinot Noir, some wines worthy of the splurge that work well with turkey include Eric Kent Russian River Valley Pinot Noir, Marimar Estate Pinot from the Sonoma Coast and Sokol Blosser Big Tree Block Pinot Noir from Oregon's Dundee Hills. (Sokol Blosser has other good options but I happened to give that bottle a rare for me "5" rating on Vivino!).
Beaujolais: I'm not a fan of the young Beaujolais Nouveau that comes out in November. But Beaujolais Villages and Cru Beaujolais are good quality French red wines made from the Gamay, and are very food friendly. The earthy Beaujolais wines can be a good partner with turkey and other savory dishes on the table.
We covered some good Beaujolais pairings in a past article, and you can get more background on the region in this article. The 2015 Brouilly Tradition from Domaine de Briante is one we particularly enjoyed; I'm going to have to seek out a newer vintage for this Thanksgiving! And the Domaine de la Gran'Cour Fleurie Lieu-dit Champagne Vielles Vignes ($42) is a very elegant expression of Gamay that I tried a Pamplemousse.
Zinfandel is another classic wine choice for Thanksgiving. It has often been referred to as an "All American Grape", thus making it a natural choice for the American holiday. We now know it is genetically similar to the Italian grape Primitivo, and this article covers some of the Zinfandel history showing its European roots.
The Marietta Román Zinfandel ($25) from Sonoma County is a very good Zinfandel I've enjoyed recently. Pedroncelli is a solid choice for reasonably priced Zinfandel. Ridge is a well-known Zinfandel producer if you are up for spending more.
Creative turkey wine pairings
OK, now that we've covered 6 reliable turkey wine pairings, let's now move to some additional creative ideas.
Gewurztraminer: Chatting about Thanksgiving wine pairings on social media, I found a few touting the merits of Gewurztraminer as a pairing choice. Thus it was timely that my sister brought a bottle to a recent Thanksgiving dinner. Anne de K Gewurzttraminer ($18) from Alsace. Lighter than the Pinot Gris, the spice element was good with things like stuffing and gravy that had notable amounts of black pepper in the preparation.
Furmint, a dry white wine from Hungary, can be another great choice for Thanksgiving. We have tested the Royal Tokaji Furmint, with a smoky fruit aspect on the palate, that worked nicely with the turkey gravy. Sauska is another Furmint I've enjoyed, and Oddity is another one that is available fairly often.
Riesling is known for its versatility and food friendliness, so it's no surprise to see it mentioned as a turkey wine pairing option. Alsace is a great region for Riesling.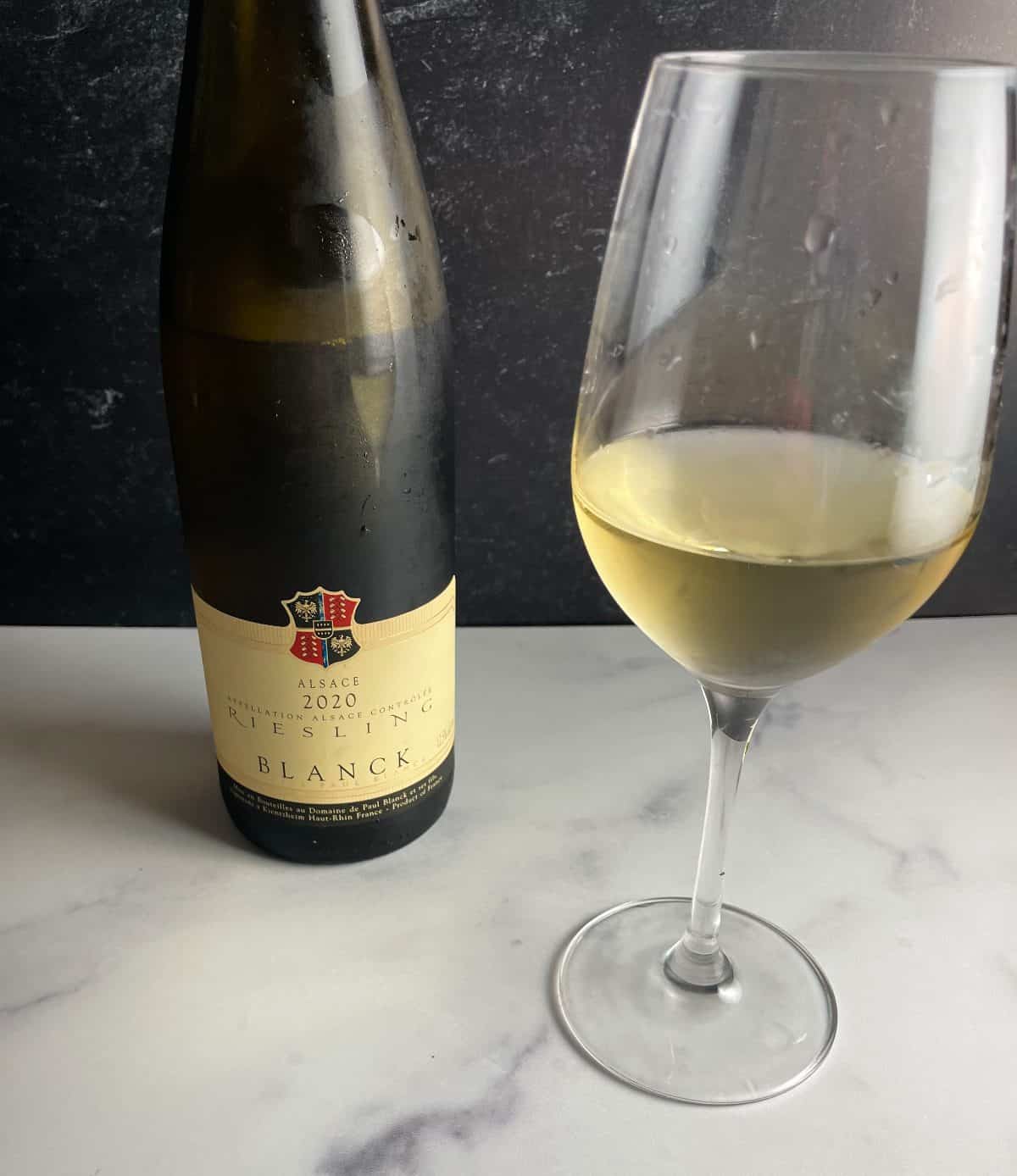 The Paul Blank Riesling Classique ($22, 12.5% ABV) is a good one I've tried recently. If you want to go with an American Riesling, the Finger Lakes is a great region to choose. Washington state also can be a good source for Riesling.
Albariño definitely falls into the creative category when considering Thanksgiving wine pairings! Some years ago we tried the Benito Santos Albarino ($20, 13% ABV), and noted that this crisp Albariño worked quite well, especially with things like the squash and cranberry sauce.
Rhone Reds are definitely worthy of consideration to pair with turkey. Especially from under the radar Cru regions like Lirac and Rasteau. These are high quality GSM blends (Grenache / Syrah / Mourvedre). We had the 2016 Domaine Coudoulis Lirac Red (appx $15, 15% ABV) as one of several bottles opened for a past Thanksgiving. After having had a fair amount of food and wine already, the bold flavors of this wine re-awakened my palate. Higher alcohol than you'd expect would work well with all the foods on the table, but a well-made wine can surprise!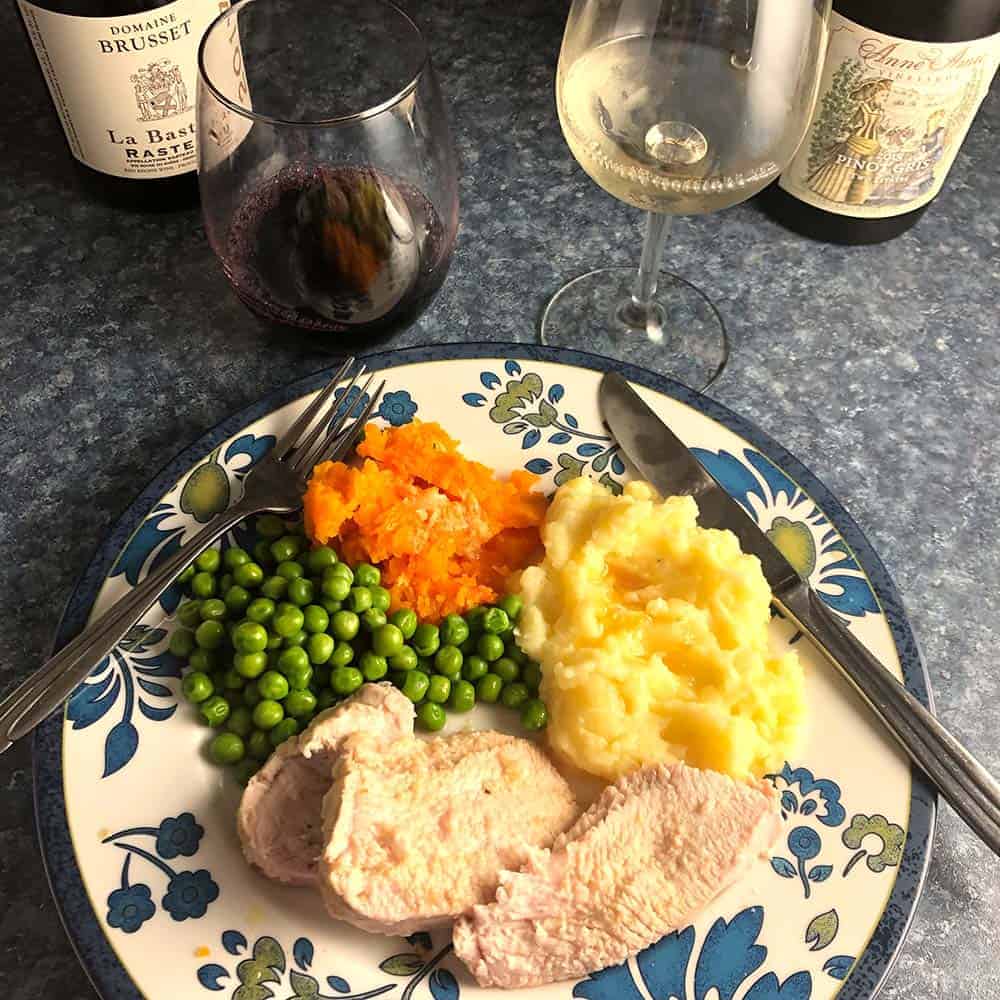 The 2017 Domaine Brussett La Bastide ($21, 13.5% ABV–sample bottle provided) from the Rasteau AOC has rustic qualities that made it a nice match for the herb roasted turkey (recipe follows below), especially with its herbal qualities. For more on the Rasteau AOC in the Rhone Valley, see this article we did on the subject.
Merlot is not something I have typically considered for Thanksgiving.
However, as noted in this Merlot food pairing article, cranberries are a good bridge ingredient for Merlot pairing. And of course, we know cranberry is often served with a turkey dinner. We leaned into the Merlot / cranberry combination with this Roast Turkey Breast with Cranberry Merlot Sauce.
You'd want to pick a Merlot like this with some level of refinement to be a good food partner. Stay away from cheap Merlot fruit bombs for the big meal! L'Ecole and Duckhorn are a couple of good Merlot options that fit the bill.
Tips for pairing wine with turkey
So I've given you about a dozen types of wine that work very well with turkey, based on my tasting over the years. Let me also share some general tips that can help you try other types of wine, and find specific bottles of wine that will work for you.
Fruit forward wines tend to go well with turkey and the various sides often served with turkey.
Fruit forward wines tend to go well with turkey and the various sides often served with turkey.
Lower alcohol wines are generally more food friendly, and this can be especially helpful when you are pairing wine for a big Thanksgiving feast.
Avoid wine with a lot of tannins that tend to clash with turkey and the sides. Save that big Napa Cabernet or Bordeaux for another day – maybe your holiday spoon roast!
Match flavor elements on the table with the tasting notes of the wine. For instance, the sage we have included in our roasted turkey breast recipe matches the garrigue notes of the wines we have paired with it.
Experiment with a variety wines, and see what you like best! An article like this one can give you some ideas, but there's nothing like testing your own taste buds! Thanksgiving can be a great chance to experiment, if you have a group of wine drinkers at the table. Open several bottles, take a modest pour of each, and see what works best for you.
Best wine with turkey – Frequently Asked Questions
Red or white wine with turkey?
The quick answer is that both red and white wines can work with turkey! We have tested a variety options of both types that can work. My personal preference is to pair a red wine if I'm focused mostly on the savory turkey and gravy. But white wines can work very well with many of the classic Thanksgiving side dishes, so white wines can be a good choice, too.
What kind of wine is best with turkey?
Chenin Blanc, Pinot Gris / Pinot Grigio, Pinot Noir and Beaujolais some of the best wines to serve with turkey. This Cooking Chat article has many more ideas of wines that can go with turkey, too!
Can you serve red wine with turkey?
Yes, a number of red wines can go well with turkey. Red wines that are light to medium body, and low in tannins, are the best to serve with turkey.
Are there wines that are not good to have with turkey?
Stay away from wines with a lot of tannins. Also, wines with high alcohol content can clash with many of the dishes served along with a turkey dinner.
Roast turkey breast recipe
Now that we've covered wine pairings for turkey, let's share one of our favorite recipes for roast turkey.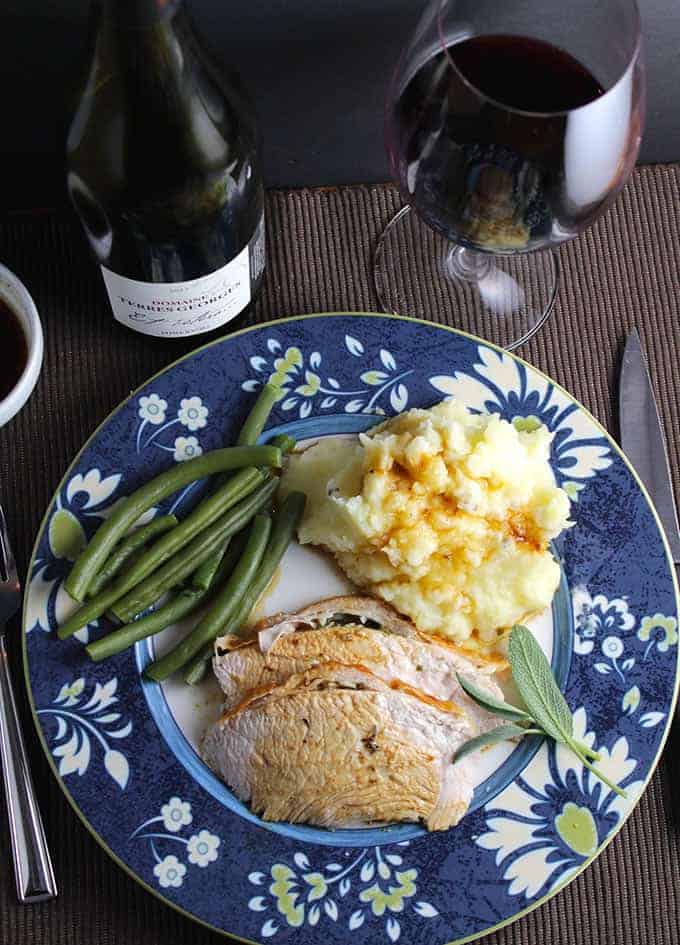 This Herb Roasted Turkey Breast is an easy recipe for creating moist, flavorful turkey. A great option for a group of eight or so gathering for Thanksgiving or other occasions. This turkey recipe goes especially well with some of the red wines we recommend for turkey pairing.
Inspiration for Garrigue Herb Roasted Turkey
Imagine yourself driving through the French countryside, windows rolled down on a warm, sun drenched day. Smells of lavender, thyme and rosemary waft in. That fresh herb aroma can be captured in the character of a wine, and that quality is called garrigue.
When I was contacted back in 2015 to see if I'd be interested in trying a potential Thanksgiving wine pairing involving the garrigue herbs and some Languedoc AOP wine, I was all in! While I do often fall back to Pinot Noir with the fairly traditional turkey we eat on Thanksgiving, I like to experiment, too.
And I especially like food and wine pairings where both elements grow together in the same region. That concept worked very nicely when we originally made this Garrigue Herb Roasted Turkey Breast with a Wine from Languedoc pairing we came up with for the November 2015 Thanksgiving edition of Wine Pairing Weekend.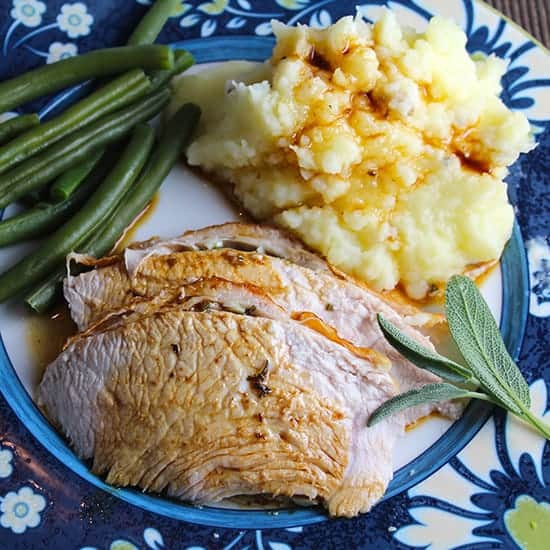 Tips for making this recipe
Roast turkey breast can be a nice option if you are just cooking for your immediate family or a smaller gathering.
For this recipe, I made an herb butter with sage, rosemary and thyme — classic garrigue herbs. I rubbed it all over the turkey before roasting, and the house smelled great for the next couple of hours.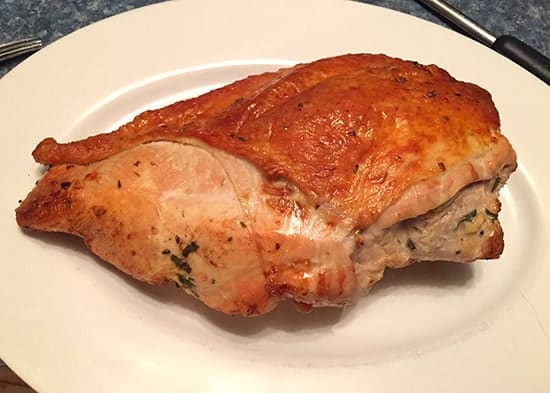 Here are some tips for making Herb Roast Turkey Breast. For the full detailed instructions, click here to jump down to the recipe card.
Start by making the herb butter. Take the butter out about 30 minutes prior to using it to soften.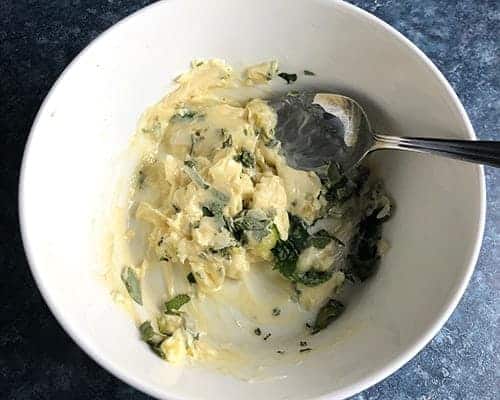 The recipe calls for fresh rosemary, thyme and sage (garrigue herbs). But you can use dried herbs if you like; using at least one fresh herb is idea.
Rub the herb butter all over the turkey breast. In addition, separate a bit of the skin from the turkey flesh and slip a bit of the butter underneath the skin.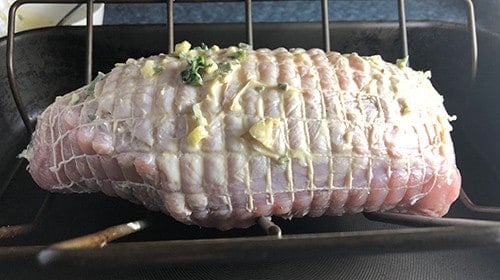 I used a 325 degree setting in a convection oven. If you don't have convection, adjust the heat to 350 degrees conventional.
Place the turkey skin side up so the fat from the skin drips into the meat.
Roasting times vary based on your oven and the size of the turkey. Roasting times for a 3 to 5 lb turkey breast are typically given as 90 to 120 minutes. Check at 90 minutes, temperature in middle should be 170 degrees. Our 4 pound turkey breast was ready at the 90 minute mark.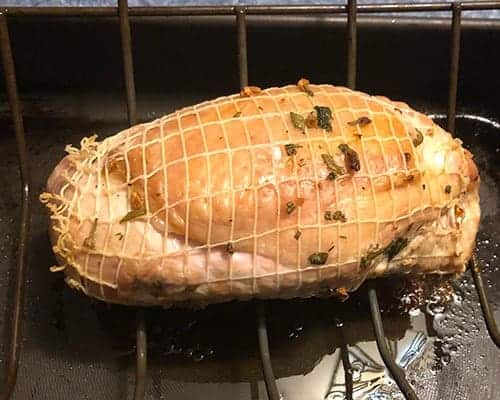 The turkey breast should register 165 degrees when checked with a meat thermometer in the thickest part of the breast meat.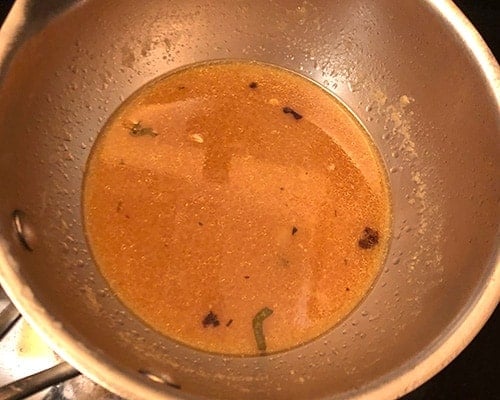 The first time I made the gravy, I had some liquid from reconstituting porcini mushrooms and used ¼ cup of that along with the chicken broth. If you have something like that on hand, it adds nice depth of flavor. But it is fine to just use chicken stock if that is what you have.
If you wind up with leftovers, two of our favorite recipes are this Turkey and Butternut Squash Stew and our Leftover Turkey Pasta with Mushrooms.
Wine pairings for roast turkey recipe
Making this Herb Roasted Turkey Breast again this year gave me a chance to test out some new wine pairings. For many years, I often went for red wine almost exclusively with the Thanksgiving meal. But more recently I've been bringing some whites to the table. I did a red or wine for turkey comparison this time; here are the results.
The 2017 Domaine Brussett La Bastide ($21, 13.5% ABV–sample bottle provided) from the Rasteau AOC has rustic qualities that made it a nice match for this turkey recipe, especially with its herbal qualities. For more on the Rasteau AOC in the Rhone Valley, see this article we did on the subject.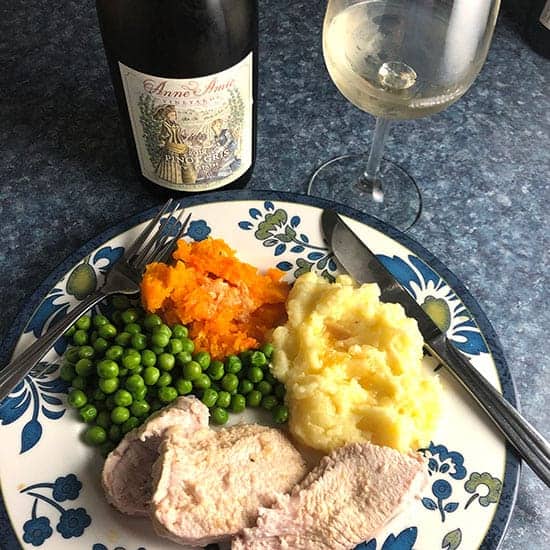 Our white option for this turkey dinner was the 2018 Anne Amie Vineyards Willamette Valley Pinot Gris ($20, 13.3% ABV). Honeysuckle on the nose, on the palate honeydew melon and lychee; underling minerality and a light touch of honey. A very good wine.
Chenin Blanc, the grape varietal used for Vouvray, is another Thanksgiving dinner friendly white wine I've tested out recently. And you can't go wrong with a good Pinot Noir if you are in the mood for red wine!
You can also enjoy this turkey recipe with a good American Pinot Noir! That was what we did the last time we made this recipe.
A Languedoc wine pairing
For the original making of this recipe, I opened the 2013 Domaine Terres Georges Minervois Et Cetera ($14 — I was given a sample bottle), a blend of Carrignan (40%), Grenache (40%) and Syrah (20 %). Minervois is an AOC in the Languedoc region of France.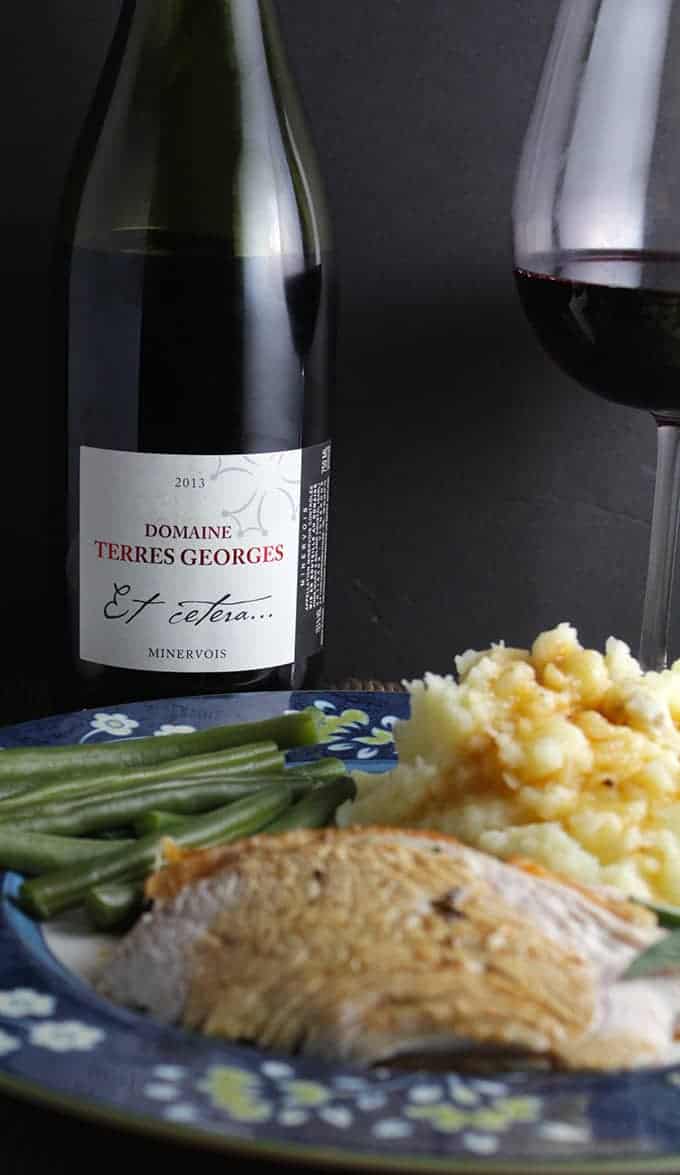 Sure enough, I detected earthiness and fresh herbs on the nose. Taste of plum fruit, lavender and stone. Those garrigue herbs really come through, and make for a great pairing with the herb roasted turkey breast. This pairing is definitely a winner, and one I'd recommend to someone looking for something a little different for Thanksgiving.
Print
Recipe card
Herb Roasted Turkey Breast with Wine Pairings
This Herb Roasted Turkey Breast is an easy recipe for creating moist, flavorful turkey. A great option for a group of eight or so gathering for Thanksgiving or other occasions.
Author: Cooking Chat
Prep Time:

15 mins

Cook Time:

110 mins

Total Time:

2 hours 5 mins

Yield:

10

servings

1

x
Category:

Main

Method:

roasting

Cuisine:

French
2

cloves garlic, minced and divided

5 tbsp

butter (

1

reserved), left out of fridge for 20 minutes or so to soften

1

sprig rosemary, finely chopped

4

sage leaves, chopped

1

sprig thyme, chopped
salt and pepper to taste

4

lbs boneless turkey breast

2 tbsp

shallot

1 ¾ cup

chicken stock (swap in

¼ cup

reserved porcini liquid or other such rich broth if you have it)
sliver lemon peel
pinch thyme
pinch lavender or substitute 2 basil leaves, chopped

2

sage leaves
Instructions
Preheat oven to 325 degrees convection setting (350 conventional).
Make the herb butter: place 4 tablespoons of the softened butter in a small bowl. Add ½ of the minced garlic, the rosemary, 4 chopped sage leaves, the chopped thyme, and salt and pepper to taste. Stir to combine well, and set aside.
With a clean paper towel, pat the turkey breast dry upon removing it from packaging. Set the turkey out on a clean work surface, and rub the butter all over the turkey. Put more on the skin side, work some under the skin if you can.
Place the turkey breast on a roasting rack, in a roasting pan. Place in the oven and roast. Roasting times vary based on your oven and the size of the turkey. Roasting times for a 3 to 5 lb turkey breast typically given as 90 to 120 minutes. Check at 90 minutes, temperature in middle should be 170 degrees. Ours took about 100 minutes in a convection oven to be ready. When done, remove the turkey breast from oven and let rest for 10 minutes on a large platter.
Begin making the light gravy after the turkey has been cooking for 30 minutes or so. Heat the remaining tablespoon of butter in a sauce pan. Add the shallot, and cook 5 minutes until softened.
Add the chicken stock to the sauce pan, and bring to a boil. Then reduce heat to simmer.
Add the lemon peel, pinch of thyme, lavender and 2 sage leaves. Simmer the stock until it is reduced by about ½. Keep warm.
After you've put together the gravy ingredients and they are simmering together, pull out a quarter cup and use that to baste the turkey about halfway through the cooking time.
When the turkey is cooked, strain the broth through a sieve, with a bowl underneath to catch and reserve the liquid. Pour the liquid into the roasting pan. Place the pan on the stove top, and bring the liquid to a boil. Reduce to a simmer, and stir frequently, scraping the bottom of the pan to incorporate the bits of turkey fat that dropped to the bottom of the pan during the roasting. Simmer for a few minutes, then pour the liquid into a serving bowl.
Slice the the turkey, and plate a few pieces along with your side dishes. Serve with the light gravy and a bottle of red wine!
Notes
We previously included rinsing the turkey breast before cooking. We now follow the USDA guidelines to wash your hands, not the turkey!
Take the butter out about 30 minutes prior to cooking to soften it.
If you don't have a convection oven, increase the temperature to 350 degrees for a conventional setting. Cooking time will be similar to convection with that adjustment.
The turkey breast should register 165 degrees upon inserting a meat thermometer into the thickest part of the breast meat.
Keywords: roasted turkey breast, turkey with herb butter, wine pairings for turkey
Recipe Card powered by
More Thanksgiving recipe ideas
If you are looking for another turkey breast recipe idea, try our Roast Turkey Breast with Cranberry Merlot Sauce.
Wondering what to serve with this turkey recipe? Check out our collection of 23 Creative Thanksgiving Sides!
View this article for a full set of Thanksgiving Menu Ideas, including one that features this Herb Roasted Turkey Breast. Most recently, we served this turkey with our Savory Mashed Butternut Squash.
More creative Thanksgiving wine pairings
Back in 2015, we shared this roast turkey recipe along with our initial wine pairings for a Wine Pairing Weekend event. For more turkey wine pairing ideas, check out these articles from my colleagues.
Culinary Adventures with Camilla will share Simple Elegance: Beurre Noisette-Braised Radishes + Sips from Languedoc
Rockin' Red Blog will Celebrate Thanksgiving Lodi Style
A Day in the Life on the Farm will pair Turkey Tetrazzini with a Michigan Wine
Curious Cuisiniere will share French Herb Roasted Turkey with Languedoc Wine
Confessions of a Culinary Diva is planning A Sud Ouest Thanksgiving
Pull That Cork will post #winePW Thanksgiving for Two: Storm Pinot Noir and Seared Duck Breast
Tasting Pour will Pick Picpoul, Choose Corbieres: Languedoc Wines and Thanksgiving
ENOFYLZ Wine Blog shared Pumpkin Gooey Butter Cake Paired With An Aussie Sticky
Grape Experiences posted Wine and Dine: Chateau Paul Mas Belluguette and Mediterranean Fish Stew
Dracaena Wines discusses How to Be Creative with Your Thanksgiving Table