For Open That Bottle Night 2015, we made delicious Avocado Chimichurri Beef Tenderloin to go with a Reininger Carmenere. Read on for the recipe, tasting notes, and links to other Wine Pairing Weekend blogger posts. Visit this post for information about the upcoming Open That Bottle Night.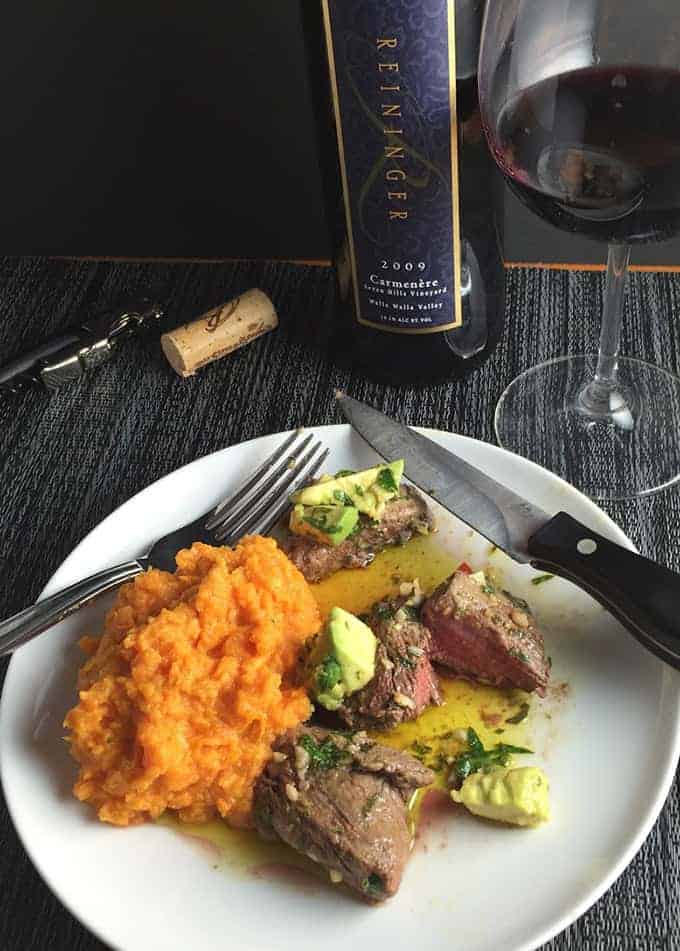 I'm a big fan of Open That Bottle Night (OTBN). Not that I need an excuse to open a special bottle of wine. Good bottles don't languish too long in our cellar. But I do keep one row of wines that I like to keep for a special occasion or a particularly good pairing.
For the uninitiated, OTBN is the 4th Saturday every February, a time to open a bottle that's been waiting too long for a special occasion that has yet to arrive. I thought it would be a fun Wine Pairing Weekend theme to see what wine the #winePW bloggers would open for the occasion, and what food they would pair with the special wine.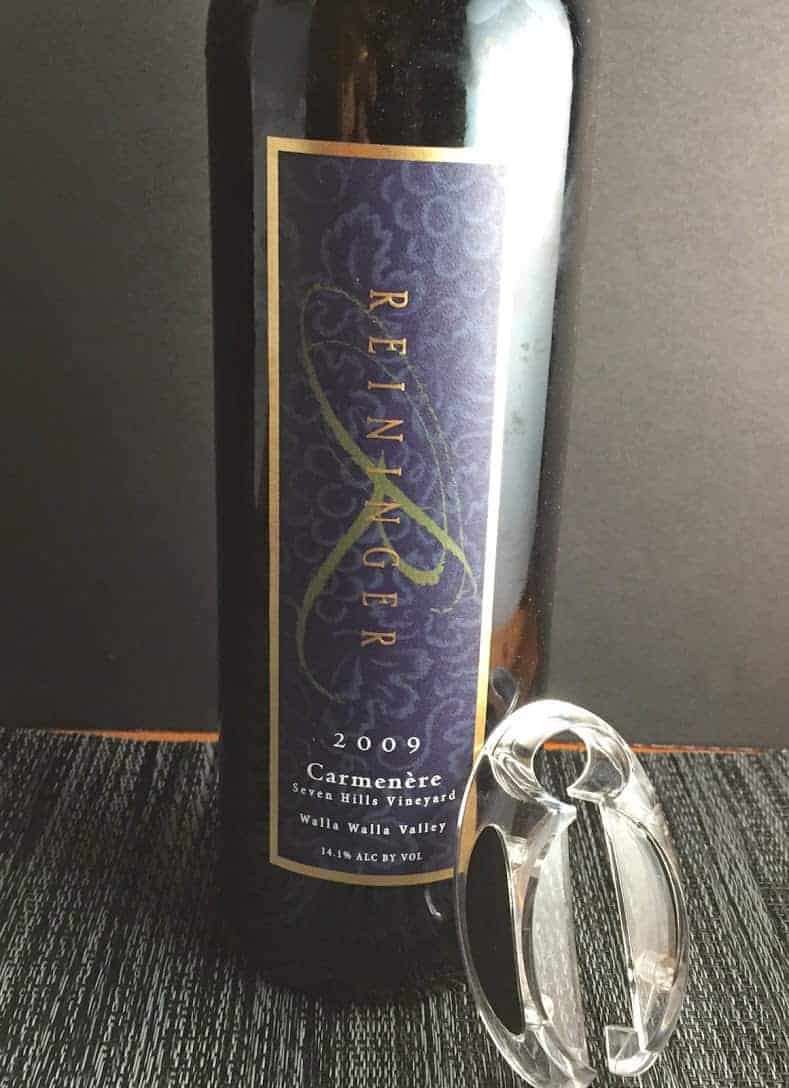 So what would I open this year? I have a good red Burgundy that I was tempted to open, but I decided to be disciplined and let that stay in the cellar longer (don't be surprised to see that opened next OTBN!). Then I thought about a bottle of Carmenere from Reininger Winery in Washington's Walla Walla Valley. I've become a big fan of their wines, including their moderately priced Helix wines, but alas, they will no longer be distributed in Massachusetts. Their Carmenere in particular is very special, so I've been slow to open that bottle…making it a great choice for OTBN!
So with the Carmenere picked out, I needed to decide what to make. Something with a spice element seemed to make sense given the wine's character, so I naturally thought of my Awesome Avocado Chimichurri Sauce. (note: the recipe below assumed you've already grabbed and made the avocado sauce, that recipe was posted yesterday). That sauce was great with steak tacos, but this time I decided to serve it over some beef tenderloin tips. To round out the plate, I added one of my favorite sides, Sweet Potatoes with Cumin Sage Butter. Let's find out how this all came together…
The Pairing: So we opened the 2009 Reininger Carmenere from Seven Hills Vineyard in the Walla Walla Valley. With just 328 cases produced, this is definitely OTBN material!
The wine is deep brick red in the glass. 14.1% alcohol. Lots going on in the bouquet! I got floral qualities and a touch of peppermint. Big, juicy taste. I got blackberry fruit and some peppery spice. There's heft to this wine, some ash and leather qualities. Definitely evolved in the glass over the course of the meal, and we enjoyed the nice long finish.
The spice elements definitely worked well with the avocado chimichurri sauce and the spices in the sweet potatoes, and the wine definitely stands up well to steak. The beef tenderloin tips are an elegant, tender cut. This pairing might have been even better with the sauce over a more rugged cut of beef, such as a flank steak. But I'm not complaining, this was definitely a great pairing and awesome OTBN meal!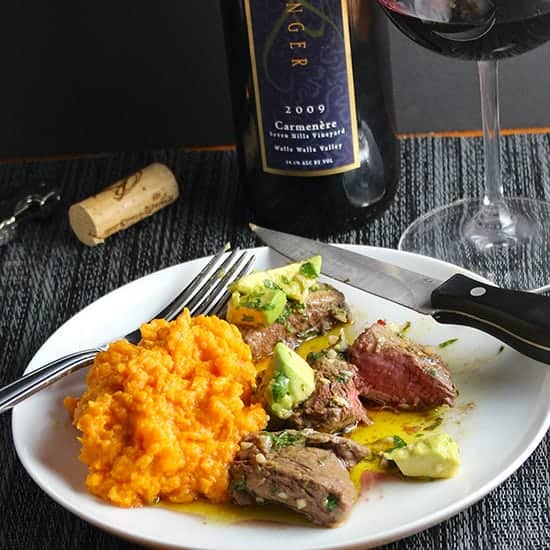 Print
Avocado Chimichurri Beef Tenderloin
Avocado Chimichurri Beef Tenderloin features an awesome sauce that adds great flavor to the tender meat.
Author: Cooking Chat
Prep Time:

10 mins

Cook Time:

10 mins

Total Time:

20 mins

Yield:

3

servings

1

x
Category:

Main

Cuisine:

Latin American
Instructions
When preparing the avocado sauce, hold off on adding the chopped avocado sauce until you get the marinade going.
Pre-heat an oven to 400 degrees.
Scoop out ½ cup of the Avocado Chimichurri Sauce, and pour into a separate bowl. Add the beef tips to that bowl, and toss gently to combine.
Let the beef marinade at room temperature for 10 to 15 minutes. Extend the marinade time for less tender cuts of beef (up to 1 hour at room temperature).
Heat a large oven-proof skillet on medium high heat, and spray with oil. When hot, shake the excess marinade off the beef, then add it to the skillet.
Cook the beef for 2 minutes on one, side, then flip to sear for 2 more minutes on the other side.
Move the skillet to the oven to finish cooking. 4 to 5 minutes at 400 degrees should get you medium rare. Adjust based on your stove and preferences but take care not to overcook this tender cut, noting it will continue cooking as it rests. When you move the skillet into the oven, that's a good time to add the avocado to the chimichurri if you haven't done so yet.
When cooked to your liking, take the skillet out of the oven and move the beef to a platter. Serve topped with the remaining Avocado Chimichurri Sauce…and a glass of red wine, preferably one that has a spicy element to it.
Recipe Card powered by
Be sure to check out these special pairings from my fellow #winePW bloggers!
Culinary Adventures with Camilla paired Roasted Flank Steak with Goat Cheese and Caperberries + La Marea 2012 Mourvèdre
Tasting Pour is sharing Chenin to Sheepie? Brava Cava! #Winewpw #OTBN
Pull That Cork served Crozes Hermitage and Braised Lamb with Puréed Root Vegetables for #winePW 10
Curious Cuisiniere paired Entrecote Bordelaise (Steak: Bordeaux Style) with Red Oak Vineyard Meritage
A Day in the Life on the Farm served up Michigan Red with City Chicken
Girls Gotta Drink is sharing A Priorat Wine Masterpiece: 1974 Scala Dei
Vino Travels paired Fattoria dei Barbi Brunello and Pappardelle with Bolognese
Grape Experiences is sharing Wine and Dine: 2012 Van Duzer Willamette Valley Pinot Noir and Chicken Breasts and Zucchini with Marjoram
Wild 4 Washington Wine paired A Special Oregon Pinot Noir with Eastern North Carolina Inspired Ribs
Rockin Red Blog is sharing Celebrating #OTBN on #WinePW
Cooking Chat paired Avocado Chimichurri Beef Tenderloin with a Reininger Carmenere (you are here)
ENOFYLZ Wine Blog is sharing Friends, Food and Wine; An #OTBN To Remember #winePW.
If you are catching this post early enough, you can join our live Twitter Chat on Saturday, March 14, at 11 a.m. ET, via the Twitter hashtag #winePW. If you've come to us after March 14, consider joining us for #winePW 11 focused on wine pairings for early spring vegetables hosted by A Day in the Life on the Farm on Saturday, April 11.