This Pea and Asparagus Risotto is a delicious recipe to make with some of the vegetables from early in the growing season! We also have called this our "Early Spring Risotto", as it uses asparagus and snow peas. These are some of the first vegetables harvested each season. Whatever you call it, this risotto makes a great vegetarian main course or a delicious side.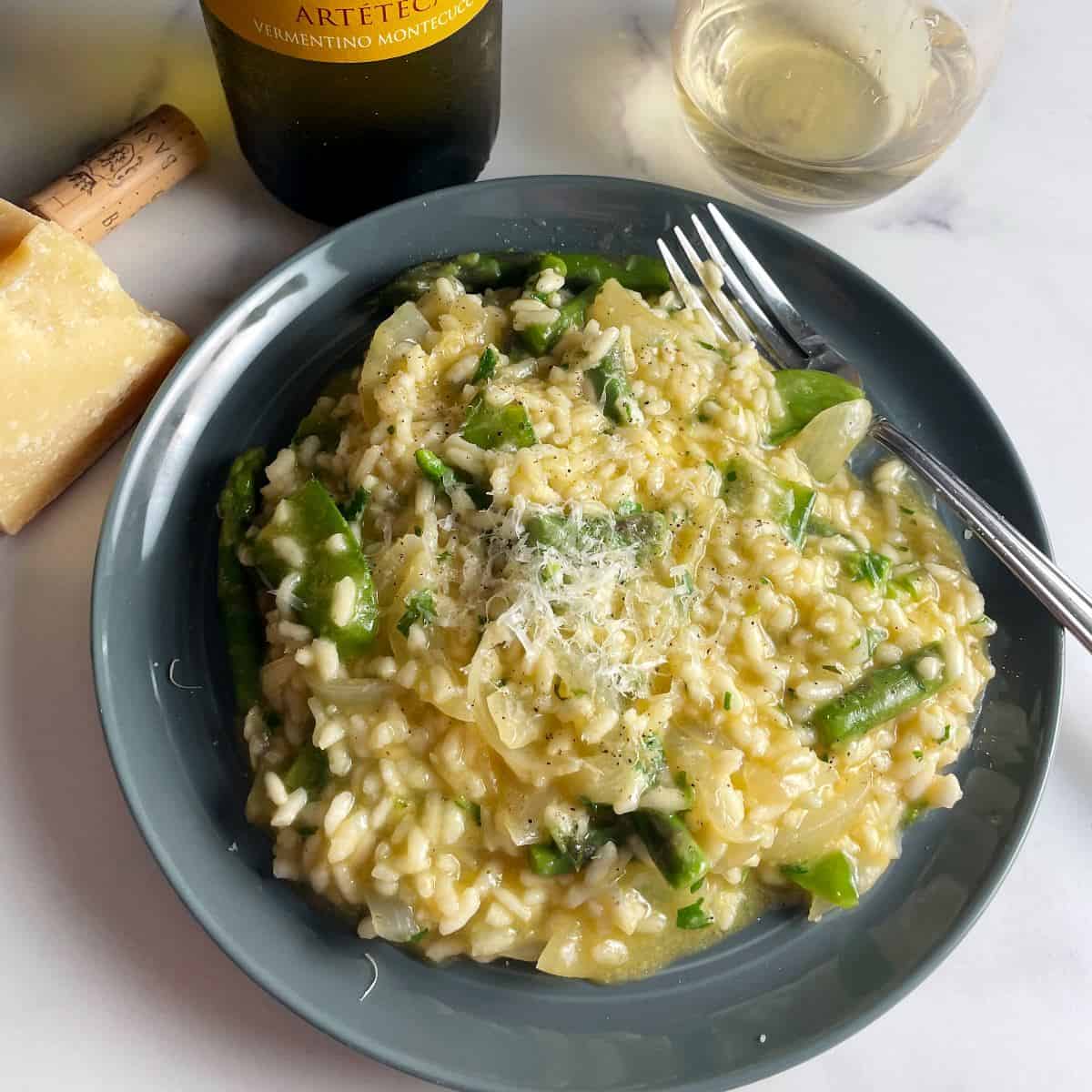 Jump to:
Recipe inspiration
I first developed this pea and asparagus risotto on one of the early days of spring, following a long winter several years ago. It uses some of the first vegetables of spring, snow peas and asparagus. So we initially called it Early Spring Risotto.
I do tend to think of risotto as a cold weather dish; stirring that risotto pot is a nice winter activity. But one of risotto's great features is that it can be adapted to capture the flavors of the season. For instance, made this Risotto with Butternut Squash, Chicken and Sage to capture autumn harvest flavors.
This pea and asparagus risotto can be enjoyed early in spring, when it can still be chilly. On such a day, the creamy richness of the risotto is comforting. Digging into this tasty dish can make you forget about the winter!
But when I made this risotto recently in late May, local asparagus is just starting to become available here in New England. So this risotto is a great time to enjoy any time you can get some good fresh asparagus.
Ingredients
Here are some the main ingredient for this asparagus pea risotto, and potential substitutions where applicable.
Asparagus is of course a major ingredient here. I mostly get asparagus when it is in season here, in the spring and early summer.
Hold an asparagus spear at the two opposite ends to snap it and set aside the rough wooden ends. They can be used for stock or composted.
Peas: I typically make this risotto with sugar snap peas or snow peas. Both are eating with their pods, and you need to string them first. They both are available in the spring, around the same time asparagus is fresh. You can substitute frozen peas if that's what you have available. More about the different types of peas can be found on the Pioneer Woman site.
Fresh herbs give this risotto a bright, springtime conjuring flavor. When I originally created this recipe, I pureed some mint and garlic to use in the final stages of the risotto making.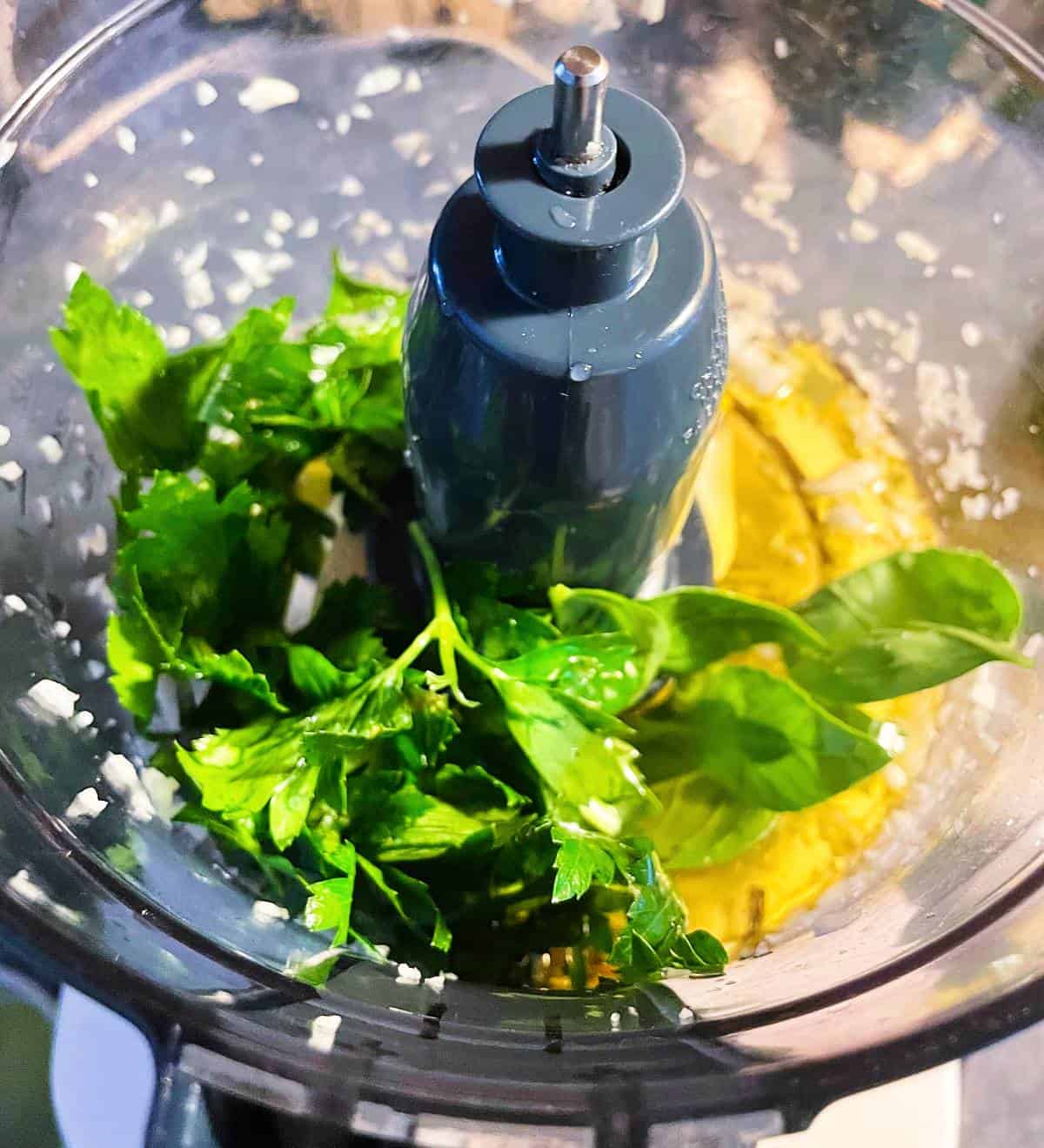 I have substituted basil, and most recently a combination of basil and parsley, as shown in the above photo. Whatever herbs you use, go for a good half cup of the herbs.
Arborio rice is the most common rice for making risotto, particularly here in the US. Carnaroli rice is another option (Amazon link provided). Both are short to medium grains of rice that hold their shape during cooking.
Parmesan cheese is my typical choice for making risotto, but I also often use Pecorino instead if that is what I have on hand.
Broth: Risotto is made by gradually ladling liquid, typically some type of broth, into the pot with the rice. I call for vegetable broth here, which makes this a vegetarian recipe. You could also use chicken broth if you aren't concerned about making this vegetarian friendly.
What is the trick to making good risotto?
The detailed instructions are in the recipe card, but a few quick risotto pointers if you haven't made risotto or had much success with it. Many recipes say to cook the risotto for about 20 minutes, gradually ladling in the liquid. I find it takes closer to 40 minutes to get the risotto nice and tender.
This isn't a dish to be rushed! You don't have to stir constantly, but don't wander too far from the pot. Stir every few minutes with a good sturdy spoon. You can find recipes that will promise you faster risotto, but I'd gladly put mine up against those in a taste test.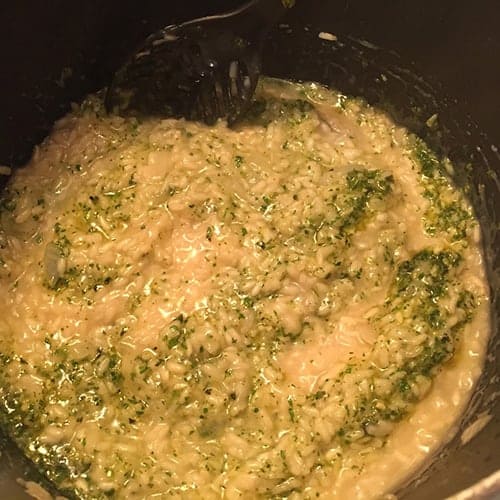 Slow, gradual cooking is one key to great risotto. Another is excellent cheese! I use authentic Parmigiano Reggiano cheese, grating the amount needed for the dish from a nice chunk of cheese. This is the kind of parmesan that is tasty to nibble by itself, enjoying that rich nutty flavor.
Recipe steps overview
Here's a visual overview of the peas and asparagus risotto recipe; head to the recipe card for all the details.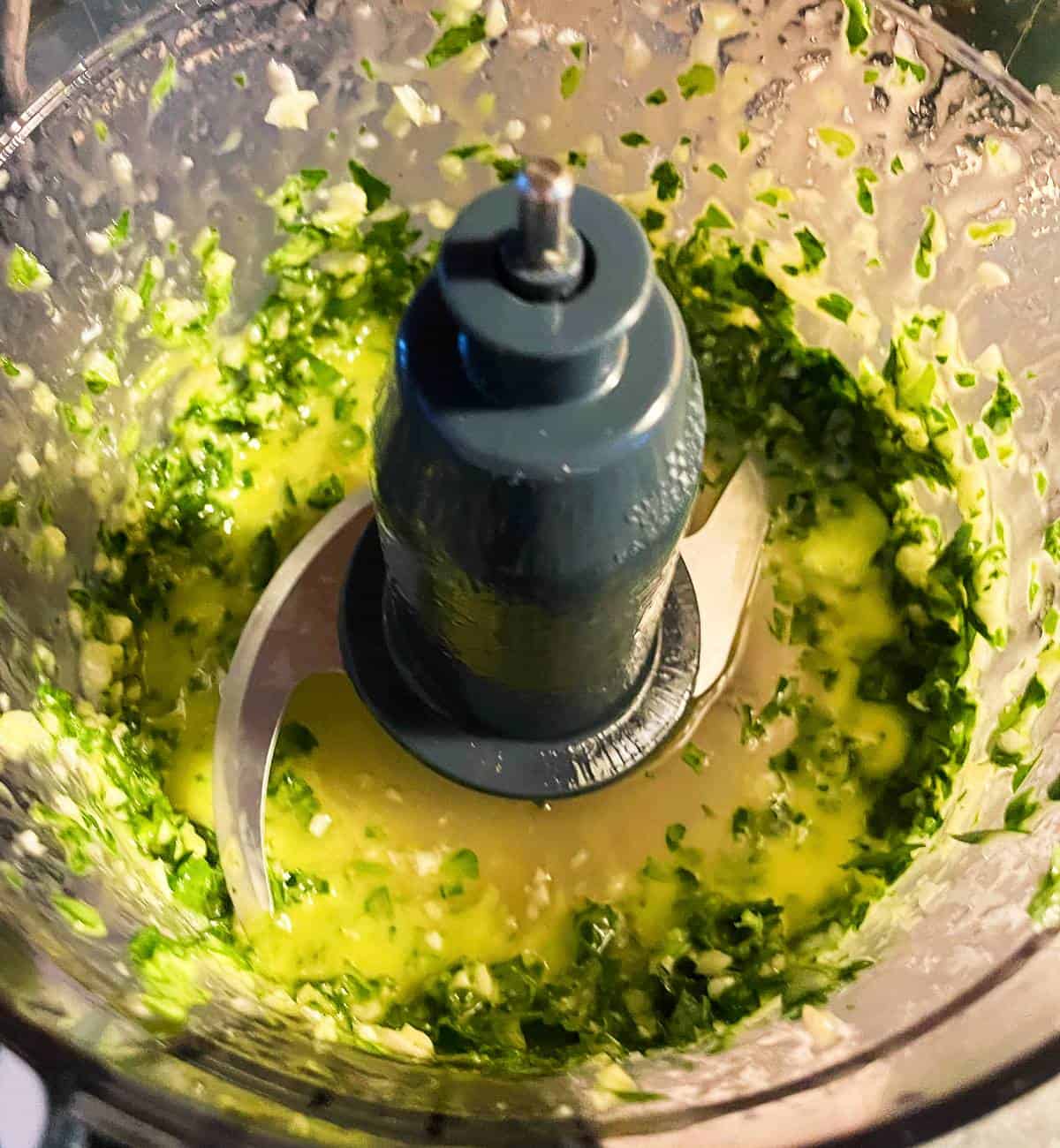 In a food processor, purée the mint or other herbs you have chosen to use with garlic and ¼ cup of the olive oil.
Bring the broth to a boil, then lower heat to keep warm. This is the liquid you'll be gradually adding to the risotto.
Sauté onions: heat 1 tablespoon of olive oil in a large pot for making the risotto. Add onion and sauté on medium heat until it softens.
Pour in the rice and stir in with the onions. Then stir in the wine, and cook until it has been most absorbed into the rice.
Gradually add broth to the risotto. Add one cup or so of stock, and stir it in.
Cook until it has been mostly absorbed, then stir in a similar amount of stock.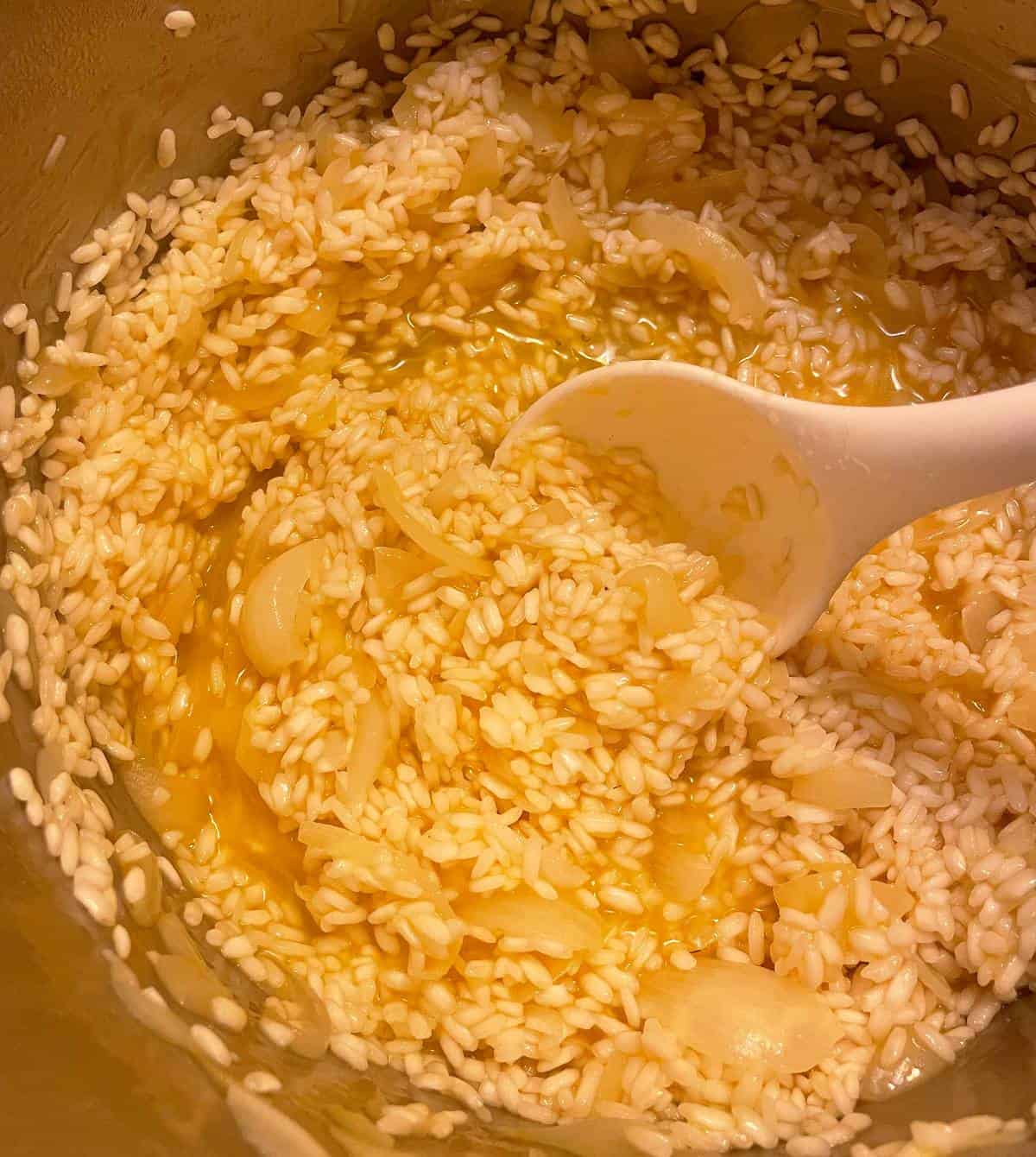 This process continues until most of the stock has been used.
Steam the vegetables while monitoring the risotto. The time needed will depend on the thickness of the asparagus – about 3 minutes works for medium asparagus.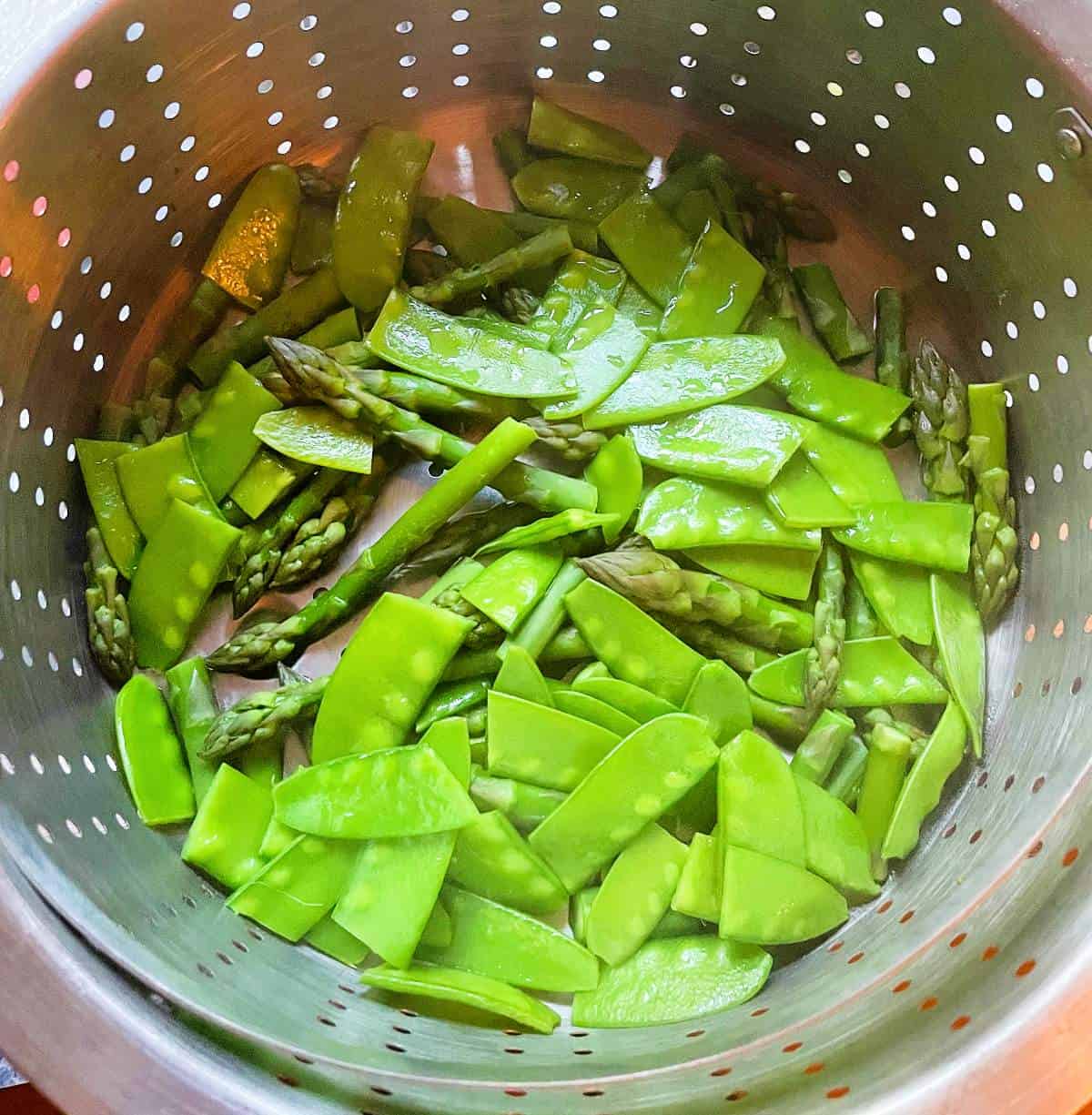 Drain and rinse with cold water, then drain again. Set aside to add to the risotto.
Finish the risotto. After about 40 minutes and most of the stock has been used, check the rice. It should be getting tender to the bite.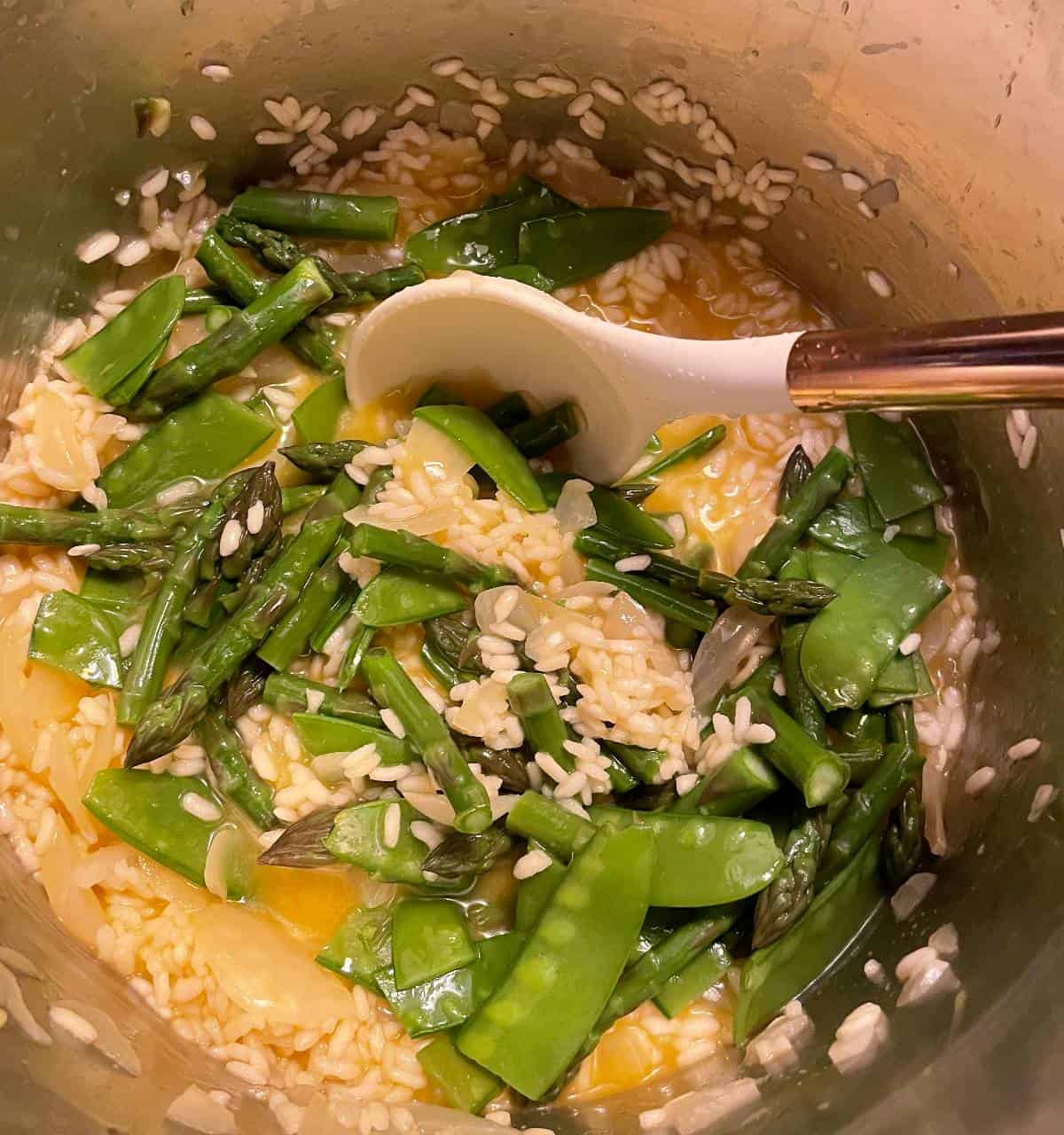 Once the risotto is tender, stir in the veggies, followed by the pureed herbs.
Stir in the cheese to finish the risotto.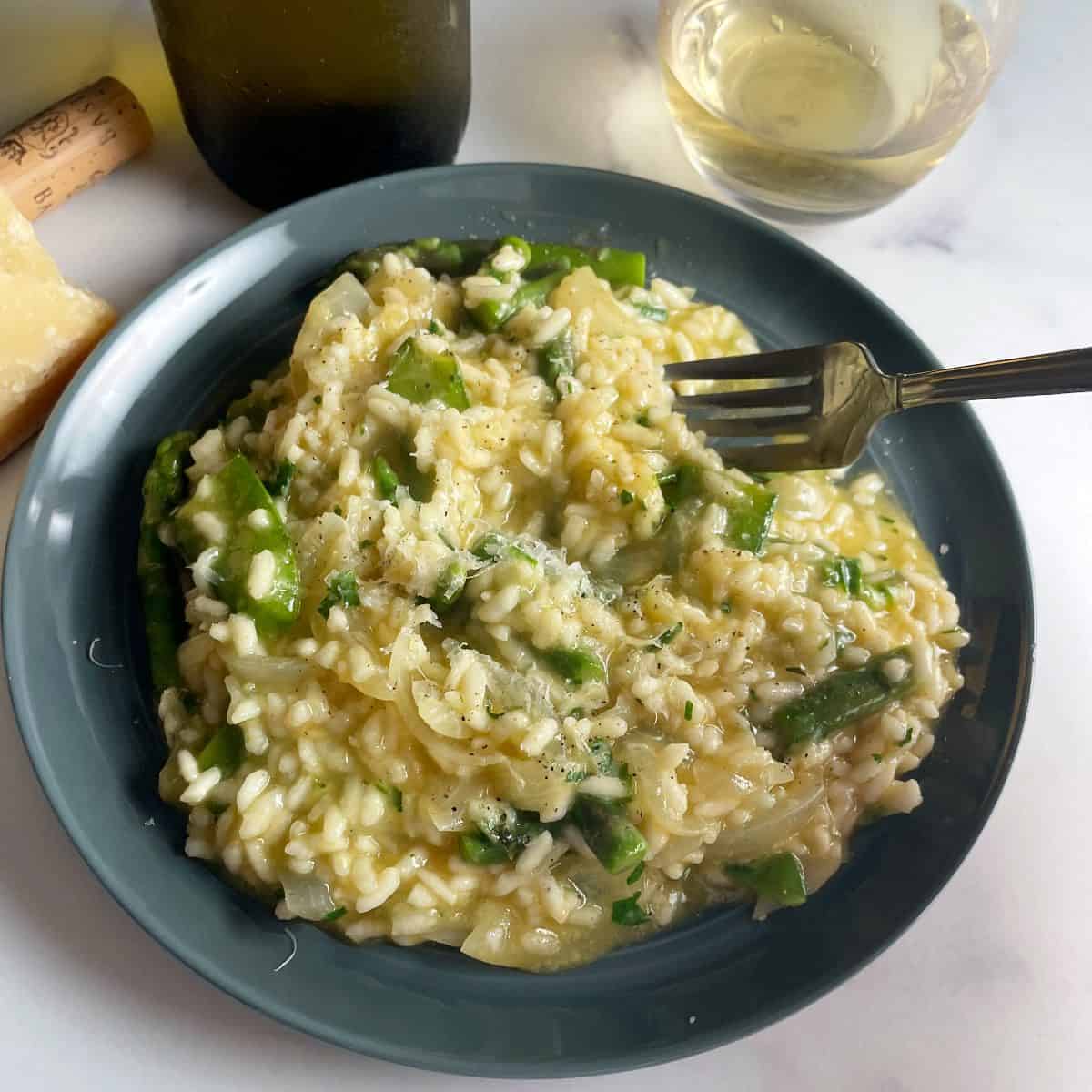 Serve this right away, risotto is at its best right after its done cooking.
Wine pairing
I paired this asparagus pea risotto with a bottle of 2021 Basile Artéca Vermentino Montecucco ($23, 12.5% ABV). The wine has notes of lemon and hazelnut on the nose. On the palate, citrus fruit and almond nuttiness. Good acidity.
This Vermentino, which also has 10% Viogner and 5% Petit Manseng, is definitely a good pairing for the asparagus and pea risotto. If you can't find this bottle, which I got at Liquor Junction in Winchester, MA, other Vermentino could be a good option. Sauvignon Blanc could also work.
About the winery and region
Over the past year, I've had a chance to learn more about the Montecucco region of Tuscan through some sampling I did. I also had a chance to interview Giovan Battista Basile, the President of the Montecucco Consortium.
In addition to leading the Consortium, Giovan started the Basile winery in Maremma, Tuscany, back in 1999. The winery has been organic from the outset, growing Sangiovese and Merlot grapes as well as Vermentino.
We also paired a Montecucco Rosso with our Ground Turkey Pasta recipe. Stay tuned for more about Montecucco wines!
Print
Recipe card
Pea and Asparagus Risotto
This Pea and Asparagus Risotto features asparagus and snap peas to celebrate fresh seasonal vegetables, and gets rich flavor from Parmesan cheese.
Author: Cooking Chat
Prep Time:

10 mins

Cook Time:

50 mins

Total Time:

1 hour

Yield:

6

servings

1

x
Category:

Main

Method:

stove top

Cuisine:

Italian

Diet:

Vegetarian
½ cup

mint Or parsley / basil combination

3

garlic cloves

¼ cup

extra virgin olive oil, plus 2 extra tbsps olive oil

1 ½ cup

sweet onions such as Vidalia, chopped

½ cup

dry white wine

2 cups

arborio rice

7 cups

vegetable broth

1

bunch asparagus, rough ends trimmed, the remainder cut into pieces of about

2

inches

2 cups

snap peas, ends trimmed, pods cut in half

¾ cup

freshly grated Parmigiano Reggiano, plus extra to pass at table

1 tablespoon

lemon juice
salt and pepper to taste
Instructions
Puree the mint, garlic and ¼ cup of olive oil in a food processor. Set aside for later use.
Bring the broth to a gentle boil and then lower the heat to keep it warm, on burner handy to where you'll be cooking the risotto.
Heat 1 tablespoon of the olive oil in sturdy pot for making the risotto. Add the onion and sauté in the olive oil on medium heat until it softens, about 5 minutes.
Pour in the rice, and stir to get it all well coated with the onions and oil. Cook for about one minute, then stir in the wine. Stir frequently, and cook until the wine is pretty well absorbed.
Once the wine has been absorbed, it's time to begin gradually adding the stock to to pot. Add one cup of stock to the rice, and stir frequently. I keep it around medium heat, but go a bit higher if things seem to be going very slow, then lower the heat if it starts boiling.
When the first cup of broth is absorbed, add another. This process continues until the stock is used or mostly used, and the rice is getting tender. You need to be stirring frequently (i.e. every couple of minutes). I find the rice takes about 40 minutes to get nice and tender.
Steam the vegetables while keeping an eye on the risotto. The steaming time will vary based on the thickness of the asparagus, about 3 minutes of steaming ought to do for medium asparagus. When the veggies are done, drain and rinse with cold water to keep them from cooking more, then drain again and set aside to add to the risotto later.
After about 40 minutes and all the liquid has been stirred into the risotto, test the risotto. It should be tender but still a bit firm, similar to al dente pasta. You can stir in a half cup of water if you need to soften it a bit more.
When the rice is ready, turn the heat down to medium low, and stir in the veggies and mint (or other herb) puree. Then add the parmesan cheese and a tablespoon of olive oil. Once the cheese has been incorporated, cook on low for a minute or two so the cheese melts and the flavors are incorporated. Add a generous grind or two of pepper and stir in the lemon juice. Add a bit of salt to taste if you desire, but with the cheese you don't need much if any additional salt. Enjoy!
Notes
You can use snap or snow peas for this recipe. If those aren't available, frozen peas can be used.
Risotto should be watched and stirred regularly, but it is OK to step away from the risotto pan briefly!
Keywords: pea and asparagus risotto, asparagus pea risotto, spring risotto
Recipe Card powered by