In episode 26, we talk with Amanda Scarlati from Scarlatti Family Kitchen about tips and recipes for Tuscan kale, carrots and dill. Amanda also tells us about her focus on Italian inspired cooking, which combines Italian classics and recipes that apply creative twists to Italian food and cooking techniques.
You can also listen on:
Apple podcasts | Spotify | Amazon Music
In this episode, we cover:
Ways to use Tuscan kale and how Tuscan kale is different than other types of kale.
Ideas for using fresh dills.
Different ways to use carrots.
How Amanda got interested in cooking at a young age.
Amanda's approach to Italian inspired cooking.
Sourcing fresh, local ingredients from farmer's markets, CSAs and your garden.
Letting what is seasonal inspire your cooking.
This week's guest – Amanda Scarlatti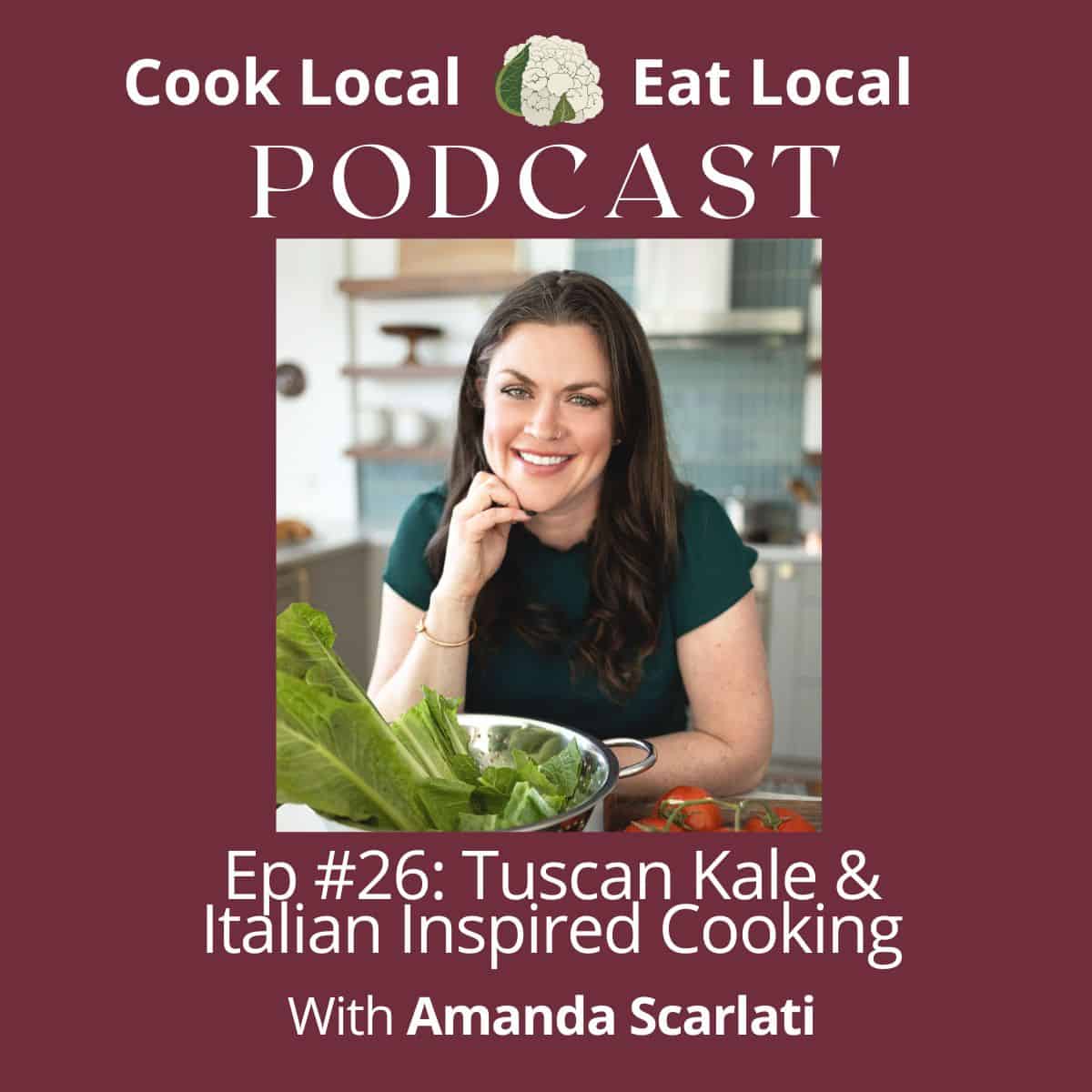 Amanda Scarlati is the chef, author, and photographer behind Scarlati Family Kitchen. In addition to being a trained chef, entrepreneur, and food photographer, she is also a wife and mother of four. She received her professional training and degree in Culinary Arts from Le Cordon Bleu Cooking School in Arizona and has spent a combined 15+ years in the food space.
Her food blog, Scarlati Family Kitchen is composed of Italian inspired comfort food recipes that are made from scratch and mostly inspired by family recipes and traditions. She currently resides in the Salt Lake City, Utah area with her family. When she is not in the kitchen, you can usually find her spending time outdoors, listening to true crime podcasts or catching up on her favorite reality TV shows.
Recipes from Amanda
Here are some recipes from Amanda related to our podcast conversation!
What we made – early July CSA vegetables
Our second CSA pickup of the year landed as I was wrapping up the budget year at work and then enjoying a relaxing Fourth of July weekend, with a little less cooking.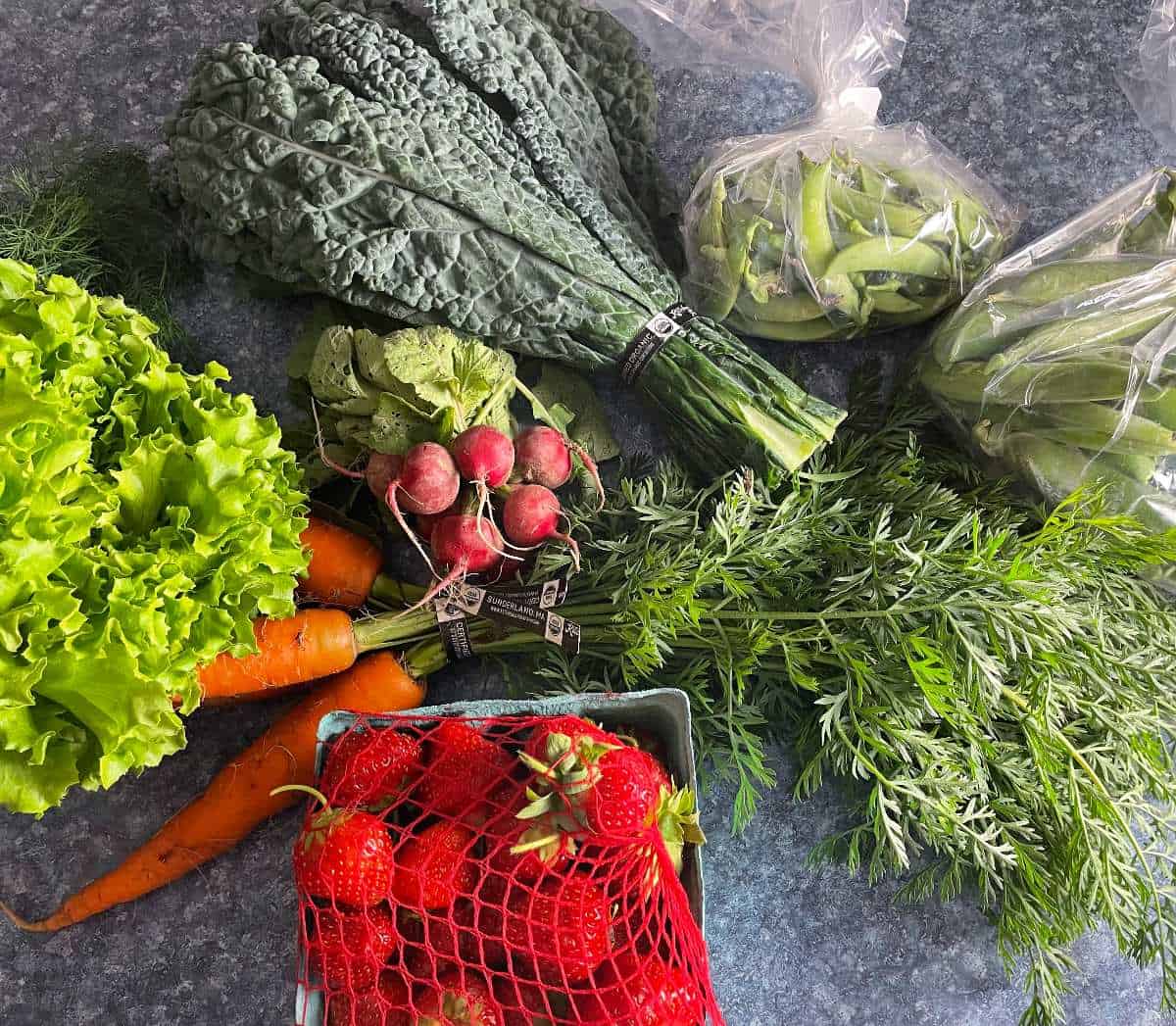 CSA pickup # 2 included carrots with the tops, green leaf lettuce, dill, Tuscan kale, radishes, English shelling peas, sugar snap peas and some more strawberries. Here's what we made with this produce — or in some cases, what we plan to make.
Tuscan Kale
Tuscan kale goes by some other names as well, including lacinato kale and dinosaur kale (because of the bumpy texture). Amanda notes that this kale is milder than the common green kale we often see in grocery stores. This makes it good for salads and generally more approachable to those who aren't big kale fans.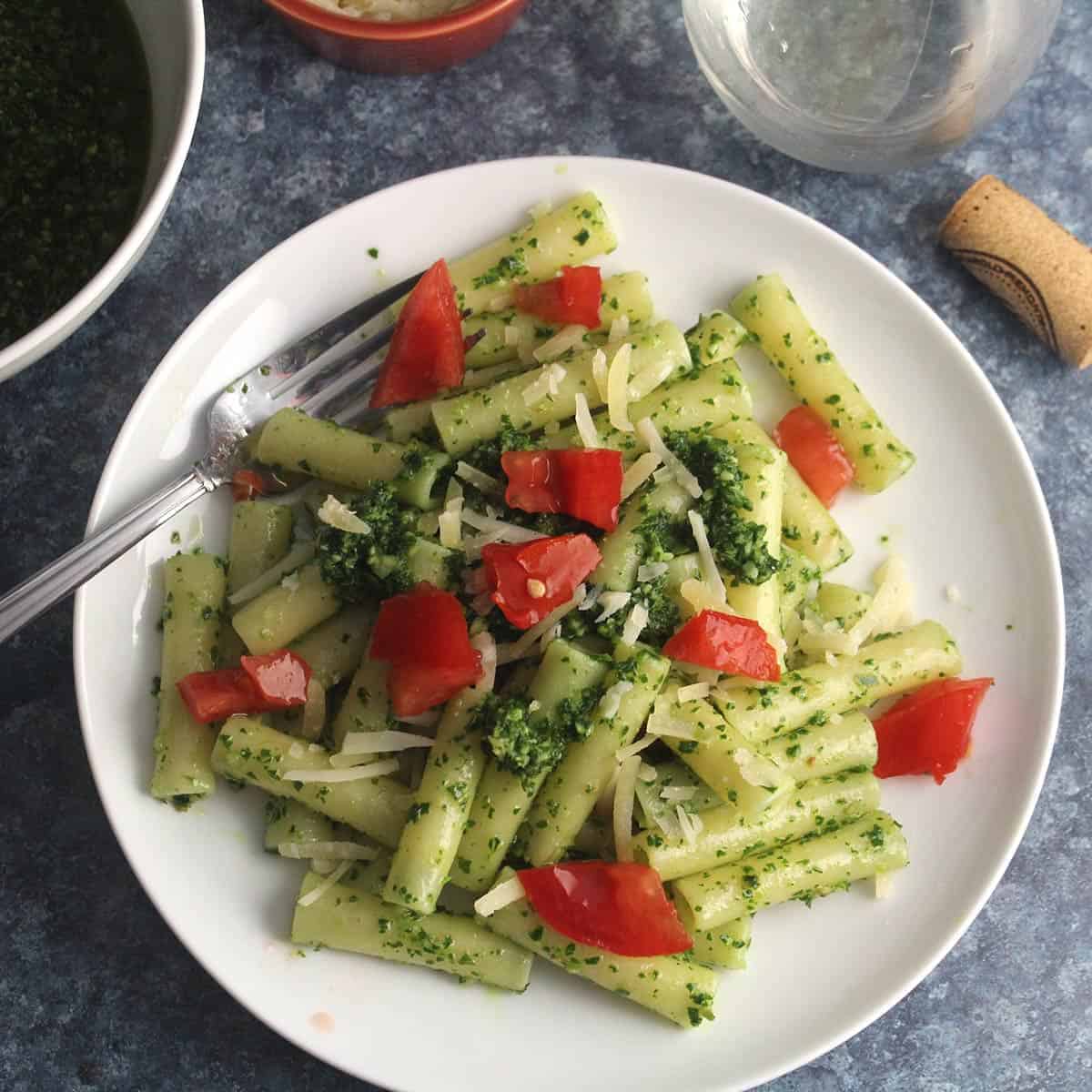 Despite those differences, I use Tuscan kale interchangeably with "regular kale" in our kale pesto recipe. We made a batch of the kale pesto this week, and added a bit of the carrot tops to use them up and add some additional flavor.
I wound up with a bit of Tuscan kale left as well as the kale pesto – but not enough pesto for that to be the only item flavoring up another batch of pasta. So last night, I sautéed the remaining kale with red peppers and spring onions from an early local food delivery. Tossed that with pasta, chickpeas and the remaining pesto for a tasty weeknight supper!
Peas
So we had sugar snap peas and English shelling peas.
English shelling peas as I understand it are the basic peas similar to what we typically get frozen at the grocery store. So I shelled the English peas and simply boiled them for a couple of minutes.
Sugar snap peas are a type where you typically eat the whole pod, after stringing them. I made the Sugar Snap Peas Stir-Fry recipe on Veggies Save the Day, that Amy told us about back on episode 4.
Having two kinds of peas did have me poking around the web for more information on what differentiates different types of peas and how to use them. Here's one good resource on the different types of peas.
Dill
I don't use fresh dill often, although I love that dill flavor! I'm a big dill pickle fan. If were a bit cooler, I would have been inclined to make a batch of our Polish Dill Pickle Soup!
Not in the mood for soup, I turned to making some tzatziki dip. We enjoy this Greek dill and cucumber dip a lot, but up until this point, we've just had the store bought variety. So I turned to this tzatziki recipe from Love and Lemons, and was pleased with the result!
Radishes
We kept it pretty simple with our radishes this week, mainly using them in salads.
But radishes are good cooked, as well. I did dice one radish and added it to that throw together pasta I mentioned that used up the Tuscan kale. I put the radishes in early, a bit after the onions, to give them time to soften.
For our last batch of radishes, we did make the tasty strawberry and radish salsa, suggested by Ginain on our previous podcast episode.