In Episode 25, we talk with Ginain Grayes from Cook the Garden about ideas for what to make with our first CSA vegetable pickup of the 2023 season. Ginain shares tips and recipes for radishes, spinach and strawberries. She also has some great ideas for storing and prepping fresh produce to avoid waste, and brings inspiration about the benefits of having a garden.
You can listen to the podcast on:
Apple podcasts | Spotify | Amazon Music
In this episode, we cover:
How Ginain came to realize her family roots was one source of her interest in gardening.
Ways to use radishes and tips for freezing them
The many things Ginain loves about gardening, including how she enjoys sharing her garden's abundance with others.
A delicious recipe for strawberry radish salsa.
Striving to be a waste-free household — ways to stay organized and use all your food!
Sautéed spinach and other ways to use the leafy green vegetable.
Today's Guest – Ginain Gray
Ginain Grayes is a marketing & communications professional by day while living out her true passion and calling as the owner and CEO of Cook Pray Slay, a thriving recipe and lifestyle blog dedicated to providing busy families with simple yet nutritious meal solutions. Her passion for empowering individuals to lead healthy lives extends beyond her blog. In late 2022, she launched the Cook The Garden podcast.
Driven by her love for cultivating food to nourish her own family, Ginain embarked on a journey towards self-sufficiency and sustainability. As a small-scale farmer, she embraces the principles of food justice and accessibility, advocating for a more equitable and inclusive food system. Ginain's devotion to her husband and three daughters further fuels her commitment to providing wholesome meals for her family, inspiring her audience to do the same.
Through her multifaceted endeavors, Ginain Grayes stands as a remarkable force, combining her marketing & communications expertise, passion for food, and dedication to sustainable living to empower others to embrace healthy practices and lead more fulfilling lives.
Recipes from Ginain
Here are links to some of the recipes Ginain mentioned on the podcast, that use the items we had in our first CSA pickup.
What we made – first CSA produce pickup of 2023
We were excited to pickup up our first CSA share of 2023! Learn more about community supported agriculture in our podcast episode covering 8 CSA Benefits.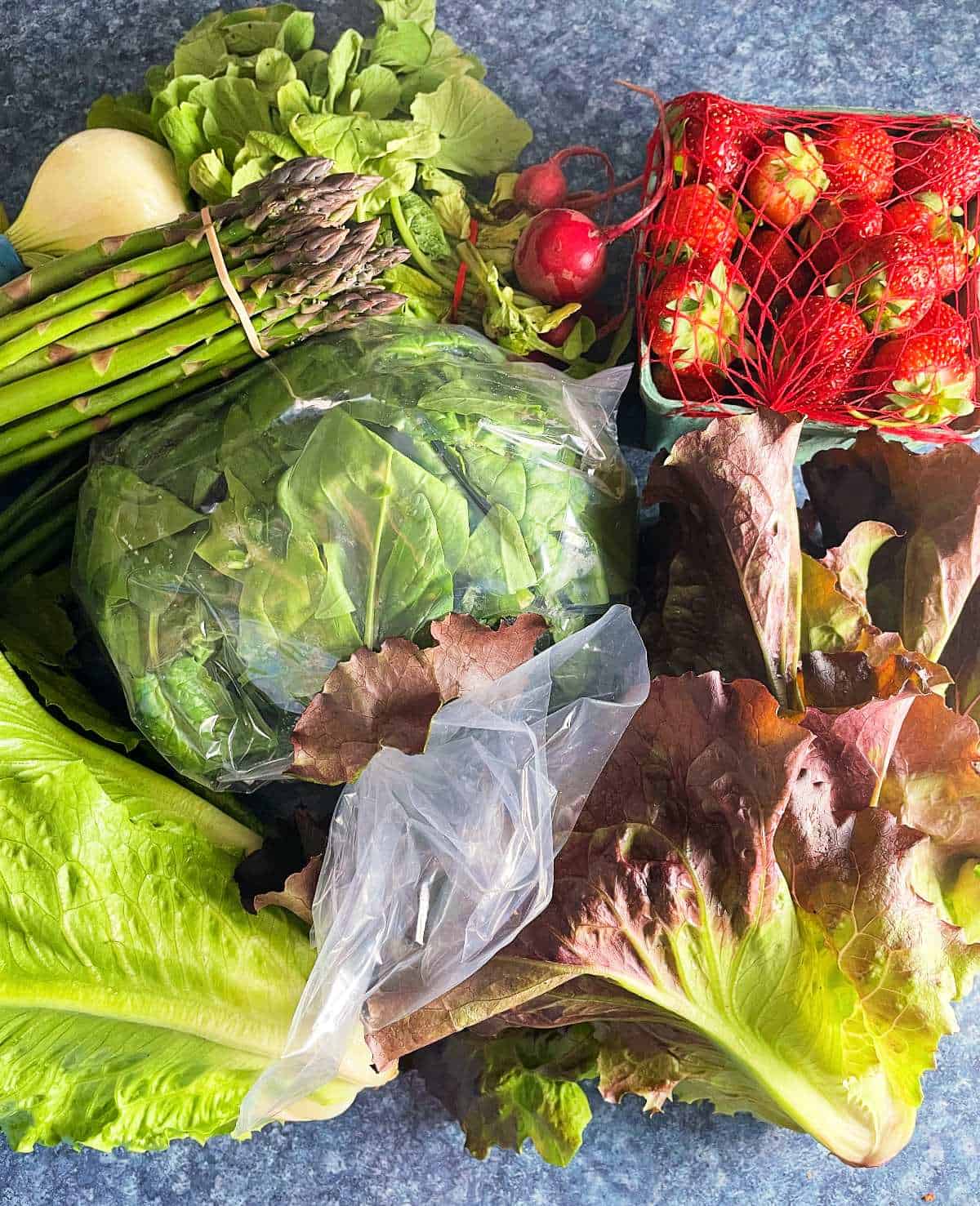 In our CSA bag, we had spinach, radishes, scallions, spring onions, romaine and red leaf lettuce; asparagus and strawberries. Here are some highlights of what we made:
Spinach
We often keep baby spinach on hand to add to sandwiches, salads and various cooking projects. But the spinach we got was definitely the fully grown variety! Much more suitable to cooking.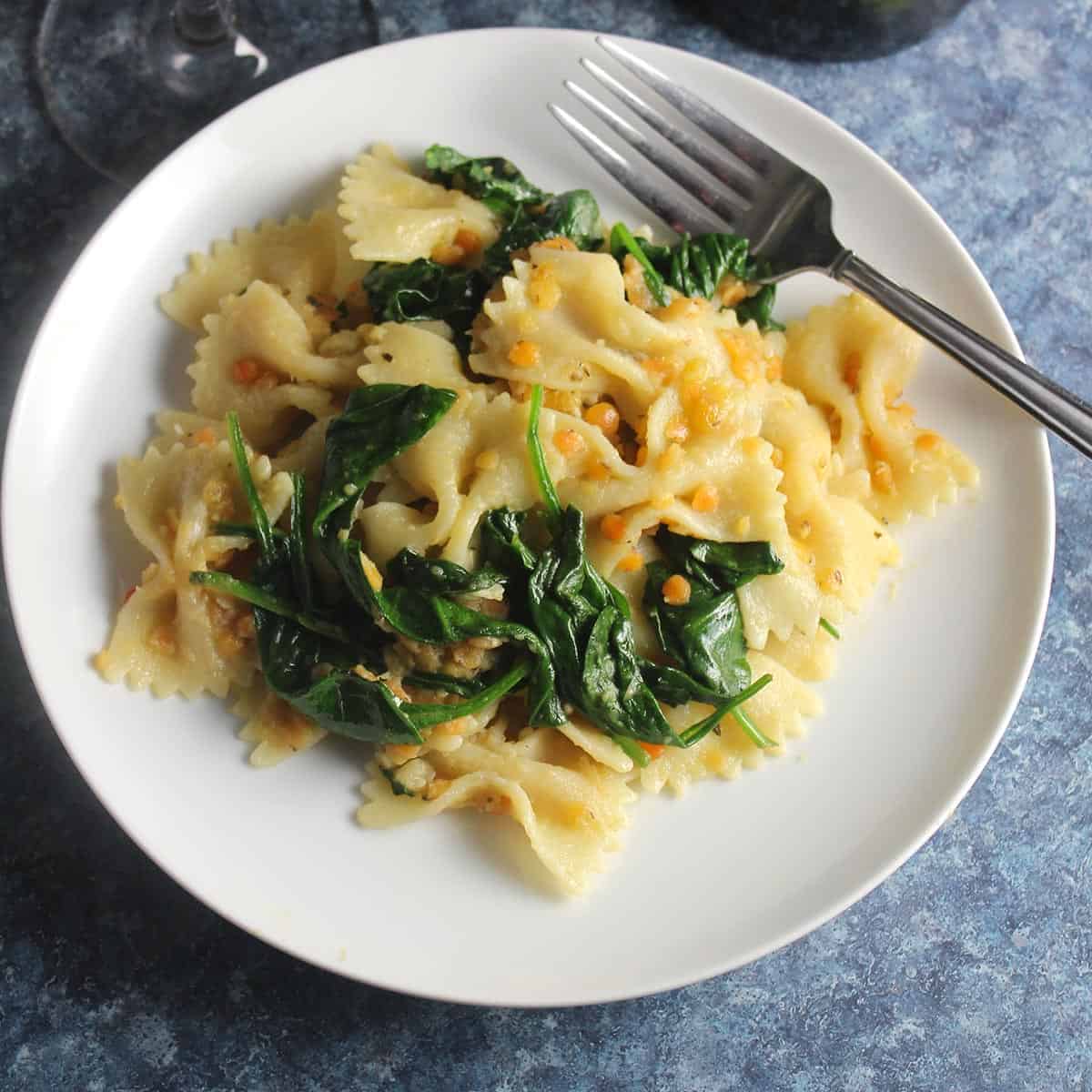 So we made one of our favorite go-to pasta recipes, Pasta with Red Lentils and Ginger. Although spinach isn't in the name, we used almost the whole bag of spinach in making it. And there's plenty of garlic that does make it's way into the recipe title either!
Asparagus
We finally got the grill going recently! So on the night we picked up the CSA veggies, we grilled some asparagus to go along with some grilled pork chops.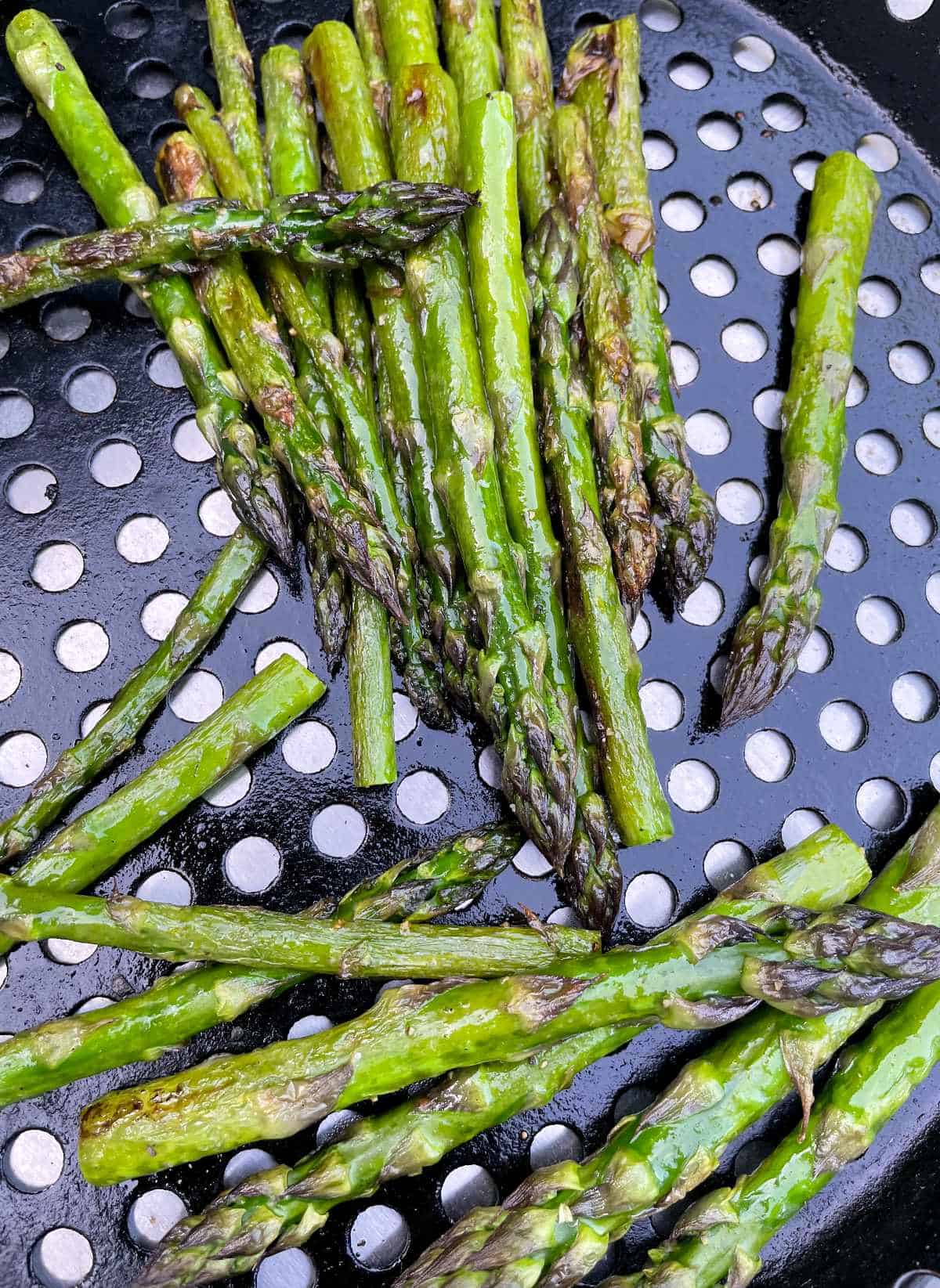 I prepped the asparagus, tossed it with a couple of tablespoons of olive oil and a Curio spice blend, then cooked in a grill pan for about 10 minutes total grilling. Shake the grill pan once or twice during the cooking to cook evenly.
Radishes
Wondering what to do with radishes? I certainly have, as we've been getting them a lot locally from our local food share program. So it was great to brainstorm with Ginain about ways to use radishes!
After using a couple of radishes in a salad with the red leaf lettuce, then I made some strawberry radish salsa, following Ginain's recipe.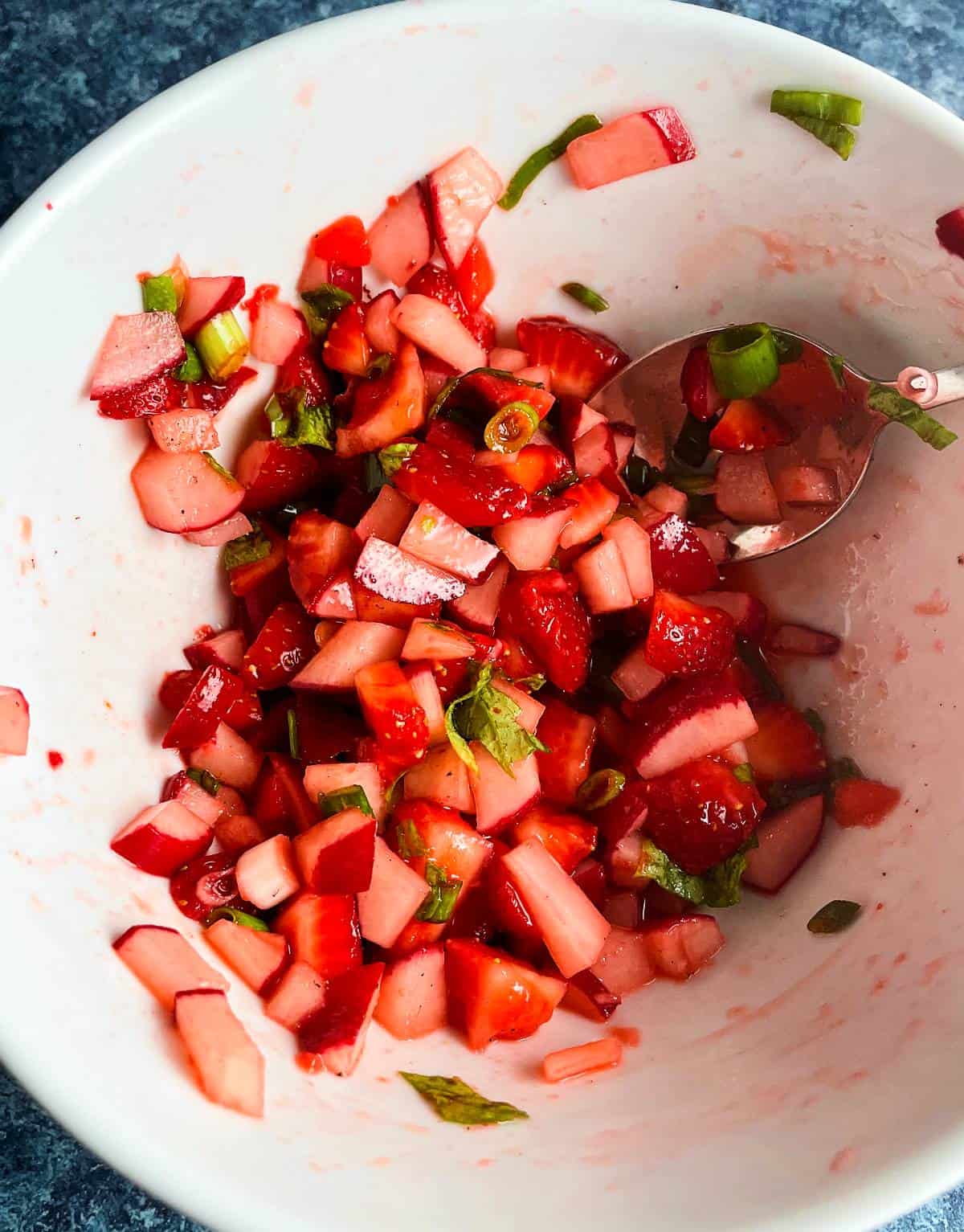 I didn't have all the ingredients her recipe calls for on hand, so I made it without the cilantro. I used sriracha instead of jalapeños for a bit of heat. It came out tasty, but next time I will shop for those ingredients and make it following the Cook Pray Slay recipe more precisely!
Using radish greens for pesto also came up in our conversation — check out our Radish Greens Pesto recipe for details!
Scallions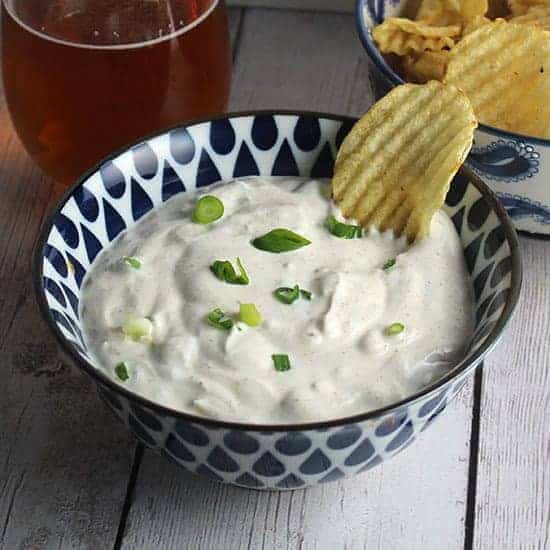 I haven't had a chance to make it yet, but I plan to make a batch of our Spicy Green Onion Dip soon! Green onions and scallions are different names for the same vegetable.