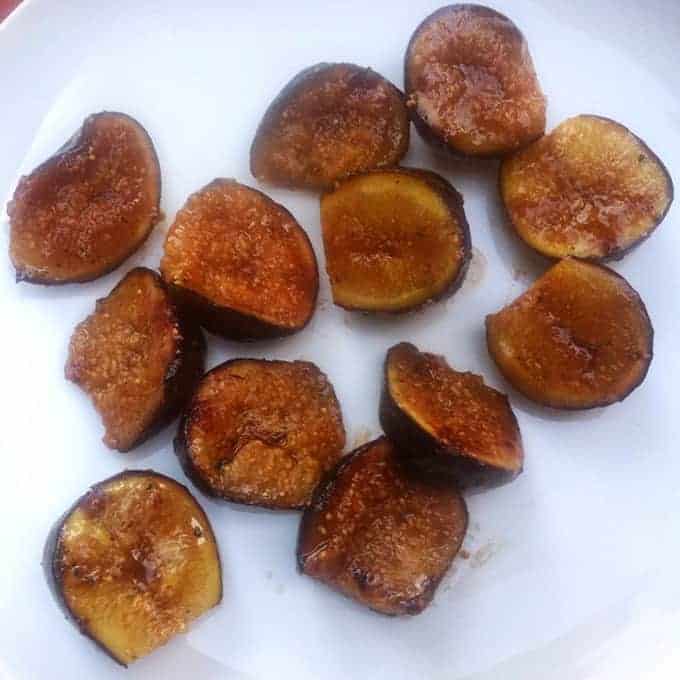 How does a serious foodie celebrate a big milestone? Sure, you can book a reservation at a fancy restaurant and splurge a little. But as Jodi and I approached our 20th wedding anniversary this summer, the idea of a special meal at home sounded quite attractive. Looking back on highlights of 2014, the meal we enjoyed to mark our anniversary was definitely one of our highlights. I realized I hadn't blogged about it here on Cooking Chat yet, so will set that straight now and share one of the recipes I came up with for the occasion–Grilled Figs with Mascarpone and Honey.
Don't get me wrong, we enjoy going out to dinner from time to time. But what I'd consider a "special" meal at a restaurant has gotten pretty pricey–a cost of becoming a pretty creative home cook! Our anniversary fell in the middle of a week bookended by visits to Cape Cod, in a summer with a few big ticket expenses (including a new Mac and camera to serve you up the tasty recipes here on Cooking Chat!). We figured we could enjoy a special meal at home for a fraction of the cost of doing so at a restaurant. Plus, our wonderful 9 year old was still down the Cape with his grandparents, so the two of us could share a grownup meal at our leisure.
A great meal at home would be more in keeping with the early days of our relationship anyway. On one of our first dates, I expanded my repertoire by 50% (adding a third dish to the mix) and served up Fettuccine Alfredo. The dish and date went well, and here we are 20+ years later!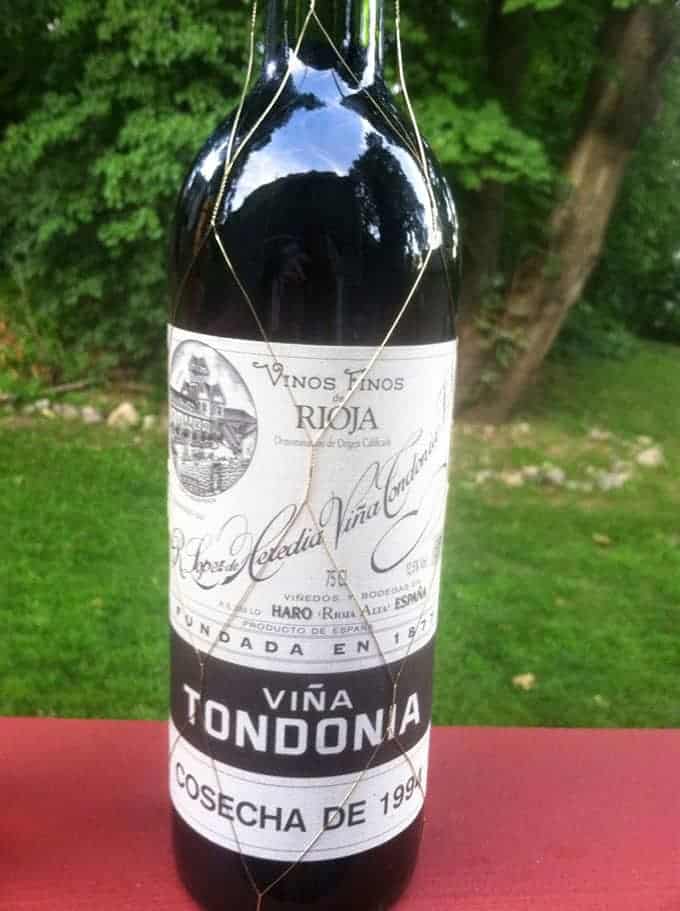 I know, enough already with the memories, what about the menu? My starting point was the wine. I had the idea of getting a bottle from our wedding year. There isn't an abundance of 1994 wines lying around the typical wine shop, but Ray from Pairings Wine and food suggested the 1994 Lopez de Heredia Tondonia Rioja. I'd enjoyed a newer vintage from this winery, one of the top Rioja producers, and was ready to try this older bottle.
We had some Trader Joe's BBQ Rub with Coffee and Garlic on hand that we hadn't tried yet–mostly because I figured our nine year old wouldn't go for it. Seeing as he wasn't on hand this evening, it seemed like a good time to try it on some grilled NY strip streak. Plus, I thought the coffee in the rub might go with the Rioja. Grilled steak with a store bought rub was a nice way to keep this midweek anniversary meal pretty simple.
Now, I can't introduce the subject of a 20 year old wine without a few tasting notes! I got violet and coffee on the nose. Taste of berries, prune and coffee. The tannins had integrated well for a deep, complex taste, great mouthfeel. The coffee notes worked nicely with the steak. A nice pairing to enjoy on our 20th!
In the spirit of keeping things simple for this midweek meal. I headed to Whole Foods to pick up a store made dessert. But the fresh figs on sale caught my eye, and my mind started whirring with pairing ideas…a dessert featuring grilled figs paired with a Sauternes sounded worthy of a special occasion, I thought.
So I grabbed the figs and came up with a simple yet tasty recipe for Grilled Figs with Mascarpone and Honey. Then I headed to the wine shop to grab a bottle we've enjoyed before, the 2007 Chateau de Malle Sauternes. The wine has notes of honey and hazelnut, and a super-long, luscious finish. It could be a nice dessert on its own, but pairing the Sauternes with this sweet and savory Grilled Figs with Mascarpone is a great combination. If you've put your grill away for the winter, be sure to bookmark this recipe to try when the weather gets warm again!
We certainly didn't regret opting for a meal at home for this anniversary! Even with two special bottles of wine, our total tab was just north of $100. Needless to say, ordering two steak entrees, a dessert along with some good wine at a restaurant would be significantly more, even without order a unique bottle like the Rioja. I just might have to keep my eye open for another good wine from 1994 that we can open for our 25th!
Print
Recipe card
Grilled Figs with Mascarpone and Honey
Grilled figs served with mascarpone and honey make for a simple yet elegant dessert. Pair with a Sauternes or similar dessert wine to make it really special!
Author: Cooking Chat
Prep Time:

10 mins

Cook Time:

15 mins

Total Time:

25 mins

Yield:

2

to

3

servings

1

x
Category:

Dessert

Cuisine:

American
6

fresh figs, stems trimmed and sliced in half lengthwise

1 tbsp

extra virgin olive oil

2 tbsp

balsamic vinegar

1 tsp

sugar

1 cup

mascarpone cheese

½ cup

plus1 extra tablespoon high quality honey
pinch of cinnamon
dash of dried sage

2 tbsp

pumpkin seeds, toasted lightly (optional)
Instructions
Preheat a grill to medium high. Combine the olive oil, 1 tablespoon of the balsamic and the sugar in a bowl. Gently toss the figs in this mixture, and set aside while the grill heats up.
Combine the mascarpone with 1 tablespoon of honey in a bowl and set aside.
Heat the remaining ½ cup of honey in a small pan on medium heat, and stir in the cinnamon and sage. Once the honey has liquefied a bit, turn the heat to low keep warm while the figs are grilled.
Grill the figs. If you have a grill pan, use that to avoid losing any figs to the grill. Set the figs skin side down the grill pan, or carefully set them directly onto the grill. Grill about 4 minutes on the skin side, then carefully turn over to sear the other side by grill for about 2 to 3 minutes more. Remove the figs to a plate.
Serve the dessert by adding a tablespoon or two of the mascarpone to each plate. Then place several figs on top of each plate of mascarpone. Finish the dish by drizzling the heated honey over the figs and cheese, and sprinkle the pumpkin seeds on top if you are using them. Enjoy with a Sauternes dessert wine!
Recipe Card powered by