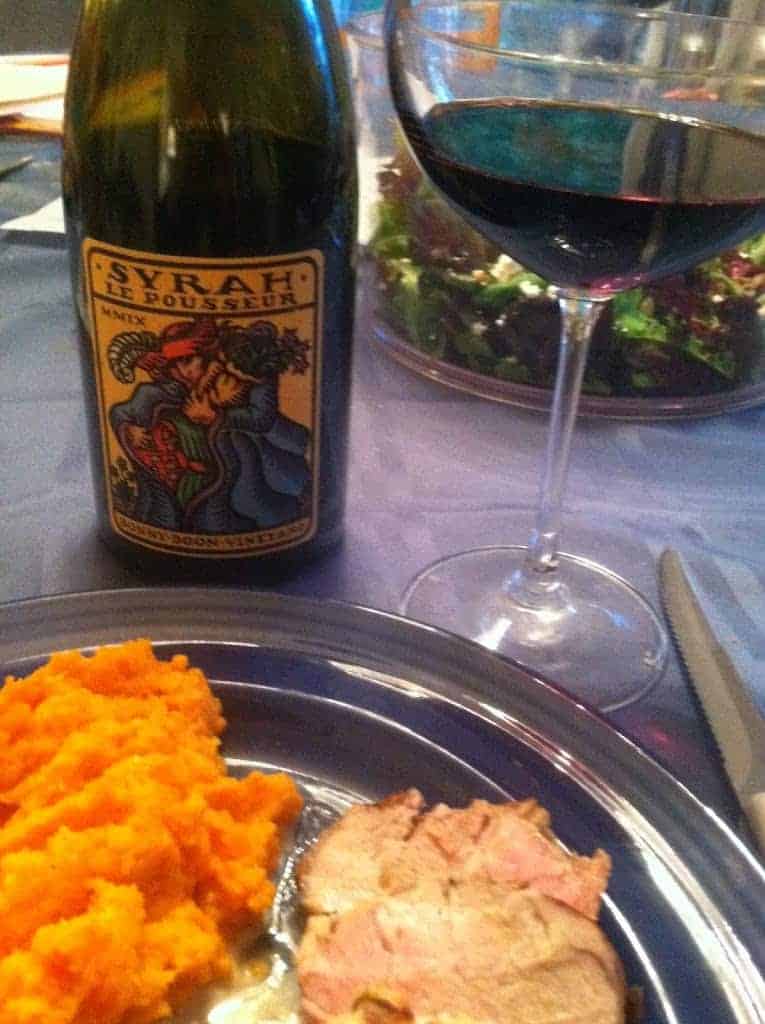 No, it's not just any grilled pork tenderloin that I prepared for the first Wine Pairing Weekend (#winePW), which has the theme "Wine Pairings for Grilled Meat". I'm featuring my Cilantro and Lime Marinaded Pork Tenderloin with Chipotle Cream, which I like to serve with a side of Sweet Potatoes Smashed with Cumin Sage Butter.

There's a lot of flavor involved with this grilled pork tenderloin and the side dish. I needed something big enough to go with the meat, and with flavor elements that could pick up the spice and smokiness–the latter coming from both the grilling and the chipotle. I thought our grilled pork tenderloin with a Syrah might fit the bill nicely, and recalled the Pousseur from Bonny Doon worked with with a steak dish I had that had some similar spice elements. I tweeted winemaker @randallgrahm to see if he thought the pairing would work, and he confirmed my pick with this tweet: "Will work absolutely perfectly. Think chimichurri!"
Based on this input, my pairing for grilled pork tenderloin was the 2009 Bonny Doon Vineyard Le Pousseur Syrah with grapes from California's Central Coast. I got a whiff of a summer meadow on the nose, and was struck by the polish on this wine from the first taste. Supple cherry fruit and a bit of leather. I'd previously had the bold, peppery 2010 vintage of this wine with steak, and the more refined older bottle was perfect to go with the more nuanced flavors in this grilled pork. I'm pleased with my first #winePW selection, and would encourage you to give it a try!
I love the variety the inaugural Wine Pairing Weekend bloggers up with! Cabernet, an off-dry Pinot Gris, a good Italian with BBQ, and a couple of interesting pairing experiments. Be sure to check out each of the posts in the links at the end of this post. But first, I need to get you my recipe for Cilantro and Lime Marinaded Pork Tenderloin with Chipotle Cream. We did an updated post about this grilled pork tenderloin dish with new photos and recipe card format, if you prefer following a recipe in that version.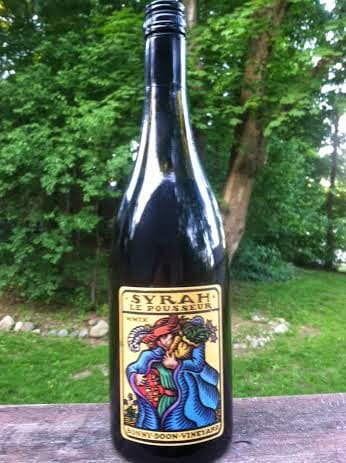 1 pork tenderloin, about 12-16 ounces
**
For the marinade
3 to 4 tablespoon fresh lime juice
2+ tablespoon chopped cilantro
2 clove garlic, minced
pinch red pepper flakes
½ teaspoon salt
¼ cup olive oil
***
For the cream
1 cup heavy cream
1 tablespoon adobo sauce from small can of chipotles packed in adobo
***Instructions
Combine all the ingredients except for pork in a small bowl to make the marinade. Place the pork in a large plastic bag, pour the marinade into the bag to cover. Close the bag, shake it up to coat the pork. Marinade in the refrigerator for at least 1 hour. The one hour is enough to impart good flavor, but if you can do 4 hours or so that's even better.
Heat the grill to medium high. Remove tenderloin from the marinade, scrape off the bigger pieces of garlic. Place on the grill, 15-20 minutes on medium/high heat should do it, turning once. Pork tenderloin should still have a bit of pinkness, it will continue to cook when resting. Remove from heat and tent with foil while you make the cream.
To make the cream, pour the heavy cream into a small sauce pan. Bring to a boil, then reduce to simmer for 5-10 minutes, until it is reduced to about ¾ of a cup. Stir in the adobo toward the end of cooking.
Slice the tenderloin and serve with a bit of the cream, passing extra at the table. Serve the grilled pork tenderloin with a Syrah, perhaps Le Pousseur. Enjoy this dish, and check out the other Wine Pairing Weekend ideas below and decide what else you want to try!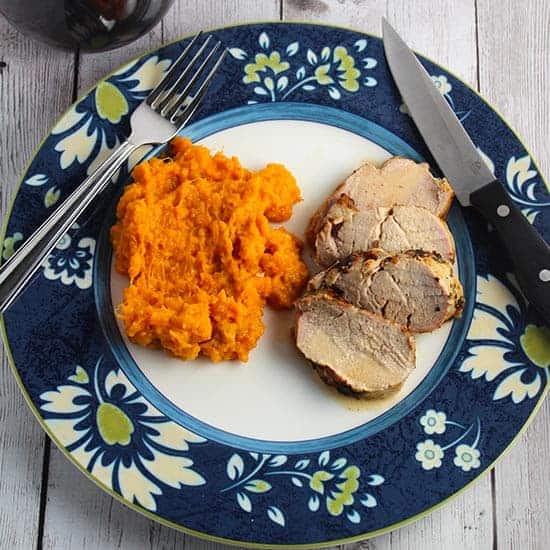 Wine Pairing Weekend #1 Bloggers: Be sure to check out the great pairings my fellow bloggers have come up with for the first Wine Pairing Weekend!
The Tasting Pour is posting "Pairing Food and Wine: Cabernet Cliché"
Culinary Adventures with Camilla is pairing "Lemon Marmalade-Glazed Duck Legs + Holman Ranch's Off-Dry Pinot Gris"
Vino Travels – An Italian Wine Blog will share "Food and Wine Pairing: BBQ with Montepulciano d'Abruzzo"
Grape Experiences is sharing "Wine and Dine: Sinfo Rosado 2012 with Chicken Enchilada Burgers"
Pull that Cork posted "Rolled Pork Florentine on the Grill, Which Wine Pairs Best?"
From Cooking Chat, "Grilled Pork Tenderloin with a Syrah" you are here!
Meal Diva blogged about "Grilled Sausage Kabobs and White Wine"
Curious Cuisiniere paired "Wine Grilled Chicken with Lewis Station Winery's Oaked Chardonnay"
Join the #winePW conversation: Follow the #winePW conversation on Twitter throughout the weekend and beyond. If you're getting this early enough, you can join us for a live Twitter chat on our theme "Wine Pairings for Grilled Meat" on Saturday, June 14, 10 to 11 a.m. Eastern Time. You can also visit our group Pinterest board to pin some great pairing ideas for later! Stay tuned for the July Wine Pairing Weekend, which will focus on "Refreshing summer wine pairings" on Saturday, July 12.