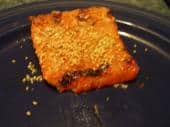 I don't eat a lot of fish, but I love salmon. This summer I've been grilling salmon a bit more and experimenting with sauces to accompany it. My latest sauce for salmon is based on Asian flavors and came out quite well. These basic ingredients could be played with to meet your own tastes or use what you have on hand. Best of all, this one is easy and tasty!
10 ozs or so salmon fillet
3 tablespoon soy sauce
1 teaspoon canola oil
½ teaspoon ground ginger (or fresh if you have it handy)
1 small clove garlic, minced
1 ½ teaspoon honey
pinch red pepper
3 tablespoon sesame seeds, lightly toasted
Make the sauce: In a small bowl, combine all ingredients except the salmon and sesame seeds. Divide the sauce in half, one portion to use while cooking, the other to serve at the table.
Grill the salmon: Brush the flesh side of the fish with a bit of the sauce. Spray grill with olive oil and light it to medium-high. Place the salmon on the grill, flesh side down. Cook for about 3 minutes and turn over carefully. Spread more sauce onto the flesh side of the fish. Cook for another 5 minutes or on the skin side, then turn over to flesh side to finish, about 3-5 minutes more. Remove from grill, cover with aluminum. I've had salmon a couple times lately at some great restaurants, and noticed they cook it much less than I had been doing. I've been enjoying the salmon I make much more now as I make sure that the fish is still very moist.
Serve: Sprinkle the sesame seeds over the salmon. Pass the extra sauce at the table. Enjoy!
Serve: Sprinkle the sesame seeds over the salmon. Pass the extra sauce at the table. Enjoy!
Wine Match: Sauvignon blanc and pinot noir are two classic choices for salmon. The Asian accents of this sauce seemed to call more for a white wine, so I paired this with the 2006 Dutton Estate Russian River Valley Sauvignon Blanc ($20). This was a good match for the salmon, with a hint of citrus and a nice clean taste that let the salmon shine.