Easy grilled tuna steak served with eggplant and peppers for healthy dinner. We served the grilled tuna with a Syrah from Paso Robles.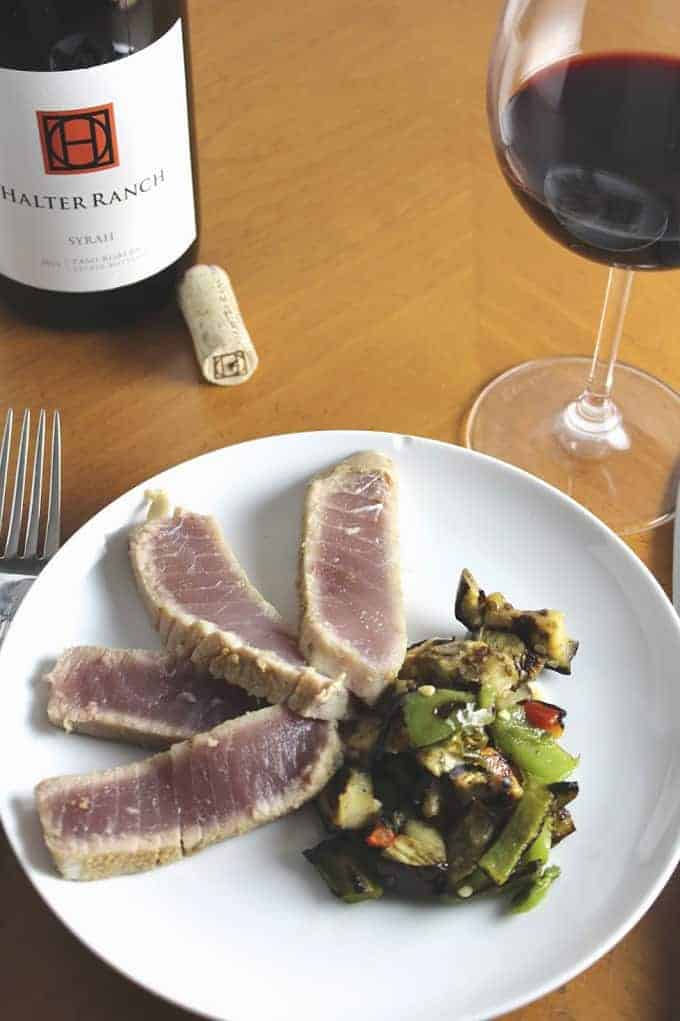 Sure, I like my classical regional food and wine pairings. You'll certainly find plenty of Italian dishes in our house paired with a wine selected from the same region the cuisine hails from. But I also like the challenge of starting with a wine, and then trying to create a dish that is in someway inspired by the wine region. That's the way I decided to roll for Wine Pairing Weekend #4.
I've come to enjoy quite a few wines from California's Paso Robles region. Through blogger friends like Matt of the Hoot n' Annie Blog, I've gotten some sense of the regions vitality from afar. But what would a Paso Pairing entail? I didn't know, but I thought that would be fun to figure out for this #winePW event.
I asked Matt what Paso food would entail. He mentioned fresh seafood with seasonal produce from local farms, perhaps with a Mexican flair. That gave me enough to get my wheels turning about a Paso pairing I might create. Grilled tuna was on my mind.
I'd enjoyed the Halter Ranch Syrah from Paso before, and thought that might be a good wine to work with for this event. I served it with steak previously and thought it would be interesting to see if it could work with a tuna steak. I had an eggplant to use from our fall farmshare, so that seemed in the spirit of the local produce. I decided to grill the eggplant and toss it with a mixture of peppers, including some hot ones to give the dish some Mexican spice accents.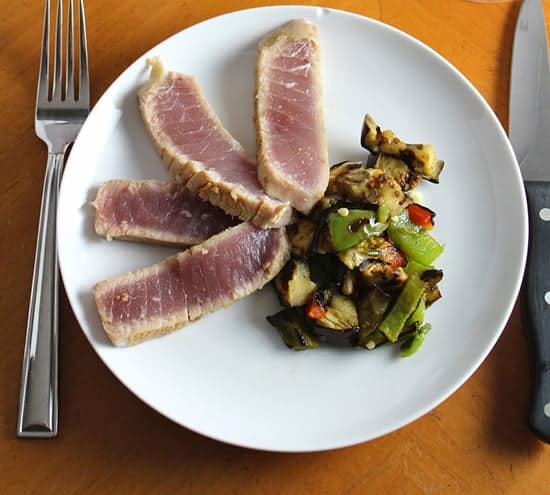 The result? Not sure if this is properly considered Paso Robles cuisine, but it was definitely rooted in what I learned about the food in the area. And it definitely worked with the wine! Read on for the Grilled Tuna, Eggplant and Peppers recipe and wine pairing details.
Wine Pairing for Grilled Tuna
Sure, a Pinot Noir can work nicely with salmon, but a big bold Syrah for seafood? Well, the meaty tuna is very substantial, and turned out to pair well with the 2011 Halter Ranch Syrah. This wine has a big fragrance of violets and forest floor. I got blackberry jam and white pepper taste. I had my initial taste before I started grilling the tuna. By the time we settled down to eat about 10 minutes later, the Syrah had really opened nicely and was showing a lot of finesse on the long finish. This helped it make a nice harmonious pairing with the tuna–plenty of substance for this meaty fish with the spice element to work with the food. I could definitely imagine eating this flavorful pairing al fresco on a warm evening in Paso Robles!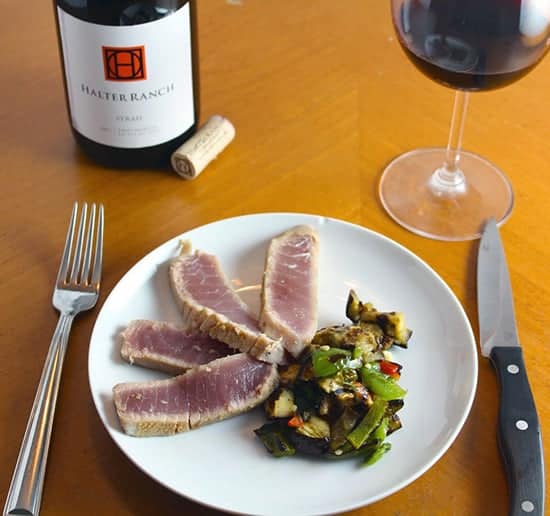 Print
Recipe card
Grilled Tuna with Eggplant and Peppers
Grilled tuna topped with a flavorful blend of grilled eggplant and peppers.
Author: Cooking Chat
Prep Time:

30 mins

Cook Time:

15 mins

Total Time:

45 mins

Yield:

3

servings

1

x
Category:

Main

Method:

grilling

Cuisine:

American
1 cup

chopped grilled eggplant (instructions below)

½

red bell pepper, chopped and coated with cooking oil spray

½

green bell pepper, chopped and coated with cooking oil spray

1

serrano pepper

1

jalapeno pepper

1 tbsp

olive oil

½

clove garlic minced

1

high quality tuna steak, 10 to 12 ozs

1 tsp

cumin

1 tsp

garlic powder

¼ tsp

salt
Instructions
Prepare the eggplant and pepper mixture: slice the eggplant ½ inch thick. Spread the eggplant slices on a plate in a single layer. Salt the eggplant sliced generously, and let the eggplant sit and aborb the salt for at least 30 minutes.
Preheat a grill to medium high. Spread the salted eggplant on the grill or a grill pan. Coat with cooking oil spray. Place the grill pan on the grill to cook the eggplant. Turn the slices over after 5 minutes, and grill for another 5 minutes or so until the eggplant is cooked to a nice tenderness and has begun to caramelize. Remove the eggplant from the grill and set aside to cool.
Start grilling the bell peppers and hot peppers at the same time as the eggplant. Place the chopped bell peppers in a grill pan onto the grill, or something else to keep them from slipping through. At the same time, place the whole hot peppers on the grill. After 5 minutes turn the hot peppers over and stir up the bell peppers. Check the peppers after another 5 minutes. The bell peppers are done when they are softened and browned; the hot peppers should be nicely singed all over. When done, place the bell peppers in a mixing bowl and close the hot peppers in a brown paper bag to cool. Keep the grill heated for the tuna.
When the eggplant has cooled, chop it into bite sized pieces and add to the bowl with the bell peppers.
Remove the hot peppers from the bag. Place on a cutting board, and slice off and remove the pepper skin with a sharp knife. Slice open the peppers, and remove most of the seeds. Use more seeds if you want the dish hotter. Chop the hot peppers into small pieces and add to the mixing bowl.
Add the olive oil and garlic to the pepper/eggplant mixture, and stir to combine. Set aside as you prepare the tuna.
Combine the cumin, garlic powder and salt in a bowl. Gently rub the spice mixture onto the tuna, and set aside for a few minutes.
Grill the tuna for about 90 seconds on one side, then turn for another 90 seconds on the others side. This gives you a rare tuna steak, with the outside seared in the middle just warmed a bit. When done to your liking, remove the tuna to a platter.
Slice the tuna crosswise into the slices. Serve by fanning 4 to 6 slices of tuna out on a plate around a generous dollop of the pepper and eggplant mixture.
Recipe Card powered by
Be sure to check out these great pairings from my fellow #winePW 4 bloggers!


Culinary Adventures with Camilla posted "Chuletas de Cordero + Tempranillo"
Vino Travels — An Italian Wine Blog shared "Piedmont Pleasures"
Grape Experiences is pairing "Avantis Estate Malagousia 2013 and Greek Shrimp"
Curious Cuisiniere shared "Cheddar Cranberry Grilled Cheese with Door Peninsula Winery's Peninsula Red"
foodwineclick is sharing "Minnesota Wine at the Midwestern Table"
Pull That Cork posted "winePW 4: Sicily"
Confessions of a Culinary Diva blogged about "New Mexico: Burgers, Bubbles and Beer"
Rockin Red Blog shared about "A Rustic Meal in Valpolicella"

Join the #winePW conversation: Follow the #winePW conversation on Twitter throughout the weekend and beyond. If you're reading this early enough, you can join us for a live Twitter chat on our theme "Regional Food & Wine Pairings" on Saturday, September 13, from 11 a.m. to noon Eastern Time. You can also visit our group Pinterest board to pin some great pairing ideas for later! Stay tuned for the October Wine Pairing Weekend, which will focus on "Fall Fruits and Wine Pairings" on Saturday, October 11.