This recipe also appears in our Collards & Kale Cookbook, check it out for more healthy and tasty recipes like this one!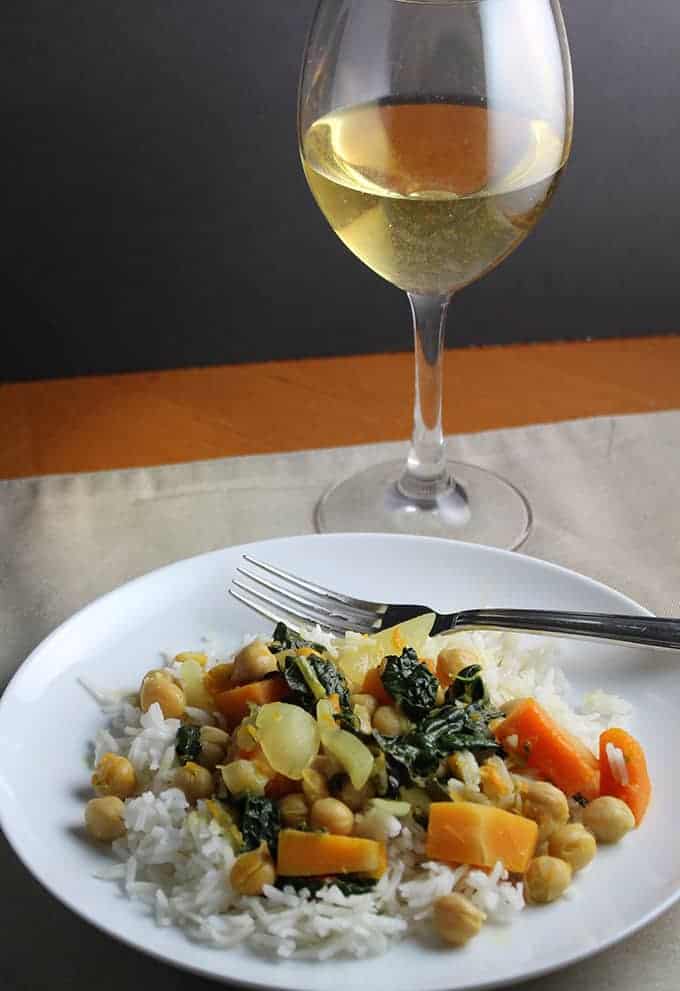 I know, I know. Italy has so much great food, why am I sharing an Indian curry recipe for the Italian Food, Wine & Travel (#ItalianFWT) monthly event?
This month's #ItalianFWT focusing on the Alto Adige region in Northern Italy snuck up on me quickly! I did have a bottle of 2013 St. Michael-Eppan Müller Thurgau on hand, so I thought I could at least share some notes on this bottle from the Süditrol- Alto Adige for this #ItalianFWT. Before I launch further into my angle on the theme, let me encourage you to check out the other participating bloggers posts for more background on the region along with their wine and food servings (see links at end of this post).
But then it so happened I was making Kale and Butternut Curry again recently, getting the recipe down for my e-cookbook coming out this spring. Of course, I needed a wine to go with it! I've long been on a quest to find wines that go well with the Indian food I love so much. Apparently, I'm not alone, as my posts on wine pairings for Indian food have always been among my most popular.
Though I've dabbled in quite a few wine pairings for Indian food, I don't recall trying an Italian wine with curry. Probably because I make enough Italian food, that's when I tend to open Italian wine. But as my curry simmered recently, I realized I didn't have something I might more typically pair with it, such as a Riesling or Gewürztraminer. But then I thought, hmmm, I've got a few Italian whites on hand, why not try one of them? Italian wines are so food friendly, why only reserve them for my Italian dishes? Let's break one out to go with the curry!
Actually the first night I had this curry with an Italian wine, it was a Falanghina from another region. That worked pretty well, so I started plotting about putting together this Italian wine with Indian curry post.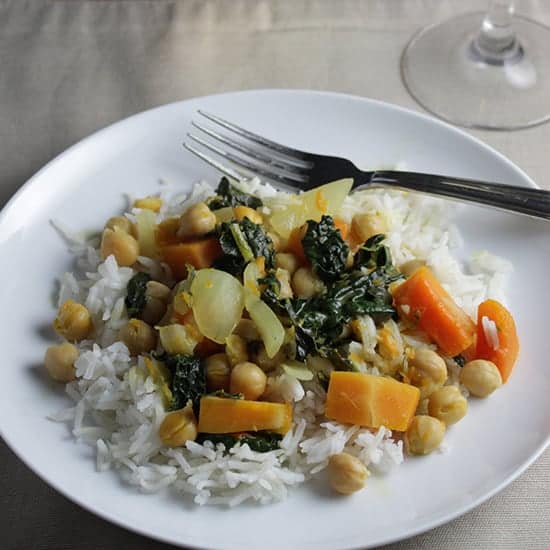 This dish is flavored by Indian curry, but the food has some Italian ingredients. I used Tuscan kale–also known as lacinato or dino kale. There also some chickpeas, popular in both Italian and Indian cooking. Maybe there is more to this Italian wine for Indian curry pairing than I realized! Scroll down to the recipe card for the details on how to make this curry.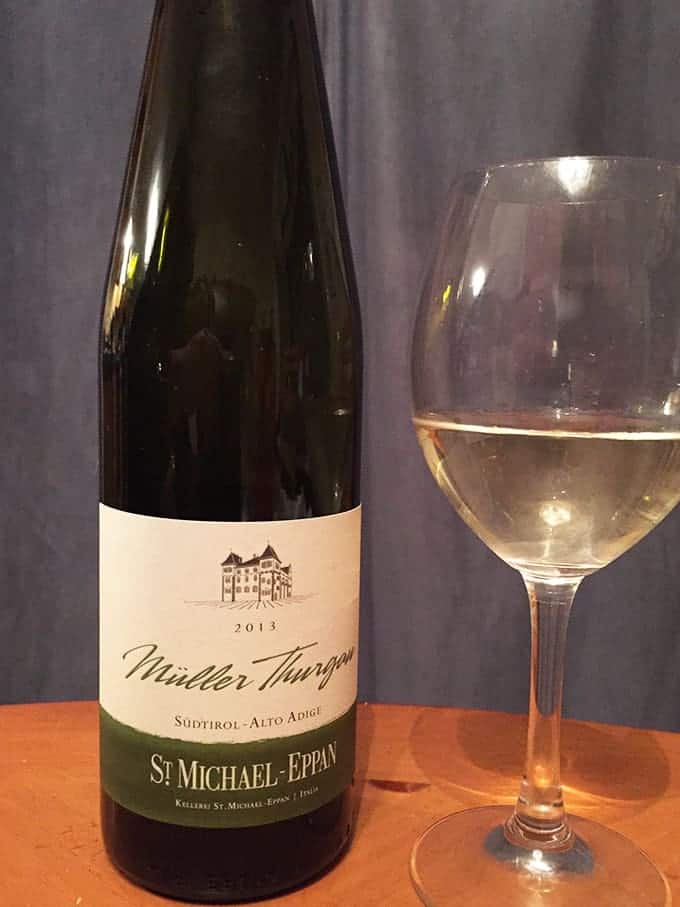 The Wine Pairing:  I got lemon on the nose of the Müller Thurgau. I tasted green apple and kiwi, reminded me a bit of a dry riesling. Some good minerality, not a surprise from this Alpine region. This profile made for a pretty good pairing with the curry. Thumbs up! I will definitely consider Italian wine for Indian food again moving forward.
Oh hey, that note about this wine tasting a bit like Riesling? After noting that taste, I later learned Müller Thurgau was made by crossing Riesling and Madeleine Royale, not one I'm familiar with. Müller Thurgau was first grown a bit further north in the Alps, in Switzerland. More on the varietal from the Wikipedia entry.
Print
Recipe card
Kale and Butternut Curry
Dino kale simmers in a curry sauce with butternut squash and chickpeas. The sweetness of the squash is a nice offset to the curry spice.
Author: Cooking Chat
Prep Time:

15 mins

Cook Time:

30 mins

Total Time:

45 mins

Yield:

4

servings

1

x
Category:

Main

Cuisine:

Indian
1 tbsp

olive oil

1

medium onion, chopped

1

small carrot, diced

1

jalapeno pepper, finely chopped (seeds removed)

3 cups

butternut squash, peeled and chopped

1.5

tsps curry powder

1 tsp

cumin

1

pinch cinnamon

4 cups

dinosaur kale (also known as lacinato or Tuscan kale)

1

can chickpeas

1

14.5 oz can light coconut milk

½ cup

water
Instructions
Heat the olive oil in a large pan on medium heat. Add the onion and sauté 5 minutes until begins to soften.
Add the jalapeno, carrot, and butternut squash, stir to combine.
Remove the thick stems from the kale, then chop and stir into the pan.
Add the curry powder, cumin and cinnamon, then stir in the water and coconut milk. Raise the heat to bring the liquid to a gentle boil, then lower to medium and simmer covered for 10 minutes.
Add the chickpeas, and simmer uncovered for about 15 minutes, until the kale and squash are tender.
When the veggies are cooked to your liking, scoop and serve over rice. Basmati rice is recommended for this Indian flavored dish!
Recipe Card powered by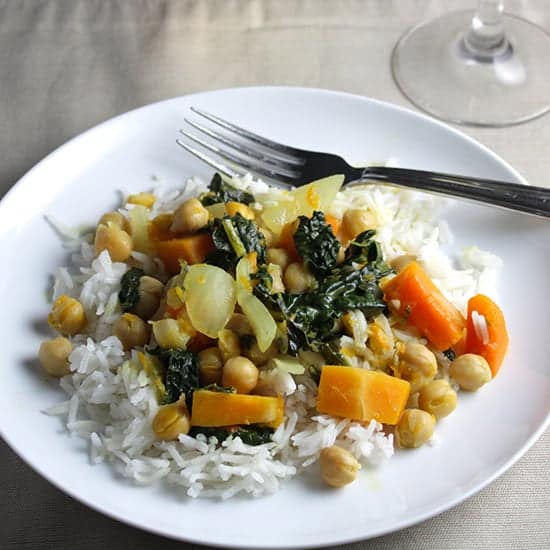 Check Out the Other Great Posts on Trentino-Alto Adige from our #ItalianFWT Group
Don't stop here.  We have lots more great information to share with you on the Trentino-Alto Adige region.  Join the rest of our Italian bloggers group:
Vino Travels – Canederli & Muller Thurgau of Trento
FoodWineClick – Trentino-Alto Adige is Different: Goulash and Teroldego
Orna O'Reilly – The Italian Dolomites: A Foodie's Paradise
Rockin Red Blog – Wine and Dine in Trentino-Alto Adige with #ItalianFWT
Enofylz Wine Blog – A Taste of Alto Adige – Cantina Terlano Classico
Cooking Chat – Italian wine with Indian Curry
The Palladian Traveler – Under Doctor's Orders in the Trentino
Make sure to join us live on Twitter today and throughout the weekend at #ItalianFWT to chat about the Trentino-Alto Adige region and your experiences.  We can't wait to hear from you.  Check back at #ItalianFWT throughout the month as well for additional blogs on food, wine and travel of Italy.  Next month on April 4th we feature Sicily so stay tuned.  Ciao ciao!