Well, I have to declare the first Leftover Tuesdays a resounding success! I just might get over my childhood fear of leftovers with help from all my fellow creative LOT bloggers. These entries turned all kinds of leftovers–meat, poultry, bread, fish–into some wonderful new creations. The entries also represent contributions from 10 countries and 5 continents–we look forward bloggers from Africa and Antarctica joining for LOT 2.
Drop me an email or make a comment if you have a favorite you'd like to praise. The main point here is to have fun, but we might have a few fun awards as part of this too. Enough prelude, on to the leftovers!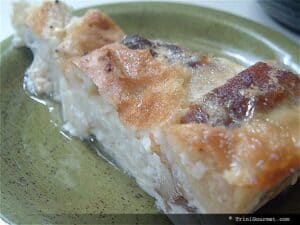 Sarina of TriniGourmet.com made Goolab Jamoon Pudding. She turned her leftover Goolab into this tasty treat. Fear not, if you don't have any leftover Goolab, Sarina says leftover glazed doughnuts or stale bread would do too. If like me you don't know what Goolab is, you'll have to visit Sarina's site to learn more about that and other interesting food from Trinidad.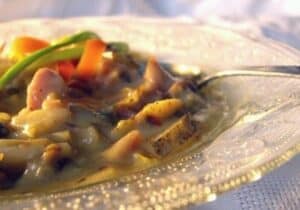 Megan from
What's Cooking
made
Ham and Potato Stew
. I love the ham and scalloped potato combination–it's an Easter staple for us. Sounds very tasty cooked up in this stew, I'll have to keep that idea in mind!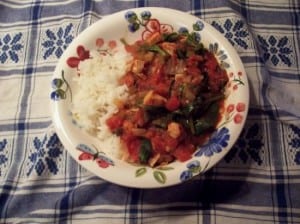 Faith, who writes on Gather, a fun online community I also belong to, made a Tomato Chicken Curry. Faith had leftover roasted chicken an vegetables, which she put to use with a vareity of Indian spices. Looks very tasty!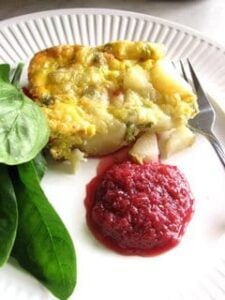 Arfi from Homemades this lovely Baked Frittatta with leftover chicken and vegetables. She served it with a colorful beetroot chutney which made for nice presentation! Cooking in New Zealand, she has access to some nice fresh ingredients this time of year!
Francesco over at The Food Traveller made Belgian Bread Pudding, demonstrating much more can be done with leftover bread other than just toasting it! This would be a great dessert for any number of the entrees, or can be a sweet treat for breakfast.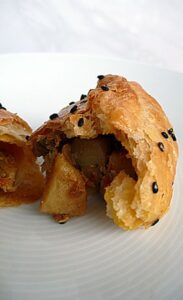 Y over on Lemonpi cooked up curried vegetable puffs, using a little bit of this and a little bit of that. Ingredients included scraps of pastry that had been rerolled for a second use, an opened jar of chilli and ginger Masala paste, and odd bits of vegetables that were lying around. Sounds like these puff were a hit with Y's friends, and I can see why!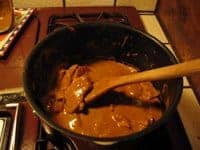 Margaret from Project Foodie made Leftover Chicken in Sour Cream Chile Sauce. Inspired by a dish at one of her favorite Mexican restaurants, she spiced up leftover chicken with a zesty chile sauce. Margaret notes she served this over mashed cauliflower, an interesting combination!
My creation for the first LOT was Red Curry Chicken. This was a fast way to transform my savory roast chicken into something with some spice for the next night. This roast chicken will still be contributing to our table, as I also made some
chicken veggie stock
that awaits in the freezer.
Ulrike over on Küchenlatein made burgers with her leftovers. Now, this is not a burger you could order at McDonald's, mind you. Ulrike combined leftover pork with pickled cabbage, and served them on homemade buns that she had saved in her freezer. If McDonald's served burgers like this I might actually visit the golden arches occasionally!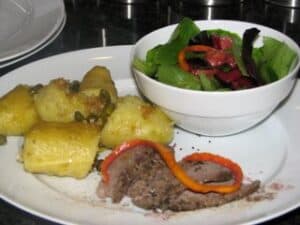 Brigitte from Kuchendunst aus Singapur made beef filet for her LOT entry. I'm still working on trying translate the site from German, but it looks tasty from the photos!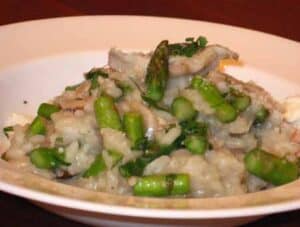 Mary from Ceres and Bacchus made risotto with leftover roast chicken. Now, if I were awarding large cash prizes here, I'd think Mary was just trying to curry favor because risotto is one of her favorite foods. But reading her post I see that risotto with leftovers is a common meal for Mary. She also extols the virtues of leftovers in her post, so she's a natural for this event!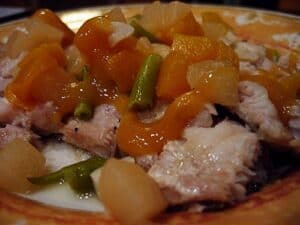 Rachel of Rachel's Bite contributes her Leftover Fish and Random Pantry Salsa. Rachel found a tropical fruit salsa was the thing to add to her leftover Red Snapper Alicante. She had a well-stocked pantry for whipping up a tasty salsa because she's apparently working her way through Food & Wines 100 Foods To Try list.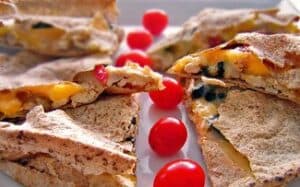 Brilynn over on Jumpo Empanadas created Chicken and Mango Quesa-dilluhs. She was worried she might not have anything for LOT when her risotto was all gobbled up, but came through with inventive use of roasted chicken, pita bread and a Curried Mango Grille sauce I need to find!
My sister Pam and her friend Doug were guest bloggers here on CookingChat and shared their 3 Course Leftover Feast. They scoured their fridge and pantry to create a salad with blue cheese dressing, a french onion soup with some interesting twists, and BBQ chicken. A three course LOT entry, that's impressive!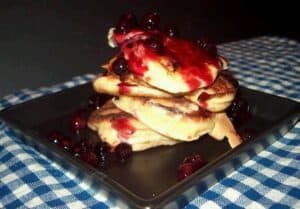 Freya from Writing at the Kitchen Table turned one container of leftover ricotta into a two-course meal. Starting course was Ricotta Pancakes with Blueberries (who says pancakes are just for breakfast?!?) followed by Farfalle with Peas, Bacon and Ricotta. Now, I didn't see any reference to dessert; don't imagine there was any room left! Two courses out of one leftover is definitely impressive.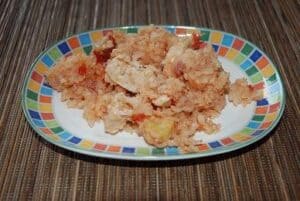 Isis from
Yambalaya
made her signature dish,
Yambalaya
. Leftover white fish was the basis for this LOT entry, along with some chicken that was waiting in the freezer. But as you'll see there's much more to this one, with an interesting blend of Carribbean inspired spices. Looks like warming food to weather a snowstorm somewhere in the French countryside!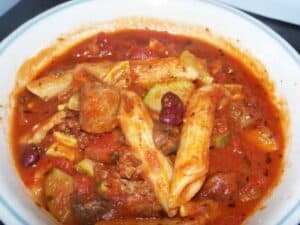 Fruit Tart
made
Pasta with Sausage, Beans & Veggies
. Fruit tart salvaged a dish of pasta, veggies and beans by combining it with leftover sausage and a secret ingredient she confesses to on her blog. But I won't give that away here, you'll need to visit Fruit Tart for that.