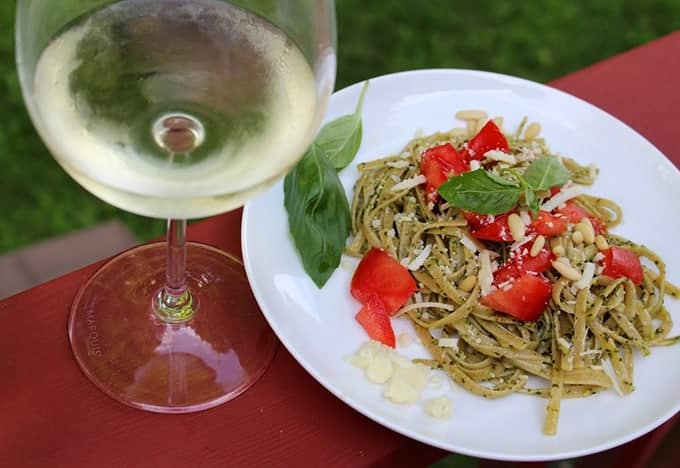 Sometimes, you just gotta go with a classic.
Sure, there's lots of great stuff rolling in from local farms and gardens in August. But there are three things coming in now that get me especially excited. There's that sweet corn, so tasty with just a bit of butter and salt. And our almost 9 year old says it's good sans salt and butter. I'll take his word. Then we have tomatoes, so good this time of year. In fact, this is the only time of year I'll buy fresh tomatoes. Off season, I shun the plastic tasting stuff, and get good canned tomatoes for my sauces.
Basil is the third plant in my August triumvirate, because my family and I are wild about my homemade pesto. Sure, I get creative with pestos, such as the kale pesto that has gotten very popular around here. But there's nothing quite like a great basil pesto, made even better topped with August tomatoes and a side of corn on the cob. A classic combination.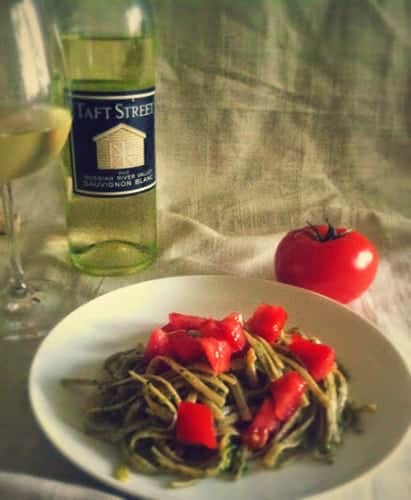 When choosing a "Wine for Summer's Bounty" for Wine Pairing Weekend 3, I decided to stay with the classic theme. Sure, I've enjoyed Picpoul with pesto, and recently had success pairing pesto with a Viogner. But pesto and Sauvignon Blanc is one of those classic pairings, where the food and wine seem to be meant for each other. A classic pair. Like Romeo and Juliet, except it finishes much better! I'll talk more about our classic pairing after divulging our "secret" family pesto recipe.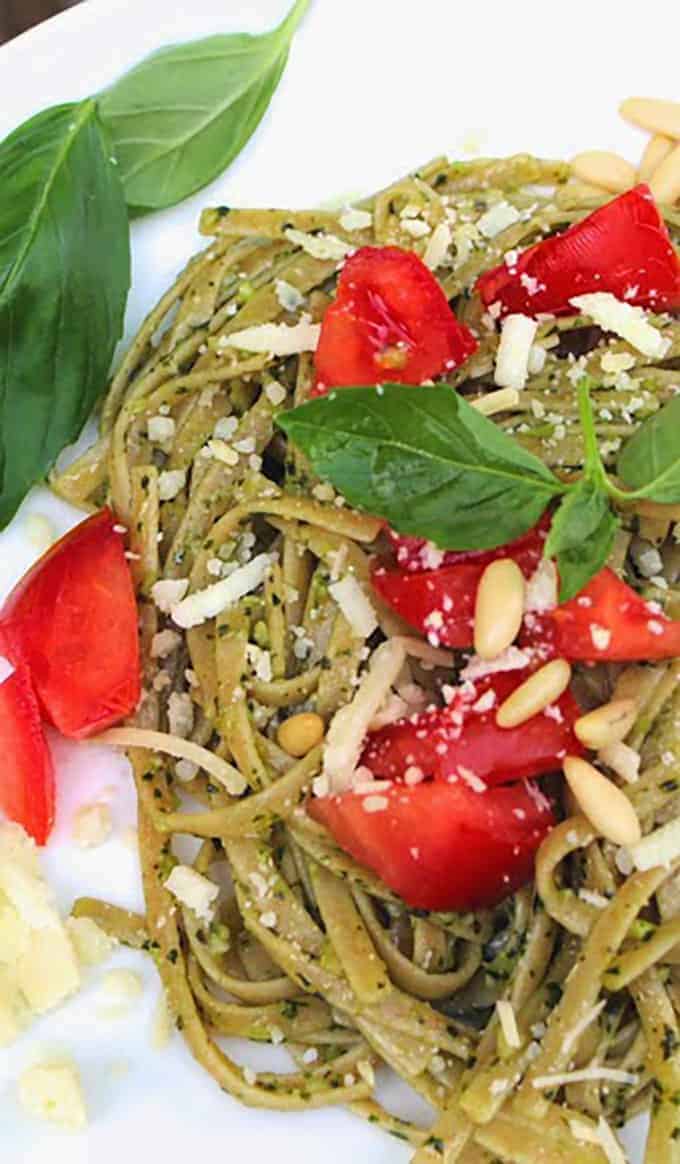 Cooking Chat's Pesto Ingredients
2 cups fresh basil leaves, rinsed and tightly packed
4 cloves garlic
¾ cup extra virgin olive oil
¾ cup Pecorino or Parmesan cheese
2 tablespoon pine nuts
Serve with
12 ozs linguine
1 summer fresh tomato, diced
corn on the cob
Sauvignon Blanc
The Secret: Seriously, this is "wicked" simple, as folks say around here. I'm not sure why people who try my pesto are so enthused about it relative to other pestos. These are the classic basil pesto ingredients; there aren't really any secret ingredients! Maybe because I make sure to pluck out only the good leaves from the basil plant and don't add anything that's withered a bit? Or I make sure those 4 garlic cloves are pretty good size, or add a bonus clove if they are small? I typically go for the Pecorino, which adds a bit more saltiness to contrast the garlic's bite. I find the freshest basil, and make the pesto shortly after getting the basil home.
The Method: Have a food processor at the ready. Rinse the basil and pluck the good leaves from the plant, add to a measuring cup. I use up all the basil I've gotten. If I wind up with more than two cups basil, I scale the recipe accordingly and have more pesto on hand. If you have extra basil and a school age child on hand, enlist them in the process of calculating the recipe proportions, keep those math skills sharp over the summer! Put the basil into the food processor, and give it a quick whir to begin chopping the basil and make room for the other ingredients.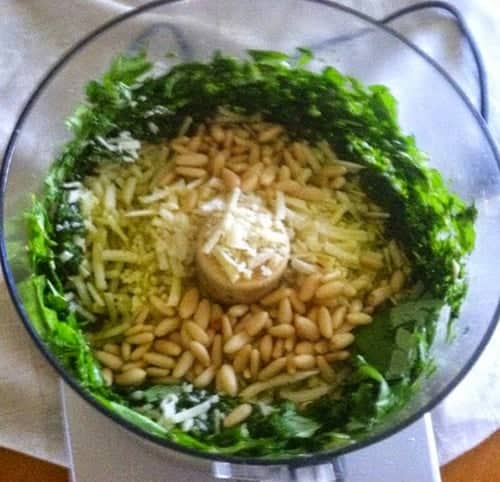 Next, add the garlic, and hit that food processor button again to get the cloves chopped up with the basil.
Add the remaining ingredients, and then puree to get everything well combined. Open the food processor, scrape the sides to get bits of garlic and basil that haven't been incorporated, then give the processor a final whir. Presto, you have tasty pesto! If you're going to be eating within the next hour or so, just leave the pesto out. If you're making in advance, refrigerate, but take out an hour before serving to bring the pesto to room temperature.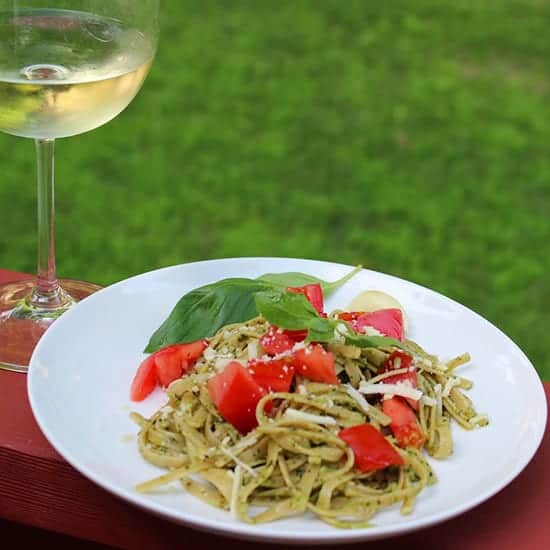 After you've got some pesto, cook linguine or other pasta of your choice. Drain, toss with a bit of olive oil. Next, stir in several tablespoons of pesto. See how it looks after you've stirred that in, then stir in more to taste. I like to get the pasta fairly well coated, but reserve extra pesto for people to serve themselves according to taste. i.e. if you put the entire batch of pesto into 12 ounces of pasta many folks might be a bit overwhelmed!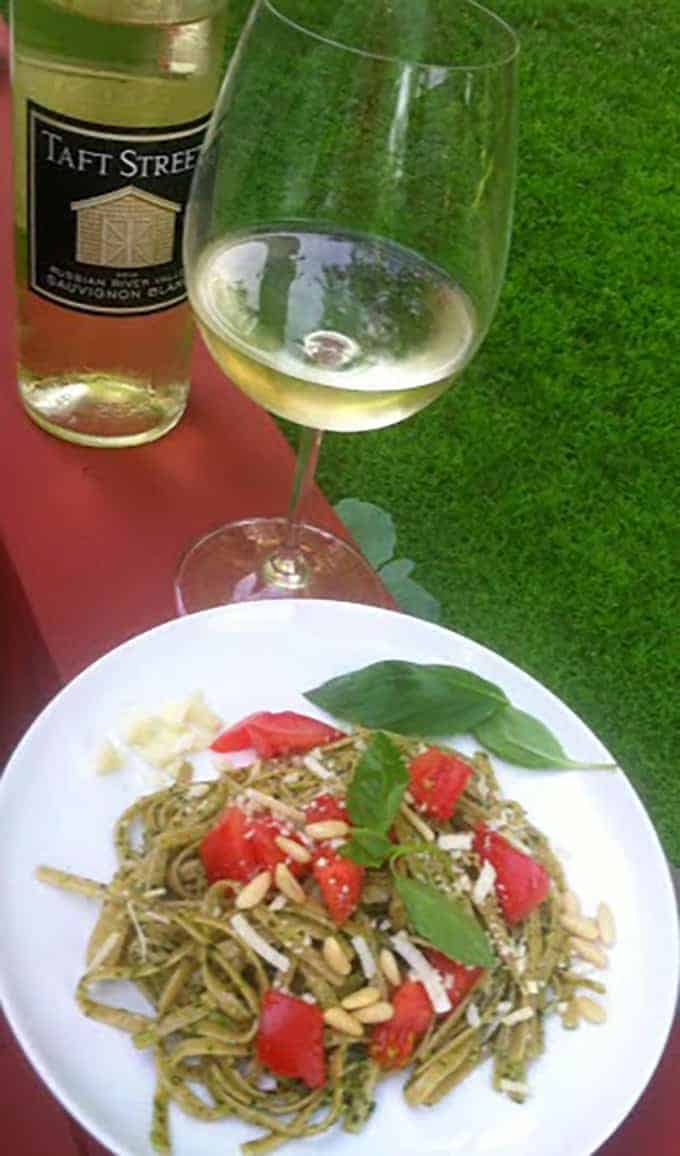 Plate the linguine with pesto, serve topped with diced tomatoes, a side of corn, and the wine.

The Pairing: There are so many styles of Sauv Blanc to choose from. I like mine to be crisp and refreshing without too much of the citrusy element–no puckering, please! We went with the 2012 Taft Street Russian River Valley Sauvignon Blanc. At a bit under $20, it's a good value and we were very happy with the selection.
I get grassiness and grapefruit on the nose of the wine. I take a sip, and get peach, cherry blossoms, and mineral undertones. I eat a couple bites of the linguine, getting the garlic bite and saltiness in the pesto along with the freshness of the basil and acidity from the tomatoes. A lot happening on the palate. More wine. The crispness of the Sauvignon Blanc refreshes, cleansing the palate to be ready for another burst of flavor from the pesto. The makings of a classic pairing!
Speaking of another summer classic with some similar ingredients, check out our Tomato Caprese Salad! We paired that with a sparkling Sauvignon Blanc, something new to me.
Print
Recipe card
Classic Basil Pesto
This classic basil pesto is always a huge hit and simple to make. Serve tossed with pasta or as a topping for chicken, fish or crostini.
4

cloves garlic

2 cups

fresh basil leaves, rinsed and tightly packed

¾ cup

extra virgin olive oil

¾ cup

Pecorino or Parmesan cheese

2 tbsp

pine nuts
Instructions
Place the garlic cloves in the food processor, pulse to mince.
Add the remaining ingredients to the food processor. Puree until all the ingredients combined in a well-integrated sauce. Scrape the sides of the processor to get any chunk of basil or garlic that haven't been incorporated yet, and briefly puree again.
Serve the sauce over hot pasta or as a topping for chicken or fish.
Recipe Card powered by
Wine Pairing Weekend # 3 Bloggers: Be sure to check out what my fellow bloggers have come up with for the August Wine Pairing Weekend!
Pull That Cork shared "Wine for Summer's Bounty. Will Garnacha Do the Trick?"
Meal Diva paired "Summer Vegetable Red Sauce with Amarone"
Culinary Adventures with Camilla posted "Pan-Seared Padròns with DeRose Vineyards' Négrette"
Vino Travels — An Italian Wine Blog shared "Tomato, toe-mah-toe: Summer's bounty with Sicilian wine Donnafugata"
Grape Experiences paired "Cecchi Chianti Classico 2010 and Vegetable Lasagna"
Curious Cuisiniere shared "Chipotle Garden Salsa with Wild Hare Petite Sirah"
ENOFYLZ Wine Blog posted "Grilled Paiche with a White Greek Blend"
Take a Bite Out of Boca shared "Quinoa-Crusted Eggplant and Heirloom Tomato Stacks paired with Monrosso Chianti"
foodwineclick shared "Summers' Bounty or Attack of the Killer Turnips?"
Confessions of a Culinary Diva blogged about "Lobster Paella and Albarino"
Tasting Pour shared "Summertime and the Cooking is Easy"
Cooking Chat paired "Linguine with Pesto, Fresh Tomatoes and a Sauvignon Blanc"

Join the #winePW conversation: Follow the #winePW conversation on Twitter throughout the weekend and beyond. If you're reading this early enough, you can join us for a live Twitter chat on our theme "Wine for Summer's Bounty" on Saturday, August 9, from 11 a.m. to noon Eastern Time. Questions for the chat are posted here on the #winePW site. You can also visit our group Pinterest board to pin some great pairing ideas for later! Stay tuned for the September Wine Pairing Weekend, which will focus on "Regional Food and Wine Pairings" on Saturday, September 13.